Quality at a price you can afford
Manufacturer: Jump 4 Joy Agility
Reviewed by Sally Jones

Description: A portable, lightweight yet sturdy stick-in-the-ground practice jump.
Specifications:-

36mm diameter top quality rigid UPVC tube with professionally moulded plastic jump cups designed specifically to fix to this pipe
Solid aluminium machined spike which will not rust
4 pairs of fixed cups set at 35cm, 45cm, 55cm & 65cm
Rigid 1 metre coloured vinyl pole which is capped to give a professional and neat finish
Lightweight - Each jump weighs only about 1.1kg so they are easy to carry around and take to the park or show
Weatherproof - They can also be left outside without the fear of rotting
Choice of colours
What did you like about them? It would be quicker to say what I don't like. Let's put it this way, whenever I've camped at a show 'Oooop country' and have had my jumps or weaves by my van, I have sold them to a neighbour by the time I leave. The maintenance free aspect is also very important to me but, if I keep selling them at the rate I do, I'll never have any that are more than a few weeks old anyway!
The jumps are not free standing. They are stick in the ground. However, due to the incredibly robust construction I have not yet found ground that they won't push in to. I use them as practise jumps when I go to shows as they are so easy to transport but many of my clients use them as their mainstay jumps at home. Because they are so compact you can fit quite a few of them into a small garden and they are easy to move when you have to mow. Of course, you also get the benefit of aerating your lawn with the spikes.
What could be improved? Nothing
Design, quality and standard of production: The quality speaks for itself. They are beautifully engineered. The pole is the same length as the upright so they pack away neatly. And yes girls, you can also get them in pink and purple.

Instructions: If you need instructions, please give up agility right now. You'll find remembering the course impossible.

Price: £16 plus VAT and delivery from Agility Warehouse. Can also be picked up at shows.

Value for money: I've been doing agility for a million years and I've never seen a practice jump that comes close for quality, ease of use and value for money. And I never exaggerate...

Overall rating: 10/10 because they do what it says on the tin and do it in style.
Available direct from Jump 4 Joy or Agility Warehouse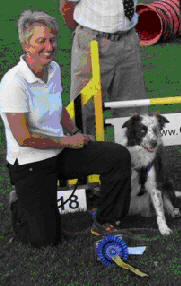 The Reviewer...
Sally Jones runs Dogs R Dogs and is a full time dog trainer and behaviourist. She has been competing in agility since 1989. In a previous life, she wrote the Agility Eye's 'Perennial Starter' column. She is an agility shopaholic. For her, looking at the Agility Warehouse is the equivalent of porn. She only does it when her husband is out. She gets very excited and the next thing you know she is flashing her cash. However, she finds the dirty mac a bit hot to wear in the house!
Just to prove the old bat actually managed to achieve something with her new pup Rudi, here she is with her eyes closed after coming second in the Dog-Games final this year!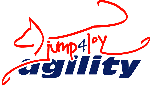 About Jump 4 Joy Agility...
Teresa and John have been making Agility Equipment for over two years. Between them they started making jumps for their own use and it grew from there. Seeing a gap in the market for quality practice equipment at an affordable price they decided to dedicate all their time in producing equipment and Jump 4 Joy Agility was born.
They have competing dogs of their own so they know the standard of equipment that is expected and your dogs safely is always their highest priority. Jordan their eight year old son also takes an avid interest in the business and you will often find him helping on their trade stand at shows.
They currently specialise in garden practice equipment. However, they are now increasing their range to include full size competition equipment together with more low maintenance items like free standing aluminium Jumps and aluminium framed contact equipment.
For more information on the services they provide, please see their website www.jump4joyagility.co.uk