For happy cool dogs...

Description: These custom-made sun reflective covers for most cars and vans are made to the customer's specification. Each panel is secured to the ground by bungee cord, so will give when windy. This canopy has an incorporated front panel which can easily be rolled up out of the way and secured by Velcro. The other option is for an open front, but with the option of adding a front panel separately, secured by Velcro.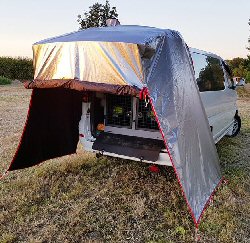 Specifications:
Personalised fitting

Easy to put up and pack away

Made with genuine Ripstop fabric and edged in a colour of your choice - black, white, red, royal blue, yellow, green, purple, fuchsia, rainbow, chequered, baby pink, brown or orange

Superb service from start to finish
What was your experience with this product?
I agreed to write this review as the K9 Custom Canopy is a very good product - and I was promised cake!
I have used it on sunny days at shows to keep my dogs cool and to keep the rain out when to doors to the van are open.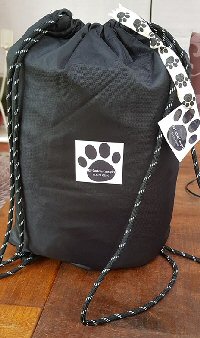 What did you like about these products?

It is easy to erect and take down. It folds up and fits into a small storage bag.
me as was the choice of material - either fleece or water resistant neoprene.
What do you think could be improved?
I don't know that it could be improved - even if I got two cream cakes!
Please comment on any instructions that come with this product.
Basically, it is very easy to put up and you don't need instructions. There is, however, a video on K9 Custom Canopies Facebook page if you need help.
What did you think of the design and quality of production?
It is handmade of good quality sun reflective materials. The design is good, too. It does the job it was designed to do.
Price: As these canopies are custom-made for each vehicle and to customer specification, prices vary but but range from £130 - £150 on average.
Rating: I would give it a 10/10.
Value for Money
I would definitely recommend it to friends and family. A great investment.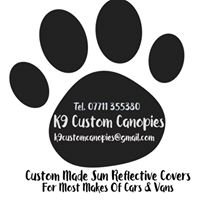 For more information or to order,
go to K9 Custom Canopies Facebook page.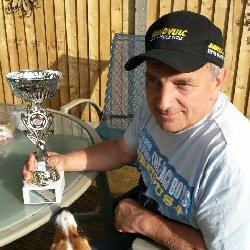 About the Reviewer...
Dave Nash runs Fly-by Agility in Hemel Hempstead (Herts).
During the daytime, he works for TAD Communications, a leading supplier of commercial vehicle accessories and van ply lining.
First published 29 March 2019

If you would like to comment on this product or add your name to the Agilitynet list of reviewers,
email your name and details to Ellen Rocco at Agilitynet today.