Manufacturer: SMW Electronics
Reviewed by Alan Score

Description: The K9-GTS Controller Console and System is a rechargeable, integrated timing system with multi IR beam sender / receiver wireless gates that was developed specifically to accurately time sporting events. It is ideal for dog agility and Hoopers shows, special dog agility games such as Snooker, Gamblers and Blackjack etc), power and speed events, general spring- (point A to point B), time faults calculations requiring a single timed individual or animal.
K9- GTS – Controller System features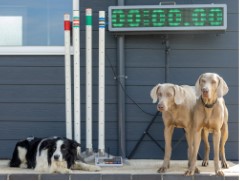 Dog Agility - Package 2
Two sets of gates type 1 – multi sensor (Start and Finish pair)

Rechargeable batteries + tri-stands

K9 controller with small carry case

Charger + cables

Optional hard carry case

Optional steel bases
Hoopers - Package 3
Two sets of gates type 2 – dual sensor (Start and Finish pair) + rechargeable batteries

Rechargeable batteries + tri-stands + pole claps

Gate type 2 hard carry case

Charger + cables

K9 controller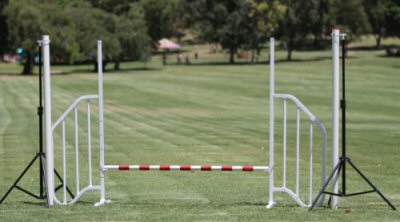 Common to Package 2 and Package 3
System is completely wireless – no cables needed

Supports 6x gates, 2 x hand-switches, 6 x scoreboards

Encrypted RF 2.4ghz for use in UK, USA, Europe and Australia

Two horn system outputs - Relay type and PA sound output with 32 sounds for timed-triggered events

Inbuilt Lion battery recharge/monitor system

High quality performance batteries included

Dog agility events, Gambles/Snooker supported Previous times, split time records for each event up to 512 records stored per event

Accurate high precision timing clock (TCXO) base for 1/100th p/sec timing

Remote handswitch option for start/stop/reset of events
Why did you purchase this product?
I have my own ménage where I train my dogs and I thought it would be useful to be able to time different moves on jumps etc.
Plus I also fancied the idea of holding a Weimaraner Fun Day. Since then, I've have done two agility competitions and another is planned for October.
What did you like about it?
I've had this system for about three years now. Although I don't use it all that much, I have been very pleased with it.
It works on a very similar basis to others in the UK, except mine is all Wi-Fi with rechargeable batteries. The Green 6in Display Unit works off 240v or a 12v car battery and is very clear even in bright sunshine. Personally I haven't had any problems with bright sunlight as the receiver side is always turned away from the sun anyway.
I will mention that once one of the Display Unit was dropped, causing one of the circuit board supports to break loose internally. I took a photo immediately and emailed it to Sheldon at SMW Electronics. Straight away he searched my local area for someone to repair it. I took it to this repair person, and it was fixed a couple of days later. Sheldon reimbursed me for the actual repair cost plus gave me a good allowance for my time and trouble taking and collecting it. As far as I am concerned, it is a genuine company that looks after its customers.
What could be improved?
At first, I wasn't 100% sure about the wisdom of my purchase as the items were coming all the way from Australia but, so far, there has been no need for any concern at all. The supplier has always been very trustworthy and helpful.
What do you think of the product, design, quality and standard of production?
So far I've had no problems whatsoever with it... unless I forget to recharge batteries properly
!
Instructions
The equipment was very easy to setup. It came with good instructions and, if I had a query, I'd send an email and always got a positive reply very quickly.
Price
$1950 Aud for Package 2 - Agility –2 x pair Multi sensor gates
$1450 Aud for Package 3 – Hoopers- 2 x pair dual/single sensor gates plus cost of shipping.
Pricing is subject to change and will be costed once the order quote has been finalised.
Value for money
Anything technical like this is expensive, but compared to similar electrical timing systems, I consider it as good value for money.
Overall rating
As I've had no experience with other electronic timers, I am not sure how I would rate, but I am very pleased with the product. If I had to give a rating, I would say a minimum of 8/10.
I definitely do think it's worth any agility or Hoopers club or show organiser etc. thinking about investing in the 6in Large Green Display Unit to consider for events or training.
For more information, email sales_k9_gts@iinet.net.au or visit www.smwelectronics.com.au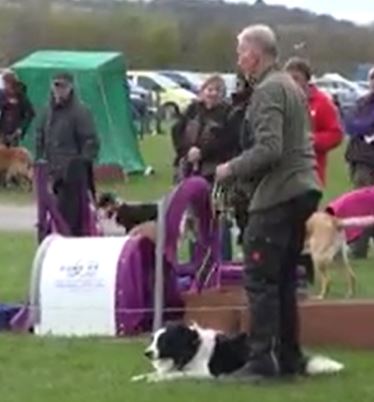 About the reviewer...
Alan Score started competing with Weimaraners because they are a very intelligent breed. Because most dogs in agility are collies, he wanted to be different and he likes a challenge!
First published 3rd June 2022