The Advanced Freestyle Moves
Prodiced by Club HTM
Reviewed by Elizabeth Morgan

Description: Mary Ray illustrates how you can train your own dog, using clicker training, to perform all the advanced moves that she so successfully incorporates into her fabulous routines.
Contents include:-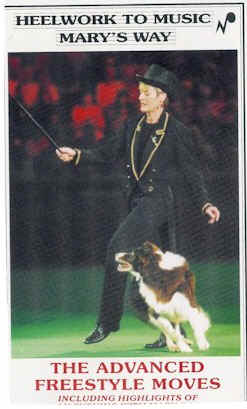 Advanced moves for Heelwork to Music using clicker training

Highlights of An Evening with Mary Ray
Best Features: A must for handlers already using clicker training, highly motivational and easy to follow and understand. There is a lovely introduction, showing a full display of Mary's performance at Crufts.

As part of my role as Hon Sec to The Agility Club, I am now reviewing training videos, in the hope of assisting you to make the right choice, no matter what standard you are in Agility. Although this particular Video does not link itself to Agility, a lot of people are now training their contacts using the 'clicker', and this video shows just how versatile that particular kind of training can be.

Worst Features: If you don't agree or like clicker training, this is not for you.

Packaging: Good. There are clear and precise instructions.

Value for Money:

Yes!

Rating out of 10: 9 out of 10

Comments:

This type of training is unlikely to become outdated as quickly as other methods used.

Price:

£26.45 (incl. p & p) For delivery to Europe, send a sterling cheque for £28.45. Rest of the world, send sterling cheque for £30.45 (VHS only).

Specification:

Format VHS

Play Time: 91 minute

Overall rating:

10/10

To order a copy, call or send order to:

Club HTM
Department AN
21 Burridge Road, Burridge, Southampton SO31 1BY
Tel. 01489-885112 or Fax. 01489-885425

Cheques should be made payable to Club HTM,
Clearly print your name and address.
Be sure to include your post code and telephone number

:
You can pay by credit card. In the UK you can ring up and order your video - please mention Agiltiynet when you call. Now availabie in PAL NTSC formats for USA and Japan etc.

Also available from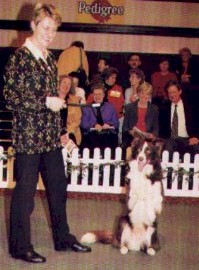 About Mary Ray
Mary Ray' dog training career began in 1978 when she joined Rugby DTC. Within a very short time her natural empathy with dogs and her tremendous ability were recognised by the Club and, before the end of the 1980s she became head trainer of that club.
Her agility career started in 1980, just after the birth of agility in the UK. She established herself immediately as one of the top handlers in the sport. She has either won or been in the finals of every major sponsored British agility competition. This included winning the prestigious Pedigree Agility Stakes with her Border Collie Pepperland Hot Chocolate. She holds the record for qualifying the most dogs on the most occasions for this prestigious Final in the last twenty years.
She has also been a member of the Rugby DTC Agility Team, which has competed at the Crufts Team Agility finals on many occasions and a member of the winning team one year. She has also been a member of the Rugby DTC Crufts Flyball team, competing in the Finals at the Crufts Dog Show.
Although there are conflicting stories about where heelwork to music started, Mary was the first person to put together a public performance in 1990. She did this again in 1992 and, thereafter has done a demonstration every year at Crufts. For the last three years, Mary has been centre stage in the Main Ring at Crufts on Best in Show night with her routines including Riverdance (1997), Switched on Classics (1998), Boogie Shoes and Night Fever.
Mary has judged all Obedience classes from pre-beginners to class C as well as Agility at the Crufts Dog Show. She is still Head Trainer at Rugby DTC, Championship Obedience Show Secretary for the club, a member of the Kennel Club Obedience Liaison Council and an Associate Member of the Kennel Club.
Mary has been married to her husband, Dave, for 20 years! They live in Rugby, in the centre of the UK. Their present family consists of nine dogs (no children): five Border Collies, a Tervueren, a Lurcher, a Papillon and a Shetland Sheepdog.
Feedback
From Carina Enevoldsen...
Excellent work. Heelwork to music isn't well known i Denmark, but a friend of mine who did some agility at Crufts, showed me a video from the show, and I was really impressed. Looking at your page I learned that she had made a video. Therefore for newbies like me, a list of her other videos would really be a great help, seeking information. (14/06/02)
---
If you would like to comment on this product or add your name to the Agilitynet list of reviewers,
email your name and details to Ellen Rocco at Agilitynet today.