Avoid injuries and big vet bills...
Manufacturer: Country Mun
Reviewer: Angela McCarthy

Product description: Country Mun Leather Stopper Pad Protectors are designed to prevent injury to dogs' stopper (Carpal) pads while doing agility pr flyball, racing or stopping fast on hard ground/covering rough countryside etc. Can also be used as joint supports for dogs with arthritis and other conditions.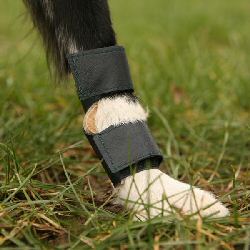 Features:-
Genuine leather
Also available in waxed cotton effect
Secured by strong Velcro straps
Soft fleece inner pad
Sold as pack of 2
Easy to fit
Made in the UK
Saves money on vet bills
Why did you agree to review this product?
Our dog Paddy tore a stopper pad when he was running at a local beauty spot and it took some time to heal. Just a couple of months later, he tore it again. We didn't want to have to keep him on a lead, but we needed to make sure it wouldn't happen again. A friend told us about the protectors and they have proved to be ideal.
Tell us a bit about your experience with this product?
Paddy is very stubborn and won't wear a coat. He once cut his paw but wouldn't wear boots so we were really worried he wouldn't wear the protectors. We put them on just before going out and he walked as if he was on the moon for a while but adapted to them pretty quickly.
We had to buy more after a month because I left them on the floor in the conservatory after a muddy walk and he decided to chew one!
What did you like about this product?
I really like the fact that they fasten easily with Velcro and stay in place when he runs.
What could be improved?
I am happy with them – they do the job.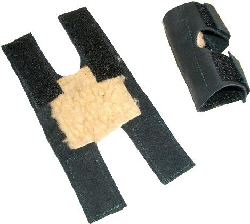 What did you think of the quality and design of the product?
They seem to be very good quality. There is a fleece pad on the inside to cover the pad. Available in leather or waxed cotton effect.
Were the fitting instructions clear?
I just followed the instructions on the website – to fasten tightly and make sure you fasten them on outside of the legs.
I had read reviews from people on their website which say you should put them on just before going out so they don't have time to fret about having them on.
Price: £13.99 pair + P&P
Value for Money: The price is excellent. We had paid quite a lot for vet treatment after his injuries so this will save us a lot of money in future – and avoid further pain and distress for Paddy.
Overall rating: 10/10 – a great product at a good price
Would you recommend this product to your friends and family?
Definitely. I have already told a couple of people about them. Country Mun advertise them for flyball and agility, but Paddy doesn't do anything like that so I think they are good for most dogs that run off-lead.


For more information about Stopper Pad Protectors, go to www.countrymun.com
---
About the Reviewer
Angela McCarthy lives in Jarrow, North East England. She works in retail and enjoys taking her five year old Staffordshire Bull Terrier X Paddy for walks.
Paddy can be a real handful. He had a spinal stroke last year, and it has been a slow recovery but he is now walking normally again. Thankfully he was insured because the bills for scans and treatment came to almost £2500
First published 12 June 2014