Natural
pain relief and vitality...

Description: The Dog StreamZ Smart Collar provides a unique approach to dog health and wellbeing. It uses a patented design based on resonance technology and is designed to create day-to-day improvements in canine vitality by rebalancing compounds and minerals in the body for a long and healthy life for your dog. Unlike traditional magnetic therapy, StreamZ rebalances the whole system and, as no heat is created, it can be worn 24/7.
Specifications:
100% natural pain relief

Ideal for arthritic conditions and general well being

Non-intrusive collar

No side effects

Suitable for long term 24/7 use

Available in three standard sizes for any breed

Weight: (S) 70g, (M) 85g, (L) 105g

Comes in two widths

All black material with silver branding

Natural process, no known long or short term side effects

Waterproof

No batteries required

6-month guarantee

A comparatively low-cost solution
WARNING: Not to be used by any dog diagnosed with a heart condition.
What was your experience with this product?
Because we are a dog rescue organisation, StreamZ very kindly sent us some collars to try on our Rescue Dogs, so we trialled the collar on a few dogs including a 10 year old Staffie who was losing mobility especially in his backend. We thought he would have to retire from his agility - which he loved - but noticed an almost immediate improvement after wearing the collar, and he is now back doing agility again .
It was also tried on an older Staffie x Labrador who was waking his owner every morning at a very early hour. Since wearing the collar, his owner has to get him out of bed in the morning. Another dog, an older collie, was struggling with mobility was also helped. His owner was having to help him in and out of the car. Now he can get in and out on his own again. After wearing the collar, two older working dogs who were tired and achy after being out working all day in the field were up and ready to go out again the next day.
On a personal note, I have started to wear one of the ankle bands as I have grade four arthritis in both knees. It hasn't totally got rid of the pain, but I forgot to put it back on one day and then realised after two days that my pain levels had gone up when I wasn't wearing it. I also slept a lot better and feel I have more energy.
A lot if people have said it's just a placebo effect, but dogs don't know that do they?
What did you like about this product?
I was very impressed with the results especially in several of the older dogs with mobility problems.
The collar seems to be able to assist with pain relief in such conditions as canine hip dysplasia, mobility and stiffness, injured and aching muscles, energy levels and vitality, digestion issues, general happiness and condition and overall wellbeing.
What could be improved?
The collars are a little bulky, but I understand they are already working on a lighter weight version for the smaller dogs. Saying this, no dogs we tried them on minded wearing them.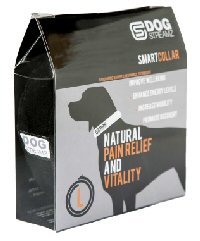 What did you think of the design and quality of production?
It was very easy to use and made of hardwearing material
Instructions:
The instructions on the packaging made the collars very easy to fit and use.
Price: £45-£65. P&P varies according to the delivery option.
Rating: 10/10 I have found no negatives with these collars and feel our dogs have really improved wearing them.
Value for money:
Although the initial outlay is quite expensive, I feel itís well worth it for the help it gives your dog. It could be compared in cost to supplements and medications and in the longer term, health risks associated in prescribing painkillers.
Would you recommend this product to your friends and family?
I have already recommended to several friends who have reported great improvements in their dogís condition when wearing the Dog StreamZ collar. These relate to a range of symptoms including arthritic conditions, energy levels, behavioural issues, stamina and general wellbeing.
Some of my club members have also bought them for their dogs with great results. One of our older dogs was about to have to retire from Agility and he is now back enjoying his agility again.
For more information about these collars, go to StreamZ Global web site or email
About the reviewer...
Sue Culmer is a dog agility trainer and dog rescue worker.
First published 13 January 2017