Manufacturer: South West Agility Goods
Reviewer: Penny Cockerill

Description: The Handy Lead is a fleece-lined lead with a second handle incorporated into the lead a third of the way up from the collar end. It is designed for use in the queue to give extra control of a lunging dog or when walking along busy roads, meeting new dogs and controlling strong dogs that like to pull.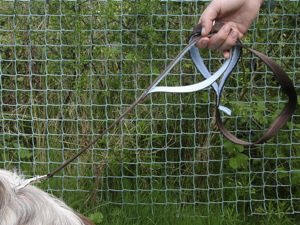 Features:
Top quality poly webbing
Both handles lined with comfortable fleece
Choice of many colours of webbing and fleece
D-ring clip on handle
What I liked about this product? -
I loved the superb quality of the workmanship, the large range of colours and the extra D-ring clip on the handle.
The best feature of the lead, however, is that it really does give extra control. I tested this out sitting near the demonstration ring at Blenheim Horse Trials. There were dogs everywhere, at the nearby Hearing Dogs and food stalls or just passing by. Usually if you have the handle of a normal length lead the dog can be at least four feet away in a split second at the end of the lead which is at the end of your extended arm. With a hand in the lower handles - I was holding two dogs wearing the lead - I was in complete control and could relax and drink my coffee with the other hand.
I was able to select my club colours so the dogs looked extra smart parading the ring before their demonstration.
What I think could be improved:
For what it is I canít think of anything which could be better. Obviously a lot of thought has gone into the design.
Design & Quality:
Excellent. Beautiful workmanship. It's available in wide range of colours including Light Blue, Aqua, Royal Blue, Navy, Emerald, Bottle, Lilac, Purple, pink, Cerise, Red, Burgundy, White, Yellow, Brown and Black. Fleece colour can be the same or different according to your specifications.
Price: £7.00 + delivery & VAT.
Available from Agility Warehouse or direct from South West Agility Goods. On-line ordering was very easy and the product was delivered within 48 hours.
Value for Money:
It is a little at the expensive end of the price range but for a unique product, it is excellent value for money. Great for training and agility environments as it allows you to keep full control if your dog lunges forward in excitement.
Overall rating:
Definitely 10/10 because it does exactly what it is designed for and the quality is first class.
Available from Agility Warehouse

---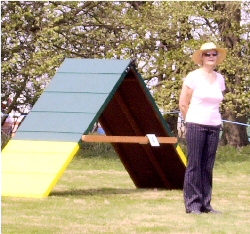 About the Reviewer
Penny Cockerill has been addicted to agility for eight years. She competes with two Medium dogs, both rehomed - one from Agilitynet Rescue Me page. She also judges. She hopes to be able to do agility forever!
Penny is owned by three terriers who have worked hard to develop her sense of humour, with a fair degree of success.
Penny is a librarian with Herts Schools Library Service and takes a mobile library into schools which is great fun. She frequently gets asked if she sleeps in the mobile!
---

If you would like to comment on this product or add your name to the Agilitynet list of reviewers,
email your name and details to Ellen Rocco at Agilitynet today.
First publisher 27 September 2009