Where Ringo is the star...
Description: Ringo is a distinctive range of toys made by Touchango K9. It consists of a Planet Dog Ringo ball on bungee handle and comes in four variations - each with a gorgeous green swirled patterned webbing and a strong yet flexible bungee handle to reduce concussive forces between you and your dog during vigorous play. Touchango Toys are designed for interactive play between you and your dog.
Specifications
Fleece-lined handle for a soft, comfortable grip
Extremely hard wearing ball (100% guaranteed by Planet Dog)
Durable yet soft ball good for tugging for puppies and soft-mouthed dogs
Choice of faux fur or real sheepskin
All sheepskin is responsibly sourced in the UK
Guaranteed 100% non-toxic and recyclable
Handmade in the UK
What was your experience with this product?
I have six dogs and each dog has their own toys. I have to admit that I like my dogs to be 'colour co-ordinated.' I like them to have matching leads, harnesses, coats and, of course, toys, too.
I use the Ringo toy exclusively with my two year old Border Collie Amp as a training reward, though I am sure all the rest would engage with it, apart from Wish my Sheltie who prefers food.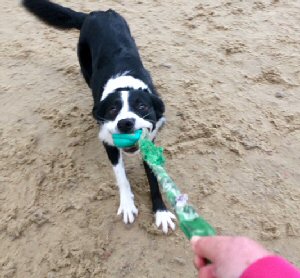 What did you like about this product?
Iím really pleased with this bungee toy. Amp really does target the ball more than other toys he has had, the Ringo is still in good condition even after some real hard tugging.
Because the handle is soft, it is very comfortable for me to hold. The bungee acts like a spring, there is far less impact on the dog and myself whilst engaging in a good game of tug, which makes it a far more enjoyable experience for us both.
Being softer than other balls, Amp can squish it when he chomps down on it, but is it has enough weight to throw it a good distance when training alone.
What could be improved?
Nothing, but would love to see same toy in other colours as the Ringo Ball is currently only available in green.
Please comment on any instructions that come with this product.
N/A
What did you think of the design and quality of production?
Perfect. The Ringo has lasted much longer than previous similar toys.
I have a good collection of Touchango Toys and love design and bright colours.
Price: £21.95 + P&P
Rating
10/10 because it really suits me and my dog.
Value for Money
Admittedly, it is the higher end of the price range for a toy but, having said that, it is lasting longer than any others Iíve tried. With this in mind, yes.
Would you recommend this product to your friends and family?
I recommend Touchango Toys to all my clients at club and friends. From small to large breeds, there is a toy to suit from Touchango K9 with a great colour selection, lots of different designs, a vast variety to choose from, extremely well made. Happy dogs, happy owner.


For more information or to order, go to http://www.touchangok9.co.uk/brands/Touchango-Toys.html
---
About the Reviewer...
Lisa Jordan has been involved in dog training for 30+ years. She started in Agility around 1987 with a lovely Springer Spaniel and a GSD which was then 'her' breed of choice. She then fell in love with Belgian Shepherds. Now she has two - both retired one 14 Ĺ year old Inca (G6) and 11 year old Meme (G6). She has promised herself that she'll always have a BSD.
She also has a 10 year old Sheltie Wish (G7), 7 year old WSD Dec (G7), 2 year old BC Amp (G3) 2years and 1 year old BC Switch.
Lisa has her own club called K.i.s Dog Training, teaching groups from Young Pups Life Skills, Foundations and Hoopers as well as Agility. She invites many guest trainers mainly over the winter period.
She lives in Biggin Hill, Kent.
First published 2 May 2018