For children of all ages, not just poodle lovers...
By Wilfred (Derek) Cheek
Illustrated by Carole Andrews
Reviewed by Gill Pipe

Description: This is a children's book based on the adventures of three very unusual friends - two poodles and a mouse. Through no fault of their own, they always seem to get into unusual situations. By working together, and with some help from friends they meet on the way they always come out on top. Based on two agility dogs- no one knows where the mouse came from - and written by an agility widower. Dedicated to Acecliffe Star Blazer (aka Rupert)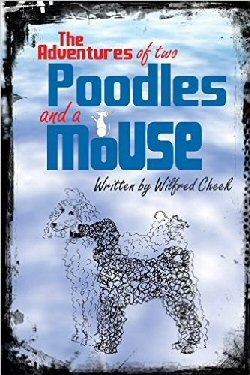 Table of Contents:
Two Poodles and a Mouse on a Train

Two Poodles and a Mouse Save the World

Two Poodles and a Mouse at Sea
Tell us about your experience with this product?
I bought this perfect little paperback to read to my grandchildren of three and five years. The younger is a a little girl who loves the idea of the two curly poodles rescuing everyone and having happy endings while the older little boy enjoyed being caught up with the dogs escaping from their battles and adventures.
What did you like about this book?
All three adventure stories have their little twists to them so expect the unexpected when reading them. It keeps everyone interested.
The two dogs and their cheeky little mouse friend drive steam trains and capture an evil gang. They travel to the moon and stop an attempt to conquer the earth. They even get caught in a storm at sea and get shipwrecked on a desert island. After some help from some very unusual friends, they arrive home safely.
What could be improved?
Loved the book as it is.
What did you think of the design of this book?
This book is nice and light to handle, with easy to read paragraphs that a seven, eight or nine year olds can easily cope with. Complete with twenty four endearing black and white illustrations which match up very nicely with the story.
Specifications
Paperback. 84 pages.
Publisher: Grosvenor House Publishing Ltd
ISBN: 9781781483787
Price: £9.99 (free postage)
Rating: 10/10
Value for money: Three cracking stories in one book. Everything a child could want - dogs, goodies, baddies, monsters and heroes.
Would you recommend this product to your friends and family? Yes! It would make a great Christmas or birthday present for any child who likes dogs. You can even get a copy signed by the author.
The Adventures of Two Poodles and a Mouse is available direct from the author or from Amazon
About the reviewer...
Gill Pipe did agility for about 15 yrs and was lucky to have four lovely, loyal dogs, one of which (Maddie –miniature poodle) won her so many trophies.
Sadly she is now dogless but keep very busy with her grandchildren, dancing, working and looking after her mum.
First published 19 October 2015