Description: The

Wicked H

ounds Recurve Sports Collar is the world's first ergonomic collar. Designed by a vet and top agility competitor in Australia, specifically for performance dogs, it features contoured sides to allow more freedom of movement through the shoulder and avoids pressure points on the neck.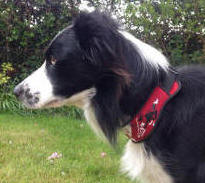 Features:-
Why did you agree to review this product?
Having sports dogs myself, I know how important it is to keep our best friends as fit as possible which means providing them with plenty of exercise. Most of us will have to lead walk our dog / dogs to an area where they can exercise. A lot of dogs can pull with excitement, applying pressure on the throat which can lead to both choking and coarse breathing. For me, It's really important that my dogs have a comfortable supportive collar to minimise the pressure on their necks - and it must look good, too!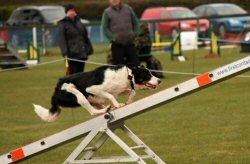 What did you like about this product?
When I saw these collars, what first caught my eye was the extremely funky and wide range of designs. They even have some agility designs!
Then I began to read into the science behind the design and became intrigued. There are a lot of collars on the market that don't do what they say on the tin! How could I know this was going to be in a different league? I continued to read up on the design and why the collar was made and shaped in the way that it is, then I began to research the designers. Still fascinated, I tried the collar out.
The collar was very easy to adjust to stop it tightening, making me 100% happy again!
You can also undo the collar fully to attach a flat ID disc, which is another great advantage.
When I put the collar on my Border Collie and he pulled forward, there was absolutely no coughing or even coarse breathing. This is a collar that is actually comfortable and gives the dynamic support needed. I found that the contoured sides allow a free range of leg movement and there was no rubbing as the shoulder moved. I honestly can't believe the difference it makes in comparison to the majority of collars on the market.
What do you think could be improved?
The collar can be used as a martingale which is the only thing I wasn't completely keen on. However, don't let this dampen your view. The collar can be easily adjusted to be a flt collar - the best of both worlds.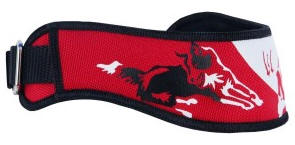 What did you think of the design of the product?
Available in more than 20 eye catching and funky looking designs. When not on a lead, the collar sits like a fashionable bandanna, making it very comfortable for the dog to wear whilst giving more protection than the 'normal' fabric / thin collar.
Where the instructions clear?
When the collar arrived, I adjusted it using the 'how to fit' guide which was very easy to follow.
Price: £19.99. Free UK mainland delivery
Value for Money:
I'm very happy with the product and highly recommend it to people with sporting dogs or pet owners.
Overall rating: 9/10
Available exclusively from DogBooksOnline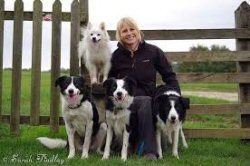 About the reviewer...
Lucy Osborne has been doing agility for 12 years and has competed at international level with her, now retired, Ag.Ch. Benbombastic Mr Fantastic.
Her top results with Ben include:-
1st Large Olympia Final

1st Crufts international Jumping

Silver medal winners in Individual Agility 2010

Representing Team GB for three consecutive years
Lucy currently competes with Stig, a Large Working Sheepdog who has been a very challenging, mentally sensitive dog, but they have worked hard and are now working in Championship classes. Hers Klein German Spitz Fling has only been competing for a year, but has already represented Great Britain at the EOs 2015 in Germany and will be at the FCI World Agility Championships in Italy in October.
Lucy is a full-time teacher and seminar instructor. Her students have reached the top levels in all height categories. Her bubbly, energetic personality and ability to adapt and train the dog 'in front of her' have led to her being much in demand both within the UK and British Isles as well as internationally.
First published 24 August 2015