From Winston & Porter...
Reviewed by: Alison Barlow & Shellie Smith

Description

:

Hip and Joint Rescue

ô

is a high concentrate powder for maintaining joints in active, working and older dogs, containing a quadruple strength combination high measure of Glucosamine, Chondroitin, MSM and Hyaluronic Acid (HA).

Specifications
Quadruple action for very active dogs, sports dogs, working dogs, dogs with tender joints, older dogs and those that are feeling stiffness

Supports long term hip and joint health

Encourages mobility

All the ingredients are natural

Gluten and wheat free

No buffers or fillers

Ingredients form a binding agent which means less of the essential ingredients are excreted from the body
Easy to follow instructions on label
5ml plastic scoop is provided in the pouch to measure out the correct amount of product

Re-sealable package

Shelf-life one year from date of purchase

Developed within the European Pet Industry Federation (FEDIAF) and the National Research Council (NRC)

guidelines
What was your experience with this product?
Shellie: I volunteered to do this review as in 2015 my then young collie had a terrible accident which resulted in him having spinal surgery to remove his spinal disc number 8 (right between his hips). The surgery went well. However, over a period of time his mobility hasnít not always been great and he has struggled with many everyday things like climbing the stairs, getting up onto the sofa, even down to being able to go out for walks with my other dogs,

I have tried many good products on the market but not really seen much improvement, until I was recommended this product by a friend of mine from the sheepdog trial community.

Alison: I was asked to do the review as I've put all out agility dogs and working (sheep) dogs, ranging from three to eleven years on it. Iíve noticed an improvement in them all, and in particular with our two oldies.
What did you like about this product?
Alison: . I was impressed at the concentration levels of MSM, Glucosamine, Chondroitin and Hyaluronic Acid, higher than any other product Iíve seen on the market. That, combined with it's competitive price, made it very attractive.

Shellie: Within a couple of months of using this product I started to see tiny differences, ie he could get on the sofa easier, his recovery from walks was quicker ( sometimes I would have to give him pain relief). He has now been on it for four months and only recently he ran up the stairs. The last time he did that was pre-surgery.

Alison: I also like the friendliness of the suppliers, the value for money, the concentration of the ingredients.

Shellie: Their customer support is second to none. That's a massive thing for me for any product I invest in.
Is there anything that you think could be improved?
Shellie: At the moment, I feel they have satisfied my every need for this product, so I am finding it hard to find anything for them to improve.

Alison: Agreed. Iím very happy with it and have placed repeat orders more than once.

Please comment on any instructions that come with this product.
Shellie: Excellent. The instructions are clear and easy to follow. Also all the instructions are repeated on their web page as well just in case you need further assistance.

Alison: The dosages and instructions are clear
What did you think of the design and quality of production?
Shellie: The design is simple and I particularly like the re-sealable packaging.
Price: From £18.85
Alison: The competitive price makes it very attractive.

Shellie: Itís very competitive to any other similar product on the market.
Rating out of 10
Shellie: I'd rate this product 10/10, because itís so far it's really improved the quality of my dogs' lives. Thatís a big plus for me,

Alison: It's 10/10 from me, too. It's a high quality product that is competitively priced. Highly recommended
Value for money
Alison & Shellie: Yes.
Would you recommend it to friends and family?
Alison: Yes, have done so on a number of times. A family member has also placed her dog on it and similarly has noticed an improvement in her dog.

Shellie: Of course. If I can give someone elseís dog the quality of life back that I have been able to do for mine that counts for something in my book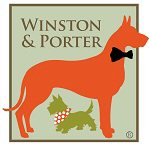 Winston & Porterģ is Winston & Porter is a family run business passionate about dog health and dog nutrition.
We offer a range of high spec multi-vitamins for dogs and high strength joint supplements to soothe those aching joints for each stage of your dog's life, from puppy, working dogs to our more senior companions who need that little bit extra help.
For more information or to order,
go to Winston & Porter web site
About the Reviewers...
Shellie Smith has been a dog owner for over 20 years and has a knowledge of several different types of dogs. Currently she has a very mixed pack consisting of Terriers, Collies and Lurchers.
Shellie competes regularly and also teaches Agility. She has also done Obedience, Rally and Hoopers.
With seven dogs her life can be a bit hectic at times but she wouldnít have it any other way.
Alison Barlow lives on a farm outside Aylesbury where they've had collies who work sheep for some 20 years. She and her daughter compete when they are not helping out with the lambs etc.
First published16th April 2019

If you would like to comment on this product or add your name to the Agilitynet list of reviewers,
email your name and details to Ellen Rocco at Agilitynet today.