A major leap forward in joint health
Manufacturer: Lintbells
Agility Supplier: Camddwr Canine
Joint reviewers: Katie Ford & Sandrine Farr

Description: Yumove is an all in one, triple action joint support supplement for dogs. It is a highly palatable and chewable tablet. Contains veterinary strength Glucosamine HCl, triple strength Green Lipped Mussel, Hyaluronic Acid, Manganese + Vitamins C and E.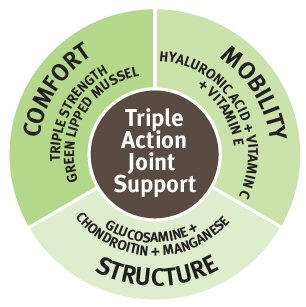 Features:-
Supports joint structure
Improves joint comfort
Promotes mobility
Why did you want to review this product?
Katie: The dog that I wanted to try this on was my crossbreed Jet who is totally fearless and literally lives life at 100mph in anything she does. Teamed with no self-preservation, she's a maniac. When she was a puppy, she was infected with an enteric form of the canine corona virus, which left her in isolation for a week. During this time, the growth plates in one of her front legs were affected, meaning she now has a slightly turned out leg at the carpus. It has never seemed to affect her, though she is only four, but at the advice of the vet and chiropractor, I put her on a joint supplement, more as a pre-emptive measure.
Sandrine: I have one six year old dog who used to get stiff after intense exercise on the leg where she had a cruciate repair four years ago. By intense exercise, I mean for example, a couple of agility rounds or a three hour walk or a long playing session on the beach.
What did you like about this product?
Katie: With the first product I tried (not Yumove), there was no difference really, but then again I suppose I wasn't expecting there to much change as I was doing it as a pre-emptive measure. As we were coming to the end of the old product, I saw the Yumove web site and the free sample offer. I had a good read up on the ingredients and decided to give it a go. One thing that immediately drew me to the product was the wide variety of ingredients. It really does seem to have everything.
Sandrine: I was given a decent sized sample at the KC International Agility Festival. I had used similar joint products before but not a product that actually combined both. And the green lipped mussel is triple strength here.
Katie: I too thought the sample given was very generous, lasting a few weeks. It really gave me a chance to see the results before deciding whether to purchase or not. One thing I noticed was that Jet would eat them as easily as she'd eat a treat - no hiding them in cheese anymore! Plus, even more amazing, our oldest lurcher who also is on Yumove, would eat them just as easily - and she is very picky, even when presented with the meatiest smelling treat. They do smell very fishy! If you order a sample, don't leave them lying around!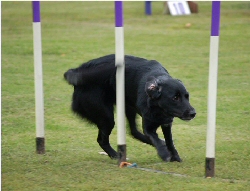 After two weeks on them, I noticed Jet was even more lively than usual - perhaps a coincidence I thought. That weekend she went on to win her agility class, and she would have won the two grades above her too. She was turning tighter and running faster than I'd ever known her run before. Still thinking it was a coincidence perhaps, two weeks later she did a flyball tournament and ran much better than usual, no sticking on the box (just occasionally at the end of the day she used to start doing this) and absolutely powering on. Two weeks later she ran indoors for the first time in 8months (flyball) and ran her fastest times all season, I had so many comments about her - she usually runs in division 1 anyway, but she really was "on fire" (a lot of dogs run slower indoors).
I can only think that now she feels much more comfortable on her joints, as there really was a marked change in the first seven weeks, and there have been no other changes in her diet, exercise or anything else. I am amazed how quickly the changes came about, especially as she is only four years old and there did not appear to be any discomfort before we started Yumove. She has now been on Yumove for 6months and still doing really well on it.
I can only think that now she feels much more comfortable on her joints, as there really has been a marked change in the 7 weeks that she has been on them and there have been no other changes in her diet, exercise or anything else. I am amazed how quickly the changes have come about, especially as she is only four years old and there did not appear to be any discomfort before we started Yumove.
I also have a nine year old lurcher who is on them, I have also seen a marked change in her; before she was quite stiff in a morning, and now she's bouncing around again – almost back to her old self.
Sandrine: I thought the customer service was very good. Quick delivery and helpful friendly staff. There are special offers when you join the members club including newsletters, special discounts and free delivery.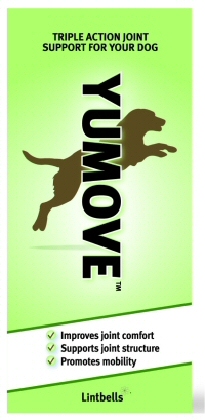 What could be improved?
Katie: The pills are quite large, and may be hard to disguise if your dog won't eat them as easily as my two did (or a very small dog!) Obviously a lot of research and consideration has gone into the ingredients and making them palatable.
Sandrine: Can't think of anything. I am delighted with the product.
What did you think of the design and packaging of the product?
Katie: All very good.
Sandrine: Liked it.
Where the instructions clear?
Katie: The accompanying leaflet was very informative and well laid out, too. It was all very clear and easy to follow. You just need to know the approximate weight of your dog.
Sandrine: Yes, they were easy to understand. The thing to remember is that for old or stiff dogs, double dose for the first 4-6 weeks. For maintenance, just use the normal recommended dose from the start (based on the weight of the dog.)
Price: Normally costs £12.99 for 60 tablets or £22.99 for 120 tablets. 60 tablets is 2 months supply for a small dog, or 1 months supply for an average sized dog such as a collie or golden retriever.
Value for Money:
Sandrine: Good. Just look for similar products on the market, and you will see these tablets are reasonably priced. From experience, I can say they work better than other more expensive products.
Katie: Yumove is more expensive than some joint supplements available over the counter, but considerably cheaper than a lot of veterinary products out there. Jet (approx.19-20kg) needs two tablets a day, so it's costing roughly £10 per month if we buy 300 at once.
Overall rating:
Sandrine: 10/10. I have recommended this product to other friends - agility and non-agility. A friend Lorraine has an old lab Max ( 10 ) who also had a cruciate op a few years ago and the results on him have been spectacular. He was lame a couple of months ago, but since using the tablets he is sound and back to his happy self !
Katie: I'd give the product 10/10, too. I really struggled to find something to be improved. I saw results quickly and was pleasantly surprised by this product.
Available from Camddrw Canine or Agility Warehouse
---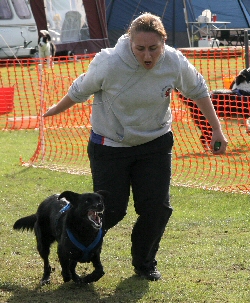 About the Reviewers
Katie Ford is a 20 year old, third year vet student, studying at the University of Liverpool. When not studying, she lives with her parents in Huddersfield with her four dogs.
She started agility in 2003 and began competing in 2005 with her lurcher, Poppy (now retired). Poppy took her to Crufts for YKC for two events in 2007. When she can fit in competitions between studying and placements, Katie runs Jet (Jet Set Go) at Grade 3. The pair train at All Four Paws ATG in Huddersfield.
Katie is also very involved with BFA flyball, running with Leeds 'Owlers and competing with Jet in Division 1.
Sandrine Farr is French and is always proud to represent France at the KC Festival. She came to England 15 years ago for work experience, got offered a job and is still at the same company to this day.
She is a Department Manager for a marine company based in a pretty little Hampshire village and is married to Grahame.
Sandrine started agility in 2000 with Mark and Karen Laker at UpAndOver Agility Dogs and is still with them now. She says they are a great club!
She owns three lovely Border Collies - Laska (15), Pepper (6) and Jay (4). She mainly competes with Jay and has also been handling a friends dog BLiss (6) for three years.
---

If you would like to comment on this product or add your name to the Agilitynet list of reviewers,
email your name and details to Ellen Rocco at Agilitynet today.
First publisher 08 October 2009