A small trader goes to the largest dog show on earth...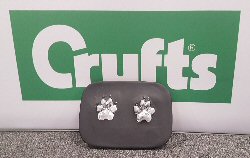 As a small business owner in her second year of trading, Belle McIntosh of FurBaby Casting wondered if a trade stand at Crufts be a worthwhile endeavour or would she be lost in sea of major dog food suppliers, toy and accessory retailers. So when she was offered the opportunity to cover Crufts for Agilitynet, she jumped at the chance. This would be her first time at Crufts and she went with an open mind, a brief to cover the show from the perspective of a trade stand holder and agility competitor and, as always, her trademark pink trainers.
Walking into Crufts for the first time is overwhelming. There is a real sense of excitement in the air. Over four days 162,000 people and 27,000 dogs will be there to compete, watch, and cheer on their favourite handlers and breeds. This year the visitor demographic is bigger than ever.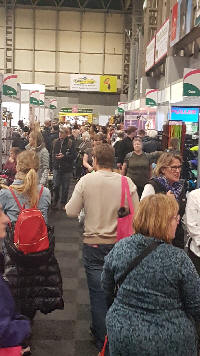 Where to start?
Turn left to Hall 1, the Main Arena or right to Hall 5, one of the many show dog areas. Or go straight ahead to Halls 2, 3 and 4 which include Discover Dogs and the agility trials. I choose left.
Entering the Hall, the first thing that strikes me as a prospective retailer is how all visitors have to walk through the trade stands to get to the main arena, restaurants and facilities. Trade stands are well laid out with clear signage, giving the public an easy way to find their way back to a stand. In Hall 1, I would say 80% of traders are independent. The same trade stand set up is duplicated in all of the Halls. The major retailers are in Halls 2,3 and 4.
8:15 - Competitors and visitors are arriving en masse, but once set up they are on the move and shopping!
10am - Crufts is near to full. At this point, the thoroughfares which earlier were easy to walk through have become congested and, at times, have come to a stand still. Think M25 at rush hour. Yes, the public are here to cheer on their favourite breed or agility dog and marvel at the unusual breeds in the Discover Dogs area, but they are also here to SHOP!
11am - By this time I had interviewed a number of trade stands, but it was becoming increasingly difficult as I felt I was distracting the trader from potential buyers.
A trade stand starts £900 and can cost as much as £5000 and more. And that is just for the shell. On top of that is price of electricity, a single light/ lighting, travel, staff and hotels. By my calculation, there are more than 800 trade stands, all competing for visitors and competitors trade.
I decide to start with traders who had similar product to mine which I would consider to be a a luxury item and quite niche.
Lars from Arty Lobster creates 3-D sculptures of your dog and has a high price point. He has been trading for four years now and this is his third Crufts. For Lars, Crufts is all about showing off his product and networking. I did feel, however, that his stand was very sparse, and he comments that the public often doesn't understand what his product is. Consequently he couldn't say how much of a boost Crufts is for his sales.
All the dog photographer stands have excellent visual information, samples of work and prices thus allowing the public to collect all the information they needed without having to wait to engage with the retailer.
Mabel and Mu make home-made collars and leads in the UK. Their products are beautiful and start from £10. That's a lot of collars and leads to sell to recoup their costs. However, with 48 other trade stands just dedicated to collars and leads, I wondered how can it be cost effective, so I asked Deborah why she came to trade at Crufts.
She says, 'This is the biggest UK dog show of the year she explained. All visitors come here to shop. It is part of the Crufts experience. Often it will be Christmas or birthday money people have saved, just to shop at Crufts.'
I had to let her go as even though she had staff, people were queuing to buy her collars.
As I walk away, I hear her say 'Definitely... book a stand at Crufts!'
And this was the comment from every trade stand I spoke to. Looking at the various trade stand packages, the organisers really do look after the little trader. A small ad can be taken out in the Crufts show guide starting at £60 and the Crufts website is very visitor friendly. It is easy to find trade stand information.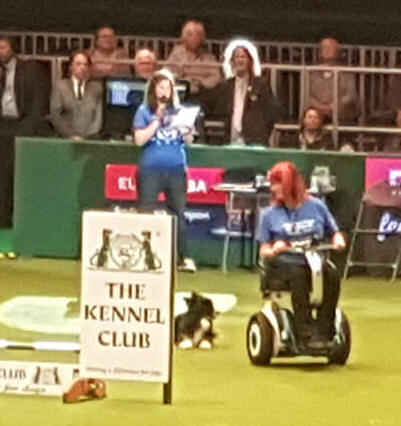 2pm - I am fading so off I go to the Main Area to watch a little agility and have lunch. As I head along a long corridor, I note the number of shopping bags visitors are carrying. Then at the end of the corridor, I am ushered up some steps by one of the many very helpful attendants at Crufts.
I enter the Arena. It is huge and almost full as the rescue dog agility trials start. An announcement comes over the tannoy asking visitors to move across into any empty seats as people are queuing outside. Again the excitement in the room is comparable to a rock concert.
As the day rushes on I go to Hall 5 to find some agility friends who have stands in this area. As with all of the halls, the visitors have to pass through the trade stands to get to the rings. I see a few familiar clothing retailers, whom I have had stands with before including Ain't Misbehavin'. I manage to get a quick word with Lesley, who did admit her electric hire cost was huge. Nevertheless, they come every year as they have a loyal customer base that expects them to attend. I am told by a couple of the other trade stand holders that you can request the same pitch so people can find you year on year.
I pass Paws Trading and manage to say a quick hello to Jack. All Paws team are busy speaking to visitors, so I go to find Claire from Chrysalis K9. I have met her before at agility competitions and know she has been coming to Crufts for a few years. She also makes beautiful bespoke leads and collars and Cani-X lines. Hers is the most basic stand you can hire, but it has more then enough room for what I would need. Claire has racks of collars and leads visitors are browsing through. I think the attraction to her stand is watching her make the bespoke leads and collars. It definitely grabs the interest of a passer by.
5pm - I am exhausted. As I leave the building, there are cues of visitors waiting for buses, laden with shopping bags and dog mats rolled under their arms.
I know that the Spring/ Summer agility season is approaching and I am excitingly starting to book trade stands at various shows particularly where I can do some agility runs with my rescue Staffy Rooby. I think I am so lucky to have the support of the agility community. But, as I walk to my car I look back and realise that a show like Crufts is the next natural step for me.
Wait until my husband hears!
Nothing ventured, nothing gained.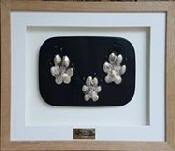 To find out more about FurBaby Casting,
go to https://www.furbabycasting.com/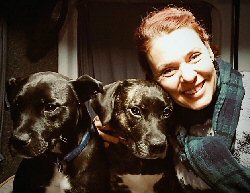 About the author...
Belle McIntosh lives in Bedfordshire with her two Staffy rescues and huband.
When she is not casting superstar animal paws, you can find her teaching pottery at Milton Keynes Arts Centre.
Belle regularly attends agility shows with her bright pink marquee and her Staff x Mastiff Rooby-Murray. One day she hopes to make G2.
Little Ned is happier staying at home with Belle's husband, eating raspberries and chasing birds in the garden.
First published 20th March 2018