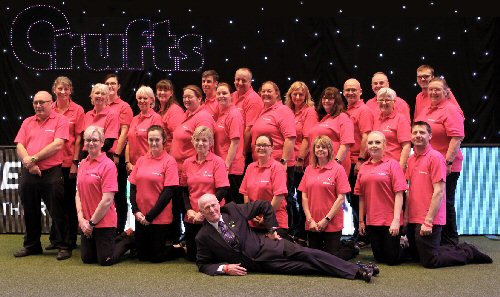 The Bestest Ring Party in the World
As a team, we cover all the agility and flyball events. There is also a team that is required BIS night. We usually also end up helping for other odd bits, too. None of the ladies seem to mind helping the RAF guys!
We are responsible for setting out every agility course, changing it as required and then clearing away. During competition, the usual things need to be covered, pole picking scribe, calling, leads etc. The main difference from your usual show being that you are very much in the public eye and often under a lot more time pressure than a normal show.
Taking people in to the start line or bringing them out is well orchestrated to avoid peopleís heads in the video coverage. We also try and play dodge the camera.
Calling is a hard task! Many people are nervous and, therefore, often not quite where they should be. Some are just too laid back and wander off (Alan Bray!)
The main ring is split into four corners. Each corner has a team responsible for it. We build and look after our owner corners. This helps with the smooth running of both course build and running of the class.
We tend to have fairly long days. We work hard and laugh lots. We hope to make the competitors and judges day as easy and enjoyable as possible whilst also trying to keep things moving as per the request of The Boss, Dave Jolly who in turn is trying to keep everyone else happy - those who run the show, the ring, the TV guys etc etc.
Ring party is one big team effort. From those in pink on the green carpet, to those scoring, calling, scrimping, TV guys, floor Managers, camera crew. It all has to function seamlessly. It has its moments. But as long as the spectators and viewers never notice, then weíre doing okay.
Amanda Pigg