Meet the British Team 2004
Representing one's country must be one of the biggest honours a person can have, and Agility is no exception to the rule. On Monday, 19 July 2004 the qualifiers were held at Coventry and, after exciting four rounds, members of the British Team for the 2004 Agility World Championships in Italy were picked. Agilitynet asked them to describe their big day.
LARGE DOG TEAM

Handler: Simon Peachey
Dog: Diesel

It was Sunday at Rugby DTC show. My aim was to have a day of training my dog at the show in preparation for the World Qualifier the next day. What a day I had - three runs and three eliminations - not my game plan at all. Diesel and I were not working as a team. I was really worried for the next day.

We were staying the night at Rugby on the Sunday night so it would be a short journey in the morning, but after my day I had to do some training that night before the qualifier. Rather than drive home, train my dog then drive back, Rob and Elaine Hunter kindly lent me their field and equipment to train on that night. It was only ten minutes down the road, so thank you Rob and Elaine. It's down to you I made it in the team.

Up bright and early Monday for the short journey down the road to Coventry. First job of the day was to queue and book in with Pete, the vet, and get all the paperwork out of the way. Then down to the serious stuff.

The British WC Team 2004

Small dog Team:
Rachel Mowbray with Nutmeg (BT)
Dawn Weaver with Dreamer (Papillon)
Lynda Stangle with Alex (Papillon)
Non-travelling reserve: Lynn Stephens
with Quiz - (Cavalier)
Medium dog Team
Jeanette Tandy with Buddy (BT)
Sarah Ashmead with Clio (Min. Poodle)
Priscilla Barrett with Jem (BT)
Non-travelling reserve: Lorraine Drew
with Ted (BT)
Large dog Team
Toni Dawkins with Kite (BC)
Nicola Garrett with Spec (BC)
Simon Peachey with Diesel (BC)
Large Dog Individuals
Greg Derrett with GT (BC)
Keith Williams with Bryn (BC)
Lesley Olden with Beanie (BC)
(+reserves for team)
Diesel took the long jump out in the first round so got five faults. Lots of people took this jump out so I still managed to get some points. The next two rounds went well, winning the first agility round and coming second in the third round.
After lots of head scratching and mental arithmetic, I worked out that I would be in the top six no matter what. I was running one from last in the final round. The pressure was on. Diesel put in another stunning round and came second. This put me in second place overall behind Toni. Even when you know you are in second place it still doesn't sink in until Steve reads out the team and individual list.
Bit scary though being in the team this year. Good job Nicola likes going last as she seems to do a great job holding her nerve. Lots to live up to after the team did such a fantastic job last year, so I will be doing my best for everyone. I am really looking forward to going. It should be a great team again and the individuals should do really well to.
Handler: Lesley Olden
Dog: Beanie
It's so hard to describe that feeling when Steve takes you and your dog into the 'sin bin.' It's the WAITING before you go into the ring because there's no going back! Yet I want to go another year and have another go!
As you know I haven't been about at all since the last WCs as I had a knee operation and I haven't been able to run. Okay, no change there then! As a result I had to withdraw from Olympia and Crufts. Beanie and I put on another hat for a while, and she has now qualified to compete at Championship level in Working Trials. Also since last September, I've learnt a lot about flowers and that, if you stop at home, you're supposed to do housework!
In my wildest dreams I didn't dare think I would be going to Italy to compete, although I intended to go as a supporter. It certainly made me feel very humble that Beanie should pull out all the stops for me at the qualifiers and try so hard. Apparently Steve Croxford's comments as regards my handling was CRAP, BRILLIANT, CRAP, BRILLIANT.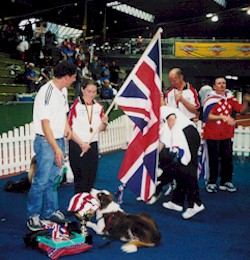 Handler: Nicola Garrett
Dog: Woodsorrel Spectre
It was an early start, having to arrive at 7.00am in Coventry. Thankfully for me I only live just over half an hours drive away.
Then itís the waiting in a queue for the measuring and vet check - we agility folk know all about queues - then a bit of training to get Spec used to the lower fences, the floor and the wider spaced weaves. Oh and the quick reminder for him to get his contacts.
The atmosphere is always a little tense with people wanting to get it over with and hoping they will be lucky enough.
I am always hopeful but each year I know that it gets more and more unlikely I will qualify. What with having now qualified for the entire four years we have been going and with two different dogs.
I always try the steadier approach, trying to gain the four clears with slightly lower places to ensure my place on the team. This year was no different. I gained my confidence once I got a clear in the first jumping class. It was clear to us all that these courses had slightly unusual areas and not what we were used to.
Another clear in the agility, half way there but still too far to go. Unluckily I was drawn first in the second Jumping class which had a horrible weave area. Thankfully luck was on my side. I steered Spec round for his third clear. I managed the hard section okay but there were other little bits that looked less than perfect. After that I knew we would qualify as I canít have that much luck on one round and not qualify.
The last round I was not so nervous and was rewarded with another clear from Spec. Now just to wait to hear if Iíd got on the team.
It was great to see so many partnerships doing well. Toni and Kite were unbeatable; they work so well together now and Simon and Diesel... everyone knows this pair. Waiting to hear the results were nerve-racking - for some more than others.
It was nice that in the Large group that during the final round the positions of the top three handlers/dogs didnít change. It is a good team we are sending. We will just have to wait and see how we do.
I was especially pleased that my team mate Greg Derrett and friend Keith Williams qualified. They both deserve it and having them onboard will make the trip even more enjoyable.
I felt extremely pleased and excited that I would be representing Great Britain, and at such a lovely venue. I am very proud of my dogs that have achieved this for me.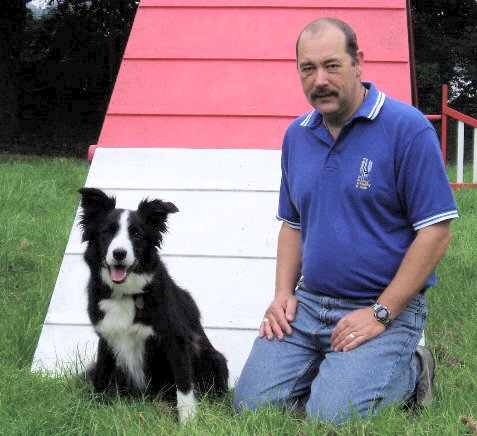 Handler: Keith Williams
Dog: Bryn
What a day! Two weeks before the event I received my ring card and it was No. 13! Never mind I thought "lets take it as a good omen".
I arrived at the venue thinking "You're got to work hard today as this is your best chance yet. Bryn is on form ( not that you would think it if you saw our Crufts senior round at Rugby).
First round and we go clear, helped by a bit of luck that FCI rules are slightly different when marking a knock down, you do not get faulted if the obstacle falls after you have cleared the next obstacle. We had just tipped the long jump but it rocked before it fell and we were over the next jump. I was really pleased with this round and thought I can go home now happy with our performance. I was then told that I was lying in 2nd place. I could not believe it.
Next round was an Agility round with a very tricky weave entry. I managed to keep my head and get another clear round. I just hope I can take this head and mental attitude to Italy!. This was followed by a 3rd clear round in the jumping. It was now getting a bit scary at the realisation that I could possibly do this.
The last round and unfortunately this time I fell foul of the FCI rules, we had a refusal at fence B of a combination, not thinking fast enough I put Bryn back over B instead of going back to fence A subsequently I got myself eliminated.
We then had to wait for Steve's selection. He started with the small dog team then the medium dog team and lastly the large dog team. He announced the large dog team will be Toni, Nicola and Simon reserves Greg, Keith and Lesley. At first I was unsure if it meant I was a non-travelling reserve but Nikki asked and Steve said no "you are on your way to Italy".
I'M IN THE TEAM. This is one of the best things that has ever happened to me to represent Great Britain, a dream come true. I will be grinning like a Cheshire cat from here to Italy.
Bryn thought it was "just another agility day" If only he realised what he had done.
Handler: Greg Derrett
Dog: GT
It's been three years since I stood in the arena at Portugal and watched Fern come back out of the wrong end of a black pipe tunnel three times! It was probably the most disappointing moment of my agility career.
So travelling to the qualifier Monday morning I was hoping not to see to many U-shaped pipe tunnels. Well, over the four courses I think the judge set 12 of these so on average, just three a course. Just what I wanted! I have to say that over the four runs, it was some of my more panicky handling. Therefore, I was more than glad to make the individual and not the team.
Toni, Nicola and Simon have all run their current dogs at the World Champs and were certainly a class above the rest of us on the day. It certainly was the best team selected.
Ellen has asked us to comment on how we feel about being chosen to represent our country. I am very proud that I have now had two dogs chosen for this event but hope this time Premier leave the black tunnels in the UK!
As you may now know, Pete and Nicson were not really on top form at this yearís trial, and Quiz and I managed to be named reserves for the small dog team. It will not be so well documented Iím sure, that my BC, Chess and I also managed a very creditable clear round a pretty good 'nearly' of which I was also very proud! But that's another story... Would we have missed any of it for a moment? Absolutely not!
In fact, this year, both Pete and I felt that we had handled the pressure of the day on Monday a lot better than in 2003 and had actually enjoyed many of our runs! Anything that went wrong this year went wrong just because thatís what happens in Agility and not because of the nerves.
Our one disappointment, however, must be that felt by the organisers of this event. That was the small numbers of competitors trying out for the small and medium dog teams. Without the fastest dogs in the world, these teams have represented Great Britain very creditably in the past and achieved a fifth and tenth place on the world stage last year. Just imagine what we could do if more of our faster small and medium dogs with their handlers felt able to try out for the teams. And yes, I do think we have more good pedigrees out there who would easily fit the bill. The more of us who experience courses at world-class level - and are willing to bring back expertise to the rest of the circuit - the better our own standard will become.
In conclusion then, as I was asked only to send in a short article, I would urge all of you out there with top agility dogs in any height category to take a close interest in this yearís competition and to conquer those fears and try out for next yearís team. The very worst that could happen is that you blow out on the day and are not chosen for the team (we all know you can handle because you prove it every week!) You have nothing to prove, nothing to lose and everything to gain.
The very best would be that you were standing where we were standing last year representing your country in the sport you love best Ė and maybe where our Standard dog team were standing at the top of the podium winning the gold.
Whatever else happens to us in the future, Pete and I know that no one will ever take that experience away from us. And yes, I will be there again this year Ė travelling as groom for Lynda Stangle with her Papillon, Alex, and shouting at the top of my voice for everyone in this yearís team in Italy. I would not miss it for the world.
SMALL DOG TEAM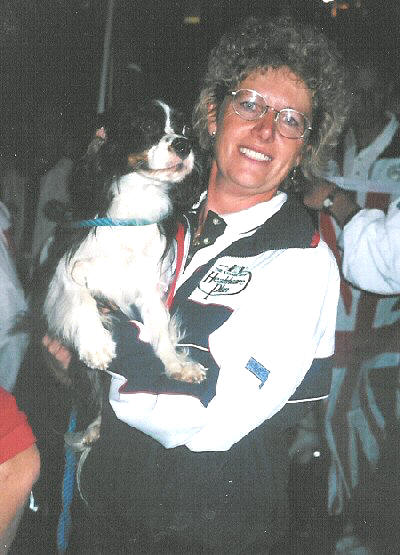 Handler: Lynne Stephens (Non-travelling Reserve)
Dog: Quiz
Being at the Agility World Championships in Lieven, France last year was one of the most exciting moments of our lives. Actually competing in the British team was certainly one of the proudest for both Pete and me.
I cannot describe the feeling as we walked on to the line to the cheers of the British crowd and waving of British flags. The support and camaraderie of the rest of the team and coaches made us feel part of something totally unique and special. New friendships were forged, and a whole new agility world opened up to us. Were we going to give it another try again? No question!
Of course, we were going to experience that sick feeling in the pit of our stomachs once again and, of course, we were going to lay ourselves open to that greatest fear of all competitors Ė the fear of failure Ė or of looking a complete fool! But, as everyone who qualified for this yearís team will also know, the feeling of elation when things do go well more than makes up for any of this.
MEDIUM DOG TEAM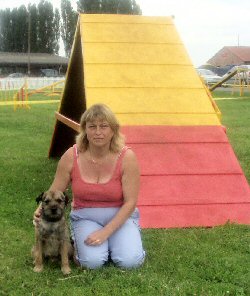 Handler: Jeanette Tandy
Dog: Buddy
First of all I would like to say that on Saturday I was undecided as to whether go to the qualifiers or not. After months of five faults in Agility I had doubts, and after speaking to a few people who had experienced the qualifiers I was even more doubtful.
Sunday was another day. It was my first Championship class. Challenging courses saw three clear rounds and fourth overall. I was very pleased with this performance. Therefore, with the persuasion of the Fairlambs and a few others, my mind was made up.
The day started with Buddy, my two supporters and I leaving at 6.15am allowing roughly 1 1/4 hours for the journey. All was going well until traffic was backed up following a car fire. We then got onto the M1. The directions said come off at Junction 17. This is were we hit traffic jams and you could not get of at 17. We, therefore, had to queue in traffic to Junction 18 and then back in the traffic queue to 17, the opposite way. At this point, I was really starting to get nervous as the time was now 8.05. We eventually arrived at 8.15. inside we found the course being built and therefore had missed any practise. Chris Baldwin joined the queue to get the doc's checked.
This done Wendy Clay-Fairlamb organised me to calm down. Buddy at this stage was so laid back he spent 10 mins watching a beetle crawl across the floor.
First round
Now it was time to walk the first course on walking the course I remember thinking I wish I had practised difficult weave entries. I was very pleased with Buddy's round going clear and being the first to run. At the end of the 12 medium dogs he was still 1st with 6 points.
Second round
Agility could this be where it all goes wrong. Yes, E at the weaves.
Third round
I thought this was the hardness course of all with a very difficult weave entry. I, therefore, had to over come this barrier so sorry Buddy and the people sitting near the weaves I just had to nag him round not letting him leave the end of my finger once in the weaves we could enjoy the rest.
Fourth round
I thought was a nice course the confidence now growing I loved the last run.
With the points added up that made us joint first (I think). Wendy kept things in perspective just before the announcements were made she said to me, 'Steve may decide not to take a medium team.'
Once he announced he was going to take a team of all sizes I was so excited. The atmosphere was brilliant once the names were announced people were going round shaking hands and hugging each other. (I think I had a little tear.) Reality did not hit until driving home. (We are off to Italy!!)
Thanks everybody who has sent good wishes and RVA (Ray & Val) who are sponsoring extra lesson to get those weave entries right. A big thank-you to Nicky Kneeler and, of course, my brilliant little dog Buddy.. We will try our best for Great Britian.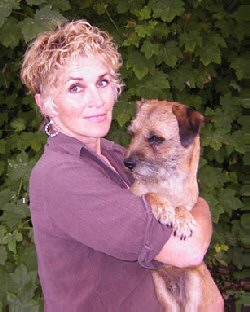 Handler: Priscilla Barrett
Dog: Jem
I had the luxury of being driven to the trials, and generally looked after once there, by Alan Humphreys, chairman of Ely & District DTC. Alan gave Jem and me our first agility lesson almost four years ago, and he and Janet have put up with us ever since.
Jem was allowed the special privilege of travelling in the car with me rather than in a cage smelling of Alan's dogs. For one who burns up as much emotional energy as he does, 'Unconscious is Good.' Unfortunately we discovered that exit 17 on the M1 doesn't exist if you're southbound, so we arrived too late for the practice session.
Once the trials began, I struggled with the very short time available for course walking - no course plan either - and stood on the start lines feeling more like Ethelred the Unready than myself. Unfortunately this really prevented Jem from running at his full potential, but it has shown me what to work on over the next two months!
It was brilliant having Paolo Meroni to judge, as he provided a really foreign feel to the courses - a valuable experience for those of us who have never competed on the continent.
What a thrill to be in the team. What a huge experience, and what a privilege. We will do our utmost to be worthy - with more than a little help from our friends.
The day I (almost) qualified for the World Championships Ė 19 July 2004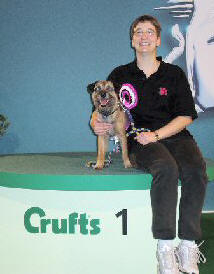 Handler: Lorraine Drew (Non-travelling Reserve)
Dog: Ted
Monday was a long tiring day. It was the day we almost qualified for the World Championships. We arrived at the Sports Connextion at 7am and didnít leave until gone 5pm. But it was far better than my usual Monday at work.
It was a great 'agility day,' with four very interesting courses to work and some fantastic dogs to watch. I felt privileged to be amongst such great partnerships, to be there taking part and running the same courses. Everyone was really friendly and supportive with lots of applause after each good round and groans and commiserations when something went wrong.
Ted and I tried really hard, and we both enjoyed the atmosphere. A momentary lapse in my concentration during the first agility round sent Ted onto the seesaw rather than into the weaves - loud groan from the audience and a swear word from me - blowing my chance of a top three place and into the team.
Never mind there is always next year! All three medium dogs put in a good solid performance and deserve their place. I wish them all the luck in the world and hope that they come home with a trophy. As non-travelling reserve, I also hope that one of them cannot attend - nothing too serious - so that I can go instead Ė so watch your backs guys!