On the ropes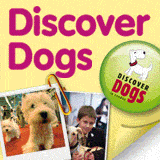 Intrepid Agilitynet reporter Lindy Margach ventures into the main ring at Discover Dogs to find out what it's like behind the Agility scenes at the public's favourite event. With legs aching but still smiling after a super two days of hard work, she found the time (and energy) to write this report.
The first thing to say is: I survived! Survived two days on concrete, 26 changes of agility, jumping and flyball equipment, survived having a set of weaves dropped on my foot - ouch – still glorious Technicolor - survived pole picking and lead moving – and had the most fantastic time.
Ring partying at any show is hard work, but with the tight timetables at Earls Court 2, it's a nightmare. With a dizzying mixture of agility, flyball, heelwork to music, demonstrations by the glorious Goldies, displays, training, parades, Scruffts and Companion Dog Club judging, not to mention changes of sponsors, it seems that the courses were never in place for more than about 30 minutes at a time.
I met up with ring manager Dave Jolly, the five other ring-party members and Shaun from Premier, who provide all the equipment, just before 9.30 on Saturday morning, as we all changed into our teal-coloured 'main ring' stewards' polo shirts. Then it was up with the Pedigree yellow jumps, A-frame, dog walk, weaves and tunnels as the small competitors headed into the ring.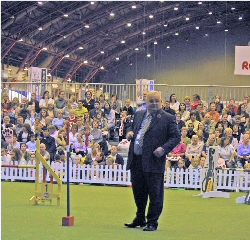 Miniature poodles, Shetland sheepdogs, a border terrier, Patterdale terrier, JRT, cocker spaniels and the inimitable 12-year-old crossbred Ag.Ch. Spratt Attack got the events off to a flying start. Angela Gadenne from Colchester drew the unenviable 'first out of the hat' with her little black poodle Whoopi, and loped gracefully round the course to set a challenging time of 26.92 seconds. Running at number 3, however, Mandy-Su Sarti from Earls Colne, Essex, whizzed 2.5-year-old Patterdale Izzy round the course in a breathtaking 25.46 seconds which was more than enough to clinch first place, despite a brave effort by Tracy Bennett's 3.5 year-old Border Terrier Buffy who was clear in 26.75 seconds to snatch second.
Then off with the old and on with the new. Pink Eukanuba equipment appeared in the ring and, shortly afterwards, the top ABC dogs in the country – all of whom have already qualified for the Olympia finals in December.
It was an Aussie romp, as Mark Douglas's Australian Shepherd Dog Amber (Dishy Scarlet under Stars of Mars AW(s)) took top spot with a clear round in 24.11 seconds, followed by Anna Brailey's Australian Working Kelpie Up a Gum Tree just a hair's breadth behind at 24.15 and Bridgitte Wyre's Belgian Shepherd (Groenendale X) Della just behind them in 24.30.
The pink equipment came out in a rush. We watched five minutes' of fascinating heelwork to music - wish my dogs were as good as that - then rushed it back in again for the Medium dogs to contest their agility skills.
This really cut the mustard, with nine-year-old Bess (Liquorice Lass) showing her prowess as she beat handler Sam Davies over the finish line in a stunning 23.37 seconds. Just 100th of a second slower, Tony Johnson and Mouse (Raeanne Miss-chief) had to second for second place, just 3/100ths of a second ahead of Lisa le Signe's Shetland Sheepdog Obay Truly Focused, better known as Chi, who swept round clear in 23.41.
We were then given a few seconds' grace for the presentations before (yes, you've guessed it!) out came the pink jobs, to be replaced by Premier's patriotic red-white-and-blue for the Rescue Dog demonstrations. Every one was a winner here, with the audience cheering loudly as each dog demonstrated its skill on the agility equipment, working in groups of five as their stories were read over the loudspeakers. Another quick change took the equipment out and two sets of 36 weaves into the arena, as the rescue dogs were organised into two teams to race each other through the weaves – no cheating allowed! After sticking the weaves down firmly with extra-strong double-sided sticky tape, the 'Movers' and the 'Shakers' all proved their worth . How good it was to see dogs that had been unwanted, mistreated or dumped on the streets showing the skills and the joy of agility!
But no time to rejoice. The weaves left the ring ... and so did we, for a well-earned break before returning to set up the pink kit for the small dogs' jumping class. Whoopi proved well-named, taking top honours for the second time in the day with a sparkling round of 26.44 seconds. Rosie Cavill made the trip from Newport with cocker spaniel Spice (Fieldspy Leana) worthwhile by taking 2nd place in 27.16, a remarkable achievement in the dog's first agility season. Little Levi, –Hayley Bray's Sirensong Whatever with Upanova, a miniature poodle from Milton Keynes, came 3rd in 27.67 seconds.
Breathless...
Out with the pink ... five minutes with Mary Ray ... and back with the yellow as the ABC dogs trooped into the ring for their second appearance. This time round Crawley's David Leach made no mistakes with Belgian Shepherd Malinois Rusty (Bonvivant Kallisto) who ripped round the course in a breathtaking 21.80 seconds to make first place her own. Nigel Staines, far from his native Cumbria with Australian Working Kelpie Zico (Dragonheart Dark Destroyer) was more than a second in his wake at 23.14, followed by Mark Douglas's Amber in 23.35. for her second rosette of the day – beating Bridgitte Wyre's BSD cross out of the honours by just 100th of a second!
Back in the pink again, we were ready for the medium dogs' second appearance. And while the early runners set a cracking pace it was Sam Davies, running 8th, who stormed into the lead with Bess with a run of 22.75 seconds and was then trounced by Toni Dawkins who made up for a morning error with Border Collie Minx (Tenita Magic Minx) to go clear in 20.36. Lisa le Signe then pushed Sam down to 3rd as Chi whipped round in 22.49 to take 2nd place.
We heaved the equipment out into the collecting ring – and drew a collective sigh of relief. Just time for a little retail therapy en route for Earls Court tube station and home (and my apologies to Gareth when it was discovered that I was setting out for home with his jacket –and car keys – under my arm)! Property restored to its rightful owner, it was home, a long walk for the faithful dogs, take-away pizza and bed!
Sunday is a different kettle of fish!
Notwithstanding the aching bones and the purple toe, I was up well ahead of the lark for another long walk, then reported for duty soon after 9 am.
This is the day when three clubs – this year Faldo, Thames and Rugby – were invited to send a selection of club members' large dogs to Earls Court to strut their stuff. The competition is just as fierce – but somehow Sunday is also a lot less formal.
But not for the ring party! Although this time we had only six classes to cater for, including a repeat of the Rescue Dog Agility and weaving challenge, on day two the equipment seems somehow heavier and the concrete floor harder!
First up were the team entrants for agility. Here Thames started the day well 'in the pink' and took first and third places with clear rounds from Lucy with Pie and Daniel with Meg. Rugby's Deena with Jake split the two to prevent a clean sweep.
Five minutes later we were back in the ring (still in the pink) for Small dog agility, where Wendy Fairlamb and Scout blazed round in 24.46 seconds to pip Mandy-Su Sarti's Issey and Vanessa Layton's Archie into second and third places.
Back into red-white-and-blue regalia for the Rescue Dog reprise of the Agility and weaving challenge before half an hour's respite when we all enjoyed the Southern Golden Retriever Society display and another entertaining heelwork to music. Then it was up with the heavy stuff, as the flyball equipment was taken into the ring. At this point, I confess, I busied myself with the four poles to mark the end of the run-in, leaving the strong-arm team to do the heavy stuff.
Then, for me, came the highlight of the day: the Large dogs' jumping knock-out competition, where two parallel courses complete with tunnels and weaves were set up, the dogs almost 'meeting' in the centre of the course as they flew round. The pace was fast and furious and the crowd was egged on into Mexican waves, cheering and shouting as each pairing set off around the course. In a dramatic finish, Faldo's Colin Hines took the trophy, with Fliss landing barely a split second the fastest.
No sooner had he done his lap of honour, than we were back clearing the ring, before taking a very welcome break and a trip to the sandwich bars.
Our final appearance in public came with the large dogs, when Rugby's Deena and Jake took off first and set what proved to be an unbeatable time of 25.64 seconds. Team-mates Charlie and Trio came 2nd in 25.76 and the final trophy of the day went to Thames, when Daniel and Meg romped home in third in 26.68 seconds.
And that was that.
Only, of course, as in all good stories, it wasn't. We still had all the equipment to dismantle ... the feet off the wings, tyres off the supports, A-frames, dog-walks and weaves to be taken apart. But it was soon loaded on to the Premier lorry and, at last, footsore and aching, it was time to head for home, a hot bath and bed.
If you watched Discover Dogs on TV, you won't have seen us. But, like all unsung heroes, without the ring party 'the show won't go on'!
Why not try your hand at a ring party at one of the shows next season? You'll find it's hard work, but it's also hugely rewarding and you make lots of new friends even if you can't influence people! Come along ... join the A-team!

About the author...
Lindy Margach lives in Wallington, Surrey, with her three 'mad labs' - Shannon (now retired but still enjoying any-size jumping), 3-year-old Bracken who lives for agility, and the puppy Ree - just six months old and busy learning her touch points and to distinguish left from right!
To support them and fund her agility, she is a full-time journalist and PR consultant, working in the agricultural and environmental sectors.
Photo: Chris Garrett
Published 14 November 2007