Seven helpful tips for anyone aspiring to judge...

Did you know that more than half of the injuries to agility dogs happen at competitions? It is the judge's responsibility to set a course and create a safe environment for the dog in the ring. Inspire Agility founder Ruthie Pegs is passionate about improving the welfare of agility dogs by supporting the training of instructors and judges. Below she sets out a rough guide to some things to consider when designing an agility course to ensure healthy dogs and happy competitors.
Back in my early days of judging circa 2005, I shamefully said things like 'I'm going to design trickier courses with tight turns to enable the slower dogs to win and create traps for the faster dogs' and 'I'm going to put tight turns off contacts to trap those dogs with running contacts'. At the time, I ran a steady collie and didn't understand advanced skill training and I had zero knowledge about running contacts. Fortunately, my knowledge and understanding has grown alongside my passion for improving positive welfare for the agility dog.
Now I believe that no dog's welfare should be compromised when running an agility course.
I have laid awake many a night thinking of how to help judges improve their courses to reduce the 'Goldilocks' effect, of some courses being too hard, ridiculous or unsafe and some too easy, unchallenging or boring.
Below are my seven top tips.
1. Be open to receiving supportive feedback from experienced peers
The Kennel Club judges' peer mentoring scheme is an excellent starting point for new judges, plus there are other very good, experienced judges who offer feedback and support on course design. Apply an open mind to receiving feedback. There's always more to learn.
2. Keep your skills up to date
Attend training seminars on course design and course building given by experienced judges and judges' trainers.
3. Watch different dogs run
This will help you learn more about the dog's line when you are drawing up your course plan.
If you only run Small dogs, be sure to watch Large dogs run and vice versa.
Trickier courses with tighter courses may increase injury to beginner dogs and steadier dogs. In general, all types of dogs benefit from a flowing course to reduce compression injuries from twisting and turning.
For the larger striding dogs, choose distances of around 7m between jumps - 7-8m is ideal. Regarding approaches to contacts, apply a maximum of 7m from a jump and 6-7m from a tunnel. Both considerations will reduce concussive injuries when the dog hits the contact obstacle.
4. Design your course to test the appropriate skills for the grade
It's a good idea to RAG the level of skills for the grade your course is testing.
Red

skills for G5-7

Amber

skills for G3-4

Green

skills for G1-2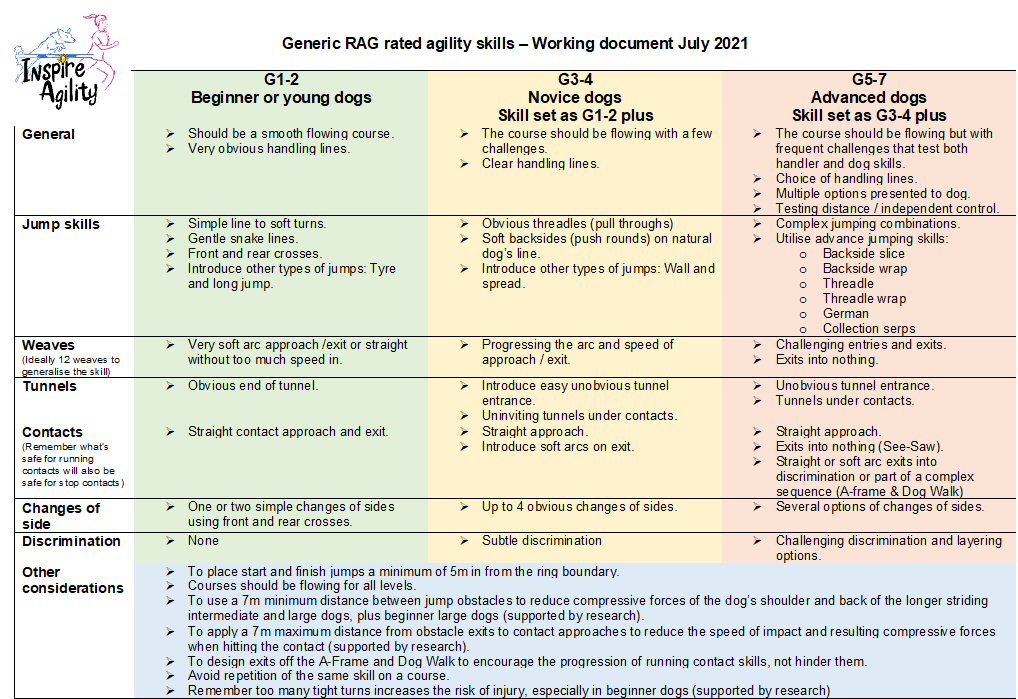 Do avoid repeating the same skills to be tested in a course. This will make the course more interesting for the handler and will likely reduce repetitive strains on the dog's body.
5. Make contacts a safety priority
Do ensure the approach is straight for all contacts and the exits are suitable for the grade. G1-2 exits from contacts, for instance, should be straight.
New to judging? Then use a curved tunnel to get a straight approach.
Consider running contacts as the new standard and think of ways to reduce compressive injuries when approaching and exiting the contacts. If your approach and exit are safe for running contacts, they will be safe for stop contacts, too. At higher grades, introduce discrimination on exits rather than too tight an exit.
If you lack knowledge on running contacts, it's a good idea to invest in some learning.
Consider other ways to reduce excessive strain on the dog's body.
6. Make the most use of space
Be brave. Consider ways to reduce concussion from jumping. Remember, you can use the whole ring.
On the other hand, you don't have to have 20 obstacles if you haven't got enough space. It would be safer to have 15 obstacles spaced out than 20 obstacles squashed in.
7. Remember a dog's welfare should always come first when designing a course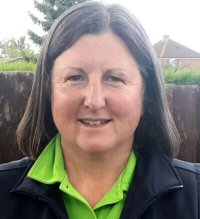 About the author...
Ruthie Pegs has trained and competed in agility for over 20 years and been a Kennel Club judge since 2005. She competes at Championship level with both Small and Large dogs.
In 2021 she successfully set up Inspire Agility to run a series of KC Open Shows with an aim to provide a safe competitive agility environment, using fantastic facilities and offering appropriate agility courses inclusive to all heights and grades.
Educated to post-graduate level and currently studying for her MSc in Clinical Animal Behaviour, Ruthie is passionate about exploring ways to improve the health and welfare of dogs that take part in sporting activities such as agility.
First published 6th August 2021