Open to all dogs - pedigree and crossbreed
Festival Winners Announced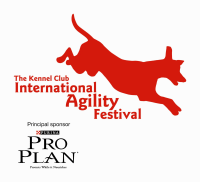 The 6th annual Kennel Club International Agility Festival, the biggest agility event in the world, welcomed 2,500 dogs to Kelmarsh Hall, Northamptonshire on 13-15 August.
Competitors from countries all over the world compete at the event which was sponsored by Purina Pro Plan. It was the Home Nations which managed to come back with the greatest share of medals in the coveted Nations Cup final. Ireland, England and Wales scooped the three podium places with their Medium dog teams and Wales and two English teams gained Gold, Silver and Bronze respectively in the Small dog teams category. There was also a silver and bronze medal for England and Wales respectively with their Large dog teams.
Caroline Kisko, Kennel Club Secretary, said: "This was yet another great International Agility Festival and we offer our congratulations to everybody who went home with trophies. It was heartening to see so many fit dogs enjoying spending quality time with their owners in the great outdoors. There were a huge variety of dogs taking part at the event, both large and small, and a wide range of people from young to old, which reminds you of just how inclusive this sport really is."
The DFS Crufts qualifying classes, which included the Starters Cup, Novice Cup and the British Open, saw winners aged from just 12-46 winning podium places.
Speaking about her first place win in the Starters Cup for Large dogs, Emily Murdoch, who won with her Labrador, Lily, said: 'I was bursting with pride when Lily won - I still can't quite believe it. This is the largest agility festival in the world so to have won a prize is amazing and to qualify for DFS Crufts in the process is the icing on the cake.'

Samantha Paterson, aged 9, who won the under 12s YKC International Handler of the Year competition with Border Collie, Rooney, commented: 'I have been doing agility for two years and I am really happy to have won at my first ever International Agility Festival. I am so proud of Rooney. Agility is really good fun and keeps both of us fit and active.'

Denny Buckley, who won the Starter's Cup for Medium dogs with Penzi which is Swahili for 'my love', said: 'I am so proud of my little baby that I was in floods of tears when I can out of the ring. Penzi was jumping around like a demon possessed. I was just so excited that we had managed a clear round but, at that point, I didn't know what my time was, so wasn't sure if I had won. When my friends told me I just couldn't believe it. It was a truly special moment. We have been doing agility for 18 months now and I can't wait to see what the next 18 bring.'
Winners at this year's event were:
KC Nations Cup
Large

Gold, Scandinavia – Jaakko Suoknuuti, Finland (Decathletes Sirius Black), Janita Leinonen, Finland (Decathletes Hornet), Mette Biorne, Sweden (Cefeus Atlas)

Silver, England – David Alderson (Ag.Ch. Waggerland Spice), Lee Windeatt (Ag.Ch. Deeann What a Cracker), Alan Bray (Romarinus Rumrose at Upanova)

Bronze, Wales – Stuart Harmes (Nog Back), Stuart Harmes (Noonoonog), Mark Douglas (Ag.Ch. Cories Ruby Tuesday Aw(G)

Medium

Gold, Ireland - Neil Lowndes (The Sucadoura), Anne Collen (Rambauds Ortie Udex) and Mary Dolan (Rambauds Ouste)

Silver, England – Natasha Wise (Ag.Ch. Raeannes Flipping Heck), Adam Wildman (Za Zar Zoom Aw (G), Toni Dawkins (Ag.Ch. Tenita Magic Minx)

Bronze, Wales – Sarah Evans (Wicked William), Susie Josty (Set the Juice Loose), Martin Cavill (Tamarino Moody Blue)

Small

Gold, Wales - Rosie Cavill (Shenmore Sweet Violet), Barrie James (Toby-Wan Kenobi) and Tracy Bennett (Hirgwaun Amber)

Silver, Wales – Dorothy Foden Myndoc (Sea of Dreams AW), Clive Foden (Ag.Ch. Myndoc Blue Jack A W), Rosie Cavill (Fieldspy Leana)

Bronze, England – Jennifer James (Windlemere Moonlight), Alan Bray (Sirensong Tantrums N Tiarasas at Upanova), Hayley Bray (Sirensong Whatever)
KC British Open
Small

-

Dawn Weaver from Portland, Dorset with Papillon, Ag.Ch. Tonring Just a Puzzle

Medium

-

Melain Emmanuel, 40, from Mont St. Michel, France with Australian Kelpie, Aqua De Royal Perigold

Large

-

Anthony Clarke, 18, from Gloucestershire with Border Collie, Nedlo Step on the Gas
KC Starters Cup
Small

-

Taylor Tait (16) from Bristol with her crossbreed, Joj Atak

Medium

Denny Buckley, from Jersey, with Springer Spaniel, Penzi In A Frenz

Large

-

Emily Murdoch from Chatteris, Cambs with Labrador, Princess Tiger Lily
KC Novice Cup
Small

-

Daniel Croxford (12) from Whitstable, Kent with Shetland Sheepdog, Obay Truly Daniel's Dream

Medium -

Angie Edwards with Australian Shepherd Dog, Dunnellons Gotabe Cracker

Large

-

Shaun Young from Horley, Surrey with Working Sheepdog, Not My Nipper
International Young Handler
Under 12 -

Samantha Paterson (9) from Durham with Border Collie, Astra Rooney.

12 and over -

Ashleigh Butler (15) Wellingborough, Northamptonshire with crossbreed, Ashpen Pudsey Bear
YKC Jumping Semi Final Under 12
Small

-

Imogen Clark with Cocker Spaniel, Ochtertyre Bonnie Heather

Medium - Jordan Windsor with Working Cocker, Bryning Makin' Magic

Large

-

Samantha Paterson with Border Collie, Astra Rooney
YKC Jumping Semi Final Over 12

Small

-

Kerry Munnings with Swedish Vallhund, Cassie's Sundae Cascade

Medium -

Neil Ellis with crossbreed, Cheekychester the Jester

Large

-

Daniel Burton with Border Collie, Dana's True Spirit
For details of all the placed results of classes at the Festival, click here.
The event saw the Kennel Club launch its Get Fit with Fido 2010 campaign, which encourages people to exercise with their dogs through sports and activities such as agility. This follows research released by the Kennel Club for the International Agility Festival which showed that one in five dogs do not get the recommended daily walk, one in four dogs are overweight and one in three owners say that they are too.
To see videos of the EOs click here