KC Olympia Agility Stakes supported by Pedigree

The KC International Festival at Peterborough
was always going to be a good place to hold the Olympia Semi-finals and this year, with the Festival extended to three days, it proved to be an ideal venue. The Festival itself was superb. The new layout this year was excellent, and we had a magnificent main ring in which to run all the major events. It was a shame we were plagued by wind, rain and a torrential downpour on the Sunday afternoon but, as they say, it could have been cancelled! Dave Ray, event organiser, reports.
I was very pleased that John agreed to judge the Semi-finals for me as he is one of the UK's most senior - and best - judges. With the talk about having the level of difficulty pitched at the correct grading, that was never going to be a problem with John. He had obviously decided that for a premier semi-final it certainly wasn't going to be a quick run round. But, as always as what happens with these things, as soon as a couple of handlers got eliminated I think this snow balled a little bit and may have affected the way that the handlers handled the course.

KC Olympia Large Dog Agility Stakes
First to go, was Dave Munnings with his young Ag.Ch. Gunran Misteree. He may have missed out on Olympia last year but he certainly wasn't going to let it happen this year. He put in an absolutely stunning round and finished to a huge round of applause from the audience in a time of 35.65' We said at the time how is anyone going to beat that and the fact is that nobody could. He went into first place and that is where he stayed.

The next two handlers were eliminated. Then running fourth, Matthew Goodliffe got himself five faults and went into 2nd place, a full two seconds slower than Dave Munning's time. There were three more eliminations following this until Sue Rolfe went into 2nd place with a clear in 37.09, swiftly followed by a elimination for Andy Sandercock.

Running tenth was Hannah Banks and she had a clear round but a bit on the steady side in 40.30 so just 0.30 of a time fault but enough to put her into 3rd place at that moment in time. Two more eliminations followed for Malcolm Card and Judy Gaden. It was lucky 13 for Sam Davies who was running her husband's dog Magical Liquorice Alsorts, the Olympia winner last year. Sam went into 3rd place with a clear in 37.67 which is where she would stay.

Following her unfortunately was an elimination for Nic Jones. Nancy Hudson was next up and she put in a good clear in 39.30 and went into 4th place - a nail biting position to be with another five dogs to go, but we would see three of those five suffering eliminations. Running 17th with Waggerland Wildcard was Hannah Banks. She put in a very good clear in 38.30 placing her in 4th position and pushing Nancy down to 5th. The last to go in the Semi final was Claire Thrift with Bekkis Panache. By this time Nancy Hudson in 5th place was looking a little bit nervous. Olympia wasn't to be for Claire this year, however. She picked up 10 faults and would ultimately finish in 8th place.

It was a very exciting course and certainly very exciting to watch but unfortunately we had 12 eliminations, three handlers with faults and five clear rounds. It was interesting to note that Dave Munnings' winning time was almost 1.5 seconds faster than the 2nd place dog handled by Sue Rolfe.

Thoughts on the Venue

A lot of talk at the moment about the likelihood of the Festival moving and as part of this talk the topic of where is the middle of the country?

As in common with most events the Festival working party are constantly looking for better venues but with a show of this size choice becomes limited, not only about the space required, availability but about how much venue owners want to charge' Also, even if there is enough acreage, it is about how useable it is'

Some venues appear fine until you look at how many trees there are, where the roadways are and how disjointed a layout becomes etc. It is very difficult to find suitable venues at a cost you can live with especially as the KC do not run the Festival for a profit. No doubt if a better venue comes to the fore it would be considered for the Festival.

Then there is the other question. Should it be in the middle of the country? And if so, where is the middle of the country? Well, it was never intended to be in the middle of the country as such. The criteria is - and has always been - to get the best venue within a reasonable travelling distance of Dogs in Need. The venues situated along the A14 corridor fulfil that criteria.

I'm sure if we needed to move further afield to get the right venue, then that was an option to be seriously considered. Certainly when we canvassed opinions originally, prospective handlers preferred to have a longer journey to the Festival but a shorter journey at the conclusion of the show down to DINS in Ipswich. Dave Ray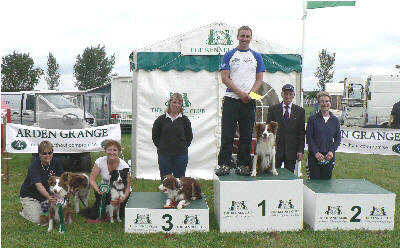 KC Olympia Large Dog Semi-Final 5
Course time: 45 seconds
| | | | | | |
| --- | --- | --- | --- | --- | --- |
| Place | Handler | Dog | Breed | Time | Faults |
| 1st | Dave Munnings | Ag.Ch. Gunran Misteree | BC | 35.657 | C |
| 2nd | Sue Rolfe | Kestrel GTX | BC | 37.096 | C |
| 3rd | Sam Davies | Magical Liquorice Alsorts | WSD | 37.679 | C |
| 4th | Hannah Banks | Waggerland Wildcard | BC | 38.303 | C |
| 5th | Nancy Hudson | Bryning Red Rascal | BC | 39.121 | C |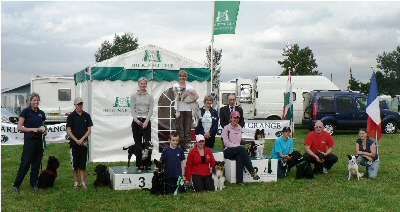 KC Olympia Medium Dog Semi Final
Once again the judge was John Gilbert. 36 handlers and dogs had qualified for the Medium Semi-final with the top ten going through to the Olympia finals on Thursday, 18 December 2008. So handlers needed to get in the top 27% in this competition to make it to Olympia -another piece of useless information!
As it was the same course, we were all interested to see if anyone could beat Dave Munnings time. I will save you checking the results because no one did but the handler who got closest to the time actually wasted a few split seconds towards the end of the course so perhaps it was achievable. We will never know for sure. It certainly was an exciting competition with 16 eliminations and only eight clear rounds.
Blair Cochrane ran first with his Miniature Poodle but he had five faults and unfortunately 2.6 time faults as well. 'As the second dog was eliminated, at least Blair was in the lead for two dogs! Running third, Amanda Hampson and her NSDTR had no course faults but sadly had 3.44 time faults which ultimately would put them into the dreaded 11th place at the end.
The next handler to be really in contention was running tenth. Laura Richardson took the lead with her Staffie Mahogany Girl in a clear round of 43.22. Amy Bennett and her Sheltie, running twelfth, just failed to catch her with a clear in 44.03 which put her into 2nd place. Anna Burton, running fourteenth, with her cocker jumped into first place with a clear of 42.35, but she couldn't enjoy the fame for long as, running fifteenth, Joanna Tristram and her crossbreed took the lead off her in a time of 40.40. Joanna hardly had time to pat herself on the back before Bernadette Bay with Sheltie Zen took two seconds off her time and snatched the lead in 38.40.
Then up struts Toni Dawkins with her BC Minx' Toni running 22nd. She's has had some really tough luck lately and and tends to be really brilliant or nowhere. Today she was brilliant' She went round the course like a rocket and, as I said at the beginning, nearly beat Dave Munning's time. She snatched the lead in a time of 36.71 and that is where she stayed until the end. Well done, Toni.
Running next was Gary Cummings with his Patterdale. They had a few time faults but would ultimately end up in 10th place. The last two handlers who would finish in the top ten were Heather Lee and Adam Wildman. Running 31st. Heather had a clear with her JRT X in a very creditable time of 41.21. The last handler to run in the Semi-final was young Adam Wildman with Za Zar Zoom, his Kelpie. He didn't have any course faults but had 0.23 time faults and ultimately would finish in 9th place, making him the youngest handler to qualify for Olympia.
Disappointment of the day was for me Natasha Wise. Great dog, great handler but they got the tunnels mixed up on the day!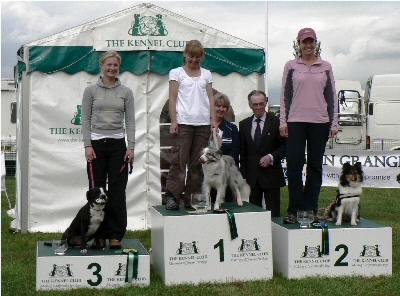 KC Olympia Medium Semi-Final
Course time: 45 seconds
| | | |
| --- | --- | --- |
| Place | Handler | Dog |
| 1st | Toni Dawkins | Ag.Ch. Tenita Magic Minx |
| 2nd | Bernadette Bay | Ag.Ch. Obay Truly Balanced |
| 3rd | Joanne Tristram | Ellie De Lyston |
| 4th | Heather Lee | Tippy Tipex Tippytiptoes |
| 5th | Sarah Evans | Wicked William |
| 6th | Anna Burton | Dana's Tiger Lily |
| 7th | Laura Richardson | Mahogany Girl |
| 8th | Amy Bennett | Heidron Dream Come True for Xotica |
| 9th | Adam Wildman | Za Zar Zoom |
| 10th | Gary Cummings | Monkey Madness Noworries |
Thank you
I would like to thank John Gilbert for judging for us and Jackie Brett for scribing. Thanks also to Graham Partridge for commentating and, if you bump into him, please just remind him that there are two 'o's in Cook! Thank you to the Festival ring party and to Pauline Barr who took care of the administration on the way down to Dogs in Need.