Talking to winners...
Every now and then, an amazing day comes along. You can't plan for it, nor predict when it will happen. Mandy Wallington had not one of those magic days but five when she was covering the Kennel Club Agility Finals for Agilitynet at the 2010 Olympia International Horse Show. Afterwards she interviewed the winners. In no particular order, this is what they told her.
Saturday
Saturday at Olympia 2010 was one of those days in a million. Although Olympia is primarily a horse show, it holds a special place for agility competitors, and it certainly is a most prestigious and glittering setting for the finals. The crowd had already been treated to some nail-biting show-jumping in the Christmas Tree Stakes (won by Laura Renwick), and the dog agility seemed to mean as much to the expectant crowd as the horses. Each successive competitor just kept getting faster and faster, with the lead changing six times during the ten runs.
Dave Leach and BSD Rusty (Malinois) bucked the trend in the so-far nicknamed 'Strictly Come Collie' competition to become the fourth person to lead, only to be beaten by the next competitor Greg Derrett and Detox (Border Collie). When Laura Chudleigh, the last to run with Rodney (Border Collie), stepped up to the start line, it was hard to see how any more time could be shaved off. But from somewhere Laura managed to squeeze two tenths of a second to win, with thunderous applause from the crowd.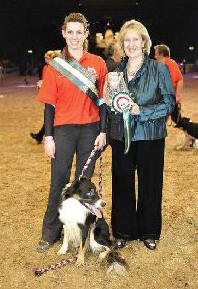 I asked Laura how she managed to get such great contacts and what celebration plans she had. 'I don't use a known method per say. Lee Windeatt has trained Rodney and me from the beginning. We looked at lots of other tried methods, took the best bits, then tried to improve on the bits we thought didn't work so well. We are very happy with our results and I am looking forward to getting a pup to do it all over again with. As for celebration – well I'm looking forward to relaxing by the fire all day on Sunday although Rodney tries to creep up when he thinks I am sleeping, then pretends he is asleep if I try to push him off!'
Laura, Greg and Dave were presented with their trophies by Crufts Show Manager, Vanessa McAlpine.
Monday
Monday was the last day of the Olympia show, and the turn of the ABC dogs. The first competitor was Jane Anderson with Bindi (Kelpie), who set such an impressive pace that she came third place overall. Jane told me 'I am chuffed to bits. My husband was watching our run on the TV in our living room. He got so carried away he jumped up and accidentally smacked a lamp and broke it! Bindi is a very honest dog and, if I don't get my handling right and be positive enough, she will question me, but she is always eager to please. She loved running at Olympia. With it being such a big open course, you can really push her on and get her to open up and stretch out. It is such a buzz running here and I would really love the chance to do it all again with her.'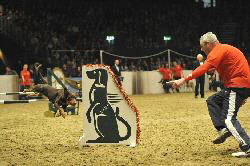 Jane held the lead until Nigel Staines and Zico (Kelpie) took their turn and shaved nearly three seconds off the time. 'Although I never really celebrate a good result as my drive comes from the dog I lost, I'm really pleased with Zico. The result almost couldn't have been any closer at 600th of a second which I think equates to something like 'a head'. Both Mark and I have come a long way since we got our first kelpies who are both very special dogs. It's taken a whole lot of patience, persistence, praise, consistent rules and never really rushing contacts ever in the ring through her whole career unless in a final. I'm looking forward to the WAO in early January. I can't believe Zico will be nearly nine by then. I'm also looking forward to training Zico's pup, Scorch. I've loved being at Olympia again, although I'm not looking forward to the nine hour drive in snow back to the Scottish Border!'
For a moment it looked like Jason Gardner and Stihl might snatch the lead. Their time was the fastest but unfortunately they picked up five faults.
The final winners were Mark Douglas and Ruby (Kelpie). I asked Mark what he'd done to celebrate and if he had any tips for Olympia wannabes. 'Well I did 'acquire' some of the fancy chicken left over from the 'boxes' at Olympia for Ruby! She can take it easy tomorrow sleeping somewhere comfy all day and snoring very loudly indeed. Ruby never 'did' toys or treats so training was a bit of a struggle! I started a couple of years ago to use a mat as a target for her. This worked for a bit and then I started to work on the release rather than the target and used the next obstacle as her reward then quickly use her target command for her to show me that she knew what we wanted. I use what I call a 'non-touch technique' during this process, so that the only time I actually touch my dogs is when petting and praising them! Ruby is three weeks older than that young whippersnapper Zico, and she will be nine in April! She has been a thrill to own and, to me, the epitome of a brilliant agility dog - not always perfect, getting a bit grumpy in her old age, but always desperate to please me and get it right.'
Mark, Nigel and Jane were presented with their trophies by Joint Aid GWF Nutrition's International Sales Manager, Nigel Timms.
Thursday
The Medium dogs were under the Olympia spotlight on Thursday, and the final was won by Medium World Champion (twice!) Natasha Wise and Dizzy (Border Collie). Natasha told me 'Dizzy got cuddles for winning, although she's not really that keen. I could feel she was a bit unsure just before the last tunnel, so I gave her a really clear command to put her back on track'. Natasha is looking forward to competing with Dizzy at Crufts 2011.
Steven Richardson and Sweep (Patterdale cross) showed what a huge future they have with a stunning run to come 2nd. 'I'm over the moon. Sweep will be getting a big steak for his dinner', Steven told me afterwards.
Jexie (Border Collie) came third at her Olympia debut with handler Denise Wilkinson who has been running Jexie since her owner Jayne Spriggs sadly passed away in 2009. Denise told me 'I feel great that Jexie has done so well, and she will get a well deserved rest when she gets home.'
Tasha was presented with her trophy by Debbie Deuchar of the Kennel Club.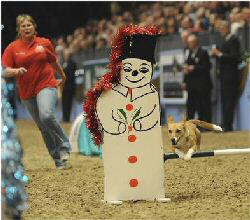 Friday
Friday's competitors may have been small, but they were not put-off by the big arena and the bright lights. The Small dogs are always a favourite with the crowd.
The final was won by Wendy Clay and Scout (JRT x Collie) whom said she couldn't wait to get him home to friends and family to celebrate how well he'd done. Wendy is looking forward to the try outs for the World Open Agility 2011 UK Team in January, and then Crufts.
Bernadette Bay came second with Zaz (Sheltie who had the crowd giggling at the start by shuffling towards the first jump, but then ran like a true star.
In third place was Dawn Weaver with Puzzle (Papillon). Dawn told me 'I never thought he'd do it. He had damaged a dew claw during practice but he came through in the end. To celebrate he'll get a special dinner and be allowed to sleep on my bed!'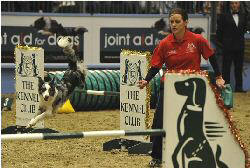 Sunday
Sunday was the turn of the Novice dogs who surprisingly had seven eliminations in the final.
Un-phased by the crowd were Bill Glover who came 3rd with Oz (Border Collie), Donna Kerse with Ace (Border Collie) who came 2nd and Pia Glover with Sola (Border Collie) who came 1st. Pia and Bill told me that both dogs would get lots of cuddles and a good rest. Pia said 'I think Sola did well because she's just not bothered by anything, so the crowd and the lights were no distraction.'
Donna had a nightmare 11 hour journey down from Scotland through snow the previous day, and was delighted to come 2nd. 'Ace will be getting a nice steak for dinner', she told me. Pia, Donna and Bill were presented with their with their trophies by the Kennel Club Chairman, Ronnie Irving.
Thank you
Olympia organiser Dave Ray said of the Olympia Agility Stakes 'I feel that this is still the best singles competition in the UK – maybe even in Europe. My thanks to the ring party for all their hard work; it's amazing that a course can be constructed in under two minutes. I'd also like to thank the Kennel Club and Joint Aid for their sponsorship to enable this great competition to continue.'
About the author...
Mandy Wallington has been surrounded by dogs ever since she was old enough to hold onto a lead. She has owned and handled many different breeds over the years from Pugs and Terriers to Alsatians and Neapolitan Mastiffs.
As a teenager, Mandy competed in obedience. Then she started agility five years ago, initially as rehabilitation for a maltreated young rescue collie. Now she does it because she finds it just as therapeutic for her!
Mandy currently has five dogs - an eclectic mix of gundogs, lurchers, the collie, and sometimes foster dogs that come and go - all of whom are shared with her two teenaged daughters.
Mandy's working life is split between teaching Biology and running a small, dog-friendly café with her eldest daughter. Her spare time is filled with canines, whether hers or someone elses. Over the years they have nestled into all the vacant spots in her soul, and she says that now she would feel incomplete without them.