The Royal Show at Scone Palace
Date: Saturday, 3 July 2004
Judge: Rob Hunter
Report: Dave Ray
It's always a pleasure to travel up to Perth to be master of ceremonies for our Highland Agility Finals. Heats this year were held at Dundee, Kingdom of Fife, Woodside, Scottish Kennel Club and Gleniffer, with the top five coming forward from each heat to reach the finals at the Game Conservancy Scottish Fair held in the grounds of Scone Palace, Perth - a superb setting for a superb final.
The show itself is one of the most popular of its kind held in the UK. Certainly it is held in the highest esteem due to the fact that it has remained an old fashioned show for landowners and game keepers and that is very apparent when you look round the stands to see what is for sale - none of your usual 'townie' country fair type stands here, all very very traditional where you can buy anything from a motorised snow ski for the winter to a pair of the finest boxed shotguns for nearly £40,000. This is also a show which gets more and more popular each year and, if the gate wasn't up this year, it was probably more due to the fact that the weather on the second day turned pretty awful.
It was very unfortunate this year that the Game Fair weekend was also the same weekend that the Royal Show started at Stoneleigh in Warwickshire so I had the unenviable task of driving up to Scotland with our 2004 judge on the Friday morning, running our final on Saturday and then late on the Saturday afternoon driving back down to Warwickshire to run the first of the Pedigree Olympia Agility Stakes Semi Finals.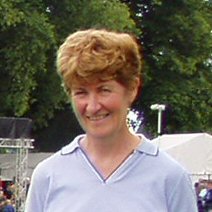 Of course, as we know, you cannot run any event single handed and I am very lucky in Scotland to have a first class ring party team who is organised for me by Anne McBride and I am indebted to her and the team for making the running of the event such an easy task.
Let's Eat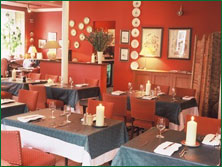 I usually take the team out for dinner on Friday evening in Perth and this year was no exception. We had an extremely convivial evening and were pleased to also welcome Val Marrian who is the Scottish Representative on the Agility Liaison Council and a member of the Kennel Club WTOA. If ever you are in Perth and you do want an exceptional meal, and I mean exceptional, you should go to a small bistro type restaurant called Let's Eat, but beware you have to ensure that you book well in advance because I am told that it is a full house every weekend.
Our 2004 judge was Rob Hunter who has competed for very many years and has judged throughout the UK and Ireland. Not only was he good company but he also made a good job of the judging and put down two very good courses. In the case of the final, what seemed like a quite straightforward agility course proved to be anything but and the handlers really needed to have their wits about them to get round clear.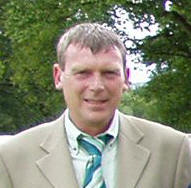 Judging Report by Rob Hunter
It certainly was a long way to travel but going up the day before did have two advantages; firstly I was well rested for the judging and secondly it gave me the chance to meet the ring party who were excellent company for a meal on the Friday evening and, of course, it is always good to meet them away from the venue before the serious work starts, so a big thank you to Anne McBride and her merry bunch of helpers.
The first event of the day was the warm-up event so I set a nice, easy, straightforward course, not too difficult, so that the dogs and handlers could have a good blast round - well, how wrong I was!
The first dog Agili-Tay handled by John Wiseman missed the down on the A-frame to incur five faults and the next handler Paul Fratson with Nortons This 'n' That had five faults again, this time for jumping off the see-saw. The next dog Absolutely Dot handled by Rona Hughson had the fifth pole down and two refusals so were we going to get a clear round on this as I had thought it a nice straightforward course! And this wasn't until the ninth handler to run who was Toni Lock with her dog Careless Whisper ran clear in a time of 30.52 seconds.
Poor Doris Stokoe ran with her dog Highfield Hazza Chance and had a refusal right on the last jump to get five faults. Hazel Barker with Zack a Riot ran twelfth and can I say how well Hazel handled her dog in a fast time of 30.27 seconds and turned out to be the winner. Pat Brown was the next to run clear in a time of 31.28 seconds which as it turned out put her into third place.
Therefore, the placings were as follows:-

Warm Up Finalists
| | | | |
| --- | --- | --- | --- |
| Place | Handler | Dog | Time |
| 1 | Hazel Barker | Zack a Riot | 30.27 seconds |
| 2 | Toni Lock | Careless Whisper | 30.52 seconds |
| 3 | Pat Brown | Ladbrook Izit Dodgy | 31.28 seconds |
| 4 | Phil Hicks | Phil's Tazmaniac | |
| 5 | John McEwan | Middleton's Magic Mist | |
Later in the day at 1:30 pm we had the Pedigree Highland Agility Stakes Finals. Although the weather had been fine during the morning, it was looking decidedly murky and sure enough before we started to set up our course it started to rain which was a little bit disheartening but nonetheless the show must go on and within a few minutes of the ring party entering the arena with the equipment, the course was finished. Then luck decided to join us and as the handlers walked the course, the rain stopped so fortunately we were able to run our final without the accompaniment of a highland shower.
I decided to set a course which had a speed section, then a control part, followed by tight control at the finish.
The first handler was Wendy Wright with her dog Josie Cotton Socks who started the course with tremendous speed only to be eliminated at the fourteenth jump.
Mike Richardson was the next handler with his dog Sammi the Shammi and was unlucky to roll the pole at the fourth jump. Hazel Barker with Zack-a-Riot who was the winner from the morning's event picked up five faults for a refusal on the see-saw and five faults on the up part of the dog walk.
Wendy Wright was the fourth handler with Hoag the Rogue and had a very fast round only to be eliminated on the very last jump.
June Burrows with My Red Jumper also picked up five faults on the up part of the dog walk then was eliminated on the very last jump.
Dave Alderson with Waggerland Spice had the first clear round but very nearly lost it at the last jump. He called his dog just in time to go clear and also showed the other competitors how to handle the last section of the course.
Louise Walker with Richta No Regrets had a fantastic round only to be eliminated at the last jump.
Phil Hicks was due to run eighth but pulled his dog Phil's Tazmaniac out of the competition as he had gone lame - very unlucky Phil!
Daphne Loveland ran in ninth place with Jacques Jolly Jake but picked up ten faults by missing both the up and down of the dog walk.
Gail MacDonald with Benty Head Lad ran past the ninth jump and carried on only to be eliminated.
The next dog in the final was Robert Kerr and Rocket Phizz Assist, but he was also eliminated at the last jump.
Morag Kelly with Puildobhrain Nell picked up five faults on the dog walk and also rolled the 14th pole to give a total of ten faults albeit in a great time of 29.74 seconds.
Jackie Byron running Bucks Fizz knocked over the ninth jump and missed the down on the A-frame giving her a total of ten faults.
John McEwan with Middleton's Magic Mist got five faults on the dog walk in a good time of 30.85 seconds.
There we were - just over half way through the running order - and we only had one clear round. Had I got it all wrong, I wondered?
Doris Stokoe ran next with Highfield Hazza Chance and picked up five faults on the dog walk only to be eliminated at the last jump.
Ian Dobison with Call Me Mr T also picked up five faults on the dog walk and the see-saw.
Ian Mallabar and Izzy Good or Izzy Faulty was very unlucky to pick up five faults on the A-frame in a good time of 29.39 seconds.
Gillian Donnison ran in 18th place with Wharnley Merle only to knock over a pole on the fourth jump in a great time of 28.20 seconds - very unlucky!
Paul Fratson picked up a total of 15 faults with Norton's This 'n' That for rolling two poles and a refusal at the weaving poles.
Jackie Davidson, knowing what had gone on before, controlled Balgonie Nutmeg to have a nice clear round, therefore giving us two clear rounds.
Petra Craven-Houghton ran her Labrador Mr Defeur D'Oh who started out so fast that it left Petra behind only to have a refusal at the dogwalk but completed the rest of the course clear.
John Wiseman with Agili-Tay ran twenty-second but picked up a total of 15 faults.
It must have been an advantage running towards the end by watching the other competitors make the mistake of not calling their dogs too soon.
The next dog to run was Toni Lock with Careless Whisper and she had a very nice clear round.
Pat Brown was next in the ring with Ladbrook Izit Dodgy. Pat showed her experience as she handled the course clear in 29.77 seconds.
Rona Hughson set her dog Absolutely Dot on the start line and walked half the course only to find that Absolutely Dot ran under the first jump, then over the second to be eliminated.
The very last handler to run was Dianne Talbot who was also celebrating her birthday. I wouldn't say what birthday she was celebrating as she might give me some physical violence! Running Paws for a Pepsi, she went over the start line and controlled her dog from a distance only to win the class with a fantastic clear round so congratulations to Dianne!
Placings were as follows:

Winners
| | | | | |
| --- | --- | --- | --- | --- |
| Place | Handler | Dog | Time | Faults |
| 1 | Dianne Talbot | Paws for a Pepsi | 28.70 seconds | Clear |
| 2 | Dave Alderson | Waggerland Spice | 29.20 seconds | Clear |
| 3 | Pat Brown | Ladbrook Izit Dodgy | 29.77 seconds | Clear |
| 4 | Toni Lock | Careless Whisper | 30.42 seconds | Clear |
| 5 | Jackie Davidson | Balgonie Nutmeg | 30.76 seconds | Clear |
| 6 | Gillian Donnison | Wharnley Merle | 28.20 seconds | 5 Faults |
| 7 | Ian Mallabar | Izzy Good Or Izzy Faulty | 29.39 seconds | 5 Faults |
| 8 | Petra C-Houghton | Mr Defeur d'O | 30.59 seconds | 5 Faults |
| 9 | Mike Richardson | Sammi the Shammi | 30.73 seconds | 5 Faults |
| 10 | John McEwan | Middleton's Magic Mist | 30.85 seconds | 5 Faults |
A big thank you to Dave Ray and Pedigree for inviting me to judge at the Pedigree Highland Agility Stakes Finals.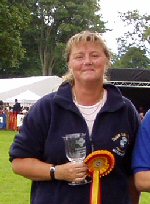 Happy birthday...
Yes, it surely was a memorable weekend, especially when after being told by one of our top northern competitors Dianne Talbot not to mention her birthday to the crowd, I of course, couldn't resist it and did so at the end of her round when she immediately produced a water pistol and chased me round the ring, much to the amusement of the many thousands of people who were watching!
But the final comment must go to the spectator who unknowingly stood next to an experienced agility competitor who was watching and passed a comment to his wife 'Oh look, they have to jump off before the yellow bit at the end!'
Many thanks
A final thank you to Rob Hunter who not only did an excellent job of judging but also had to suffer the drive there and back and then, when we got back down to Stoneleigh, was one of my stewards for running the Pedigree Olympia Semi Finals for the following four days.