The Pedigree-only World Championships?
Can you imagine an agility show without any WSDs?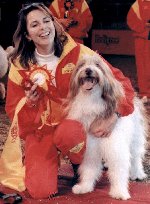 Following on from Dave Ray's comments in November's Agility Eye, Jo Sermon asks, 'Is the discussion closed? How will our proposed team for these World Championships affect the sport in the UK? Should our jump heights be lowered? Lastly, possibly most importantly, should we change our rules to fall in line with the FCI?' And when you've finished reading this, you can let us know what you think using the voting form below.
What is the FCI?
To begin at the beginning, the FCI is an organisation that was set up to promote and further the interests of (small p) pedigree dogs and their breeders. Is it surprising that the FCI bans mongrels and crossbreeds from the agility competitions that they promote? No, of course not, a pedigree dog can cost well over £1,000 on the Continent, and the FCI has a vested interest in keeping it that way.
Take France as an example. You can begin in agility with whatever dog you happen to have. It will be relegated to the second-class classes, but you can do agility. The next dog you compete with MUST be a pedigree and it must be registered with an organisation that the FCI recognises. Bingo, there's another £1,000 pup sold.
What are the issues?
I agree that we cannot tell others how they should party. How agility is run in other countries is not our concern. So obviously, if we want to send a team to the FCI WC, then it must consist of pedigree dogs as per the FCI rules. I have, however, wondered how this type of restriction affects buying patterns for agility handlers and what will now happen in this country.
It is not about Working Sheepdogs or Border Collies. That is not the only issue here. My concern is with the rescue dogs. We have a great tradition in this country of rescue dogs in agility. How many Valgrays do we hear about? Will our top handlers who would previously have homed a rescue dog, now think twice in case their charity sees them excluded from competitions that they might otherwise compete in?
As to whether we should send a team or not, that is well past the stage where it can be debated. The decision has already been made. A point to bear in mind, however, is that what you accept and participate in, you are also condoning and promoting. Should we promote agility as a sport where only the pedigreed can participate? Even that is a fairly minor point until you come to what every good salesman knows. Get them to agree to something - no matter how small - and your foot is in the door.
Is the WC team the thin end of the wedge?
We have people suggesting that our height classifications should be changed, our rules should be changed, our jump heights should be changed, all to fall in line with the FCI. Will all this follow on?
Dave Ray tells us that four inches in our jump heights won't make too much difference? Should we suggest that he chats to Mary about training dogs <G>? Dave Jolly tells us that it doesn't affect too many people, so it doesn't really matter. If you lobby to change our height classifications or amend our rules to fall in line with the FCI, you have to wonder if it really affects so few people, why the rest of us should have our rules changed!
Do people really want to compete abroad?
To Steve Baldwin my commiserations for what you've been subjected to, but, of course, (large P) 'Pedigree' want us to compete abroad. They have shareholders to consider. The razzmatazz of what is truly a great agility spectacle is worth their sponsorship in a way that very little they do here can be. Have you not wondered who will sponsor the next team?
In America, mongrels and crossbreeds are banned from even being in the park/on the premises when an American Kennel Club trial is held. This doesn't actually affect many there as very few of the top handlers have anything but pedigree dogs. You have to wonder why. Will non-pedigrees in the UK become second-class citizens as they are in so many other countries?
I wish any individuals travelling abroad to compete, good luck and hope that they fly the flag for us. I also look forward to a team from the UK competing in the FCI WC. GO for it!! The best of British to you! I have followed the adventures of American friends through the WC and as everybody has pointed out, in spite of the carpet (why carpet?), it is a great event. It will be nice to be able to follow handlers from this country through the competition next year!. If that's where it all stops, then I have no problems at all.
Should we change our jump heights?
My own view, however, is that not many people are particularly interested in the WC – as long as that is where it all stops. If we are going to change our rules, let it be because people in this country who compete in the sport want the rules changed, not to fall in line with the FCI. Dave Ray is now telling us that if we run international competitions we must , of course, lower our jump heights. Should we exclude non-pedigrees, too? Where will it stop?
My vote is a resounding NO! Lower the jumps for standard dogs and in my opinion the sport will become an all out speed rally. Lower jumps mean flatter trajectories and more worries about safety with contacts and tyres. Very soon all we'd be left with is the jumps. If the majority of people competing in the sport in this country want our jump heights lowered, fair enough. PLEASE don't lower them to accommodate the few who want to compete abroad.
So, can we now please hear from our Agility Council Reps?
Where do our Kennel Club Agility Council reps stand on these issues? Would any of them care to put pen to paper? I would be very interested to read the viewpoints that they will be espousing. We read the minutes of the meetings; I'd like to know the story behind the results as well.
I was very pleased to see the suggestion of an alternative WC, open to all dogs regardless of their ancestry. Why do we need it when there is already a WC? Why not? Who says there can only be one event of this kind and that it must be run by the FCI? Just because one event is well established, it doesn't mean that it cannot be bettered. It would also give those who do home rescue dogs or prefer dogs that don't have registered pedigrees an arena for their talents. Will our Agility Council reps be advising the KC on that issue? If the KC turns to them for advice, what will they say? We already know what Dave Ray will say. Farcical' and 'thoroughly misguided' were his comments. I have to wonder; do the views of agility handlers in the area that he now represents coincide?
P.S. Did you know that the Canadian Kennel Club has finally refused to recognise the Border Collie AT ALL? So even those with provable pedigrees are banned from competing in agility. Just imagine an agility show with no WSDs and no BCs...
---
In reply...
This is a subject which seems to be quite controversial judging from your response. You may want to print off the replies and comments and read them in the quiet of your own home or take them to club and get other people's reactions. Let's hear from as many people as possible on this important topic.
Comments thus far from Dave Ray, Martin Pollard, Anne A. Smith, Ian Watts, Lorna Boulter, Silke Sobek, Penny Garner-Carpenter, Ian Pate, Brenda Tenten.
From Rob Chipman, President AAC
On your web page, there is a comment that the Canadian Kennel Club has refused to recognize the BC, and the conclusion 'Just imagine an agility show with no WSDs and no BCs...' Maybe Jo didn't quite mean this, but rest assured that in Canada most agility is conducted under the auspices of the Agility Association of Canada. AAC is open to all breeds of dogs, provided that they are healthy enough to compete. There are plenty of mutts running and winning agility in Canada.

A reply from Dave Ray...
I know of no proposals that have been or are going to be made to the Agility Council to change any of our equipment to FCI measurements. And as you know Jo, if any CLUB makes a proposal, it has to be publicised. Unless you know something the rest of us don't know ?
I don't why you mention Pedigree and abroad because they are not sponsoring the British Team at the World Championships in 2001. I took a team to a recent event in Oslo but Pedigree did not sponsor it either. That was supported by Novartis and the Oslo Horse Show.
---
From Martin to Jo and everyone else concerned with the issues above...
Yes, the rabies laws have stultified international agility in the UK. In the short term, we must take our heads out of the hoggin and try to do what we can. Interesting developments are afoot. In the long term, however, we will probably follow the American example with organisations other than the official KC putting on competitions. So Jo, just hang on in there.
A limerick from Martin Pollard...
Why, Oh why, can't I try World Agility?
I was told by the 'suits' in authority
"Your dog, we decree,
Has no pedigree,
So is therefore devoid of ability".
---
Delighted to see this on Agilitynet... from Anne A. Smith
I, for one, am very much hoping that you guys pull off this idea for an alternative championship. You would have the very happy support of all of us mixed breed/rescue dog owners here! We're losing the battle fast, which is very depressing. Good luck to you all!
Dave's response was skimpy, to say the least. I do hope that your readers will start a lively discussion on what could be a very interesting and important issue. Rather, issues- there are so many questions raised.
---
Does anyone have any stats about the relative safety of elementary courses vs. starter and above?...from Ian Watts ACAI...
Elementary competitions generally have 2' jumps with less experienced handlers, faster, simpler courses, and dogs that are just as fast as senior dogs (they all start somewhere!) I actually believe lower jumps would be safer - with considerably less strain on muscles and joints - especially for larger dogs who start their training at 12 months (or earlier in many cases that I am aware of - but never my dogs!) We can then create challenging courses that don't allow dogs to achieve silly speeds approaching the more dangerous elements - sounds like fun to me!! Looking at the course from the last FCI World Championship I couldn't see anywhere allowing a high speed approach to a tyre or contact. Maybe what we need is a higher standard of course design (by qualified people - as in the showjumping world) - not higher jumps!
---

From Lorna Boulter at the KC on the matter of statistics...
There are no statistics on the safety of agility courses that I am aware of. The Council has previously discussed the safety of certain agility obstacles. If the matter needs another airing, you may wish to ask one of the Council Representatives to raise the issue under 'Any Other Business' at the meeting to be held on 7th February.
I hope this is of some assistance. (03/01/01)
---
From Silke Sobek, former team leader of South African WC Team and still a big supporter of the WC. You must see it with your own eyes!
All I can say is that I read the article with some concern as it looks as if 'the rest of Europe' is in favour of pedigree dogs in agility. Quite the contrary. In Germany one can compete in Agility with whatever dog you have, no pedigree required. You can become German Champion with a mongrel! Only the qualifiers for the WC... yes, we only allow pure breed dogs, unfortunately. The only reason why I (owner of a crossbred bitch) still support the WC and think it is a great event (and travel to faraway places) is the sport itself. And it happened to be sponsored, arranged, organised and promoted by representatives of the FCI. Who else would do such work? One should also think about the cost and sweat of such an event.
But I agree, no country should be forced to ban mongrels from their competition (and hey, who is doing that? Nobody really.) The UK is in a special position as only FCI recognised breeds are 'recognised' - if you know what I mean. The Border Collie standard is number 297 and, therefore, recognised! Only Canada does not belong to the FCI! And neither do the UK! (Aha, that's why the WSD is not recognised! And the BC is not recognised in Canada!) Why is the author of the article twisting the truth?
Anyway, I hope one day we can have a crossbred dog being World Champion. But I also hope that the people from the UK see the benefit in sharing knowledge, consolidate ideas and integrate with the rest of the doggie people all over the world. (03/01/01/)
---
More from Ian Watts...
I've been discussing this issue of jump heights with a couple of agility friends, and - each time I mention the subject - it raises more questions than answers! Being a relative newcomer to the sport (competing for 4 years only) there will be people out there who can fill in the gaps in my understanding of the origins of agility in the UK.
Historical reasons
I understand that most dogs competing in the early days were German Shepherds and similar breeds, in which case it would make sense for jump heights to be set at 30". The size and height of contact equipment would be entirely appropriate for these larger, slower dogs. Currently, a German Shepherd is a relative rarity - and almost non-existent above Starters, unless the handler qualified with another dog, and/or was promoted many years ago - BC (before collies!)
Looking at the size and type of dog owned by the more serious competitors now, I wonder whether the equipment we currently use would have been designed that way if we were starting the sport again? Also, if it is true that we invented the sport in the UK and others copied us, why did they not copy our jump heights too? I would be interested to know if there was a logical reason for choosing to differ from our equipment specification, or whether it was just accidental. One long-standing competitor I spoke to reasoned that dogs would hit the A-Frame too fast if the jumps were lower. This may well be the case, but we don't seem to worry about that in Elementary competitions, where typically dogs have a straight run over two or three two-foot jumps and then onto the A-frame at full speed. Considering the inexperience of many handlers at this level, probably completely out of control!
I must confess I do have a slightly selfish reason for getting involved in this debate, as I have a very fast dog that clears 24" jumps, but regularly takes a couple of poles off in Starter and Novice classes! Having said that, I see no reason for agility to be another thing that we choose to do differently from everyone else in Europe for the sake of tradition alone. I for one would like to be able to compete on equal terms with dogs from all over the world - both here and perhaps in Europe - and believe that consistency of training and competition is the only way to achieve that. If someone can convince me that 30" really is a safer and more sensible jump height, then we should be using that argument to persuade the FCI to change their rules. If not, I feel that we should harmonise with the rest of the agility world and get on with it! (And yes, I too personally have an almost brand new full set of Premier equipment that will no longer meet the required specifications!)
Pedigree vs. non-pedigree
For the sake of completeness, I'll just add my opinion on the pedigree breed issue... Whilst I am not affected either way (having only pedigree Tervueren) I do think that as long as a dog is registered with the organising body of the country in which it resides (The Kennel Club in our case) it should be able to compete in any event. If the Kennel Club continue to acknowledge cross-breeds as being eligible for registration (and let's face it - they don't often shy away from a revenue opportunity) then long may it continue! Apart from anything else, it is hard enough to keep unwanted mongrels from being rescued and destroyed as it is, without adding a load of highly trained, very talented, but unwanted animals to the rescue homes' existing problems.
It seems to me that this whole topic requires proper investigation, consultation, and then a decision by a properly representative, open-minded, working party (of The Kennel Club, agility competitors, judges, trainers and equipment manufacturers) so that we can all train our dogs. (04/01/01)
---
From Penny Garner-Carpenter...
You may have already voted, but if not you may be interested to know that Agilitynet have a vote set up for our views on changing our current jump height to FCI heights, with some arguments for and against. It would be great if everyone in the UK could make their views known.
Interestingly I've recently read articles regarding safety and jump heights on the agility blues website (via SAS site) which states that lower jump heights and a lower jump trajectory by the dog cause more strain on joints than higher jumps and higher trajectories. It also looks at the damage slats on contact equipment cause to paws as the whole hand equivalent touches the slat, which means that tendons are under considerable pressure! Apparently this includes the 'up' dog walk contact. It certainly gave me food for thought! (04/01//01)
---
From Ian Pate, Campbell River BC, Canada...
In her article Jo Sermon has actually covered two subjects - The FCI so-called 'World Championship' and the question of changing jump heights.
FCI Championship
It is completely dishonest and arrogant for the FCI to claim that their annual competition is a 'World Championship.' It is NOT open to dogs around the world. If agility is ever to become an Olympic sport, it must be open to all dogs in all countries, with ability as the only limiting feature as is the case for all Olympic sports. How can such a trial be so named when it is limited to the few countries of the world which are associated with the FCI, or specially invited as in the case of the American Kennel Club. Even in those FCI countries only dogs registered with the national Kennel Clubs are eligible for consideration. So even in Europe, the majority of the dogs are not eligible.
It could rightly be called simply the FCI Championship or the FCI International Trial. But it is not a 'World Championship.' Their winner cannot rightly claim to be the Best Agility Dog in the world. No doubt there are many better dogs in the UK than can compete in the FCI. Or in Canada or in the USA or in New Zealand or ??????
Does this incorrect naming of this competition matter? I think so. I believe it takes some pressure off us to work for a true world championship - a lot of folk won't bother as there is apparently already one in existence. Even Jo is referring to this competition as a WC. Or perhaps she is using these letters in the other interpretation!
Jo has brought out one point which I feel is well worth repeating - 'A point to bear in mind, is that what you accept and participate in, you are also condoning and promoting.'
My stance is that I believe that any organisation has the right to set whatever limits they want but, even if I could, I would not compete in trials held by the Canadian Kennel Club, the American Kennel Club, the FCI and any others limited to registered pedigree dogs. I am not interested in trials which discriminate on the basis of a piece of paper and not on ability. I do not want to be considered as condoning or promoting them.
I have a pedigree Border Collie but, as Jo pointed out, this breed cannot be registered with the CKC. Jo is slightly wrong there, in that it was not the CKC who refused to recognise the breed, but actually the reverse, in that the Border Collie owners in Canada were wise enough to refuse to register their dogs. So the CKC had to give up their attempt to take over the breed and make them 'pretty'. So, many of the top dogs in Canada cannot compete in the FCI - not that we want to.
I don't know how many of you are aware of the International agility competition held in Italy last year. This was for NON-REGISTERED DOGS and was obviously in answer to the elitist FCI trial. I think it is a pity that this organisation saw fit to also limit their entries on the basis of breeding, but there is a reasonable chance that this trial will expand to cover all dogs whether registered or not. Even with the limits on the entry, it covers a much larger dog population than does the FCI.
I cannot see the FCI ever allowing non-registered dogs when their whole business is geared towards pedigree dogs which are the source of their income. This new organisation is not out to make money but is only interested in advancing the cause of agility. This makes it a much more hopeful vehicle for progress.
Obviously, it is up to you folk in the UK to decide for yourself whether to compete in the FCI competition, but I would suggest that it would be worth considering competing in this other international competition as there is a good chance that it will turn into a true world championship in due course with a bit of encouragement. I see this as our best hope for the future and view the FCI as a dead loss in this regard.
Jump heights
I see that Jo subscribes to the idea that lowering the jump heights will cause serious damage to the sport and and turn it into 'an all-out speed rally.' In Canada, for some years, the majority of the handlers wanted to lower the jump heights, but there was a small, but very militant vocal group who argued that any such move would be a complete disaster and ruin the sport. They forecast that pretty soon our jump bars would be down on the ground and that spread jumps, tyre jumps and contact obstacles would be done away with, all in the name of safety.
Well, our jumps have been lowered for two years now, and none of those other things have happened or are even being suggested by anyone. It was just a lot of hogwash. We have many more people doing agility than before and thoroughly enjoying it. Some disaster!!!! Our large dogs (over 21" at the withers) now jump 26" instead of 30" while my Border Collie ( in the 16" to 21" class) jumps 22" with similar decreases for the two classes of smaller dogs. So my dog which would be jumping 30" under your rules is actually jumping, not four inches lower, but 8" lower. With no deleterious affects to her, to me (I can still not keep up with her just as before) or to the sport which is rolling along very nicely with no signs of any problems far less the disaster that was foretold by some.
I feel that the biggest benefit has been for the large dogs such as German Shepherds who have always been at a disadvantage against the smaller, more agile dogs such as the border collies. With the lower height a large dog does not land so far out and can therefore turn quicker than before. So it is a little bit fairer for them.
I really cannot say that I have noticed my dog going any faster with the lower heights. After all, the contact obstacles and the weaves have a big effect on the dog's overall speed while, as Ian Watts says in his reply, good challenging course designs ensure that our dogs cannot go silly speeds.
The United States Dog Agility Association carried out an interesting experiment. As we did in Canada, they used 30" until recently for the Maxi dogs. In their year-long experiment they allowed the owners of large dogs (over 21") to either enter their dog at the 30" height or in the Midi class jumping 24". There were a few die-hards who stayed with the 30" jump, but by the end of the year nearly every Maxi dog was being entered in the lower class. So not only was it not a disaster but obviously this large majority felt it was beneficial to do so. At the end of that year the USDAA adopted the Maxi height of 26" and the Midi height of 22" as we had done a year earlier in Canada.
Jo is correct when she says that mongrels and crossbreeds are banned from even being on the grounds where an AKC trial is being held but she is wrong in saying that very few of the top handlers have anything but pedigree dogs. The AKC agility is very much a johnny-come-lately as the USDAA has been in existence for much longer. By far the largest majority of the top handlers compete in the USDAA and many of them will not compete in AKC events. And a great many of the dogs, including top dogs, at USDAA trials are rescue dogs not eligible for AKC. Apart from anything else AKC trials are much more expensive and less interesting in scope.
Sticking with your 30" height should not stop any of you from entering trials in other countries as their jumps are lower and, therefore, a little easier for your dogs. So that is not a reason for you to change. It might affect the number of dogs from the FCI countries competing in the UK, but again it seems to be of minor importance considering the hassle and humongous costs of doing so which will cut down on the number of handlers wanting to make the trip. Personally I include some 30" jumps in training my own dog even although she only has to jump 22" in a trial. So I don't see your jump heights as being much of a problem for handlers from other countries.
Nevertheless, I don't see any advantage in hanging on to your present jumps now that the rest of the world have changed over to 26" or 65cms. I don't know of any other country still using 30". Certainly from our experience in Canada and the USA there is nothing to fear from making the change. I would suggest you have to give some thought as to whether you are correct and the rest of the world is wrong or whether you are just being bloody-minded just because the sport was invented in your country. (05/01/01)
---
Having read the very interesting contribution from Ian Pate, I'd like to add this to the discussion on heights... from Penny Garner-Carpenter
This is part of a discussion on AgilityUK e-group and was posted in response to ABC handlers (myself included) who 'moan' about collie dominance. In Canada, there is currently no collie dominance and courses are very different to ours. BUT it's no wonder that there's no collie dominance because of the numbers in the classes – 13 entries is a big class! Often there's fewer. The numbers doing agility in Canada are minute compared to here.
'Course times vary according to organisation and judge, and how a judge measures the course. Some judges tend to measure a course according to how their dog would run it which is not always popular!! Minis and Open dogs usually run the same course but have different yards/secs. In September I ran a 22" masters titling course that had 20 obstacles and the yards/sec was 2.9 for the minis and 3.1 for the open dogs. These were nice flowing course with plenty of challenges and there was plenty of time for most dogs. Out of 13 dogs that ran, two dogs qualified (incl. Tess!) and while Tess (my BC) came in 1st, the second placed dog was a large sheltie and the 3rd place dog was a whippet! Just for interest's sake, out of the 13 dogs, six were BCs. The other dogs in this class were a Portugese Water Dog, a Kelpie, a Heeler, English Springer Spaniel and an All Canadian. The 26" class only had 6 dogs with no BCs at all (!) - there were 3 Tervurens, a lab, a golden and another All Canadian. Border collies are not as popular over here as they are in the UK, although thanks to David Letterman, they are gaining in popularity. The fact that they are not a CKC recognised breed will probably reduce the number that you can see. Aussies"
I believe that this is a totally different set up to ours, and lowering our jump heights and leaving our courses the way they are will not work. Additionally they have more height options than we do, so if we were to go down that line our dogs wouldn't compete against each other to the extent that they do now. ok that would reduce classes, but how do you find the 'agility dog of the year', one for each height? There is a strong line of argument that lower jump heights cause MORE trauma to our dogs than our current height, due to higher speeds and the lower trajectory (this is negated if the courses are such that you can't flow from one obstacle to another, of course). Additionally, the slats on contact equipment can severely damage tendons which are not well protected where they make contact with the slat. There are articles on the Agility Blues sites which you can access via Staffs Agility School site which will be of interest to all British handlers.
Oh yes, talking of ABCs having run a GSD for 6 years, and having her win out of starters after some years of nearly making it, her main problem is a need for a longer run to the first jump than many judges provide.
---
On the matter of jump heights from Brenda Tenten...
The most convincing argument I've read for keeping the hurdles high, and keeping them close rather than well spread out, is contained in the article 'Loads in Agility: More complicated landings' on the web site of Agility.Net (http://www.agility.net/) (not to be confused with this site.) You have to choose the English language version unless you are fluent in Dutch.

The article is based upon a serious scientific study. If you don't want to read the whole article, go straight to the fourth page and read from 'Possible consequence for training.' In summary the message is (I quote) 'To diminish the load (risk of injury) one has to:

1. Make the distance between the hurdles smaller to decrease speed.
2. Adjust the height of the hurdles to the distance between the hurdles; the height not too low. A lower jump height entails a flat jumping technique and a higher speed.'

The article concludes by commending the smaller minimum distance between jumps used in England, and hopes that other continental countries might follow suit. But read the whole article for yourself. It has some interesting things to say about the 'loading' or 'potential for injury' of other obstacles too, especially the weaves and the use of slats on the A-scale. Quite frightening in parts!
---
I am not against changes but... from Penny Garner-Carpenter
A look at our Elementary classes will tell you why lower jump heights would mean a change in 'agility as we know it'? The dogs simply go too fast unless the courses are so complicated that it's more like the 'power' part of the 'power and speed' classes. This is why in the United States and Canada they have comparatively long course times. There is no emphasis on WINNING an event only on getting a clear round within the time. This leads to TITLES rather than winning or achieving places. Courses are set to require a lot of accuracy and little speed. I'm not sure how this would affect the sheer numbers in the UK classes, but I'm sure it would mean big changes.
I am not against change, but I think we should fully consider all the implications, rather than just see it as a case of 'simply' changing jump heights. I believe that the numbers involved in Europe are also much less than in the UK.
For me, the joy of agility is a fast round where I get all the handling bits in that I want to and my dog flows round the course enjoying him/herself. I get pleasure out of a good flowing run rather than a series of jumps with difficult approaches. How about you?? (06/01/01)
---
Some of the replies on this subject warrant some corrections... from Ian Pate
Penny Garner-Carpenter says that we have comparatively long course times in Canada and in the USA. How does she know that? I have been trying for some time to find out the UK speeds and have not been successful. It appears that, unlike here, the courses are never measured so there is no way that the speed can be known.
She goes on to say that the emphasis is on us getting a clear round and that there is no emphasis on WINNING an event. That is incorrect. Among those of us with top dogs there is considerable interest and intense competition in WINNING as happens in the UK. The big difference is with the bulk of the competitors who have no chance of winning either in the UK or here. With us, these handlers can strive to earn the various titles whereas in the UK, I believe that these lower echelons have to make their own personal target to shoot for - perhaps 20th place or beating a friend or simply doing better than previously. If Penny was correct those of us with dogs having their Champion Agility title would stop entering trials but that does not happen. I am still in there going all out to beat the competition as I have been doing for most of my ten years in agility. The fact that we cannot earn any more titles is not important to me.
Penny also says that our courses are set to require a lot of accuracy and little speed. I am afraid that she has shown she has little knowledge of agility in North America.
Silke Sobek is in favour of the FCI competition because it is a great event. There is no disputing that this event is very well done but that does not take away the fact that it is a very limited trial and that the majority of the agility dogs in the world cannot participate. Even her own dog along with so many others are discriminated against as second rate citizens. She asks who else would put on such a trial. Obviously she is not aware that somebody else did put on an International Agility Competition in Italy last year for non-pedigree dogs.
As Silke's next statement is so outrageous I will quote what she said 'Only Canada does not belong to the FCI! and neither do the UK!' The FCI is purely a European organisation. I know of no country in North America or South America who are affiliated to the FCI. Neither is Australia or New Zealand. Although the American Kennel Club participate in the FCI competition they are not affiliated. I have not heard what rules South Africa have adopted so it is possible that they go by FCI but that would surprise me as Peter Lewis was out there to get them started.
I would be a bit happier if Silke would be more specific when she writes 'Why is the author of the article twisting the truth?' As that accusation comes right after she talks about Canada I have to wonder if she is referring to me. I think it would be better if she spelled out who she thinks is twisting the truth and gives details.
Ian Watts asks why other countries did not copy the UK jump heights. Actually they did. The FCI used 750mm (approx 30") until a few years ago when they went for 650mm (approx 26".) North America, Australia and New Zealand also started with 30" but have lowered them in the last couple of years. I presume that Mexico has followed the lead of the USDAA.
Ian mentions that some competitor reasoned that dogs would hit the A-frame too fast if the jumps were lower. It is very understandable to be wary of making changes but these fears have been found to be groundless over the last two years in the AAC and the USDAA. Yet I can assure you that there were Canadians who expressed the same fears here prior to our change. They would not have hesitated to point out any subsequent troubles to justify their very militant stance.
Actually we have experienced lower jump heights for much longer than I mentioned previously. The North American Dog Agility Council was formed around 1994 mainly to have lower jump heights than the USDAA. There was a very strong feeling among many of the handlers that the maximum of 30" was unnecessarily high and the USDAA were unwilling to change. NADAC has 5 jump levels with the largest being 24" for all dogs over 20" at the withers. The A-frame was also lowered to 5'5" to help the smaller dogs. In addition the NADAC courses are quite different from those in AAC and USDAA in that they are much more open, making for a more flowing course. This type of course has much more effect on speed than the lower jump heights. For those six or seven years, NADAC trials have been about twice as popular as the USDAA in the Northwest USA where I compete. I don't think that would be the case if the higher speeds were the cause of damage to the dogs.
Personally I don't like NADAC courses but that is nothing to do with my dog but is just that I have trouble keeping up with those higher speeds because of my age. With the lower heights in AAC and USDAA my dog now jumps 22" instead of 24" and I have not noticed any difference in our speed.
I must take issue with Ian's views... from Penny Garner-Carpenter
My comments were made after serious research and discussions with competitors from the United States and Canada. Over there course times are perhaps 75 seconds. If you get round within that time you may get a round towards your 'title'. It does not take much deduction to work out that a course which a qualifying time is 75 seconds is complex. Courses here are nowhere near this time are they?
A comment taken from Ian's own earlier comments states that 'I really cannot say that I have noticed my dog going any faster with the lower heights. After all, the contact obstacles and the weaves have a big effect on the dog's overall speed while, as Ian Watts says in his reply, good challenging course designs ensure that our dogs cannot go silly speeds.'
This indicates to me that courses in Canada are different to UK courses. This simply confirms my statement that UK courses would have to fundamentally change, that we cannot simply 'lower our jump heights.'
Competitions with such low entries and high course times are different to ours. Ian cannot logically dispute this. Also in the United States and Canada there are rumblings over the growing dominance of guess what? Collies of course. Yes, even they are slightly competitive, but the majority of handlers enter to get their titles. Ian suggests that we should take up the idea of titles because us lower mortals who have to be 'content with 20th place rosettes' rather than winning should be glad of titles! Well, I'd rather have my 20th place rosette thank you Ian. I'd rather have a fast clear round where we worked as a partnership than a slow clear with each obstacle taken slowly to enable me to gain a title.
Ian appears to be using the UK to express his opinions regarding the FCI and believes that we should 'fall in line' with Canada. Well, we may wish to alter our sport (and in the UK it is still 'our' sport) but this should be up to us. The numbers competing here are massive and many competitors would be put off by:-
Class reductions which mean a huge increase in the cost of competing. A change of emphasis in competing – to titles, regardless of Ian's comments the majority of handlers in America are after titles not first place rosettes. A change in style of running Lower heights, but slower rounds (Ian himself states that the courses have now become 'challenging ensuring dogs cannot go silly speeds')
Collectively this may be 'our' choice, but we should make these decisions with the full facts, rather than viewing our debate as simply lowering jump heights and falling in line with others.
From Germany
My name is Rolf C. Franck from Germany. I am an Agility competitor, instructor and judge. I would like to comment on the pedigree/non-pedigree discussion.
From what I know there can't be many real Agility-Folks on the continent that are against non-pedigree-dogs competing at the world championship. It doesn't make sense anyway, because on the national level, crossbreeds and mongrels are still competing for titles. Here in Germany there are quite a few dogs that used to be mongrels, but turned out into some exotic breeds overnight.
There is a rule that if a qualified breed judge approves of a dog being of a certain breed, you can register it with the concerning breed club. You are not allowed to breed from it, but you can compete in dog sports up to top level.
Some of our German top dogs came from parents without pedigree and still were registered as Border Collies! At least all the British working sheepdogs would be registered as Border Collies without any problems in Germany. (17/12/00)
---
Let us know what YOU think!
Complete the voting form below - and see how other readers have voted on this issue.