Getting there is only half the story...
Olympia is not just another Final. It's the M&S of agility competitions from start to finish. Whether it's qualifying for the Semi Finals or walking into the area to the sounds of Who Let the Dogs Out and a cheering Christmas crowd, there's nothing like it. Just listen to what some of the handlers who took part in the 2005 Finals have to say about their experiences before, during and after.
If you went to Olympia this year - either as a participant or a spectator - and would like to add your impressions to this page, email your comments to Agilitynet. Pictures welcome, too.
---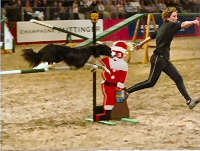 Helen Davey-Smith
Dog: Pop (Pop be Nimble Pop Be Quick) -WSD
Pop and I qualified for the Semis at Stoneleigh at Thames show in June. She won the class, qualified and became Senior all at once. As 2005 was her first season I took a little time to get used to the idea! I had made a deal with myself waiting to run that round: 'I want to qualify if we can but I don't want her in Senior. I'll hold her contacts and see what happens...' Well the decision got made anyway.
At Stoneleigh, I so wanted to get through. We had got that far. My deal: 'Just go clear and run her the way I always try to, hold her contacts and if I get five faults just stay cool and keep going'. Well, she went clear and came fourth so that deal was sorted.
Then the morning at Olympia.
Putting on the polo shirt and then the jacket I got from Gemma, and Iain putting on his groom's polo, things began to feel like they were meant to be. My deal this time: 'Just try to get to that Final – don't do anything different – end stop those contacts, and, again, keep cool even if we get a pole/five faults. You just never know….' But for the knocked pole after the weaves, she would have been second!
Pop does not do steady clears. She wants to go her speed and I have to work it that way. And on that day it paid off. I completely focused on her; the pole went and I just stayed glued to her every move. Whatever happened, I was going to show what she could do. We were fourth when we ran, running order 18. And I realistically thought – well that is it. But there was still some hope. Nerves were playing a big part for everyone. Friends (and Lesley) were calculating where Pop and I were each time someone went clear or bowed out and we were, I was told, now tenth. I had buried my head in Nic Hanekom's shoulder by then and could not watch. Incredibly at the end I was still tenth with the fastest five faults. Yes!
The Final was incredible.
Walking up through the tunnel, I just wanted to charge through yelling 'YES! Here we all are with our fantastic dogs!' Nerves went. Perhaps being a teacher and having to 'perform' daily in front of people helps? Who knows? Sadly for me I had to run first. I think I managed to run round the full course twice as the bell to start went. The Olympia official pushing us across rather sternly reprimanded me for not being on the start line with my dog who was still being held by my husband by the tunnel. I was told afterwards that the A-frame was still being tweaked. I did not get to grips with the jump/weave trap to the A-frame. Pop could not hear me over the crowds or see my body try to move her to the left around the solid wings of the jump, and so we were E'd. But I was in that Final with my beautiful, clever girl and that was more important than anything else. So we carried on as if we were clear and she showed how stunning she is. Every contact was perfect, her weaves fabulous and her turns were immaculate – she flew round.
To be a part of it was a great privilege and she was, I believe, one of only two rescue dogs to make it to the Final (Dash, of course, being the other one). Pop came from the RSPCA when she was five months old, an abandoned pup from goodness knows where. I am so proud of her. Doing the Olympia run in Senior this time is one of our many challenges in 2006!
---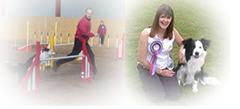 Karen Laker
Dog: Flint (Bekki's Thaumaturge)
Flint was lucky enough to qualify for four Semi finals and we came sixth in three! On the last qualifying day Mark had already qualified his young dog Kodi and then Flint got called in as a reserve. This time I knew what we had to do - a clear round wasn't enough. We had to pull out all the stops.
Before I ran I must have looked really pale and Maria Johnson felt sorry for me and gave me a Tellington Touch massage. It must have done the trick - thanks Maria - as we sailed round going into and staying in the lead. This prompted a lovely comment from Virginia in the Agility Voice, 'Karen Laker who had been the bridesmaid long enough showed us that today she was worthy of the whole white wedding.' On this occasion a clear round would have been enough and Mark was lucky enough to qualify on the fastest five with Kodi. So we were both off to Olympia for the first time.
I was totally focused on enjoying Olympia and doing all I could to prepare for it. The friendship and warmth of feeling between everybody who had qualified was amazing. With everybody saying that anybody could win on the day, that it's special just to qualify and everybody wishing each other well.
I'd been groom twice, once on a fun run day with Tasha Wise and then last year in the morning for Sue Rolfe with Kes so I knew the set up. I was very concerned that, although Flint is a big powerful boy, he's also a gent and likes to wait for me. Having never been good at games at school (or since really) I was aware that if we were to get a good time I would need to get fit. I started running once a week with Flint (well jogging for a couple of minutes before collapsing in a heap!) in early September as I knew that once winter arrived it would be difficult to get out with him. It must have done some good as he won into Advanced at Chippenham show and came second at the Supadog Intermediate Stakes Final in October.
We then organised some Olympia Training Rounds inviting a few friends who had also qualified. We ensured they covered a lot of ground and all required oxygen at the end (apart from Sue who could have gone round twice I think!). The first Sunday training was so exciting - previous courses, tinsel and Tasha helping me with my running 'style', resulting new underwear etc. Hannah Banks said that even if we don't make it on the day the journey there is rewarding!
On top of that we took the dogs swimming (thanks Mark and Lyn at Doggypaddle for six weeks before the day to ensure they got fit with minimum risk of injury - except Flint was a bit dim about using the steps! Kodi and Kes came, too. Kodi then won into Advanced at Gillingham. I had managed to keep up the running and Mark came, too. He would run on and the dogs would have great fun running between us.
Due to the fact that 35 qualified for the morning and only 20 dogs would get a 'crowd' run, I was determined to be one of those 20, especially as Flint is six and, with so many good, faster young dogs about, he may not get another chance.
Appointing my Groom was no problem as my son takes an active interest in Agility, despite us not having room for him to have his own dog. He had won the Crufts Junior Jumping with Flint so felt he could tell me what to do at a Major final! Mark's Groom was a bit more difficult as he has several 'groupies' -you know who you are - Charlotte and Lauren etc. - who would have loved to be there but in the end he chose somebody new to our club who has loads of enthusiasm and who would benefit personally from the experience and knew when to do general chit chat and when to allow him to concentrate. She also was able to attend all the training and 'practised' grooming at the shows we went to before hand! Michelle, you were an excellent choice. Mark says thanks.
The polo shirts arrived and we ordered the coats from Gemma at Sew What! (good idea) plus a polo shirt for our grooms. Michelle nearly cried when she saw hers and Michael was as pleased as a teenager can be! Mark searched the internet but wasn't able to come up with black trainers with yellow/gold stripes. So where did you get yours Mark Saunders? However, we did manage to get leggings with gold stripes. Well no matter how we did, we'd look the part!
The day dawned
We set off, meeting Sue and Will and Michelle on the way. Luckily Sue had the radio on and was able to let us know there was an accident on the Motorway and we needed to go a different way. Mark has a satellite navigation thing that I begrudged often throughout the summer - after all, we didn't argue very much under my navigation! Suddenly I loved the little thing as getting my brain round finding our way through London would have ruined the day. As it was we arrived in plenty of time.
Then began the journey from the car park! I appreciate there are parking restrictions but it was a long way to go.
The atmosphere was brilliant. Kodi had a uncharacteristic ten faults, missing his contacts - too much excitement - but he put in an excellent time. Kes turned too tight off the dog walk and missed the jump before the tunnel but the rest of Sue's run was lovely. Patricia and Wilma enjoyed themselves. Well, Wilma certainly did but got eliminated. Hannah and Becky did a good run and ended in the top 10. So at least one from the Sunday rounds training made it. Well done, Hannah. Flint managed his usual clear run - not quite fast enough for top 10 but we were 14th so would get to do the Pairs in the afternoon.
So we got our crowd run
It was brilliant but over so quickly. Olympia runs like a well oiled machine and it's amazing to have been part of it. Flint loved the crowd and went faster than I've ever known him go but unfortunately his partner got eliminated.
We had stayed for the afternoon and wondered round the stalls taking our dogs with us as it was too far to go to the car park and we were not happy to leave our dogs there alone. Walking round would not have suited every dog especially in the interval but ours love attention. They certainly got loads of attention, too. One lady even asked Mark and Kodi for their autograph! It made me realised that I wasn't just lucky to get to Olympia. I'm lucky to do a sport I enjoy with a dog I love.
---
Gemma Hanekom
Dog: Boo (Forest Trail) - BC
Olympia was an amazing experience. It is something I will remember forever and Is the highlight of my agility career so far. The courses were tough but fun to work. You couldn't let up for a second, but the buzz of running for home with the crowd cheering you on was incredible! Lights, crowds, cheering, crying, it all made Olympia THE best place to run!
---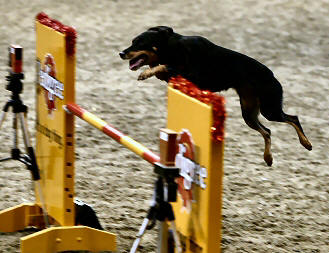 Nicky Taylor
Dog: Pecan (Long Island Iced Tea) - NZ Huntaway
As my first semi-finals it all seemed a bit unreal. I was not sure what to expect and assumed everyone else there would have been there before. It was encouraging to see lots of other nervous faces on the day!. Nerves were definately running high and I can remember every part of the course even now several months on - I don't think I've ever concentrated so hard. Once I found I'd qualified I couldn't stop grinning - and went back to the Letchworth show to find friends had decorated the tent with congratulations banners which was pretty special.
I had been convinced that having qualified for Olympia that was the end of the stress, but as time progressed I think I became aware quite how much Olympia means to everyone and what a special event it is, so thanks to all who had countless worries from me about missed contacts, arguing dogs, spreads, torn nails - the list is endless, but when the day came all of this was forgotten - I can honestly say that the atmosphere from start to finish was great and the runs themselves were really really good fun!. It still makes me smile that Pecan could be heard barking with enthusiasm from the other end of the main arena!
It was a day to remember, and having a somewhat sensitive dog I was amazed all day at how much she enjoyed herself, especially being a star with all the kids at the kennel club stand - her having such a good time made the day all that more special.
---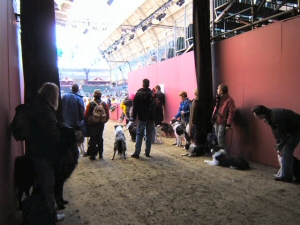 Sue Frazier
Dog: Breeze (Raxmae Morning Mist) BC
This year was my fifth appearance at Olympia. The was in 1993 when I won the event with Breeze, a Border collie that I lost earlier this year aged 15 1/2 years.
I usually only compete with one dog at a time and when my previous Advanced dog had to retire early due to a bad foot, I acquired Mist who started competing at the end of last year. When I heard about the Novice Stakes, I went on a mission to try and qualify as for me competing at Olympia is the ultimate. I rate it higher and far more exciting than competing at Crufts.
Once qualified I then spent weeks perfecting my contacts, practising on large spread out courses and at the same time played noise tapes at full volume to get Mist used to not hearing me as the crowds are deafening, especially during the evening performances. I do a lot of obedience with Mist as she can tend to be quite over enthusiastic so it does help to rein her in when she goes over the top. I also went to the gym to increase my fitness levels on the treadmills.
The thrill of stepping into the arena last Sunday was as exciting as it was on my first occasion there. The semis in the morning are very nerve racking and I actually felt sick as I crossed the finish line! The evening final is amazing. Nerves go out of the window and you just enjoy every moment of it. The downside is not having much time to walk the course which for me resulted in a handling error which caused Mist to take the wrong jump; however I just smiled and finished the round as if we were still clear and judging by the roar of the crowds they must have thought I was clear as well! The spectators love the dogs and when you walk around Olympia they spend ages fussing them. I even signed a few autographs! The comments on the net about Olympia not taking the dogs seriously are unfounded as during the evening performance the commentators expressed the importance of the event. Yes the afternoon events are taken a little less seriously but everyone enjoys themselves no matter what.
The following day I was absolutely shattered. Weeks of training and mental preparation had completely drained me, Mind you, Mist was full of beans as usual!
Roll on Ribble so I can tackle my first Senior Qualifier for the 2006 Final!
---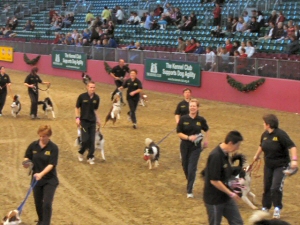 Nic Jones
Dog: Caleb (Slieve Caleb) - Collie
Qualifying certainly put a different slant on agility from October onwards – everything and anything had Olympia in mind. The final MOT with the osteopath – timed so that should anything be wrong we had enough time to put it right; the decision to start 'working' my contacts in competition and only going for it in jumping classes. Even that went array when Caleb jumped a barrier fence and tried to maim himself with only five weeks to go. With a couple of weeks left, I was beginning to wonder if it was worth the stress. Was it really such a big deal? Standing on the start line on the Saturday evening in front of thousands of people convinced me it was.
Weekly trips to the hydrotherapy pool, two mile fitness yomps (all courtesy of Sandra Adams) and a special 'Olympia qualifiers' training session were about to be put to the test. Our inexperience in the big ring and Caleb's youth secured us a big fat 'E' in the final round but it also gave me the chance to really push him and see what he can do and he responded. We completed the rest of the course brilliantly and the crowd reacted accordingly. I was worried I might be put off by the commentary... what commentary? The cheers were deafening, Caleb either read the numbers or was following the six dogs before him. Voice commands were not an option.
Daft as it sounds one of the best moments was our lap of honour after the presentation. Caleb galloped right around the edge of the arena proudly carrying his lead and strutting his stuff. Roll on next year where hopefully he'll have something to strut about.
---
Andy Brown
Dog: Sky (Heidron Chasing Storm Skye) - BSD
This was my first time @ Olympia, and what an experience it was walking out of the tunnel and seeing all those people around the arena. Wow! From my point of view, I think it would be very hard to find a venue for a final that has anything like the atmosphere of Olympia.
Having been once, I will be trying my hardest to get there next year. A big thank you has to go to The Kennel club, Dave Ray and his ring party/helpers for making it such a good experience. I would like to finish by saying well done to Anne and Timber for that fantastic run and to John Gilbert for giving us such a good course to show our dogs to their full potential.
---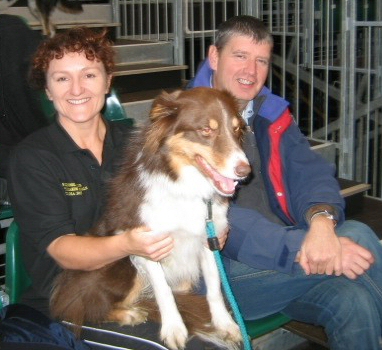 Hannah Banks
Dog: Becky (Wildkap Wannabe)
This year is the first time I have been, and, just like everyone else, I found it to be the most amazing experience; there is nothing like it. The atmosphere was electric. The Champagne was also appreciated!
2005 has been a fantastic year for Becky (Wildkap Wannabe) and me. It has far exceeded everything I hoped for. She reached Advanced status, had a Reserve Championship ticket, and won the Agility Club Senior Dog of the Year award. Even so, our first time at Olympia competing in the agility stakes was the biggest buzz - a superb, breathtaking experience! Now I understand what all the fuss is about and why everyone wants to get there!
How much you appreciate something is clearly proportional to the amount of work that you put into achieving it. I know that everyone who gets there is completely dedicated and works very, very hard at their sport. Qualifying to get there is a gruelling challenge in itself! I feel very privileged to have been a part of it this year.
There are fantastic people in agility - smart, clever, thoughtful, skilful, experienced dog trainers, and great handlers. But although the competition was fierce, waiting to go in it was evident that most the people there were also hugely generous in spirit, showing fantastic sportsmanship, support and camaraderie. For me, that made the experience one that will be hard to beat.
I felt terrible for the 15 handlers who did not get a second run that day. I know the phenomenal effort every single person has put into their preparation (and again let's not forget how hard it is to qualify to get there in the first place!) Yet, despite any disappointment, the 'well dones and good luck wishes were genuine and sincere. However, don't go thinking that great sportsmanship diminished in the slightest the ferocity of the competition which kept my friends and family on the edge of their seats! I heard many say it was the best final they had ever seen, topped by Toni Dawkins' winning run which was of legendary quality.
I owe personal thanks to many people, for teaching me, supporting me - through bad as well as good times - and (on balance) making the agility life such a good one. For me, the prizes came long after a lot of learning and hard work, and have been all the more valued for it. As for general advice about competing in agility, I would say that some important things that I have learnt - or in some cases re-learnt - this year include:-
Know your strengths. Work harder on your weaknesses.
The more ways you can find to (correctly) reward your dog the better.
Never blame your dog. Either you did something wrong or you didn't train it well enough.
Watch, listen and learn from different people. Be open-minded and willing to consider new ideas, but be clear and realistic in your own mind about what you want to achieve.
There is always something new to learn and a way to improve.
Doing agility well can be complex from the handlers' point of view, but must be simple, consistent and rewarding for your dog.
Don't give up just because something seems impossible.
Wear your lucky pants!
I would like to thank the Kennel Club, John Gilbert, Dave Ray and everyone else involved with making the finals at Olympia happen.
---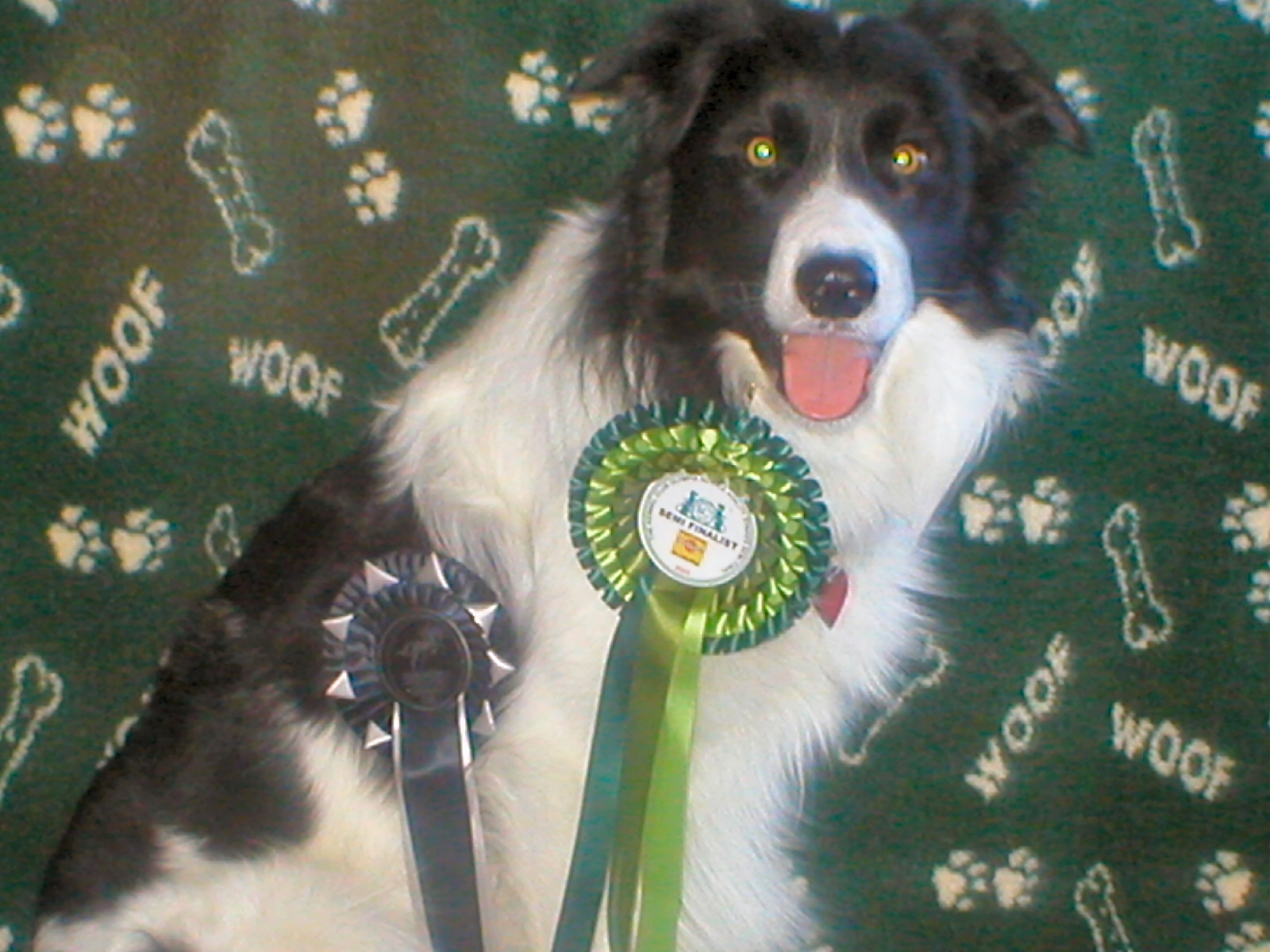 Evelyn Price
Dog: Dash (Sunwood Dashing Dash) - WSD
My Olympia Lows and highs.

We actually qualified for Olympia by winning Novice Agility at the BATS show. It was Dash's first win and the highlight of our season.

I didn't know it at the time, but because of injury in July I've had to lay him up and keep him on the lead which has been the low in his year. Dash is just so full of life that keeping him on the lead is so hard, but somehow I managed to let him do his Semi Finals of which was scary as he managed two clears on the day - not bad for dog who was not being trained. With no good exercise, he was getting more and more OTT.

So we qualified for the big one. Yes, even Advanced handlers love Olympia. People think it means nothing to us to win Novices and qualify for Finals, but I can assure you this was everything I'd tried for three years with his dad Beefer Buzz. Buzz always managed to do well in the morning classes but muck up in the afternoon. I had to accept it was not to be, so to do it with his son Dash was just so brill.

I just had to accept the fact that I had to rest Dash as whenever he does too much he would give a strange hop. So he went to Olympia full of himself, with hardly any training - just his willingness to please. But he is just so fantastic I knew he would be okay.

Dash came a cropper on dogwalk. He's big boy and doesn't always keep his legs on dogwalk. I looked back to see this thing flying through the air, but he was fine. John said put him back over which I did and he was okay, so we finished the course. That was my Olympia over. To me the biggest thing was the lap of honour. Dash loved running round with his lead and showing off.

He spent rest of day saying hello to people and resting in his cage. I now have the hard job of keeping him back on lead for couple of months, and trying to get him 120% fit for next year. Think we'll be back at Easter, so watch out everyone. We going back to Olympia next year and can't wait.

I have to say that it was a fantastic day. Thanks to Dave and all the organisers, 'Johnny the judge' and Lizzy, my groom. Love the polo shirt and beautiful coat from Gemma.
---
Terry Condra
Please can I thank Agilitynet for the tickets I won for Thursday's evening performance at Olympia. It was a truly magical evening - I don't think Christmas is Christmas without Olympia, especially seeing the dogs running. A fitting end to the Agility year. And seeing Karen Smith and Herbie getting second place was the icing on the cake. Well done Karen!