Musings of a Mini/Midi Handler
When Mary Ann Nester arrived at Crufts on Friday, it was pretty much the same old stuff as last year. She had agreed to write an article for Agilitynet and admits to not having one new idea. When a big dog handlers asked about her chosen topic, Mary Ann replied 'I am waiting for inspiration.'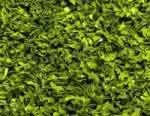 'Do you ever read my reports?'
'No, replied the big dog handler candidly, 'you only write about little dogs.'
That is the trouble with being a Mini/Midi handler. It doesnít matter if what you are writing is as applicable to a Border Collie as it is to a Border Terrier. Your readers are limited to those who have competed in the same classes as you, have paired with you in a Mini/Maxi, or have returned your wayward pooch into your out-stretched arms after he has invaded their caravan to search for treats. And worse, when you go to Crufts all your Mini friends have qualified for one event or another and it is impossible to root for all of them without going hoarse. Far easier to watch the Standards, so big dogs here I come.
Standard Dog Agility Championships
Fifteen handlers in the standard dog Agility Championships and I could put faces to seven of them. I had travelled to the World Championships in Porto and Dortmund with fellow team members Terry Insull, Jo Rhodes, Nicola Garrett, and Lesley Olden. a 'retired' mini dog handler. Gwen Roberts had been the Coach for the UK Team at Dortmund, but I had never seen him run a dog. I met Stuart Carter at an obedience class when he was a brunette and trained a boxer. I had attended a Pat Brown training day so I would recognize her. I didnít know any of them well enough to make a forecast on the dayís Final. I would be seeing them work their dogs over three courses during the day so I hoped I would become familiar with their handling styles and their dogís working modes.
By the eveningís competition, the finalists would have their nerves under control and I would have the chance to see how the big dog handlers coped with the pressure of being in the Main Arena. I looked at the list of competitors and noted that both Jo Rhodes and Diane Talbot had qualified two dogs. To do it once can be a fluke. To do it twice must mean you are a good trainer and competitor. I would be keeping my eye on these two.
The Carpet
One of the reasons why I have never bothered to seriously spectate the standard dogs at Crufts has been because I donít enjoy watching them slither and slide on the carpet. They never show their true potential. Their handlers have been forced to hold them back rather than encourage them forward and they have had to do everything in slow motion in order to give their dogs time to recover their balance and footing on the carpet. Clear rounds win the day.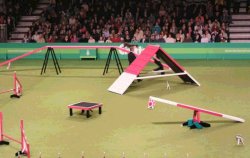 This year was different. The dogs were running and so were their handlers. They started the first round of agility hesitantly, grew in confidence as the round progressed and crossed the finish line exuberantly. By the time they reached the evening finals, they were gunning for it. Speed would be an issue - something new for Crufts 2003!
The Courses
It must have been difficult to design a course without knowing if the new Crufts carpet would live up to expectations. Gerry Eckersley had the unenviable task of stepping in for John Gilbert who had to remain in the background and wave his crutch at any one who dared to jump the queue. It would take more than a broken ankle to keep Mr. Gilbert away from Crufts.
I particularly liked the morning courses for the qualifying rounds. The weave entries were very similar to the ones you see at the World Championships and some of the handlers must have taken one look and dug in their pocket for a handkerchief. Come on, you can do this. If you found more weave entries like this in competition, youíd practice it more often in training.
And I liked the finish of the agility course. It had a sting in the tail that kept spectators holding their breath and wondering if a handler would be able to pull their dog off a fence into a turn. This is where Diane Talbot gathered an elimination with one of her dogs. The Crufts crowds do love an elimination and, although they were on the edge of their seats as each dog came down the home stretch, this was the only one of the day.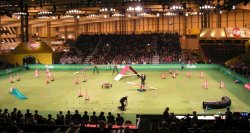 The Main Ring
It was going to be a good final. I had my favourites, not necessarily because I thought they would win, but because I liked how they handled or how their dog worked.
I couldnít stop myself rooting for the yellow Labrador cross run by Jackie Redmond (?), just because he was different. His handler must have taken a lot of stick in the past for working a non-collie and winning. I wonder if she has her name down on the waiting list for a collie pup!
I also liked Sarah Stokoe. She must have been one of the youngest finals and yet she looked the most experienced - cool as a cucumber. I liked the way she handled her dog in the morning, especially her starts.
Both Jo Rhodes and Nicola Garrett were running their 'babies' and I was looking forward to seeing how they would perform. And, of course, I was looking forward to cheering my other team-mates from Porto and Dortmund.
Take your seats please!
I wanted to stand up in mine. If all the big dog finals are this exciting, Iíll have to book a seat. It was the very first time I have seen a true agility competition at Crufts, thanks to the new carpet.
Stuart Carter did a blistering round. He was ahead of his dog, pulling Storm over the obstacles and then pushing him onto the next. It was clear that Stuart was going for a good time, something he wouldnít have been able to do on the old Cruftís carpet. He was running almost as fast as his dog. Well, thatís the winner, I thought.
But no. Lesley Olden approached the start line and folded her lead, a sure sign that she means business. Loobie sprouted wings and we had a new leader! Surely, her time couldnít be beat?
Then, Terry Insull stepped up. I have already confessed that I donít often have the time to watch the big dogs run, but I had seen Terry and Madge strut their stuff in Portugal. Would Terry be give a performance that would erase my memories of him running pass the seesaw on his knees or Madge appearing from the wrong end of the tunnel? Yes! Yes! Yes! The winner! This is what agility should be... accuracy and speed.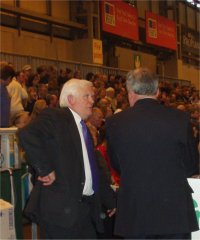 The Ccmmentary
I really enjoyed watching the championship final. It was fast and furious - a proper competition thanks to the new carpet. But the other important contributing factor was the commentating.
Dave Ray found himself caught up in the excitement and did a superb job transmitting this to the crowd. And I have seen this man so lost for words at a TV studio that he had to have cue cards. As each dog came down the last line of hurdles, Dave cheered them on and we added our own shouts of encouragement to his. As he gasped in disbelief at a new course time, so did we. His enthusiasm was catching and he had us in the palm of his hand. It proves that you donít have to try and be cute or funny to get the audienceís attention. Competitors will give the public the performance they deserve to see if they can step up to the start line and hear something good about themselves - not a gross exaggeration of their age.
Dressing for the occasion
I have only one complaint. I know it is agility and that the handlers must be sporty and comfortable, but canít they look good too? I didnít expect to see any of them in tuxedos or evening gowns, but it would have been nice if they had brushed their hair, tucked in their shirts and taken the mud off their trainers. Maybe a bit of lippy? It is a Championship!
Take a leaf out of the book of the Obedience people. They spend months choosing an outfit for Crufts - some sparkle with sequins and diamonds. Agility doesnít have to go to that extreme, but I think the competitors could have made more of an effort for the big occasion. At least brush the dog!
Future Developments
Now that the carpet is no longer an issue, do you think that more dogs will try to qualify for competitions that hold their finals at Crufts?

Do you think that there will come a time when there will be so many dogs qualifying for the Championship Agility classes at Crufts that it will be timetabled for an entire day or two (like the Obedience at Crufts)?

If this happens, will the Championship competition take the place of other agility, like the Crufts Singles Final, Circular Knock-Out, Teams or ABCís because of lack of time on the schedule?

What about cutting the pie into smaller pies and having a Dog and Bitch Championship?
Top of my personal wish list is a Midi Championship (thatís because I run a midi dog) followed closely by reading a review of the Crufts Mini Championship written by a Standard Dog handler - and thatís just to get my own back!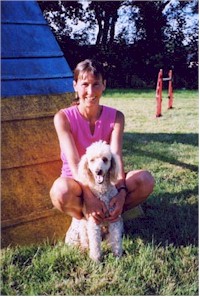 About the author...
Mary Ann Nester came to England from New York in the early 1970s and never went home. In 1997 she set up Aslan Dog Training, a dog training school named after her first agility dog, a lurcher. Moving to Northampton in 2001, Aslan Dog Training joined forces with Walkies the Dog Service providing puppy socialisation classes, obedience courses and agility training at Milton Malsor. Home visits, private lessons and dog walking are available on request. She also accepts agility judging appointments.
Her credentials are impressive. Mary Ann has three miniature poodles - Brillo Pad, Daz and Jed. In 2000, Daz qualified as a standard dog finalist for the Agility Voice Knock Out Pairs and the Eukanuba Mini/Maxi Pairs at Crufts in 2001 and 2002. He has also been to Crufts with the ABC (Anything But Collies) dogs and, at two years old, strut his stuff at Olympia as the 'fun' dog. In 2001, Daz was runner up in the Midi Dog of the Year Agility Club Awards. In 2002, he finished in third place. His proudest moment was as a member of the UK team competing at the Agility World Championships 2002 in Dortmund, Germany.
Brillo Pad was seen by the nation on TV when he took part in the National Lottery and won the Agility Draw Challenge entitling him (and Mary Ann) to push the button. None of her friends had a winning ticket, but it was good publicity for agility and poodles. Brillo qualified for the Mini finals at Crufts in 1997 - 2001 and has competed at Olympia in 1997, 1998 and 2000. As a result of past performances and his achievements in 2000 (winner of the Agility Voice Mini Pairs Knock-Out Final and the Burgess Mini Supa Dog Final), Brillo was selected to represent the UK at the Agility World Championships 2001, Porto, Portugal. He has taken early retirement due to ill health and spends his free time digging in the garden and improving his mind with good books.
Jed is the new poodle in the pack. In his first year competing, he and his partner Zeta, a Patterdale Terrier cross, were runner ups in the Agility Voice Mini Pairs Knock-Out Finals.
Todayís dogs suffer from boredom and one of the finest things that a pet owner can do is provide activities for their dog to enjoy. Learning to send a dog through tunnels and over jumps is lots of fun for everyone. Mary Annís dogs have taken part in the Eukanuba agility displays at Discover Dogs and the CLA Game Fair to demonstrate just that. Agility is a great way to help both dogs and humans become well-adjusted members of society!
Dogs are important to Mary Ann and she believes that they can make a positive contribution to the community. Her border collie, Tam, whose agility career ended when he injured his leg, is an active PAT (Pets As Therapy) dog visiting the elderly and infirm at residential homes and hospices.
Mary Ann is a regular contributor to the monthly magazines Agility Voice and Agility Eye. She also writes features for Dogs Monthly, Clean Run and the internet magazine, Agilitynet.