Spaces available...
---


Agility Flyers currently has a few spaces remaining in their Improvers class for dogs that are at competing level as well as a couple of places on their pre-agility course which is suitable for dogs under 12 months of age or with little obedience. This course starts in September. Venue: Dunstable Riding School, Whistle Brook Stud, Sewell Lane, Sewell, Dunstable, Bedfordshire LU6 1RP
For further info please send an email to mail@agilityflyers.co.uk or ring Nicole on m. 07971965238 (28/07/10)
---

FRACAS: Fun and Reward Ashridge Canine Agility Society, a small friendly club on Herts/Bucks borders in Berkhamstead, has spaces for all levels of ability. Training is on Tuesday evenings in the summer and Saturday mornings in the winter. Outdoor venue. New beginners classes start in April and October. Please see the website www.fracas.org.uk or ring m. 07980 825503 for further details (27/07/10)
---
Leah Gardner As of September 2010, there will be the following spaces on Thursday nights with Leah Gardner at Fordcombe, near Tunbridge Wells, Kent. All groups are limited in numbers to keep the classes small and enabling us to get lots done each lesson. We have a very friendly group of people who do very well out competing pulling in many good results. All heights are catered for but at the moment i only have spaces for large dogs.
5.30pm - One space for a dog that is out and competing or just about to start. It must be able to do all equipment and on full height. Extremely fun and friendly group who take great pride in supporting each other and helping each other.
6.15 pm -- Space in Grade 3-5 competition class for dog that is already competing at large height. Extremely fun and friendly group.
7.00pm - One space for a Large Grade 7 dog. We work hard on advanced sequencing and handling, and although pupils are pushed hard, it is a very fun and friendly group!
For more information please ring Leah on m. 07814 562996 or email on leah@anjuagility.co.uk (25/07/10)
---
Koolklear Agility has some spaces in group lessons on Monday and Wednesday evenings from 5.30 till 8.30. All levels welcome. They train at Leslie Osborne's field in Bognor Regis (PO21 3EE) all year round. Leslie also does private lessons at other times. You can contact him by email at sefter_ozz@yahoo.co.uk or ring m. 07771 986702 or tel. 01243 261101 (09/07/10)
---

BAC Agility Club has places on it's Beginners course held on a Tuesday night at 7pm at Burr's Country Park, Bury, Lancashire. For further information email trainingdogs4u@hotmail.com or ring Babs on tel. 01706 666443. Web site: www.bacagility.co.uk (08/07/10)
---
Evndans Agility Club has spaces for dogs who can do all the equipment G1-3 in the 9.00pm - 10.00pm class on Thursday evenings as well as a couple of spaces for Beginners (not puppies) in the 7.45pm-8.45pm class also on Thursdays. They train at Golden Cross Equestrian Centre in East Sussex. It is a nice friendly club says Eve Price. For more information ring Eve on tel. 01323 767961 or m. 07772947657 or email: price767@sky.com (08/07/10)
---
White Rose Agility (Halifax, West Yorkshire) has three vacancies for handlers with dogs already competing at Grade 2 or above at KC shows or Primary or above at BAA shows. We are also starting a Beginners' Course on Wednesday, 14 July and have two vacancies on that as well, for handlers with dogs at KC good Citizen Silver or Gold level, or the equivalent. Contact Brenda Tenten on yettontop@ntlworld.com for further details. (04/07/10) FULL
---

Paws On Dog Training & Agility have a couple of places available on a Thursday, during the daytime at our outdoor venue in Broughton Astley, Leics. Contact information@pawsondogtraining.co.uk or via website. (04/07/10)
---
Woodcote DTC has spaces for beginners at 1.30pm on Thursday afternoons and two spaces for Large Grade 1-3 dogs at 2.30pm. One-hour classes held in Wallington, Surrey. Ring Lindy Margach on m. 07850 284194 (02/07/10)
---
Paws 2 Touch Agility Club has a couple of spaces on Tuesday nights for Grade 1-4 dogs. The club is based near Battle, East Sussex and trains from 6.45pm - 8pm. This is an outdoor venue. Please email Sharon for further details: merliedogs@btinternet.com or ring m. 07947 651980. (01/07/10)
---

Newlands WDS have a few places available for handlers and dogs who are at competition level to train on a Monday evening at Merrist Wood in the Indoor School. For further information, please contact Linda Manning at newlandsagility@f2s.com (01/07/10)
---
North Downs DTC currently has a couple of spaces for Large dogs Grades 3+ on a Tuesday night. They train at Merrist Wood, a lovely indoor venue near Guildford Surrey. Thursday nights are currently full as are the Small/Medium class held on a Tuesday and Thursday. Please contact Lorna Goodban if you would like more info. Email: LornasRedDogs@gmail.com or ring m. 07815 798567
---

Kiln Agility Training Society (KATS) is starting an additional training night on Thursdays as of May 2010. There are plenty of spaces going in a variety of classes as follows:-
7.30-8.30pm Advanced class

7.30-8.30pm Beginners class

8.30-9.30pm Intermediate class

8.30-9.30pm Beginners
Please email Lucy King at members@katsdogagility.co.uk or call 07809 375885 for an application form. Grab a place before they all get booked up! For more term information and prices see the KATS website.

Kiln Agility Training Society (KATS) based near Fleet on the Hampshire/Surrey borders, has spaces left for the new term in September. The term last for 15 weeks.
Wednesday nights
7.30 - Beginners - 2 spaces remaining
8.30 - Advanced beginners - 2 spaces remaining 8.30 advanced - 2 spaces remaining
Thursday nights
7.30 - Beginners - 10 spaces remaining
8.30 - Intermediate - 2 spaces remaining
8.30 - Advanced beginners - 1 space remaining
Please contact Lucy King on email: members@katsdogagility.co.uk or ring m. 07809 375885. www.katsdogagility.co.uk
---

Scrambles DTS in Walton on Thames, Surrey has the following vacancies for Small, Medium and Large dogs:-
Monday
6-30: Group A - 1 space for a competing level G1-3 dog
6.30 Group B - 2 spaces for pre-competing level dog that can do all equipment bar straight line weaves
7.30: -2 spaces for G4-7 dogs
Tuesday
11-00am - several spaces for G3-7 dogs
12-00noon - several spaces for G1-3 dogs
6-30pm - several places for dogs almost ready to compete and G1 dogs
7-30pm - several spaces G3-6 dogs
Thursday
6-30pm - several places for dogs that have completed one or two courses of Agility
7-30pm - 2 spaces for G1-5 dogs
Large outdoor venue with acres to exercise dogs on, flush toilets and running water. Venue is about 10 minutes from M25. Please contact Lu Candy (B.A.C.A.I) by email at info@scramblesdts.com or ring tel. 01932 222022 (24/08/10)
Sarah Stokoe is now holding weekly agility training classes in County Durham. She already has one class up and running but has spaces available for other classes that can be held on Monday or Thursday evenings (depending upon preferences) at Edenwell Equestrian Centre over the winter period. She is also available for one to ones or club sessions at the same venue on Monday/Friday/Sunday evenings or is willing to travel. Ring Sarah on m. 07881 813 347 or email sarah@taryntimers.co.uk for more information. (30/09/10)
---
CKT now have new indoor venue for their Wednesday night classes. They are based at Liscombe Equestrian Centre, nr Leighton Buzzard, Beds. There is a cafe overlooking indoor school, huge car park and no mud!
They have the following spaces available:-
7.30-8.30 Complete beginners - Full. Waiting list available.
8.30-9.30 Beginners not yet competing - 2 spaces
9.30-10.30 G1-3 - 2 spaces
9.30-10.30 G4-7 - 2 spaces
Please ring Kate Truluck on m. 07808 591015 for more information. (28/09/10)
---
Newly formed club Diamond Dogz (Bucks) has a few spaces left in their Thursday evening classes which start on 23 September 2010 There are two classes for competing dogs and one for young dogs with agility handlers. They train at an indoors equestrian centre near Chalfont St. Peter, three miles from Junction 17 of M25. Please email Duessa Lipley at duessacsj@aol.com for more details (16/09/10)
---
Warehill Agility Group has a New Beginners course starting Monday, 20 September 2010, and there are a few spaces left. There are also a small number of spaces available in others classes. Training is by qualified, experienced instructors - in small groups - inside a covered venue in Eaton Bray, near Dunstable (Beds.) Please ring Hilary Crew on 01582 721765for further information or to book a place. (16/09/10)
---
Smartpaws - Starting Thursday, 23 September Jackie and Alan Gardner will be starting a younger dogs agility course. The classes are aimed at dogs new to agility including puppies old enough to start their agility training. There are 2 open places left. Handlers will be asked to fill in a brief summary of their progress to date and thoughts on how they would like progress this. If required, the options can be discussed beforehand. The training will be based on motivation for reward.
The venue is an indoor riding school with sand surface, just 10 minutes from Tamworth in Staffordshire. For more information, email Jackie at jackieagility@hotmail.com or Alan at alanagility@hotmail.co.uk (12/09/10)
---
Blackthorn Dog Training has the following vacancies:-
2 x spaces in the Starter Group for Large dogs i.e. those whose dogs know all the equipment but not yet up to competing standard
2 x spaces in the Intermediate Group for Small dogs i.e. those who are competing at Grades 1 & 2
2 x spaces in the Competition Group for Large dogs i.e. those competing at Grades 3 and above.
Classes run to a Summer and Winter timetable. Summer classes are weekday evenings and Winter classes transfer to a Sunday. (12/09/10)
Paws on the Levels have a few spaces left on the Foundation for Agility Level 2 course for young / beginner dogs. The course takes place Wednesday evenings from 7.30 until 8.30pm and the Indoor Arena at Stretcholt Equestrian, 5 minutes from J23 of M5 in Somerset. Full details on the website www.pawsonthelevels.org.uk (27/10/10)
---
Essex Flyers in Chelmsford are adding agility additional classes on Wednesday evenings (indoors) and Saturday mornings (outdoors) freeing up places in other existing classes for all levels from Puppy to advanced. Please check our website www.essexflyers.com for details and contact details (24/10/10)
---
Dagobar DAC currently has one or two vacancies on a Tuesday night for all levels of ability from competition handlers to beginners already familiar with the basic agility equipment but only just beginning to run courses. This is a fun and active mixed-ability 2 hour class focusing on everything from good foundation basics through to advanced handling techniques. Class size usually a dozen people on a Tuesday. Also have some vacancies on a Saturday morning for our introductory agility classes for complete beginners. Crazy club with good sense of humour, nice club spirit and a now infamous dog Halloween party! Stoke-on-Trent. Please ring Tina on tel. 01785 713674 (23/10/10)
---
CKT have 1-2-1 training places available on Saturdays with Cliff Truluck at their outdoor venue in Eaton Bray, Beds. If there are enough people interested, there could be group classes, too. Please ring Kate on m. 07808 591015 for more information. (19/10/10)
---
Chart (formerly Chart DAS) have spaces available. They train in Marden, Kent on Tuesday and Wednesday evenings. For more info, please ring Kathy on m. 07754 885431 or email jo@pbxports.co.uk (10/10/10)
---
Stour Valley Agility Club has a couple of places available for any height of dog that is able to do all the equipment. We train train on a Thursday night at Blue Barn Equestrian Centre, Great Chart, near Ashford in Kent TN23 3DH. For more information about the club, go to website www.stourvalleyagilityclub.co.uk (04/10/10)
---
Oakcharm DTC (Wollaston, Northants) currently have spaces for competing agility handlers from Grades 1-7 as well as people just starting out. We train on Sundays between 10am-12pm throughout the winter and Thursday evenings during spring and summer. We have indoor training on bad weather days. For more information, please ring Caroline Bannard on m. 07939 306529 or Ruth Bates on m. 07834714813. Email ruthbates2572@sky.com (04/10/10)
---
Gail Knight of WAC Widegates Agility Club has one-to-one classes available all year round as well as small group lessons for fun or up to competition. Based near Looe in Cornwall, she trains in a secure, enclosed field. The cost per 1/2 hour session is £5 or £7.50 for an hour. Winter training programes available upon request. Gail is a Daq qualified trainer.
Ring Gail on tel. 01579 340924 or m. 07723041921 or eamil gail_826@fsmail.net (04/10/10)
Update...Screaming Agility Dogs has spaces available for their Pre-Agility/Foundation classes for young dogs, aged 6 months upwards. No equipment will be used. The course starts Sunday morning, 5 December 2010 @ 1130am to 12.30pm at Harvington, nr. Evesham. See website www.screamingagilitydogs.webs.com or email Stuart Doughty at stuartdoughty76@yahoo.co.uk (29/11/10)
---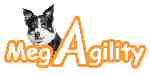 MegAgility have a new indoor venue, located at Sedgebrook, nr. Grantham where they are offering agility training from foundation to advanced level. A few spaces are available for training on Saturday, Monday and Wednesday. Subject to availability, they are happy to offer use of the venue and equipment to those looking for an additional training facility. You are welcome you to come and take a look. If you're interested, ring Lesley on m. 07740 022250 or Caroline on m. 07986 808360 or email megagilty@hotmail.co.uk (29/11/10)
---
Angela's Canine Academy, run by Angela Lucas, has spaces for her Wednesday night classes at Uckfield for beginners or people who want to have more practice for competition. Angela also runs classes in Eastbourne on a thursday and Sunday afternoon for all levels. She also offers to help with dogs who are good at agility but may have some 'stress' issues. Her home tel. 01323 500900. She can also be contacted via Facebook or by email at lucas.a3@sky.com. (28/11/10)
---
Deena Freeman (Chance Agility Training) has a new venue for winter training from January. These will be held on a all weather, floodlit surface in Northamptonshire (A5, 1 mile south of Watford crossroads and 3/4 mile north of Long Buckby crossroads.) There are couple of spaces on Tuesday nights for Grade 1-7 dogs, and a young dog/puppy class for existing agility handlers with new dogs. Please email Deena for further details: deenafreeman@btinternet.com or ring m. 07835 923632. (22/11/10)
---
Pauline Whittaker Dog Training School in Worcester will meet every Sunday morning for Agility classes. 11am – 12pm Pre-agility (foundation) classes for young dogs and dogs new to agility. 12pm -1pm for dogs who can do the equipment. Please ring Pauline on m. 07595 710767 or email pauline@paulinewhittaker.co.uk or visit the website www.paulinewhittakerworcester.co.uk (14/11/10)
---
Newly formed Whitedog Agility meets every Thursday evening at an indoor school near Bodiam, East Sussex. Places available for puppy/beginner class 8.00pm-9.00pm. Spaces also available for competing dogs. Aiming to offer fun motivated training. Please ring Mary Cleverley on m. 07944 154813 or email maryclev@hotmail.co.uk
---
Another newly formed club, Screaming Agility Dog Training is on the lookout for new members. At the moment, they have just one session from 10.30-11.30am on Sunday mornings but they are hoping to open another hour, depending upon the response. The club trains at Harvington, nr Evesham, Worcs. area. Contact Stuart Doughty for more information on email: stuartdoughty76@yahoo.co.uk or visit the club web site www.screamingagilitydogs.webs.com
---
Nic Jones Agility has space for individual or small group sessions at my venue on Tuesdays, all day and other times. The venue is Dale Abbey, Derbyshire DE7 4PP, just five minutes from Junction 25 of the M1.
Email preferred. (02/11/10)
Newlands WDS have a few places left for the next puppy class starting Monday, 10 January 2011 as well as a couple of spaces for competing dogs for the new term. Excellent indoor venue at Merrist Wood Arena, near Guildford. For more information please email Newlandsagility@f2s.com (07/12/10)