Room for one more...
Sturminster Newton Agility Club has vacancies for beginners at their venue in Holwell, Dorset (DB9 5LB). Agility Beginners classes are on Fridays between 5-30 and 6-30pm and Wednesdays at 6.00pm just after Beginner Obedience at 5.00pm.
For more information, ring Maureen Putt on m. 07496 033069
---
KATS has some spaces in our 2016 agility classes in Herriard, near Basingstoke Hants. We are a sociable, fun club where the priority is having fun with yur dog whilst building your bond and learning how to correctly handle them around an agility course. We train on grass in a fully-fenced paddock
Monday 3.30pm - Intermediate/Advanced FULLY BOOKED

Wednesday 1-2pm - Intermediate/Advanced

Wednesday 2.30-3.30pm - New Starters

Thursday 9-10am - All levels but must have prior experience

Plus fortnightly weekend sessions. Dates on website. 1-2-1 training also available.
We also run pre-agility classes for dogs under one year old.
Check out www.katsdogagility.co.uk for more information or contact Lucy King on members@katsdogagility.co.uk
North Downs DTC has a couple of spaces for LARGE competing dogs on a Tuesday and Thursday night. We train indoors at Merrist Wood near Guildford, Surrey.
Contact Lorna Goodban for more info. Email: LornasRedDogs@gmail.com (30 October 2015)
Jump 'n Touch Agility Club has training places Suitable for G1 handlers who can do all equipment at Slinfold, nr Horsham, West Sussex from 8.45pm - 9.45pm on Thursdays.
For more information, email Anne & Sian at Jumpntouchagility@yahoo.com (18 September 2015)
---
New training classes with Nicola Wildman. Wild Paws Agility is moving! From the 26th of October our official training venue will be the fantastic Ribby Hall Equestrian Centre, Ribby Hall Village
Wrea Green, Lancashire PR4 2PR, close to both Blackpool and Preston where most of our classes will be held.
Nicola Wildman will be running the following classes:
Thursday Night
7pm - Pre Competition Class – For dogs 12 months of age or older who have done some foundations on equipment. This class will aim towards getting dogs to a competition standard.

8pm - Competition Class Grade 1-3 – For dogs currently completing all equipment in sequences who are in Grades 1-3 or equivalent standard.

9pm - Competition Class Grade 4-7 – For dogs currently competing at Grades 4-7
Friday Night
7pm – Puppy Class – A class for anyone interested in a foundation for any dog sport or just a class to have fun with you puppy whilst developing great life skills.

8pm – Agility Foundations – A class for young dogs or dogs needing more confidence and focus. A great foundation before the Beginners class.

9pm – Beginners – A class for dogs that have never done agility before but are old enough and have suitable puppy training to begin on equipment.
All classes are 1hr long and have a maximum of 6 people in.
Visit www.wildpawsagility.co.uk to contact Nicola about classes (18 September 2015)
---
Warehill Agility Group will be having a 6 week new starters class commencing the middle of October. This will either be on a Monday or Friday evening, according to which evening would be most suitable to people. We train at Warehill Equestrian Centre Dunstable Beds, on a sand surface.
There are also a few places for dogs on Monday and Friday evenings. We cater for all sizes and levels of experience.
Please contact Hilary Crew on either tel. 01582 673146 or m. 07816179770 or by email to colliecrew@Hotmail.com . Please contact above for further details.
(14 September 2015)
Helen Murphy (HATS) has some training places for G3-5 dogs (Large only) in the first class at HATS. HATS meets at Penniwells RDA Centre, Edgwarebury Lane, Elstree, Herts. WD6 3RG on Tuesdays.
For more information, email Helen at hmurphy220163@btinternet,com or ring 01767 600175.
(27 August 2015)
---
Tenterden & District DTC have moved to a lovely new venue in Hastings and have a few vacancies for dogs and handlers wanting to start agility. A six week course will start on Wednesday, 02 September 2015. Please ring m. 07905 491515 for more information.
We also have a couple of vacancies for dogs already competing in agility at any level. Please ring m. 07968 776362 for more information.
---
Stuart Doughty Agility Training has spaces available for beginners with dogs over 12 months on Monday evenings from 6-7pm, doing low height jump sequences, no weaves or contacts yet.
Venue: Broadview Farm, Twyford, Evesham, Worcs. WR11 4TG. Tel 07756250166 email stuartdoughty76@yahoo.co.uk web www.stuartdoughtyagility.webs.com .
(03 June 2015)
Folly Agility has spaces in a new Beginners class, starting 9.30am on Thursday 4th June at their venuein Southam, Warks. CV4 72RP PM.
Please email or PM for details of othertraining places and spaces section.
(29 May 2015)
---
Prestbury Park still has a number of training spaces available. See contact details below.
(28 May 2015)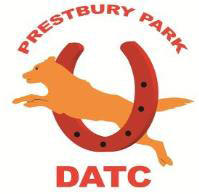 Prestbury Park currently has a number of training spaces available on a Monday night 7pm - 10pm. Classes are held indoors at the RDA, Cheltenham Racecourse, Prestbury, Cheltenham, Glos. and have a maximum of 8 dogs per group. Ideally dogs need to have basic knowledge of equipment and weaves.
If you are interested, please email Suzanne Hall at prestburyparkdatc@gmail.com
(9 April 2015)
---
Maidstone Activity Dogs has a few spaces available at their club including the following:-
Mondays - Indoor classes at Leyborne Riding Stables, Kent
6.30 - 7.30pm Beginners (Can do some jumping, learning contacts & weaves) (1 Space)
7.30-8.30 pm Intermediate (Can do most equipment) (1 Space)
Tuesdays - Outdoor class in Maidstone, Kent
6.15pm Beginners (Can do some jumping, learning contacts & weaves) (2 spaces)
For more info, please contact Katie at info@maidstoneactivitydogs.co.uk or visit their website at www.maidstoneactivitydogs.co.uk
(9 April 2015)
---

KILN currently has spaces for Term 2 (April - June 2015.) There are six paces for New Starters on Mondays from 8.30 -9.30pm.
We run in an indoor riding school in Church Crookham in Hampshire. Term costs: £76.50, running for 11 weeks.
Email members@katsdogagility.co.uk or check out www.katsdogagility.co.uk for more details.
(7 April 2015)
Warehill Agility Group have a few places for competing dogs and dogs with some experience on both Monday and Friday nights at the Warehill Equestrian Centre, Eaton Bray, Dunstable, Beds. Friday night sessions change to a Weds. night through the summer.
For further details please contact Hilary on either tel. 01582 673146 nor m. 07816179770 or email colliecrew@Hotmail.com
(5 March 2015)

Our Club, Lewes & District DTS, currently hold two agility classes - Beginners and Improvers - and we need a further trainer. Classes are held on Monday evenings at Hamsey Riding School, Lewes, East Sussex. Fees/expenses to be negotiated.
For further information, contact Cathy Sutherland, M.: 07815 050998 or email: cathysutherland56@live.com
(6 February 2015)
---
A to Zooom has new agility classes starting on Thursday evenings from 12 February at our new indoor venue in Church Lane, Kimble, Bucks. HP17 9TH. Limited places available.
7pm – 7.50pm - Beginners free taster session and Improvers Class

8pm – 8.50pm - Starters Class and Competition Class

9pm – 9.50pm - Improvers Class and Competition Class
To find out more, visit our web site: www.a-to-zooom.co.uk or call Ann on m. 07973 676763.
---
Dig It Dog Training Club is pleased to announce we have several places on the Monday and Tuesday daytime classes 10am to 1pm. Classes are held in our indoor Agility arena in Sandbach, Cheshire. We have six dogs per group. Levels are Beginners and Advanced. Membership benefits, too!!
If interested please send a mail to Agility@digitdogs.co.uk (12 January 2015)
---
New club Paw X Paw Agility Training, based in the Greater Manchester area, has place available in Mid-January as follows:
Monday :
7pm-8pm: - Fun Agility
8.15pm-9.15pm: - Beginners/Puppies
Wednesday:
7pm-8pm: - Competing Grades 3-5
8.15pm-9.15pm: - Competing Grades 5-7
Thursday:
7pm-8pm: - Fun Agility
8.15pm-9.15pm:- Competing Grades 1-3
Sessions cost £8 per handler. Fun agility Max. 8 people and Competing agility Max. 4 people