Calling all rising stars of the agility world...
The Agility Challenge celebrates much of what is good in agility and is one of the 'must try' competitions on the agility calendar for G1-4 new handlers and experienced competitors with new dogs.
Launched in 2009 at Bretford DTS as an Easter 'Egg'stravaganza, 2022 will be the 13th time the Agility Challenge is being held. It was not held in 2020 due to the pandemic. For someone, it will be lucky!
The competition started as a public exhibition with a 'large show atmosphere' for Grades 1-3 dogs, the rising stars of agility. With changes to KC grade progression, it now is open to both new G1-4 handlers and those with second/third dogs.
Initially, heats were kept close to the location of the Final to ensure that finalists did not have to travel too far. Nowadays there are heats spread across the country. There will be two new venues this year - Daventry FC and Dodson & Horrell Bolesworth International Horse Show
With chances to qualify across the country, 50 partnerships - five from each of our host events, will be invited to the Agility Challenge Grand Final at the Malvern Autumn Show on Sunday, 25th September 2022. It's a good day out for family and friends
April 2022
May 2022
Severnside at The North Somerset Show - Wraxall (Somerset) See results

Worcester Premier Agility Show - Top Barn (Worcestershire) See results

Jubilee Agility Challenge - Daventry FC (Northamptonshire) See results
June 2022
July 2020
Bolesworth International Horse Show - Bolesworth Castle (Cheshire)

Tuffley Championship Agility Show - Tirley (Gloucestershire)
August 2022
Welsh Kennel Club Championship Agility Show - Builth Wells (Powys)

Bromsgrove Premier Agility Show - Droitwich Spa (Worcestershire)
September 2022
Schedules for all our host events are available on Agility Plaza, Agilitynet and all good sites elsewhere.
Good Luck!
---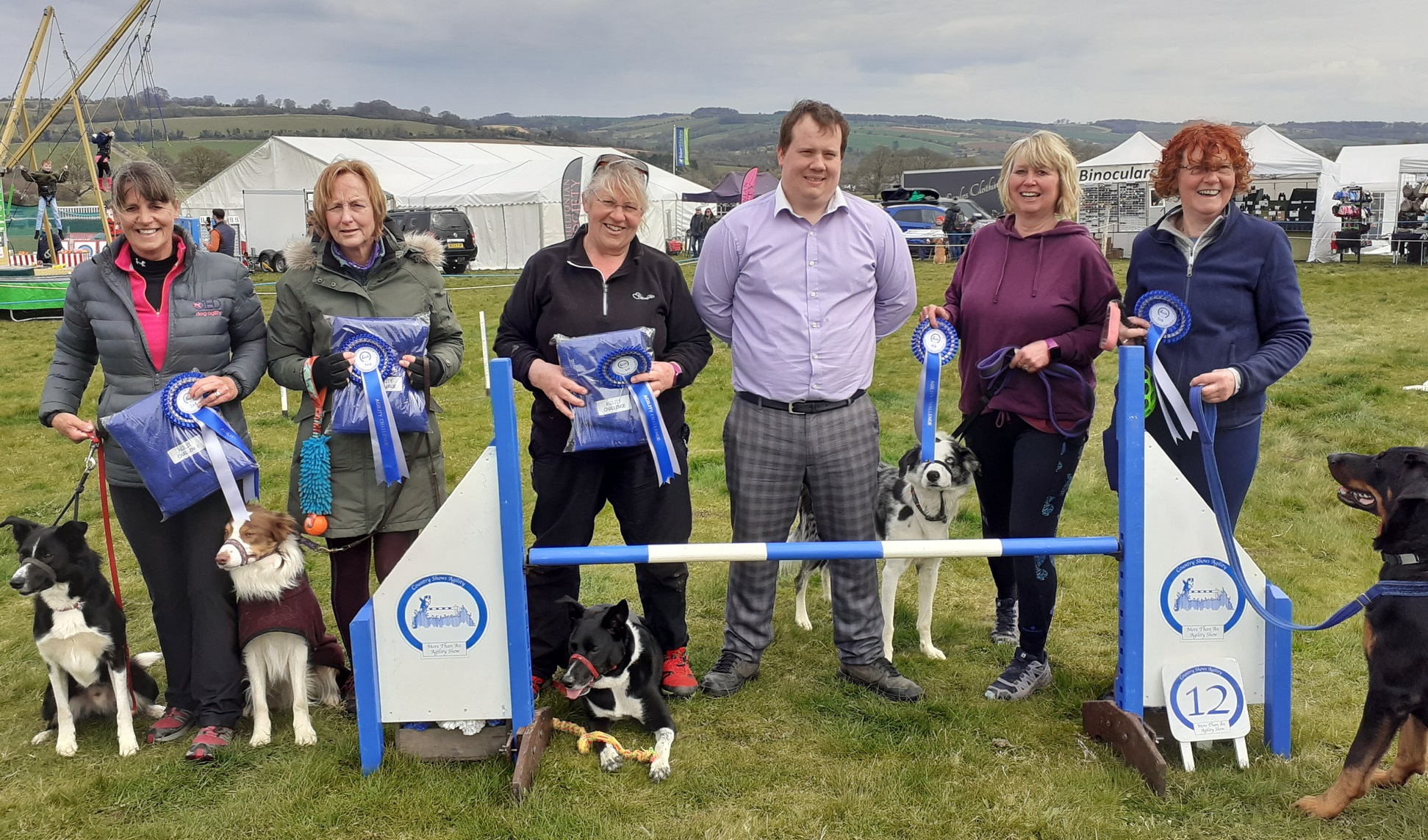 Heat 1
Andoversford Point to Point Festival
Andoversford Point to Point Festival welcomed Agility's rising stars for the first heat of the 2022 Agility Challenge competition.
Judge Mike Blackford enjoyed a day in the sunshine in rolling Gloucestershire countryside. The day, however, was really Hilary Lewis'. Just ask her.
She said, ' I personally like this show as it's small with only one ring and I can wander around the other attractions and stalls and have a bet or two.

The agility ring was on a slope and every course ended with us having to run uphill. I think the judge was trying to kill us oldies off! I failed in thee runs and got an E (for Effort) so I wasn't holding out much hope for the Agility Challenge either. We did go clear only to be told the timer had failed. I wasn't going to run again as it was my first clear round since 2018 and I was happy with that, but I was encouraged by my agility buddies to get back out there and do it again Regaining my breath, I did just that and BOOM. We did another clear round. I was ecstatic and, to be told that I'd won the qualifier, was the icing on the cake!
Hopefully everyone found a winner or two.
Results
Hilary Lewis with Flat Out Freddy - 35.667 secs (C)

Bridgitte Wyre with Ditto at Amscor - 36.929 secs (C)

Caroline Ruane with Riverspell Rushing Around - 37.027 sec (C)

Julie Reeks with Eclipse of The Blue Eye Boy - 37.062 secs (C)

Kathy Williams with Ame Magnanime Jorrick Jaguar - 40.204 secs (C)
---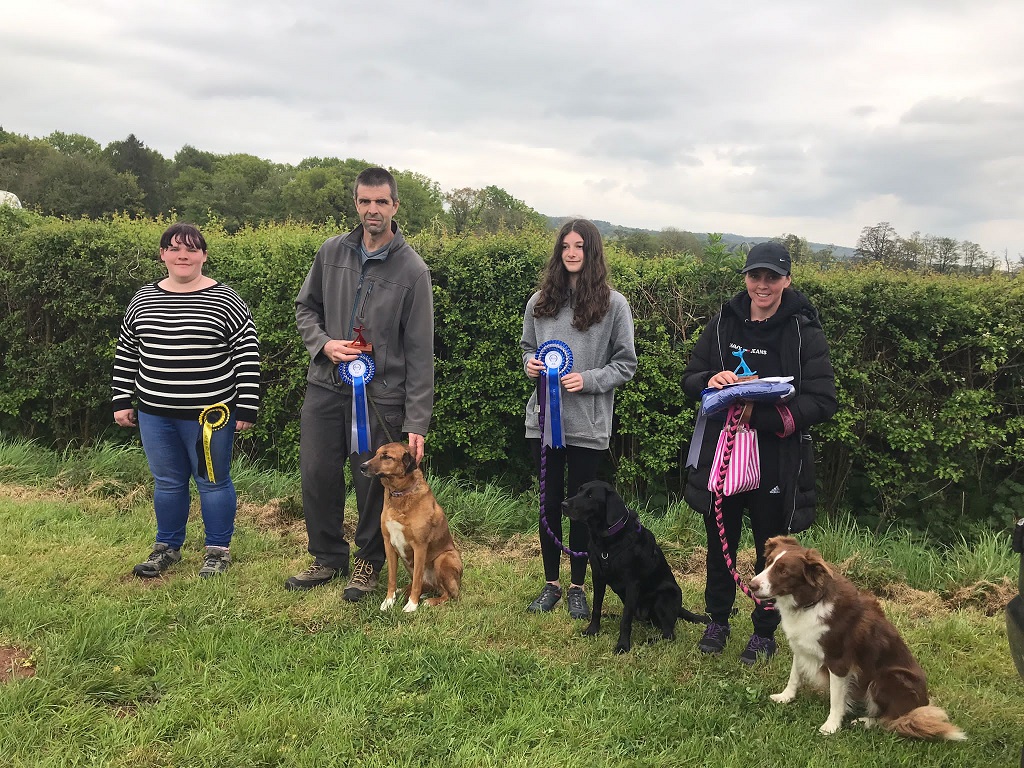 Heat 2
Severnside at The North Somerset Show
It seemed that most of the local population joined us at the 162nd North Somerset Show at Wraxall this year. The show layout created good visitor footfall to the ring, and the public was able to join in with their support regardless of whether the handler/dog got a clear or an elimination.
Judge Ffion Hughes had laid a lovely course with just the right amount of challenge.
She said, 'The dogs and handlers did really despite plenty of distractions from the public and the agricultural show. It was a hot day, and luckily we had a brilliant ring party who helped maintain the smooth running to allow all handlers and their dogs a stress free lead up to the class. Well done to all. I enjoyed having the opportunity of judging.'
This year a G1 partnership won the heat, proving that a first timer can run a dog successfully in public. Congratulations to Rob Kilby and Maisy Breeze.
There were just eight seconds separating the five qualifiers.
Results
Rob Kilby with Maisy Breeze - 32.470 secs (C)

Lauren O'Connor with Get Ready to Run Belle - 34.432 secs (C)

Sue Morrish with Woo Dares Wins - 34.911 secs (C)

Nia Rose with Todalens Rhymney AW/B - 38.425 secs (C)

Claire Rendel with Thutamba Wulff - 40.901 secs (C)
---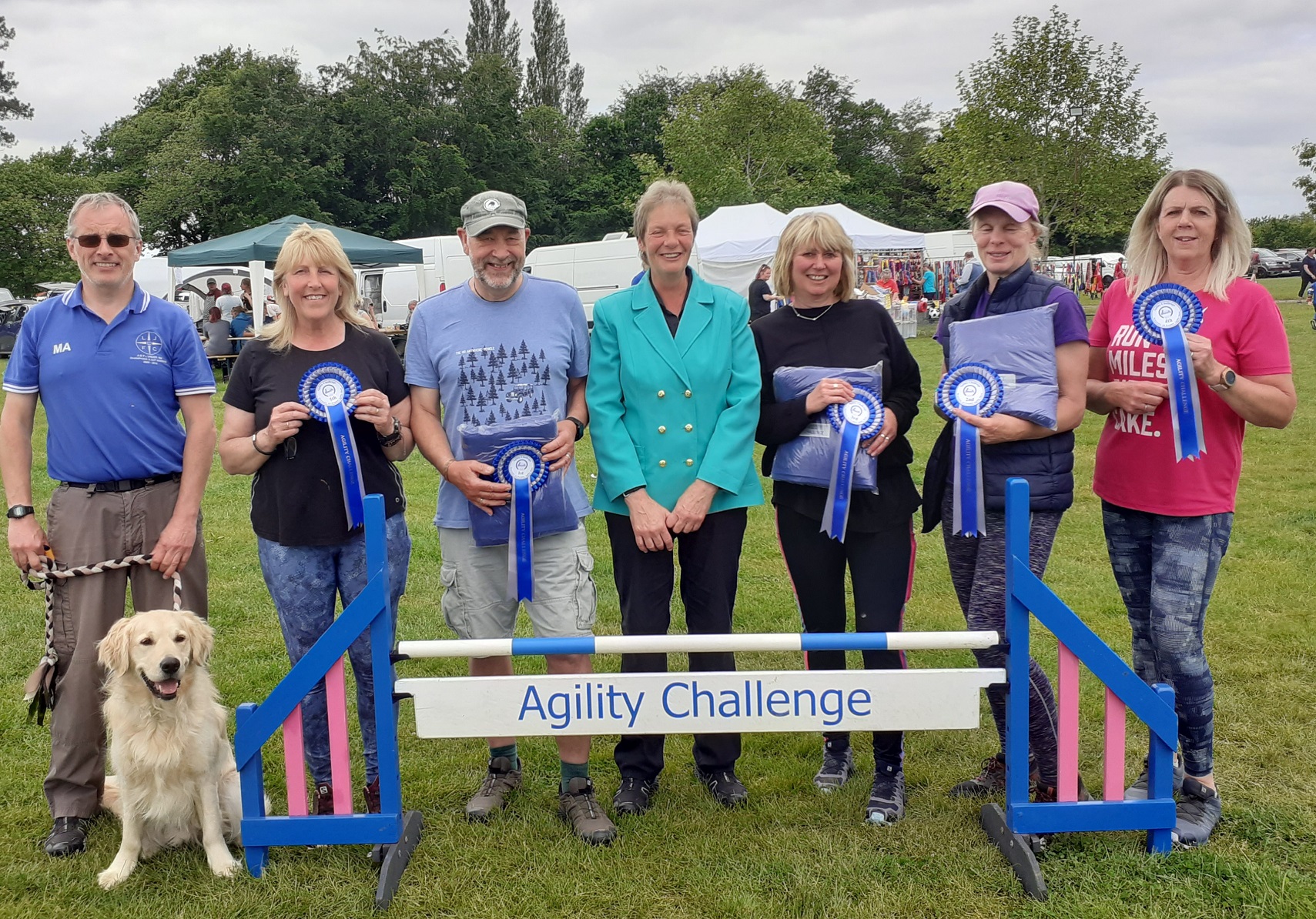 Heat 3
Worcester Premier Agility Show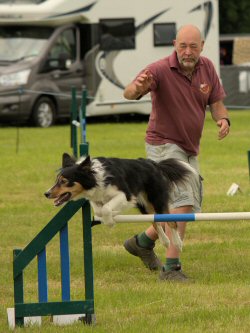 Julie Reeks and Alfie were on form! With a second qualification for the Final in this heat, word has it that Julie could become a serial Challenge qualifier.
Julie said, 'Alfie is three years old and tries so hard at everything we do. He is a star and great fun to run, too.'
She was in good company with the other finalists and judge Hilary Bowden at Top Barn - all enjoying the success and sunshine at Worcester's Top Barn.
Results
Keith Williams with Laetan Charmer - 36.190 secs (C)

Angela Williams with Scuba at Firebolt - 38.480 secs (C)

Julie Reeks with Eclipse of The Blue Eye Boy - 38.800 secs (C)

Kate Partridge with Galody No Smoke without Fire - 45.225 secs (C)

Ann Cooper with Flick of Light Anrojo - 47.726 secs (C)

---
Heat 4
Jubilee Agility Challenge
Thanks to everyone who joined is for the Jubilee Agility Challenge. Daventry Town FC was a very accommodating host.
Honest - All the others were in the bar at Daventry Town Football Club.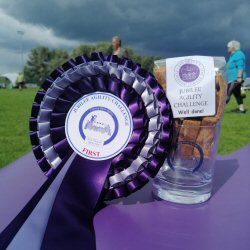 Judge Selena Bray had the honour of judging this heat on what was is 'probably the best agility surface in the world.'
She said, 'The weather was changeable so I did have to adapt my original plan to reduce turning the dogs in the conditions I was faced with at times. There were many absolutely fantastic runs and remarkable 'nearly' runs which really kept me on my toes. It was great to see so many happy dogs and handlers leaving the ring regardless of how they'd done during their run Such a lovely show, and I especially liked the cream tea!'
Results
Steve Young with King Timber - 27.794 secs (C)

Marta Dec with Shep Teddy - 28.762 secs (C)

Jennifer Coates with Killiebrae Hudson - 29.840 secs (C)

Lisa Glynn with Jumpin Jaxx Flash - 32.280 secs (C)

Hannah Lyon with A Different Point of View - 38.853 secs (C)

---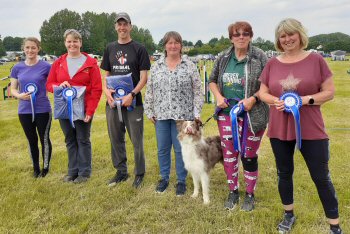 Heat 5
Wye Valley Agility Show
Judge Michelle Coles stood in Welsh sunshine alongside some well known faces who were successful on the day. And what can you say about Julie Reeks' hat trick but well done.
Julie said, 'My aim for this year was to try and qualify for the Agility Challenge and I was amazed when we did it first time. Can't believe that have now qualified three times. So far this year has been an amazing experience. I loved the coursesa and the photo after with everyone is great. Makes it all special.'
Results
Stuart Doughty with Pounghkeepsie Audaertas - 36.238 secs (C)

Emma Haines with Jiffa Jaffa Bear - 39.977 secs (C)

Lorna Goodban with Skeebee McFlurry - 41.484 secs (C)

Julie Reeks with Eclipse of The Blue Eye Boy - 41.863 secs (C)

Rachel Jack with Brookes Luck Be a Lady - 45.266 secs (C)
Now halfway in the competition, Heat 6 sees us join Bolesworth International Horse Trials and Heat 7 at the Tuffley Championship Agility Show - both held during first weekend of July to find our next Agility Challenge 2022 qualifiers.