For the rising stars of agility...
The Agria Agility Challenge celebrates all that is good in the Agility calendar. It is one of the 'must try' for annual finals for the rising stars of the Agility world. Once again it is being organised by Country Shows Agility and is open to Large dogs G1-4.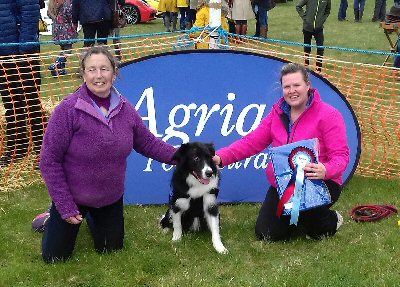 The Season's First Winners!
Congratulations to the
first winners of the first heat of the Agria Agility Challenge 2019 which was held at Andoversford Point to Point Festival on 7th April, and attracted many of agility's rising stars.
Country Shows Agility Graham Taylor said, 'We were delighted to see Agility at the forefront of this fabulous spring event, amongst some other great family attractions. This is one of the venue's premier equine events, and set in the lovely spring sunshine, spectator numbers were high which added to the exciting atmosphere..
The competition, appropriately judged by ex-jump jockey Veronica Hill, was every bit as exciting as we could have wished for, with five fast clear rounds taking the top five places. Beating their nearest rivals by 1.5 seconds were Becky Bryant with Batfink Bombs Away, who completed the course in just 29.761 secs.
Becky said, 'I was extremely happy when we found out we had qualified for the final! Bomb has a mind of his own sometimes, so clears can be rare. We are both very much looking forward to the Final and fingers crossed he listens when it matters! But whatever happens, we are going to go and have fun as that's what it's all about!'
Heat 1 - Andoversford Point to Point Festival
Becky Bryant with Batfink Bombs Away - 29.761 secs (C )

Rachel Williams with Blamorder Just like Magic - 31.262 secs (C )

Karen Sanders The Merle of Valgrays - 32.860 seecs)

Rosie Reid with Splatterday Night Fever - 35.667 secs (C )

Peter Dowie with Fearless Seal - 38.759 secs (C )
Hopefully the Andoversford weather will continue across the outdoor season as Heat 2 of the Agira Agility Challenge heads southwards to the North Somerset Show to find the next five Agria Agility Challenge 2019 qualifiers. Congratulations to our first set of finalists, and good luck to those taking part in the remaining heats!
---
Agria Backs Agility in 2019
Agria Pet Insurance will continue to support the Agria Agility Challenge in 2019. With its regional heats for dogs at Grades 1- 4, this competition is for standard height Large dogs during the spring and summer, culminating in a thrilling final in September in the Top Dogs Arena at The Malvern Autumn Show.
Tom Vaughan, Head of Marketing at Agria Pet Insurance, said, 'We're delighted to announce continue Agria support of Agility in 2019. It's fantastic to see the speed and skill of the rising stars of the Agility world and we cannot wait to watch their progress through to what no doubt will be thrilling final in September. Agility is an outstanding activity for the health and well-being of both dogs and handlers – great for fitness and mental well-being, and to deepen the bond for the most rewarding of animal-owner partnerships. We can't wait to follow the up and coming agility stars of 2019 through to the final in September. It's going to be an exciting year!'
Agria Pet Insurance, recently awarded 'Pet Insurance Provider of the Year' and 'Best Claims Service', at the Moneyfacts Consumer Awards 2019, is one of the few insurers to cover dogs while they work. This includes agility dogs during training, travelling to events and competing.
Agria strongly believes in animals leading full, happy and healthy lives, and so supporting agility is a natural match.
Agility training enriches dogs' lives by giving them a mental and physical outlet, enhancing their level of focus and self-assurance while encouraging a strong owner/ animal bond. Agria is proud to support an activity that fosters such positive outcomes.