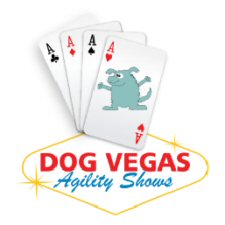 Medium & Small Agility Comb 1-5
Sunday, 26th July 2015.
Supported by ShowOffs Rosettes
ShowOffs Small Combined 1-5 Agility
Sunday, 26th July 2015 may have arrived a little wet, but it didn't dampen the enthusiasm of those taking part in the finals supported by ShowOffs Rosettes. With Cheryl's rosettes adorning caravans and trophy cabinets around the country, Dog Vegas welcomed them as a perfect partner to support the finals.
Presiding Judge Steve Croxford commenced his first ShowOffs class, the all female (handlers, that is) Dog Vegas Medium Combined 1-5 Agility. It was clear to see that the class was testing the handling skills of the competitors. A good, even cross-section of finalists going clear, collecting faults and facing the dreaded 'E'.
As as the vast majority of runs were coming in between 39 and 43 seconds, it was clear that the fantastic winning run from from Jill Barber with Dreamarkis Fly Me to The Moon was rocket propelled, finishing in an incredible 33.8 seconds, almost 6 seconds ahead of a very respectable 2nd place time of 39.6 from Rachel Lount with Kateslot Image. Some 17 hundreds of a second separated 2nd from 3rd place which went to Judita Preiss with Anadune Dark Desire.
The rest of the field gave a great account of themselves in what was a fully attended fantastic final.
ShowOffs Small Combined 1-5 Agility

Once again Judge Croxford's course was a worthy test of both man - yes, some made it to the Finals - and woman! The course tested their ability to put their well rehearsed winning dances into action. With fewer 'Es' it was clear that watching the Mediums had highlighted a few traps.
The smalls produced more evenly spaced timings. Dog Vegass regular Judge, Lorna Goodban provided a delicious display with Tweet Like Choklat, securing the 1st place. Restoring male pride, 2nd place went to Terry Wallbank with Billy Bob, whilst Hayley Tindall had a fantastic run coming in 3rd with Tindall's Usselby Princess.
All in all another great Dog Vegas ShowOffs Rosettes Final, providing a spectacle to watch and credit to all those who had competed in the qualifiers nationally to reach the finals. Well done to everyone. Hopefully see you all next year.