Supporting Small and Medium dogs...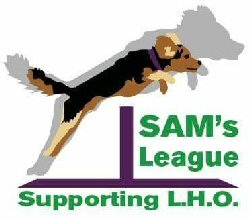 After the success of SAM's League, Emily Osborne was asked about running a qualifier for Small and Medium dogs as they often could not enter LHO classes. It's been more work organising than she expected but really fun to see how the idea has developed.
Confirmed Qualifiers for SAM's LOW Steeplechase Cup
Like SAM's League, the Steeplechase Cup has taken off. in 2018 there will be 30 qualifiers all over the country from Cornwall to Scotland! The overall sponsor is Longfield Agility Solutions that have been incredibly generous. The final will be held at WBSDs show in August 2018 in Telford.
Lots of shows have been willing to help, and every single qualifier has a sponsor. I've begged and borrowed sponsors from all over the place by contacting people and networking - friends of friends, LHO supporters who have their own business, individuals who support LHO. I've been delighted with the response and the support I've received.
Sponsors pay for the rosettes and can advertise on our Facebook pages. The difference is that, unlike other qualifiers, we don't take any money from the shows that run a qualifier for us. We want to encourage shows to support LHO for the Small and Medium dogs that need it, without having to fork out money.
2018 Heats
2nd January –
WesLo's K9
Kindly sponsored by Curious Sloth Photography
17th February
Phase Purple
Kindly sponsored by ID Hashtags
4th March –
Kelluki Agility Show
Kindly sponsored by Christina Bryant & Purdey
31st March –
Longfield Agility Show
Kindly sponsored by Longfield Agility Solutions
2nd April –
Adams Agility Show
Kindly sponsored by Paws Trading
7th April
Wye Valley Champ Show
Kindly sponsored by Sarah McLean & Kita
21st April
Wallingford DTC
Kindly sponsored by Naomi & Skye
28th April –
Lincoln Agility Enthusiasts Open Agility Show
Kindly sponsored by Lincoln Agility Enthusiasts
5th May –
Shrewsbury DDTC Show
Kindly sponsored by Dee Hartshorne & Spider
5th May –
Dartmoor Agility Show
Kindly sponsored by Dee Hartshorne & Spider
6th May –
Woodside Championship Agility Show
Kindly sponsored by Glenndarcy Dog Products
12th May –
Ynys Mon DTS Open Agility Show
Kindly sponsored by Touchandgo K9
12th May –
Roseland DTC Agility Show
Kindly sponsored by Sunshine Sydney & Kyscafter Emrys AW/G
20th May –
Scottish Kennel Club Championship Obedience & Agility Show
Kindly sponsored by Awesome Abilities
26th May –
Gleniffer Premier Agility Show
Kindly sponsored by Awesome Abilities
26th May –
Adams Agility Show
Kindly sponsored by PinkFox K9 Fun & Fitness
2nd June –
Oswestry and High Lane Show
Kindly sponsored by Merlin Dog Training
3rd June –
Upanova Tigers KC Agility Show
Kindly sponsored by Topjax Animal Therapies
9th June –
Prestwick & District Dog Agility Show
Kindly sponsored by Curious Sloth Photography
9th June –
Bitz n Bobz
Kindly sponsored by Bitz n Bobz
16th June –
Hoolihounds Open Agility Show
Kindly sponsored by Myshka's Toy Box
16th June –
Longfield Agility Show
Kindly sponsored by Longfield Agility Solutions
30th June -
Maidstone Activity Dogs Open Agility Show
Kindly sponsored by AgilityWorld
6th July –
RVA @ Just Dogs Live
Kindly sponsored by Snazzy Pawz
14th July –
FAB KC Show
Kindly sponsored by Christina Bryant
4th August –
WBSDS
Kindly sponsored by 'No Fears With These Ears'
4th August –
WBSDS – SAM'S LOW Steeplechase Cup Final
Sponsored by Longfield Agility Solutions