Teen handler's dream comes true
Abigail Orme is 13 years old. She joined the Young Kennel Club at Crufts this past March. She had one ambition this year and that was to get the dog she trains to Crufts 2005. Here's Abi's story put together by both Yvonne Goode and Mandy Melville-Love.
The foot and mouth epidemic had one advantage to Abigail Orme. It resulted in a chance meeting between her mom Moira and Yvonne Goode, a member of Bromsgrove DTC. At that time Moira had a Mini dog called Minnie and talk got around to agility, which then led to Moira joining Bromsgrove DTC.
Abi also had a dog called Molly whom she began to train with the Club, but unfortunately Molly went lame and was subsequently diagnosed as having arthritis, prematurely ending her agility career.
Another stroke of luck for Abi came when Yvonne took on a new puppy, meaning that she now had four dogs to train. Yvonne, therefore, asked Abi to help her out, with the obvious choice for Abi to take on being Belle, a Labrador cross. Abi and Belle bonded almost immediately, so Abi took over her training permanently, with their first run in a competition being at Golden Valley in 2003.
Abi and Belle have competed with some success. As Belle is more a steady clear round dog, she was the ideal candidate to be part of a team. In one of their first team runs together, the YKC Team Event at Golden Valley this year, Abi and Belle were part of the winning team, taking them to Crufts 2005. Needless to say tears of joy were in plentiful supply!
In addition, Abi also runs Bonnie, Yvonne's 'difficult' rescue dog, who had a history of biting people. As an indication of how good a handler Abi is, she also took Bonnie clear around a second team at Golden Valley, which really is an achievement as Bonnie would not at one time allow other people to touch her collar.
Everyone at Bromsgrove DTC is absolutely delighted and very proud of Abi for her achievements. We're sure she's a Junior to look out for in the future!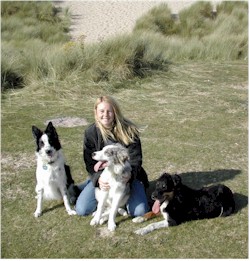 About the author...
Mandy Melville-Love started agility training in late 1999 with Bromsgrove DTC, at which time she only had one dog Jess, a rescued Border Collie. In 2001 the year was filled with competitions and the bug really bit! This was the same year that she got her second dog, Sally, also a rescued border collie.
2002 saw Jess and Mandy really get it together, coming home from most shows with a lots of lovely ribbons. It was also the year when she fell in love with Dylan, a blue merle Border Collie advertised on the Agilitynet Rescue Me pages.
At Milton Keynes in May 2003 Mandy won out of Elementary with Jess. This year has been a great year so far, with them winning the First Contact Starters Agility class at North Derbyshire on 26 June, winning out of Starters and qualifying them for the final next year.
Mandy is also now an instructor at Bromsgrove DTC.
Photo: Eric Trafford