A win win situation...
In 2012, Linda Gore found herself on the look out for a male, blue merle Border Collie to double her agility dogs to two. She already had a beautiful black and white bitch called Zara who had taken her from total amateur to someone with a thirst for more. She had caught the agility bug.
At the time of my search, Zara (Bailstails Zealous Zara) was just two years old. My trainer Selena Bray described her as a Ferrari where, upon reflection, I probably should have started with a Mini as Iím not, shall we say, the right side of 40.
Nevertheless, I contacted Sue Wyatt, Zara's breeder, and asked her if she knew of a good litters with merles available. Sue came straight back to me with a name. Ann Jordan had a litter that was ready to go - four black and white and one male blue merle. The only remaining pup not sold was teh blue merle dog.
I called Ann and explained that, although I wanted a pup, I still hadn't convinced my husband that this was such a great idea. Ann suggested that I visit on Sunday morning. On Monday morning, we collected our new stunning boy Baylie (Cories Blu Baylie.)
To say life with our new pup was easy is an understatement.
Zara was very unsure of this intruder. As time went on, Baylie was allowed to play the occasional game but only on Zara's terms. I am pleased to report that as time went on the bond grew, and they are now soul mates.
I attended obedience classes while Baylie was a puppy. It was obvious from very early on that he was bright intelligent and quick to learn. We moved over to agility, starting with the usual poles on the floor and low equipment. Nothing worried him. I was careful to insist on solid waits and contacts (Zara still pushes her luck!)
Grade 1
Finally the big day arrived. April 2013, Good Friday at 18 months old we attended Adams Show at Grade 1. We were both nervous. There was no need. Grade 1 Agility... Win. Then within our 25 days, he still went out winning twice more in Agility and Jumping with 1st places in Combined G1-3.
Grade 2
Started at Hatton County Park in May. Baylie seemed to understand what was expected, Grade 2 Agility... Win. Again within our 25 days, we had a further three Agility wins.
Grade 3
Sunny June, Bitz n Bobz. Yes, you guessed it! Agility G 1-3... Win.
Also we had massed enough point to apply for Agility Warrant Bronze (200 points). Then came DINAS, our biggest show yet. Even in excellent company, Baylie amazed us by getting a rosette every day - 10th, 4th, 10th, 4th places.
We were having a fantastic summer camping in our tent, meeting lots of interesting people, watching some brilliant dogs. Was I dreaming? My expectations for this season were a couple of clear rounds at Grade 1.
In September, Baylie had gained the 400 points needed for his Agility Warrant Silver.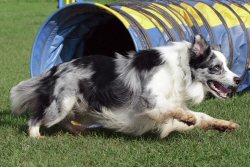 Grade 4
Started competing in Grade 4 in October. At our first competition, over a difficult G4-7 course with only 2 clears, we managed a 3rd place with 5 faults. A few weeks, later 1st November, we won out indoors.
Grade 5
We have entered one show at this level, so still very early days. No rosettes yet!
I am working hard to improve MY skill levels. I am Baylieís handicap. He is such a fantastic dog, full of natural talent and he has been able to get me out of all sorts of bad handling errors so far! I need to work hard to take him to the level he deserves.
The dogs had a break over Christmas, having fun doing what dogs do, racing around in the fields getting muddy. They are first and foremost my pets.
The tent has gone! Upgrade to a caravan, got the tow bar, brought the windbreaks, so roll on 2015. If you see us out walking courses, I am always grateful for advice. I never believed we would have such a fantastic season, meeting so many helpful people.
Agility really is a sport to be enjoyed by all ages and abilities. If I can do it, anyone can!
About the author...
Linda Gore