Meet the new Junior Champion
Belle Howlett, a 14-year-old schoolgirl from Essex, went to Junior European Championships 2016 as part of Team GB and returned home with a full set of medals - Bronze, Silver and Gold. This is not the first time that she has achieved great honours in the dog agility world. Those wins top off a year when she won the Jumping Dog of the Year at Crufts with her dog Ami, was awarded the YKC Sporting Talent of the Year Award and nominated for the YKC Shaun McAlpine Young Person of the Year Award also at Crufts. This is her story thus far in her own words.
I started agility when I was six years old when I was lucky enough to be given the use of a well trained dog named Flash who was owned by Sandra Beale and Bob Hubbit. He was a sweet dog who started my love for agility. Then I was given a wonderful tri collie to run called Zebbie, owned by Nina Gibson, who was the first dog I took to Crufts in the Agility Dog of The Year. I also attended YKC camps with Zebbie where I tried many different activities like Dogstable and Heelwork to music. These camps were good fun, and I would recommend them to any children starting out agility.
At the age of ten, I got my first very own dog called Ami whom I am competing with now at Grade 6. She was bred at home from my mum's Grade 7 dog Leia with whom I also compete in Junior classes. We are trained by my mum Kate Howlett at K9 K8 Dog Agility Training in Wickford, and I also train with Lee Windeatt when I can. My mum and Lee have helped me a lot throughout mine and Ami's agility career.
This agility season has been an amazing year for me so far. It started in March at Crufts when I won the YKC Jumping Dog of The Year as well as the Sporting Talent of the Year. I was also nominated for the YKC Shaun McAlpine outstanding young handler of the year.
Then I got the chance to try out for the Junior Team GB and got selected with both Ami and Leia for the 2016 European Open Junior Agility Championships in Slovakia. There were hundreds of dogs and handlers from all over the world, with 24 countries represented at the competition including Italy, Russia and the USA. This was the first time a junior team from Britain made up of YKC members has competed at the championships.
Ami and I were in Team GB White with Katie Arnold, Amy Challis and Rory Tidmarsh and Leia was in Team GB Red along with Daiel Croxford, Adam Streton and Sammy Pegg. We travelled to Slovakia in July to compete in the European Open Junior Agility Championships, one of the biggest shows for Junior with 450 entries from countries all over Europe and also USA, Canada and Russia taking part. GB Teams White and Red brought home a Gold, Silver and Bronze as well as amazing memories, unforgettable experiences and new friends from all over the world. I loved every minute of it!
Then to top it all off at Kennel Club International Agility Festival, Ami and I won the Novice Cup Semi-final qualifying for the Main Arena at Crufts 2017.
Ami really is one in a million. She is a loving dog and whatever happens on the agility course, we always have fun together.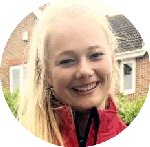 About the author...
Belle Howlett lives in Rayleigh, Essex and attends Sweyne Park School.
She is sponsored by Benyfit Natural, Premium Raw Dog Food.
First published 11 September 2016