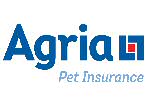 Sponsors of the 2018
Winning Out Certificates

Better safe than sorry...
The caravan is one of the most important and possibly the biggest expenditure in the agility competitor's life other than vet bills! It's what's fuelled the rise of the multi-day show and the week long agility camp. It doesn't have to be new or fancy - after all it is for the dogs - but it needs to be roadworthy and safe for whomever uses it. Dave Camble, owner of Diagnostic Caravans in Thame, makes a few suggestions as to things to check before you set off to a show.
Regular servicing of your caravan or motorhome will pay off in the long run with greater reliability and improved resale value. There are also safety and legal issues to be considered. Every vehicle or trailer is required by law to be in such a condition as not to cause danger to anyone. Some items you can easily check for yourself, such as tyres and lights, but the braking system and the electrical and gas items inside the caravan area are best left to experts if you are not to risk your safety or that of others.
The same checks apply whether you are taking your caravan out for the first show of the season or putting it away for the winter. An annual service is essential and I am not just saying that because I fix caravans. It's my business but it's your life.
The three elements of maintenance to keep your caravan or motorhome in tip-top condition are:-

Annual servicing - That's the job for professionals
Regular maintenance includes things you can do yourself depending upon your level of
Winter preparation and maintenance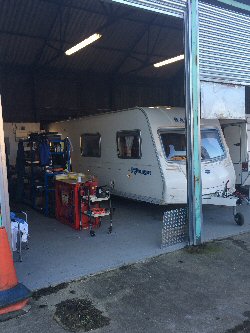 What does a full caravan service consist of?

A full service on a single axle van will take approximately 3-4 hours and a twin axle around 4-5 hours. Prices quoted (£170 single axle vans and £220 twin axle vans) plus parts i.e., hub nuts, water filter, if fitted.
Here are some things you can expect to be done as a matter of fact.
The water system will be filled, and all taps/drain cocks will be tested. The system will also be checked for any leaks and repaired accordingly. The water system will then be drained upon completion unless otherwise instructed by the customer.

A gas tightness and let by test will be done and all appliances will be switched on in gas mode. A room CO (Carbon Monoxide) test will be carried out over a 30 minute period. Smoke and CO alarms will be tested and batteries will be replaced (if necessary). Low pressure gas hose will be checked and replaced if required. High pressure hose's (pigtails) have differing life spans dependent on manufacture/type, these are not inclusive in the service items and will incur an additional charge. All gas drop vents and fixed ventilation will be checked and any blockages will be removed.

Any batteries contained within igniters will be replaced free of charge (if necessary).

A thorough damp test will be carried out using conventional and non-invasive damp meters and a detailed report will be provided.

Cassette toilets will have all seals and moving components lubricated and pumps will be tested.

A check of the vanís electrics will be carried out and will include polarity check, insulation check, earth bonding check and RCD load test.

All appliances will be tested using 240v and 12v where applicable

All 240v and 12v lighting will be tested. The vanís leisure battery will be inspected, and charging rate will be recorded. Also, the hook up lead will be tested and checked for damage and security of the plug and socket.

All windows and window catches will be inspected and tested, window blinds will be checked and if possible will be tensioned and re-checked.

On the outside of the van a check will be made of all body panels, windows and skylights as well as all body fittings such as TV aerials and external service hatches etc. All functions of the 12n, 12s or 13pin plug will be tested.

The overrun assembly will be tested and lubricated as well as the jockey wheel and corner steadies. If a conventional towing hitch is fitted this will be cleaned and re-greased. If a stabiliser hitch is fitted this will have the pads removed and cleaned.

All wheels will be removed and also brake drums. A thorough clean will be carried out before adjusting the brakes and refitting all parts (hub nuts will be replaced).

The tyres will be inspected for cracks and damage and a note will be made of the tyres age, depth of tread and pressure. The spare wheel will be removed from its carrier to be inspected and the carrier will be checked and lubricated. All body - chassis bolts will be checked for security. A full report, including damp and CO (CARBON MONOXIDE) report will be produced and all security devices that have been removed will be replaced.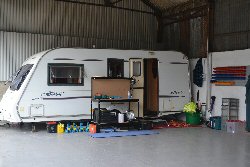 Owner checks and routine maintenance
Throughout the year, there are jobs that you can to keep your vehicle in good condition. What you can attempt depends on your level of expertise and tools, but most users can and should tackle the following check items if not the subsequent remedial work that may be revealed.

Check:
Road lights and electrical connections between car and caravan

Tyre condition and pressures, including the spare. Consider replacing any tyre more than five years old and certainly any over seven years of age regardless of tread wear

Wheel rims for kerbing damage, which can lead to deflation

Wheel nut tightness (50 miles after servicing or wheel removal and before every trip). Keep a good torque wrench in the ívan

Greasing of the coupling head, if it does not have a stabiliser hitch

Condition of breakaway cable and clip

Battery charge state (use an inexpensive multi-meter) and charge with a leisure battery charger if necessary

Visual condition of flexible gas hoses and regulator connections

Flame colour from cooker and gas appliances. The flame should stay blue. If yellow flames appear, consult a workshop

12N, 12S (7-pin) or 13-pin connection cables, plugs and sockets for signs of wear or looseness. Clean contacts if necessary

The RCD cut-out test switch works. Check this every time you connect to a hook-up point

All water hoses and check tightness of connections

Ventilation and gas drop-out vents to ensure they are not obscured by items carried in lockers

The stabiliser friction pads wear indicator on the hitch if a stabiliser hitch head is fitted. If necessary replace according to the makerís instructions.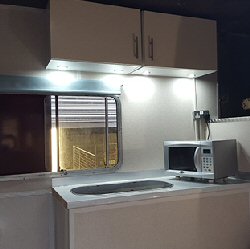 Winter storage
Some people like to have their caravans serviced prior to winter hibernation. It's the ideal time to have any damp work carried out on caravans / motorhomes. Here are some things you should do before putting your caravan / motorhome to bed.
Make sure all water taps are left open and the water system is fully drained.

Double check that all windows and skylights are shut.

Double check all lockers for food stuffs and anything you donít want to leave in the van.

Leave the fridge slightly open to avoid nasty smells and damp.

Remove battery for over winter charging or connect solar panel for charging.

It is also a good idea to place a Dehumidifier or two inside the van to attract any moisture.

Do not apply the hand break as there is a possibility the breaks will seize over the damp weather.

Depending on where the van is kept you might want to remove the wheels to stop the tyres from being weathered. If you do, keep the bolts in a safe place. Do not put any grease in the holes!

It is also a good idea to place the 12s and 12n or 13 pin plugs into a plastic bag to avoid them getting wet.

Lower all corner steadies you might want to place some wood under to stop them from sinking.

If you use a cover make sure that it is secure and tight as the wind will get into it and rattle the straps and damage the paintwork.

Check all lockers and door to make sure they are locked.

Donít forget to fit any wheel clamps and security devices to your van to keep it safe until you return.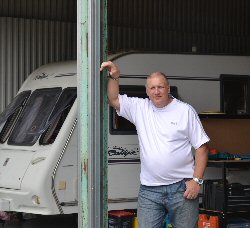 About the author...
Dave Camble owns Diagnostic Caravans. His workshop in-between Thame and Chinnor, Oxfordshire, but also does call out services. His premises are undercover, lockable and fully insured.

For more information, contact Dave anytime on m. 07734 720 539 or landline (evenings) 01844 217192. Email: dave.camble@diagnosticcaravans.com Web site: http://www.diagnosticcaravans.com/