Best in show...
Kristina Cetrulo has known Crufts Best in Show winner Chance (Am.Ch. Caitland Isle Take a Chance NA NAJ)
since he was a little fluff-ball, dragging his mother Nancy Resetar around the ranch where they would meet to take lessons on working stock
. From the beginning Chance showed incredible enthusiasm for anything he was asked him to do including agility. This is the story of their incredible partnership.
First off, to clear up any confusion, I handle Chance in agility only. I have had nothing whatsoever to do with his incredibly stellar conformation career! When Nancy discovered that I did agility - she had already been playing around with him a little - a new partnership was formed. The only downside was that Nancy lives 300 miles away from me so the actual training of Chance was something we could only work on sporadically.
Because of the distance between us, Nancy started taking Chance to Rachel Saunders (a Brit!) for training. Between the two of them, they trained Chance to the point where all I had to do was show up and run him in trials. Unfortunately for me, Chance's conformation career was escalating so I almost never got to practice with him and our agility trials were few and far between. Chance is very fast and enthusiastic which, as you all know, can be a challenge – especially when you don't get to practice much!
But no matter how rarely we got to train, the three times I showed Chance, he stepped up to the plate and ran his heart out for me. At his very first trial, he not only qualified (with placements) in both the Standard and JWW (Jumping with Weaves) class, but he went on to be High Scoring Dog in the entire Novice JWW class! And he was showing conformation at the same time. He had no trouble at all making the transition from his handler in the Breed Ring to working with me in agility.

What do the initials mean?

Am. Ch. = American Champion

JWW = Jumping with Weaves

NA = Novice Agility

NAJ = Novice Agility Jumpers with Weaves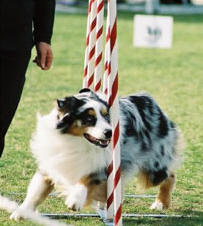 A year went by before I was able to show Chancie again!
Like I said, his conformation career was soaring at this point! I have to say, that darn dog stepped up to bat again! I have included (below) a copy of the show report from that weekend.
I am very excited that I will be able to start showing this dog in agility in the upcoming year. He is a blast to run - very fast with tremendous weaves and eager to play with me. He always tries his hardest and is a very honest dog on course. I feel fortunate that Chance and Nancy are in my life and can hardly wait to get to the line (again) with Chance-man!
Nancy talked me into flying out to Denver to show Chance in February of 2005 and try to finish up his Novice titles. This was extra exciting for me because Chance had just been at Westminster and made breed history. He not only won Best of Breed for the Aussies but he got a Group 2 placing which is the highest an Aussie has ever been placed at the Garden! What a guy! His handler, Karen, is also the owner of Fame, the Great Pyrenees who also made Westminster history by being the first Pyr to win the Working Group ever. I felt like I was flying out to be among celebrities (which Chance and Fame are in the dog world) so I was very excited.
I hate flying in the best of weather so I was not terribly pleased when I woke up Saturday at 2:30am to pounding rain and gusty winds. I hydroplaned all the way to the airport and got on the plane with very big butterflies - I think they were actually pelicans - in my stomach. Taking off... scary. Landing in Denver... scary. Lots of turbulence both ways and I was not happy. Denver airport is huge – I had to take a train to get to the baggage claim area. Poor Nancy had to circle Denver airport for so long waiting for me that she had put over 20 miles on the car. Needless to say, we found each other - thank heavens for cell phones - and headed to the show site. Nancy handed me the schedule in the car and I was very disappointed. it looked like we had missed Novice Jumpers. The second we got to the site, we raced into the stadium and discovered that they were just walking the course!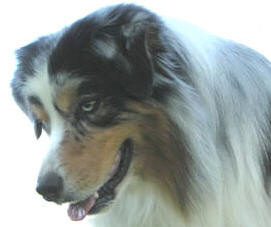 I told Nancy to get her dog NOW and started walking the course. It was pretty surreal. I had just gotten off a plane and within 15 minutes of arriving at the site, Chance and I were on the line ready to run. He was awesome. He was a little slow for Chance. I knew we weren't able to give him enough time to disengage from 'Breed Ring' and switch over into 'Agility' mode, but he was clean around the course and earned his NAJ with a second place! Chance then went upstairs, got cleaned up a little and went Best of Breed. What a way to start the weekend!
We still had our standard run to go and when Nancy brought Chance over for that it was apparent that he had successfully changed mental mode. His eyes were spinning. It was actually kind of scary. The first ¾ of the course were so fast that I don't really remember it. I do remember his teeter though. He hit it going so fast I thought there was no way he could hold onto it. Chance slid into a perfect teeter - better than any of my dogs ever do - and continued on at top speed. We had one refusal at the dog walk - my fault – I didn't set him up correctly for it and it was a tough angle - but despite that, he not only qualified, he won the class!
Two titles in one day, both with placements and he still had Group to do. To cap off a perfect day, Chance went into Group and won! And during Best of Show, he got a looooong look from the judge. Conformation is heart stopping when you are rooting so hard for a dog. Saturday was amazing. Two agility titles with a first and a second, Best of Breed and a Group 1! What a guy! It was actually a little weird over at agility at times. I could hear whispers of 'That's the dog that was at Westminster' and 'That's the dog on TV.' I was handling a celebrity!
I warned Nancy on Sunday that Saturday was a 'one of a kind' kind of day. He had gotten his titles already but I didn't move him up – he is not ready for Open yet and I want to really build this dog's confidence so that he just gets faster and faster.
Novice JWW was dynamite. Once again, he was wound really tight and I was worried that he would drop bars. Well, he didn't. We had a flawless run - again, beautiful weaves - and not only qualified, he took second place again! And then, went upstairs and won Breed again. It was like a repeat of Saturday. By this time the altitude was getting to me so I was little light headed anyway!)
The standard course was fairly difficult for a Novice dog. But I figured that Chancie was 3/3 anyway, so we would just train. I should have more faith in him. He smoked the course and even with sticking and holding all his contacts, he was 30 seconds under time! And he won the class again. Then he went on to group and took a Group 3 placing!
The funniest thing about the whole weekend was the way Karen, who handles Chance in Conformation, and I were bragging on him. Karen – over in Conformation – kept bragging on how well he was doing in agility and I – over in Agility – kept bragging on how well he was doing in the breed ring. Karen and I decided that we share Chance well and he sure seems to enjoy all the feminine attention. Team Chance worked quite well!
What a weekend this guy had!
Two new agility titles with two first places and two second places, two Best of Breeds and two Group Placements! I am so glad Nancy talked me into going to this trial. I had a blast, met a lot of nice people and got to chat with some old friends. And got to run a star.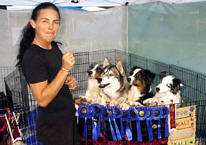 About the author...
Kristina Cetrulo has been involved in agility for almost ten years - starting with an Alaskan Malamute named Oso. Oso fell in love with Aussies so Kristi got one! That started her on a whole other path - working stock. She has dabbled in Obedience and conformation but her primary focus has been agility and working stock.
She started handling other people's dogs (in both venues) over six years ago. Currently my roster of dogs that she handles includes Chance (of course!) and Patches (another Aussie) in agility and she has recently started handling a couple Border Collies, solely in stock: Quick (the dog who just won the AKC Agility Nationals for the 20in. division) and Driven (Quick's daughter.)

Kristi has put many titles on dogs in both venues (WTCH, MACH, ADCH) and competed at the National level in AKC, USDAA and ASCA but the most important thing is that she genuinely loves doing it and is fortunate to have such wonderful dogs (and owners!) to work with.
Kristi and her pack live in Santa Barbara, California (USA). She owns Kachina Mountains Australian Shepherds Kennel.
Photos: Kachina Mountains Australian Shepherds Kennel and BBC