The reluctant agility dog moves North...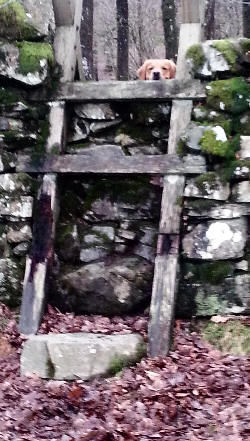 Eight old Golden Retriever Google (aka Mr Bear) has never really been one for agility. All that barking, screaming and tugging on a soggy rag is okay for those hyped up collies but not really all that exciting for a mature, multi-talented dog like Google! Those of you who know him you will understand why but, for those of you who donít, his owner Sandy Childs explains.
Quite a few of you will have seen Google without realising it. A couple of years ago he was the 'poster dog' for the O2 launch of 4G, Yes, he was the shaking retriever with the apps flying from his fur. He has done a number of other photo shoots, including VW and James Wellbeloved to name a couple. He has also appeared on TV and was Sandy in a stage production of Annie in 2014.
In addition, Google is the ambassador and demonstration dog for the charity Dog A.I.D. (Assistance in Disability.) Bred as an assistance dog, his gentle and calm demeanour was my greatest teaching resource for six years in Enfield and beyond. He demonstrated his assistance dog skill to in excess of 25 thousand in assemblies, has been a counsellor, teacher and fund raiser.

Bark & Read
Google has his own literacy project, sponsored by The Kennel Clubís Bark and Read Foundation. This is a programme to support and encourage reluctant readers and writers. His own ability to read - he may be the only dog in the UK to perform the actions of 12 words - has inspired many young people to read and write stories. Their efforts can be seen on his website: www.thebearbonesofeducation.org
Now that Google has moved away from the North London area to the spectacular Lake District, he is just about to re-launch his school career in Cumbria and the North West. We regularly receive requests from all over the country for him to go into school, but he now will have to fit this in with his new job as the proprietor of Wheelgate Bed & Breakfast near Coniston Water, where he meets and greets guests! He is also the manager of Coniston Cottages, checking the dog friendly accommodation situated by the B & B.
Agility wasn't really his thing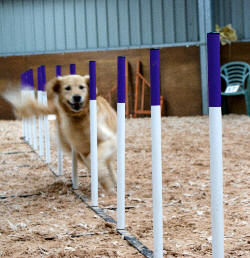 Google attended agility classes for a short time at the Trent Park Club DAC. Sometime he seemed to enjoy it and other times he just switched off and had more fun digging a hole in the arena while waiting for his turn! He soon worked out contacts were more fun and his cup of tea, as there were treats involved. All that twisting and turning for jumping and the weaves, well Ďwhat is the point when itís quicker to go up the side?í
When we got moved up a class, it all became a bit more serious, so we decided to call it a day at Trent Park. However, I still wanted Google to do agility for fun, fitness and to exercise his brain as well as his body.
We went for 1-2-1 sessions with Lynn Jamieson for a number of years, and it was great. On a good day, i.e. when Google felt like it and his drive and motivation were there, he was 'on it.' On another day, he couldnít be bothered, so we did lots of straight jumping runs which he enjoyed. What really motivated Google was Ďice cream.í He would do anything, on the whole, for ice cream. The weaves fell into 'the on the whole' category. Basically we struggled to get him to do any equipment consistently.
Thinking that Google couldn't do agility without much encouragement and coaxing from me was a mere fallacy! One year we stayed at a holiday cottage which had its own indoor agility arena. Chris Mancini was there with her camera, and Google morphed into an agility dog, jumping like a race horse and streaking through the weaves. It was as if he always did them like that! He was excited, motivated and having fun. Of course, ice cream was involved, but also posing for the camera!
Moving to the country...
We havenít done any agility properly now for over a year, but on 1st October, we moved to the Lake District to run Wheelgate Bed & Breakfast and Coniston Cottages, both dog friendly, of course! On the day of the move, Google was staying with Chris Mancini who would to travel up later with him. On an early morning walk, he decided to go hunting and apparently sailed across a five foot ditch with a log on the far side, followed in his jet stream by Duffie (another agility dog and media star) who crash landed!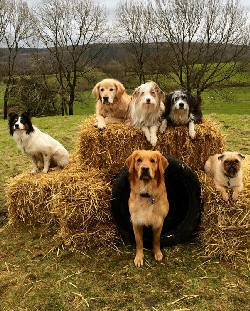 In the two acre field which belongs to the B&B, we are developing an assault course, made out of natural materials as far as possible and a few agility bits. Jumping up, onto and over straw bales is much nicer and softer for his aging body. His main activity which he enjoys is swimming, but Coniston Water is a little chilly at the moment so we have been going into the field a bit more, not too much as he would get bored, but when we combine this with a bit of scenting and searching it becomes great fun. What is evident is that, while Google may not be an agility dog in the true sense, he is athletic.
The biggest difference for me was his drive and motivation. If he felt like it he could do it; when he wasnít on it, he wasnít on it and it didnít matter. He wasnít going to complete. He did it for fun, fitness and confidence. He is able to get himself over the ladder style unaided more easily and controlled than his 20 month old brother Jeeves.
Also a Goldie, Jeeves comes from the working end of the spectrum, amd his drive, motivation and enthusiasm is off the scale by comparison. Jeeves is strong, powerful and athletic. He covers the ground like a race horse and can jump ridiculous heights. We've only had a couple of agility sessions at the same place Google went to before we moved and he loved it, but then again he loves everything.
Maybe I will find somewhere up here to do agility, maybe not, but, as we develop our assault course, we will try and teach him some control. Maybe this will come as he matures? I hope so, I want him to get over things, through things, under things, but when I want him to. Agility has helped Google have the confidence to do that.
Itís not all about competing. It is about having fun with your dog, building a bond and about trust. It has served me well with Google and I hope it will with Jeeves, albeit in a different way. We humans arenít all the same and neither are our dogs. That would be boring.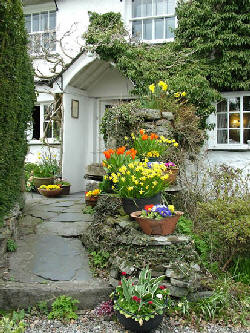 Welcome to the dog friendly Lake District
The Lake District is an amazing area, which I am now lucky enough to call my home. Wheelgate B & B and Coniston Cottages is situated about 45 minutes from anywhere in the National Park and the coast with its magnificent dog friendly sandy beaches. We are nestled below The Old Man of Coniston with a path right at our door. Another path will take you down to Coniston Water in 15 minutes, walk to Coniston or hop on the launch. Grizedale Forest and Tarn Hows together with the Langdales are 20 mins by car, a little longer on foot! There are two pubs a half mile stroll down the path to Torver, both dog friendly of course as is the whole of Coniston.
There is a two acre field for guest use and walks from the doorstep. Dog sitting can be organised by prior arrangement for that day or evening out when the dogs may not want to go.
In addition, two great pubs are 10 minutes walking distance from the B & B and Cottages, both dog friendly, or from the Lake.
Don't take my word for it, come and see for yourself. Dogs welcome, owners must be kept on a lead and under control at all times.
For more information go to www.wheelgate.co.uk or www.coniston_cottages.co.uk Or check out Googleís website at thebearbonesofeducation.org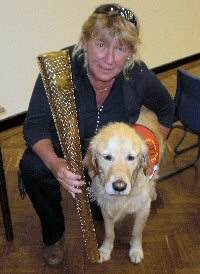 About the author...
Sandy Childs is an ex-PE teacher, who most recently was the head of Outreach for the Secondary Behaviour Support Service in the London Borough of Enfield. She has taken Google into schools for the last seven years doing demonstrations, taking lessons and running Google's literacy project.
Together with Google - and more recently Jeeves - she has been part of the Association of Pet Dog Trainers (APDT) Allstar team doing demonstrations at Crufts and Discover Dogs as well as a few other venues.
Google also has a column in the APDT quarterly magazine and has had a number of articles published around education and the impact of dogs, more specifically Google.
First published 5 March 2016