Interview with two Japanese Spitz
The Agility League for Spitz (ALFS) has been running since May 2018 and what a time it has been for co-organiser Mark Bunyan. He's watched the League grow and cheered on members who are just starting out on their agility journey as well as those already competing at a high standard. It got him thinking what a light-hearted conversation between two of the dogs might be like - say one of the more successful dogs like Kevin Bulter's Ice-Baku and his own rehome Snow, who has made slow progress but has had lots of fun along the way. If dogs could talk, an interview with Ice and Snow might go something like this...
MB: Okay so tell me a bit about yourselves, apart from the fact that you are Japanese Spitz. Ice, you go first.
Ice: My proper name is Ice-Baku, I was two years old in June. I share my home with three Papillons so I am not sure why I am referred to as 'Small' but some people have measured me and declared that I am Small at KC and Toy at UKA. At home, however, I am still the Big Bear. I am my dad's first agility dog so we've had to learn everything together from the start.
MB: And what about you, Snow?
Snow: My name is Snow, although at the Kennel Club, I am known as Supersonic Snow Princess - and donít you forget it. I am three years and four months old. I live in a mad but happy house with my three Japanese Spitz 'brothers' - Kaspa, Blue and Tino. I must be bigger than Ice as I have been measured into UKA Midi, and Iím waiting my KC measure but I guess it will be the same. At home, I definitely rule the roost.
MB: So Ice, tell me about life before you started Agility.
Ice: I spent my puppy days watching my mum's Papillions competing and getting to know lots of people and other dogs whilst getting used to all the hustle and bustle and noise of an agility show.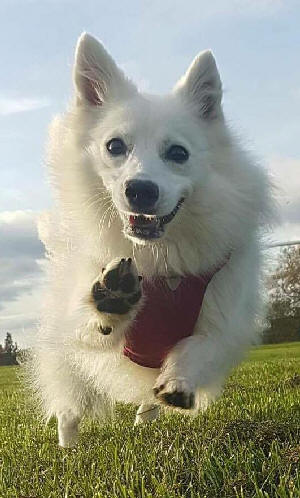 MB: So you really were destined for the agility ring werenít you? Snow, how about you?
Snow: I had a completely different start. In fact, Iíd rather not talk about my first 18 months. Suffice is to say when I was rehomed to my current home nearly two years ago. I was a quiet and nervous little girl but my family - human and doggy - have really helped me gain my confidence, even the rather annoying cat, Simba!
MB: So, Ice, when did you start your training?
Ice: When I was about seven months old I started my foundation training with Pauline Jones at Crouch Valley Agility, doing all my homework in the garden with dad. I spent a lot of time walking along a scaffold board learning to stop at the end and wait. I also learnt to run through a channel of weave poles which gradually closed up and made me wiggle without me realising. We slowly progressed and at 12 months joined Burnham Agility club too. 'Auntie Pauline' teaches dad lots of new things which we have to practice to make me work properly. At Burnham, I am in a class with other dogs so I learn not to be distracted whilst I am doing my rounds or other fun stuff.
MB: Sounds like you had a great start to your training. How about you, Snow?
Snow: I spent a few months settling in and then Dad started to train me as his special project for his 'diploma in dog agility training for fun.' Over the next few weeks, he concentrated on my foundation work - progressing through the tunnel, jumping and eventually contacts and weaves. I really enjoyed it, but Iím more of an action type of girl and just wanted to get out there and have fun. Last winter I started training classes at Bark2School in Gosport where I had loads of fun. I think Mum and Dad found it frustrating that I would run around so much but, hey, you know, a girl has to flaunt her stuff, donít she?.
MB: That's interesting, Snow. When did you enter your first competition?
Snow: Last year when we were at UKA Quadpaws you entered me for a couple of Steeplechase and Nursery agility classes. Had loads of fun but didnít realise the jumps and obstacles were mandatory. Still I thoroughly enjoyed running around.
MB: Right, well, um, can you follow that Ice? What was your first show?
Ice: One Saturday, end of last February, we arrived at a show and Dad was acting very nervous. Then he took me into the ring and I had to do all the jumps and things first time without any practice first ! I thought is was a bit strange, but I did my best - not helped at all by dad being so uptight. I was presented with a lovely Blue rosette at the end of the class. This was my first visit into the world of agility competition.
MB: Your first competition and you got a 2nd place? Wow, that is impressive! So, how did it progress from that?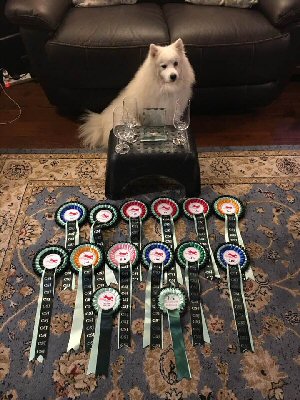 Ice: By the middle of April, we had got our act together a bit more and I qualified for the Agility Club Starters Cup Final. I didn't win but had a really great time trying and Dad got the T-shirt. I was consistently being placed or winning my classes, and at Colchester I won the CDAC Champions Class after qualifying by winning the Grade 1-3 Jumping class. We got a gorgeous trophy and rosette with 2018 Champion on it. The Final was held in the Main ring and watched by everyone who was camping there Saturday night. No one was more surprised than Dad when we were called up to receive the trophy as he hadnít looked at the times because the electronic score board was facing away from where we were sitting. I had an amazing KCI Festival and came home with seven 1st place rosettes and trophies. I also qualified for the KC Starters Cup which takes place in October at Discover Dogs. I nearly did not qualify as I fell off the seesaw and got 5 faults, but luckily I was the fastest 5 fault round and scraped in. So far this year I have had 23 first places and 25 other placings, and I am now Grade 4.
Snow interrupts... Okay Ice, so clever, arenít you? But, you are such a slouch compared to me. I just want to entertain everyone who is watching. After all, us girls just wanna have fun... and get noticed.
Ice: I am not the fastest dog but I am no slouch. I thoroughly enjoy myself, often having to grump at my Dad to make him run faster, but I am consistent and I try to go where I am told.
Snow Interrupts again... I see, so all that running with us and shouting commands etc, is all about what they want us to do?
MB: Finally Snow, the penny drops. So, Ice, whatís it like? Do you feel the nerves?
Ice: I get a little excited at the beginning of the round and Dad is going grey trying to get me to sit and wait before the first fence.
MB: So Snow, how about your nerves at the start?
Snow: Nerves? Moi? Oh come on, donít be daft. I think it's you who is the nervous one as you never know whether I am going to be good Snow or mad Snow. If I want to, I can do it but hey, where's the fun in that?
MB: Oh Snow, Iím sure you are just saying that. How about you Ice? Do you string your dad along?
Ice: I can do it perfectly when I want to and mostly do at home, but like Snow, I like to keep him on his toes. I can also forget to stop at the end of the contact, but I touch all the yellow bits so I cant understand why he gets so particular. On the whole, we make a good team and have both had an amazing journey learning together. I hope we can continue to progress.
MB: It does take a lot of concentration and experience. We humans get nervous, too. Everyone is so supportive though, arenít they?
Ice: I guess it helps. We have made some great friends and I wouldn't be the happy, consistent and focussed worker that I am without all their love, help and encouragement.
MB: What about you, Snow? Have you made lots of friends?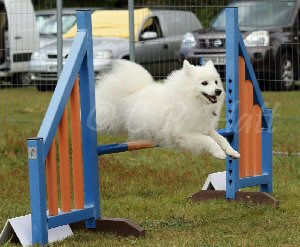 Snow: Everyone wants to know me, donít they? Goes without saying really when you're as gifted and beautiful as me.
MB: Perhaps, Snow, if you spent less time thinking about impressing people,you might perform better in the ring.
Snow interrupts (again)... Rude! Nothing wrong with my performance. No one zooms around the ring quicker than meÖ.
MB: But itís not about zooming aimlessly. Thatís why they call you the 'unguided missile.' Perhaps you need to set some goals, Snow. How about that?
Snow: Well, I guess, looking back on this season, perhaps I have, been a bit too Ďshowyí and maybe a little unfocussed. You have to admit that I did get better as the season went on even completing a couple of runs with just a few Refusals 'cos I zoomed around in between jumps. So, I think I ought to set my goals a bit more realistic. How about I try to remain focussed and aim to complete a clear round in Steeplechase before the year is out?
MB: I think that would be a great start, Snow. Now Ice, tell me a bit about your goals. After all, you have already achieved so much this year.
Ice: My goal for this year is to have a successful KC Starters Cup. Dad's dream would be for us next year would be to qualify for Olympia and / or the KC Novice Cup. We have a long way to go, but I am sure we will enjoy every minute of our time together. After all, we are only in the ring for three or four minutes a week at most, but we are together 24/7 always and my Dad is my best friend.
MB: Thank you so much for your time, guys. I hope you both have a fab future in agility.
About the author
Mark Bunyan is a Quality Assurance Trials Officer Engineer for the Royal Navy. His hobby is competing in agility and training agility at grass roots level. He has a diploma in agility training and attends as many training courses as he can to stay current. He is looking forward to taking The Agility Club Instructor course later this month.
Mark runs three Japanese Spitz in competition, mainly at UKA as he prefers the jump heights and really enjoys the friendly, fun atmosphere. One of his dogs competes at Champ level , one at Champ Steeplechase and Senior Performance and then there is little Snow who is just starting out in the ring.
Mark helped run Opals Spitz League for a couple of years until the founder decided to retire. Then he and Danielle Walker decided to start ALFS Facebook group to make owners aware that Spitz breeds could take part successfully in agility as well as to provide a fun league for those handler who want to take part in a friendly but competitive way.
For more news and information about ALFS or to join, go to Agility League for Spitz (ALFS)
First published 7 October 2018