A celebration of life...
After Trudy Swann had the heartbreaking news that every dog owner dreads, she wanted to share some of the great times she'd had with her Sheltie Jed (Longdon Student Prince). Following an operation for a sudden illness, her beautiful boy had passed away, just aged seven. He was in the prime of his life and his agility career. He was a very special little chap with a huge personality who had a special place in the hearts of many people.
<![if !mso]><![endif]>

We bought Jed from a breeder at 5 1/2 months old. He must have had more than his fair share of the puppy food, as he had grown too big for showing, at a fraction under 17 inches. Although an extremely affectionate dog, Jed was incredibly nervous when we took him for his first few walks. In the early days it could take half an hour, just to walk him a short way down our road. He would stop in his tracks and bark his head off if he saw a sinister figure lurking around – at least that's what it looked like to him – to us it was just an old lady at the bus stop.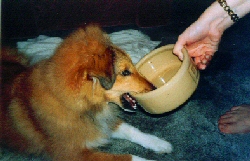 We decided that we didn't want a 'nervous' dog, so we found out about local dog training classes in our area, as we thought it would be helpful to socialise him more. We went for the closest to us, just a mile down the road in Rugby, where we lived at the time. Apparently, run by some woman called Mary Ray! We'd give it a try!

Jed and I ventured down for a visit to check out the club together. We sat next to Mary who, so we were told, was meant to be pretty good at dog training! She thought our super-size Sheltie Jed was great. She suggested that we didn't pander to Jed when he was frightened of something, and just gave him a little reassurance. Actually, that first night at club, Jed made us look like fakes as he didn't show any nerves at all in the hall. He obviously felt at home. He loved meeting all of the other dogs and some of the handlers too. We both liked what we saw, so we enrolled for the next Beginners class.

<![if !mso]><![endif]>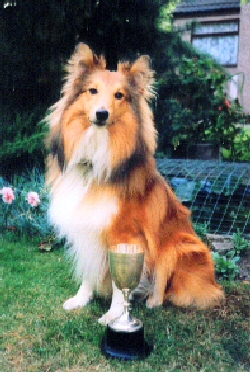 Jed proved himself to be a bit of a natural at this class, taking everything in his stride and showing what a fast learner he was. After eight weeks we had a progress test. Nerves were high and as our turn came, Jed and I demonstrated what we had learnt. We did some heelwork, a recall, then a sit and a down stay with the rest of the dogs. I was over the moon when Alan announced that the winner of the progress test was Jed. The whole room clapped which freaked Jed out a bit. What was that noise? Had he done something wrong? We were awarded a certificate and a trophy to keep for eight weeks until the next progress test.

Jed never looked back
He loved his weekly Thursday night outings to dog training, which soon grew to Tuesday nights for Heel Work to Music training and, once he was 12 months old, Wednesdays too for agility training. Sound familiar?

We were never going to compete in heelwork to music, but Jed simply adored learning the tricks and showing off to everyone – twisting, spinning, walking backwards while standing up on two legs, doing 180 degree turns and reversing between my legs, bending, speaking, shaking paws (left and right of course) and just generally showing off to everyone... when he felt like it that was (typical Sheltie!).

<![if !mso]><![endif]>

Agility, of course, was just for fun.
We could never possibly have contemplated competing. The first lesson was a bit hairy. Jed was a perfectionist, and loved to get things 100% right and this was all new to him. Learning all of the obstacles for agility was a steep learning curve, but Jed grew to love it. Contacts needed more work later when his speed increased, but clicker-training proved the ideal solution for my little Sheltie perfectionist.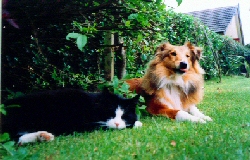 Our first show was the Easter Eggs'travaganza at Stratford in April 2000. The mud was up to our armpits as we arrived to the hustle and bustle of walking courses, working out rings and running orders – scary! As I was in the queue for our first ever class, Midi Pairs, my pairs partner Liz reminded me to remove Jed's collar. What! Take his collar off? This was news to me. What if he ran off?
Before I had time to back out, I was bundled into the ring by Liz. I set Jed up as he was first in the pair to run. Good, he was waiting. Excellent, he was even looking at me - and not the 500 dogs around him! Ready, steady….go! Fantastic, he ran the course with me and did everything I asked him to – a clear round for our first run! Liz with Billie, and Jed and I, ended up in fourth place. Our first show and our very first round too. Jed then went on to get 11th place in Midi Jumping at the same show out of around 70 dogs.
Our second show was Packington, just one month later in May 2000. Jed had two fantastic runs, and we came away with two Second places. This meant two trophies, two rosettes and two bags of dog food! Our fellow competitors couldn't believe it. It was just our second show and we were already beating some of the top Midis in the country.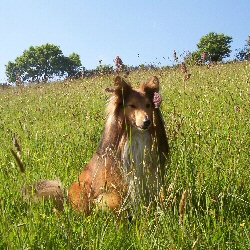 No stopping Jed
His overall confidence improved massively with each show, and he soon started to strut around as if he was the main attraction at shows. He just loved meeting other dogs, and very quickly made some great friends. He became Novice that September (2000) and proceeded to Advanced in 2003. The nervousness of people clapping, seen in his obedience beginners' class, disappeared completely as he grew to adore the clapping at agility shows. He thought it was all for him for being clever in the ring, and often threw in a few celebratory barks... with every round of clapping... for every dog... in every class.
In April 2004, Jed was awarded the title of Best Overall Sheltie at the Sheltie Agility Show in Guildford, beating more than 70 shelties. He won a rosette that was nearly as big as him, a Sheltie ornament trophy and five engraved glass goblets. What a star! 2004 really was Jed's year as he also achieved his Agility Warrant in September, just nine weeks after the award scheme began.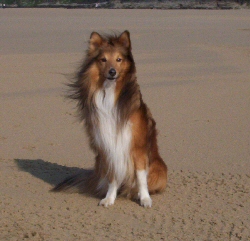 Jed or Longdon Student Prince, as you may know him, spent much of 2004 and the previous year either first or second in the South West category for Midis, and within the top five Midis in the country. The day I found out we had lost him, ironically, December's edition of Agility Eye arrived. Normally, I would really look forward to opening it, to scan the tables to see where Jed and his friends and team mates lay, but this time I was so very sad. But with Jed's last competing result, he had done the business - top of the table for Midis in the South West and fifth in the country overall. I was so very proud!
Every show we went to, Jed guaranteed us to come home with at least one rosette, if not whole armfuls of rosettes and trophies which I always treasured. I remember one show in the summer of 2003 when a lady from another club asked me why I had brought all of my rosettes to a show. I replied that I hadn't. Those eight rosettes proudly displayed in my car window were the ones Jed had won that weekend!
Jed was a brilliantly consistent dog in his agility career of five years, gaining fast clear rounds in 90% of the classes he ran in, I'd say. In fact, in the last round he ran just ten days before we lost him, he achieved a first place, winning a medal that will always be very special to me.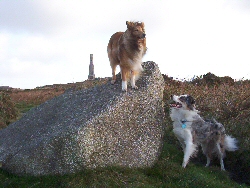 Without Jed
I can't believe I will have to face agility in the future without Jed. At the moment, it still feels like any day he should be coming back home. Sometimes I think I hear his paws clicking across the floorboards, or even think I see his tail disappearing around the corner. Troy, his best mate, has stopped looking behind me now when I come home, trying to see if Jed is back, but still lies down and waits, in true collie-style, for Jed to 'catch up' with us on our walks. Jed always did enjoy his sniffing!
Jed and I had the most brilliant time together. We learned and grew together in the sport we both loved, travelling the country for those 30 seconds or less of running together. Were we mad? No way! Not only was Jed a great agility dog, but he was the very best of companions. A great part of both Mark and I is missing with losing Jed, but Jed can rest assured that as our Sheltie Superstar he will always be with us and will never ever be forgotten.
Thank you
Mark and I would like to thank everyone for their kind wishes and the lovely things they have had to say about Jed over the recent difficult weeks.
About the Author...
Trudy Swann has been competing in agility for five years and has two blue Merle and tan collies. Her first agility dog Jed, a Shetland Sheepdog, became Advanced in 2003. Troy is two years old and is currently competing at Novice level. Robbie is just one year old and recently began agility training. He is due to make his agility 'debut' in summer 2005.
Trudy is also an Agility Instructor with Mid Cornwall.