Rejoice rejoice...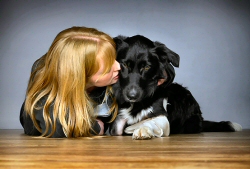 You may have read about Kai, the WSD, recently on Agilitynet and The Agility Forum. Shortly after turning 18 months, he lost his front leg in a car accident. That's not stopped him from doing the agility that he loves. He's even part of a team of three-legged display team now. His owner Gemma Fisher is very proud of what he's achieved and has written up his inspiring story.
A black faced dog puppy was born on a farm on 8 July 2004. Friends who had a puppy from the previous litter which was the same mating, put me in touch with the breeder who lived in a local hillside village. Kiera, my friend's dog and this pup's full sister had such a sweet, loving temperament that I decided that a puppy from this litter was meant to be. I collected my boy just after his six week birthday and named him Kai, which means 'rejoice.'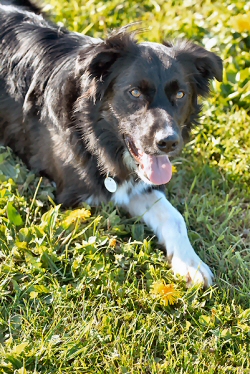 With no prestigious pedigree this dog puppy was not a good choice on paper. Raised in a barn rather than a home, he had a lot to learn when he entered his new life with me. Always a bold, good natured pup, Kai took everything in his stride and has grown into a handsome and intelligent dog that is a joy to work. Initially puppy classes moved on into the KC Good Citizen award scheme, where he passed his Silver award in June 2005. We even tried our hand at shepherding which he showed some aptitude for, but my real goals for him were in the agility world.
Kai began light agility training at ten months old, and really enjoyed this new game right from the outset. Bold, inquisitive and lively, he was easy to train. The building blocks of our basic obedience were solid and stood us in good stead. Some considered me over-fussy with the details with which I trained him, keen to perfect every small error. He never minded, and was always eager to try again for me – something that I carefully nurtured. In my mind, the best dogs shine because the relationship with their handler is built on mutual trust and understanding.
The summer of 2005 passed in a warm haze of indoor and outdoor agility lessons. Work days were never such a chore when training time with him was at the end of them. As we moved into the Autumn time, our off-season agility league kicked in and towards the festive season I ran him as reserve in a match. I was looking forward to the Christmas break where I could spend more time with him and I could plan our show schedule for the coming year as Postcard from Heaven, his KC registered name, turned 18 months old at the beginning of December. And then it happened...
The accident
Two days after Christmas we were preparing to join the rest of our agility club for our festive dog walk. I can vividly remember how handsome he looked as he pranced about around the car. I wanted to share this with my boyfriend who lived next door to us, and I walked round with Kai next to me off the lead. The road was quiet as it was a Bank Holiday. Kai would always go ahead of me straight to my boyfriend's front door. However that morning he saw a cat for the first time since we had lived there, on the opposite side of the road. A 4 x 4 vehicle was driving past as he sped into the road after the cat. Before he made it to the other side he was knocked down.
Sadly I don't ever think I will forget the details of that day, or his screams as the pain shot through him. They are as vivid as the hand in front of my face. He ran away from the road, trying to escape the pain, whilst I called to him to steady and then wait for me. I am ever grateful that he trusted me enough to stop and help him. Our close friends and neighbours rushed out of their homes in their nightwear to assist me, with tea towels to stem the flow of blood that seemed to be pouring out of him. I was able to bundle him up into the back of my car, whilst giving directions about forewarning the vets of our imminent arrival. My previous experience in veterinary nursing kept my surprisingly calm and Kai, although clearly shocky, was doing okay.
Once we arrived at the veterinary hospital I had strong ideas about staying with him, but they had equally firm views about me leaving him in their care. I did what was best for him and didn't argue, and let them carry him away. Once out of my sight, I vaguely remember my legs buckling and the tears then taking over.
On the road to recovery
The vet treating Kai believed that his wounds were too severe to be healed and had recommended amputation as the only option. That was certainly the easiest option, but I felt Kai deserved to have the other options explored. The next day I drove Kai to Vale Vet's Dursley hospital to see Carol Wright who is a soft tissue specialist. She was excellent and I trusted her from the first meeting. She was initially optimistic about his chances and I drove away with peace stealing through me.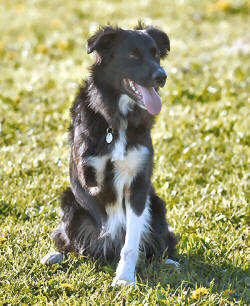 Sadly this was not to last. Once she had had a chance to examine his injuries thoroughly we spoke again. Although the bones in his right leg were unbroken, being dragged along the road had shredded his tendons too far apart. The options were to try and save the leg with the likelihood that it would never regain movement and most likely need amputating in the future, or to amputate immediately. Carol recommended the latter for Kai's benefit. On Thursday, 29 December 2005 his damaged front right leg was removed.
That whole week I was lost in misery and I missed him terribly. I was frightened and so dreadfully ashamed of what I had done to my special dog, and my very best friend. My family and friends were wonderful and rallied around me, knowing just how big and important a part of my life he is. Our agility club was shocked by the news, as were the agility community as a whole. I poured out my story on the main agility forum and was comforted and supported by the messages and emails that were returned.
Through Kai's accident I have made contact with people that I may never have met. A week immediately after the accident we visited Sarah Fisher who worked on both him and me with the Tellington Touch technique. She was amazed not to find his body wracked with shock, but just this lovely sweet natured boy wondering what this lady wanted to do with him. I think perhaps she helped me as much if not more than him, and unlocked some of the tension both in my body and in my heart.
Kai became a regular at our vets Susan Yeo's surgery in Backwell for regular dressing changes on his remaining front leg. Sue is our agility club's chairperson, a trainer as well as being a wonderful vet. She has a fantastic team of nurses and receptionists who are equally wonderful. Kai adores all of them! He treats the surgery as a home from home, and treats visits there as special occasions.
Once Kai's wound on his remaining front leg had healed I was keen for him to start hydrotherapy to help him exercise comfortably. An agility friend recommended Pam who runs Magic's Hydrotherapy Pool, and I'm so glad I got in touch. At Magic's, owners are able to swim with their dogs if they would like to although Pam is always in the pool in case of any difficulties.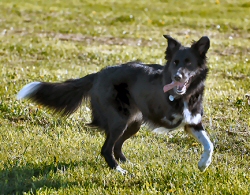 Initially Kai thought the whole idea was very strange and didn't want to get in the pool with this strange woman! Once I was in the pool too, he relaxed somewhat as he still trusted me as much as he ever had. I'm certain having me there helped him, as during the first few sessions he tired quickly and came to me in the pool to be held for a rest. Over the course of a few sessions his confidence grew enormously and now when we arrive he runs straight to the entrance to the pool, impatiently waiting for Pam to fit his life-jacket so he can jump straight in!
Pam noticed and very kindly mentioned that we were very in tune with each other – that it would be easy to be too clingy and not let him swim too much, or equally be too blasé and let him wear himself out. Somehow Kai and I get it spot on. It's instinctive and I can't explain it. It's that 'knowing' that makes him so special to me, and what makes him such a joy to train.
One of the emails I sent out in the first few dark days after Kai's accident was an email asking for help from Dogs Today magazine, one of my favourite publications. I wasn't prepared to risk his health any further at that point, and firmly believed that agility was no longer an option. However I knew, that once recovered he would need some sort of work to occupy his mind – 18 month old collies aren't the sort to retire gracefully! They considered him worthy of the 'Good Boy Good Dog' award in their magazine which was a huge surprise. It was lovely to think that other people considered him as special as I do.
It's amazing how your life can change so dramatically in such a relatively short space of time. How everything you thought you knew and believed in can be thrown so completely upside down. The accident made me question everything, and I was getting very despondent with the answers I was coming up with. Losing the future that I had always planned with Kai was very like being bereaved. At the moment I still have more memories with Kai on four legs than I do on three. Of him in the woods with the sun shining through the bare tree branches, flashing on his coat, muscles rippling as his strides ate up the ground beneath him. Mother Nature did an exceptional job with him. He would dart around, twisting and weaving with an agility that took my breath away on occasion. Just such a horrid waste of such glorious talent.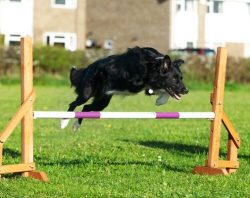 Time to move on
His accident, the consequences, the series of events that led up to it, are never very far from my mind. Guilt is a seriously heavy burden to carry, and it was stopping me from moving on. I booked a consultation with Barbara Sykes who I'd read great things about, and visited her in Yorkshire whilst on my way to an agility trainers training weekend. She made me put my guilt and my dog directly in front of me and choose what was more important – the answer was, of course, without question Kai. Tears, recriminations and 'if onlys' are for people not dogs. I have now accepted that my mistake led to his accident, full stop.
Kai dealt with his accident in the way that he deals with anything – with courage, determination and indomitable spirit. No sooner was he up on his feet, then he wanted to walk out of the surgery with me, and then out wanted to stretch his remaining legs in a trot. He runs and plays with other dogs without worry or fear of injury, in the sheer delight of being alive. I revised my decision to protect him from agility once he was back to free-running exercise. I figured if he thought fallen trees in a wood didn't get in his way, who was I to? Plus, the look on his face when I first took him back to see everybody at agility – I didn't dare condemn him to a future without it! He will be subject to more and tear than he was before, and he will develop arthritis probably much sooner than he would have done. But once again I have two options – to wrap him in cotton wool and perhaps keep him for that bit longer. Or to give him the freedom to be what he is, a young collie with not a care in the world. I cannot choose to be selfish with all that has happened, so we're going for the latter option again. When it comes to the time that I have to give him up to Rainbow Bridge, I want to be sure that he has a lot of happy memories to take with him. Even in the relatively short time that he has been my boy he has provided me with such a lot. I never realised when I named him, just what a lot I would have to rejoice for.
As I say, I've rambled on a lot I'm afraid. Once I got started I needed to get it all down on paper for myself as much as anything else. But if you'd like to add any of it, then do feel free.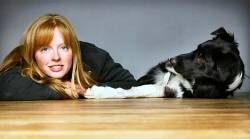 About the author...
Gemma Fisher started agility with her parents two terrier crosses Lucy and Toby four years ago. Kai joined her household with agility in mind, and her most recent addition to the family is Ella, a 14 week old Border Collie. She is a committee member and trainer at Severnside Dog Agility club, and also trains her dogs with Hazel & Martin Tait and Lois Harris.