What an amazing little madam...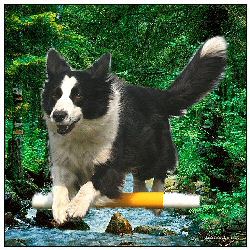 Lesley Wilks admits to being very proud - and a little overwhelmed - when she learned that her collie Kayos (Ashpen Amazing Ace AW/S) had won the Large Platinum division of the 2012 Senior Agility League. To win the division was quite an amazing feat especially as they were only competing in AnySize classes last year where often the prize was a clear round treat. Lesley thought she'd write a few brief words about her little madam.
I already owned her four year older full brother but Kayos was my ' first 'black 'n white'. Bred in 2001 by Penny Butler, she was a delightful puppy who learnt quickly. She still remembers - and adores - Ashleigh Butler. In fact, she once left the ring in the middle of a round to go and find Ashleigh who was queuing for another class!
A near death incident
When Kayos was just six months old, she disappeared for a couple of minutes on our afternoon walk. She soon returned, and I thought nothing more of it, feeding her as usual and settling her before taking the others agility training. Upon my return, I found her collapsed and lying in a mess of vomit and diarrhoea.
I immediately called my vet who met us at the surgery. We carried Kayos through to the operating theatre. Her temperature was so high that the vet started hosing her with cool water to bring it down. While doing this, thank goodness we found a tiny, tell-tale, blue slug pellet by her tail. We then knew the cause of her collapse - metaldehyde poisoning. I later found out that someone had mixed slug pellets with bran in an attempt to poison badgers.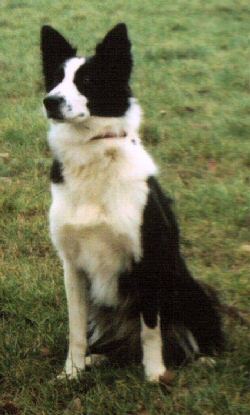 By now it was nearly midnight and Kayos was put on a drip with the next 24 hours being critical. I was persuaded to go home with a promise that the vet nurse would stay with her and they would call me if there was any change. When I phoned in the morning, Kayos was still alive although desperately ill with no visitors allowed. By the following morning, she had improved slightly. They were going to take her off the drip at lunchtime, and I was able to collect her in the afternoon. She was still very weak so I was given a supply of electrolytes to put in her water as well as special food to try and build her up.
For three nights I slept by her cage. Gradually she became stronger and appeared to recover completely. A check up six months later showed no damage to her organs although I always maintain the episode addled her brain!
All or nothing...
We started agility training and Kayos was either brilliant or totally disinterested. There was no doubt she had all the ability but, mostly, she chose not to use it.
She passed her Gold Good Citizens and dabbled in Heelwork to Music but her agility was still very hit or miss. I was never sure what would happen once she left the start line. I remember the first class she won, a Novice Jumping up at South Durham. Having walked the course, I wasn't very confident. It was all the things she didn't like - odd weaves, a couple of turns away from me, short distances but that day she decided to co-operate, flew round with ease and won the class!
Kayos qualified for all the Novice finals as well as the Laser Knockout Pairs, Pedigree Pairs and Gamblers. She is a very sociable dog, the kind you can take anywhere knowing she will behave herself and give all dogs a good name.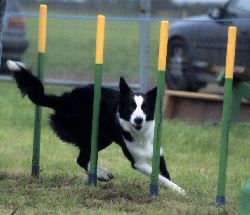 At around ten and a half years old, Kayos decided she couldn't weave any more. Well, that's not strictly true. She would go in the second weave, stop and look at me as though to say, 'Whoops, I got that wrong.' Or she would execute a perfect entry and come out at the tenth with a look that said, 'Ha, fooled you. Done it wrong again, haven't I?' Naturally, in training, she could weave perfectly from any angle, on either side. I decided to retire her from full height and let her have fun for a couple of years in AnySize and Veteran classes.
Whizzing round these is great fun although Kayos still often decides to do her own thing.
Considering she gets mostly one run a day at a show, which are often just for treats not places, I think that it has been a tremendous achieve for her to win the large Platinum category (handlers aged 65-69 Years) especially as most of the other dogs might have three, four or even five runs.
Kayos was to have retired at Rugby Christmas show 2012, but one of my other dogs had kennel cough so we weren't able to go. She still seems happy to be running so, as long as she's enjoying herself, we shall carry on this year and she will retire in December.
P.S. I have just heard that Kayos has qualified for both the Adams and Barking Mad Any Size finals. Not bad for two old girls!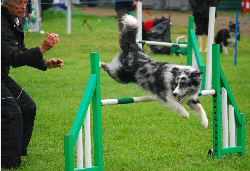 About the author...
Lesley Wilks started competing in the 1980s. Her very first agility dog went Advanced (Grade 7) within a year.
She has qualified for many major finals and won both Crufts team agility and flyball. This year she had hoped to run Kayos a few more times before retiring her. Lesley still has Fizz a Grade 7 Small rescue Working Cocker Spaniel, Kat (Grade 6.75) Working Sheepdog and Kane a two year old Border Collie.
However on 13 March Lesley fractured a bone in her knee and expects to be out of action for some time. As her son, no doubt trying to cheer her up, said, 'Mother, it's your first injury in over quarter a century of agility!' It didn't work!
Knowing Lesley, she will be back running again before the end of the year.