When things don't go as planned...
Leigh Elson and her spaniel Pip had been attending agility classes at Watford AC for almost a year when she decided to bite the bullet and enter Pip into her first agility show! After speaking to her trainers and other club members, however, she realised there is a little more to it than just 'rocking up and having a go!'
Firstly I needed to register Pip with the Kennel club and try and think up an appropriate, clever name. Okay now, this is not my forte so she is now known as 'Pippy Ratbag!'
Then I needed to order a record book and get her officially measured.
After some enquiries, I heard about another agility club called Whirlwind AC which was hosting a fun dog show, and they were offering KC measuring. Great! Get the measuring done and have a go at some courses in a different environment.
Nikki Swan and I headed off to Stoke Poges (Bucks.) We were like two lost souls at first, but eventually we sussed out how to enter and both attempted the Agility course and then the Jumping course.
We walked the course and then were ready to begin. Pip sat at the start ready and then we were off. Unfortunately Pip decided she would go under the jumps, not over! Nothing went right. You would think she had never done agility in her life, but the friendly judge helped us through it and, in a fashion, we made it to the end! She did not do much better in the Jumping round, but the judge thanked us for being entertaining and making them laugh! That said we did have a few more goes, and she almost got a clear in the Jumping but she missed her weave entry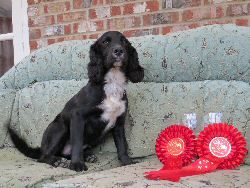 Although all did not go to plan, it was such a great experience to have in a relaxed environment to prepare us a little for her first competition and, most importantly, we all had a fab afternoon, which after all is the reason I got into agility in the first play. I just wanted to connect and have fun with my best friend Pip and to meet and be friends with like-minded people in the process!
At our second KC show (Cippenham) we almost managed a jumping clear round. Pip, however, was faulted when she popped over to say hello to the judge before completing an otherwise perfect round. At Rugby DTC agility weekend, we gained a 2nd place. and then at Dog Vegas, our third KC show, we had our first clear round in an Agility class and much to my delight, we won the class. We are now Grade 2.
We leave for Australia very soon to join my husband Andy who will be working out there for the next three years. I've thoroughly enjoyed our time training at Watford and want to we give a big thank to everyone at the Club for making me so welcome and to all the trainers for all their help and advice.
Update from down under...(2 April 2014)

We are all good and have settled into Perth life very well. Pip had her first Aussie trial last night and went clear in both her agility and jumping runs, both 2nd places :-) So chuffed with her! This is her agility run if you want to watch it: https://www.youtube.com/watch?v=DjeMAIJ7QqM&feature=youtu.be
First published 2014