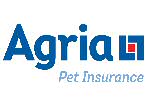 Sponsors of the 2018
Winning Out Certificates

Smooth success
Runaway winner of the RSCTA League, Ross (Dark Motif from Misstoff AW) is a five year old Smooth Collie, one of the Kennel Club's endangered British breeds. It is a breed little seen in the agility ring - or anywhere else for that matter since there are not many bred each year unlike their cousins the Rough Collie. Ross is a show dog with a ticket and two reserves in breed and has qualified for Crufts for life. Agility has been rather a background activity for him until recently. His owner Jean Tuck describes his amazing year.

Ross loves agility.

We train every week with Staffs Agility and we have attended more shows in 2004 than in previous years. He won an Elementary at his first show (2001), and has been improving consistently since then.

He is careful and accurate, though not as fast as the 'other' sort of collie! By May 2004 we'd had some excellent results, though our (lack of) speed seemed unlikely to get us out of Starters.

I was, therefore, very pleased when the Agility Warrant was announced. Here was something that would reward dogs like Ross, and handlers like me. It would also be brilliant to have the letters 'AW' after his name in show catalogues, especially at Crufts, in the way that Junior (show) Warrants, Obedience Warrants and Working Trials awards are used.

I looked back at our results so far and decided I could realistically set myself the target of gaining the Agility Warrant in the ten months from July 2004 when it started to May 2005. However, July was an amazing month for us and an earlier date looked possible.

Overall 2004 was a wonderful year for us with 29 Top-10 places, many in the latter half of the year, including several thirds. Best was a great second in Starters Agility at Wyre in December which gave us 19 points, one more than we needed to complete the Warrant - exactly five months since the first show of the scheme!

I sent off the Record Book to the KC and the Warrant certificate arrived in just a fortnight - in time to add the magic letters to his name on the Crufts 2005 entry form.

Two of Ross' litter brothers are champions in the show ring and have 'Ch' in front of their names. An 'Ag Ch' title is quite impossible for most breeds of Standard dogs; they just don't have the speed of the Border Collie or Working Sheepdog.


Photo: Studio FX

Photo: Action Shots

Photo: SAS
For those who can do the speed, the AW probably does seem pointless. But 200 points, to be gained only for clear rounds at KC Open shows, in non-special classes - well, that is not an easy task. It is open to those who never get placed, though it would take quite while to do. For those who gain good places, though not the very top one, it is an excellent target - something to measure yourself and your dog against.
Of course, Ross and I will try to win out of Starters in 2005, though that may elude us. Pity there aren't more warrant-type targets to achieve!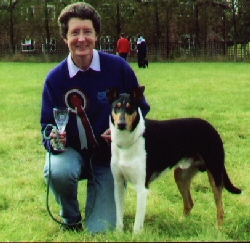 About the author...
Jean Tuck was given her first dog, a Sheltie when she was three. He was a brilliant childhood companion. The next family dog was a Beagle,- naughty but fun.
For a while after getting married, she didn't have a dog - only cats (poor substitute) - but she and her husband were both working. The dog they chose for their children was another Sheltie. Sam, her 'dog in a million' was convinced he was her third child.
His successor was Jean's current Sheltie, Louis. Bought as a pet, he has also tempted her into showing and agility - the latter to give him more confidence. Now aged nine and retired from Midi, Louis enjoys competing in Any Height/Allsorts and also at the Sheltie show which is always set at Mini.
Which is where Ross comes in...