Ann-Marie's secret weapon...
Ann-Marie Froggatt and Scud (Bailstails Billionaire) won the Agility Singles Semi at Crufts 2005 and then came 4th in the final in their first visit to the NEC. They also won the Circular Knock-out in the morning. What a great day they had! Ann-Marie wrote this description of this remarkable young dog for the Bailstail's web site.
Scud at Work
Handling Scud is like driving a big, luxury car -
Smooth, balanced with a V8 Engine!
As he works around me,
He seems huge.
When he takes a fence,
itís as though heís taken flight.
The ground cannot hold him.
Around the rings, he is calm and tranquil.
But asked into heel on the start line,
He crackles with energy.
Scud is obedient without being overly sensitive,
Allowing our partnership to build day by day.
I am so privileged to work a dog of this calibre.
I know passers-by stop to watch Scud work entrancedÖ
Scud in full flight is a thing of beauty.
Scud the Pet
Scud follows me around the house
But rarely imposes for fuss.
When I stop in a room,
Heíll just stand and watch me.
When I sit down, heíll flump on me if I let him
Otherwise heíll lie by my side.
If he comes across something new,
e.g. a gunshot at the Royal Show,
And is unsure,
He remains calm and looks to me for a reaction.
He is very careful of himself;
He doesnít get into fights or take unnecessary risks
Such as going into the water above his tummy!
At a show, itís like being with a celebrity
He has so many friends.
When Scud pays someone attention,
He makes them feel really special.
God forbid, but if Scud couldnít do Agility anymore,
Heíd happily fit into any role you asked of him.
When I rang Sue and booked that puppy,
I didnít realise I was to give my heart in exchange.
I wish Scud could live forever!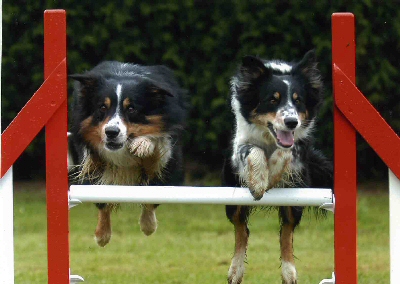 Billionaire Babies!
Scuddy is going to be a dad!
Thatís exciting enough
but you should see the girl!
Well actually you should see the pedigrees!
These dogs are agility aristocrats!
With a legendary lineage
Moravia Red October...Hocus Pocus...
Woodsorrel Spectre...Beefer Buzz...
Joe Boy and Magical Madge...
I could go on and on!
If you donít know these names you ainít in the game!
If I had searched the planet I couldnít have asked for more!
Balance... beauty...power
Scuddy has found another way to deliver it all!