S is for super smart and speedy...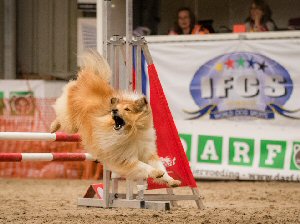 Lian Knight grew up in little town in Malaysia with a large pack of dogs! Her late father had six German Shepherds and two Dobermans. She watched her father train the dogs in what we would now think a very old fashioned way. When she was 13, her father passed away, and her late mother rehomed all the dogs. No wonder she felt lost without a companion.
When I got married to Colin Knight, we lived in a flat on the outskirts of London. I wanted to have a dog of my own, but Colin wouldn't agree to have a German Shepherd or Doberman. After much research and discuss and visiting some dog shows, we eventually decided on a Shetland Sheepdog.
Shetland sheepdogs, aka Shelties, are not 'miniature collies' even if they they look a lot like a smaller version of the Rough Collie. Dating back to 1800s. the breed comes from the Shetland Islands where they were used herding dogs. Instead of herding sheep into a group, they were used to protect crops on the farms from the sheep. Their job was to herd the sheep away from the fields and back toward their fold.
My first Sheltie was Sing (age 14 now). At the time we got him, we had a cat named Tikka after Tikka Masala. When I asked Colin what his favourite Chinese food was, he said Singapore noodle, so Sing's KC name is Fenstyle Sing Mai which in Chinese means Singapore noodle!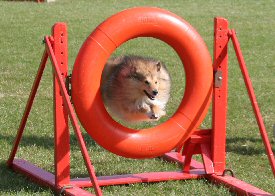 I took Sing to puppy training and then Obedience. When my trainer Paddy Driscoll moved out of the area, she suggested I try Agility. I immediately found Agility far more excited than Obedience.
Seagull, who passed away a couple of years ago, was our second Sheltie. We were going to name him Netto but, when we collected him from Halesowen. he yawned like a seagull all the way back to Mitcham. Hence, we called him Seagull. Our third sheltie as Saturn who is a big boy with 3/4 white collar which is how he got his name. Our fourth Sheltie Skye (also passed away now) was named after the Scottish isle of Skye. Not until we got our fifth Sheltie Sizzle did we realise that all their names started with the letter S. From Sizzle onwards, we've had Sipzie, Samber, Sonic, Suzi, Sianna, Sherri and Sirius. We now need think hard for a 'S name' for our Shelties.
About training Shelties
Shelties are a very clever, intelligent, smart, versatile and agile breed. They have a reputation being a nervous breed but, like many other breeds, each and every individual is different. Also, I believe in how you raise the puppy, socialisation and the early expose to many other experiences and things will help building their confidence. I always socialise my puppies at the early age, taking them to town centre, train/bus station, school, coffee shops to meet lots of people.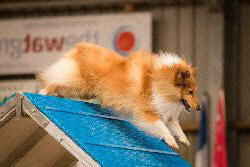 I find Shelties are very easy to train, they are easily motivated by treat or toy. A mixture of both works best to provide variety. Too much food leads to a fat Sheltie. Toys have the advantage that they can be thrown ahead. Shelties can have a short attention span so I find it best to train in short bursts. They donít like to make mistakes so I have to be very focussed and positive all the time. Whenever I make a mistake, Sonic turns around and barks to tell me off!
The only 'drawback' of running a Sheltie I believe is that they can get easily demotivated if something goes wrong on course. They can be sensitive. If I were to go to wrong, I normally carry on so as not to upset it.
My dogs
I only have one competing sheltie Sonic (age 5) at the moment. I have retired my first sheltie Sing, who is Sonicís dad (age 14), Saturn (age 11) and Sizzle (age 8). I have a six month old puppy calledbyt Sirius who is Sonic's son.
Sing taught me so much, from clicker training to how he excel himself in Flyball and Agility. He loved agility, but I didnít know how to train him properly. He was a very honest little dog that just wanted to please me all the time. He got up to Grade 6, but then he picked up an injury which turned into arthritis in one of his front legs, so it was time for him to retire.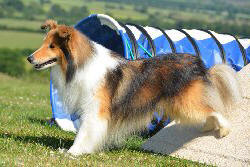 Saturn was my next Agility dog. I knew a little better about Agility then. Saturn is a big boy and he is a real mummyís boy. He was eager to please me. He was fast. For me, it was a challenge as I used to handle Sing with him next to me all the time but Saturn ran like a Collie and I felt like a fool. Unfortunately, my in-consistent handling 'ruined' his contacts. He very often ran up to the peak of the A-frame and would not come down, especially in Newbury Showground.
My next agility dog was Sizzle, He was very small and eager. By now, Iíd learnt how to raise Shelties to be outgoing and confident. I applied my knowledge and agility experience to train him as best as I could. When Sizzle came out at the shows, he won every class immediately and was up to Grade 7 in just four months. He got a RCC in his second year competing. He has represent Team England in WAO 2012; Team GB in IFCS 2013, 2014 and 2015. He got a 3rd in the Gambler in WAO 2012. Bronze Medal with Team GB in IFCS 2014 Team event and Bronze Medal with Team GB in IFCS 2015 in Gambler.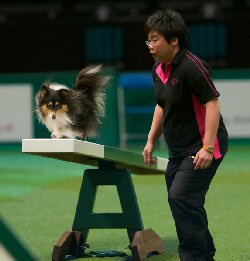 Sonic, Sing's son, is home-bred. He is very focused and fast. He loves agility and he is very gobby. I just wish I was as fast as he is! Sonic is Grade 7. He has represent Team GB competing in IFCS 2014, 2015 and 2016. I have used Sonic for stud and I was worried that heíd lose interest in agility. I need not have worried, when he can do agility he gives me his full 100% attention. Nothing distracts him.
I love competing with my shelties home and abroad. They always give me their best.
About the author...
Lian Knight was born in Seremban in Malaysia. Following the 1998 Asian financial crisis, she relocated to the UK. She married Colin in 2001, and they got their first Sheltie whilst living in London.
Lian moved from the city to become a farmer as she enjoyed working with animals. She runs a sheep farm near Rugby with 200 commercial sheep and a small flock of rare breeds. She has a side business offering B&B and dog agility holidays
First published 2 August 2016