From street dog to agility dog...
In September 2015, Lucy Wheelwright and her boyfriend James decided that they needed another dog to complete their family - one who would be a special friend to their elderly dog Pepe. They went to AA Dog Rescue and there they met Tubby (formerly Toby.) Now Pepe is a fussy old girl, but she knew who she wanted. When she lay down in the sunshine with him, they knew he was the dog for them. And that's how Tubby came into their home and changed their lives. A proud Lucy loves writing about him.
Tubby was just nine months old when he came into AA Dog Rescue with several other young dogs that needed a chance. He had been living on the street as a stray. He then went into foster, but no one wanted him.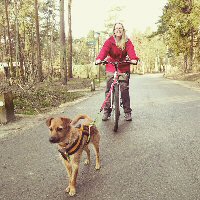 Previously labeled as 'hyper,' he had never been walked on the lead. We knew that we had had some work to put in, but we had the time and knowledge to do so. When we first rescued him, we worked solely on lead walking, playing and recall. Later we started Obedience. As he was highly food motivated and quick to learn, he was able to achieve a Bronze award in Obedience within two months of starting.
First we signed Tubby up for flyball, thinking his speed would make him perfect for it. However, after a couple of months, we decided that it wouldn't be for him due to his fear of noise and the bang of the box.
Next we started agility with him. He was a year old and took to it almost instantly so we registered him with the Kennel Club as Rub a Dub Tub!
He quickly moved up the classes in our training club, but was still held back by the noise - especially the thud of the seesaw. Then we got an idea and put a full-size seesaw up in our front room. For over a month we did 5-10 minutes a day, just getting him to touch it until finally he found his confidence. Now it's one of his best pieces of equipment. But who knows what our friends and family thought!
When Tub turned 18 months, he really seemed to be enjoying agility. We decided to book him into some competitions to keep him active and see what would happen.

Our first shows were crazy.
He ran all over the place! But we kept with it, making sure that he did at least a few jumps. We tried to make it fun and slowly he started to do more and more equipment in the right order! By the third show, he got his first clear round. One week later, he got placed at the Axstane show - 3rd. He won out of Grade 1 at Dog Vegas, beating all the dogs in all the Grades 1 to 4. And that was only three weeks after we started competing!
Best of all, he loved meeting all the dogs and people and playing with anyone who would play with him.
In August, Tubs won out of Grade 2 at Dogs in Need where he won his Agility and Jumping and got into the Tournament final. The next day a 2nd place was his and the day after another Jumping win! In the final, the tunnel demon struck again and he was E'd by the second piece of equipment but we carried on. The crowd cheering gave Tubby a boost round getting the most amazing weave entrance he ever had. When we came out of the ring, we were having our regular play reward session when someone came over and asked if I knew we had been eliminated. I said yes, and she said we looked like we had just won. I was just so proud of his run, in a Main ring, with a crowd, with a commentator and the best weaves at a very hard weave entrance. I felt like we had won the class, even if he had been eliminated.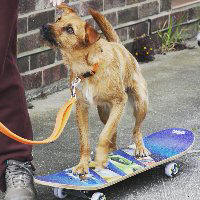 My clown!
One of my favorite things about running Tub is that you never know what you're going to get. He is often naughty, runs into the nearest tunnel or looks at me calling him and takes the wrong jump before running over all proud of himself, but then sometimes he is amazing!
I have been followed out of the ring by a few judges saying Tub has 'personality' or 'character.' Once when it was raining, he went and hid it the tunnel to be dry. The judge couldn't stop laughing!
At KCI, I was followed out of the ring by the judge after Tub got a bit hyper in the ring and just ran around like a crazy dog. She said that he was the dog she would love to take home and thought that we were having the most fun out of all the dogs. She liked the fact that I didn't tell him off - we just had fun in the ring and left.
When we train, he often finds friends to play with and, if he gets too excited, he slips his collar and does zoomies! It can be so embarrassing sometimes.
At home Tub settles nicely. He is an active dog so we keep him busy with walks, including (finally) off lead, Obedience lessons and, of course, agility. Once we wear him out, he turns into a cuddle monster! He curls up in his bed or on the sofa next to us or in our bed with us! He has big boxes of toys. We get them all out and he runs around picking up toy after toy. We have even begun collecting our own agility set. We do a walk every morning, at lunch with the ball thrower, and in the afternoon and in the evenings we do some training/classes. At weekends when we are not competing, we normally spend a few hours at the dog park so Tubs can make lots of friends and run around.
I love my boy and hope to have many more years of fun together! And I want to continue to spoil my street dog!
By the way, since we got Tub, Pepe has turned into a puppy all over again. She has been doing some local competitions and, at the age of 10, is getting her own rosettes. Best of all her fear of other dogs is gone.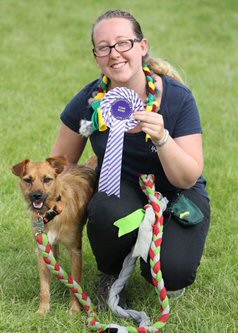 Author credit...
Lucy Wheelwright started agility three years ago after inheriting a six year old Jack Russell Pepe who was scared of other dogs and very lazy! Lucy got Tub to keep her company. They love agility and have made lots of friends and are now completely addicted!
She loves spending time outdoors with her family including the pups and they go on holiday together, long walks, play dates and, of course, agility competitions!
Lucy is currently working on a dog training diploma. She would like to volunteer at rescues doing some basic training.
She works in HR Reporting for Linklaters law firm and lives in a small vilage just outside Ipswich.
First published 7 October 2016
---


To contact Agilitynet click here for full contact details.