We first met Linda many years ago at the Wellingborough Show where she took care of all the catering for the members and judges in the clubhouse. Linda always protested that she wasn't a good cook, but that was so far from the truth. For the members, helpers and judges lunches she would cook a whole salmon plus provide a beautiful buffet. Not only that, she would prepare and get the BBQ going for all the helpers at the end of the show. Bearing in mind Linda preferred not to eat meat, that was no mean feat.
Most people will remember her running her GSD called Daffodil and, more recently, Herman, Hero (Pudsey's brother) and Josie.
We got to know Linda much better when she started to come to our Orchard Agility shows. She would always come early to help set up and generally chip in with anything that needed doing.
Everybody's real memories of Linda will be about the evenings of the shows. Linda always came to our evening social get togethers and was always very entertaining. She had a unique personality, which made her the life and soul of any evening, either in our awning or in the marquee.
Linda was hilarious at times and she never arrived without the obligatory bottle of wine or two so she fitted in so well into our way of life. Of course. she did have some previous training at her previous club's shows! As the evenings moved on and the wine flowed more and more, so the evenings got more entertaining. Linda had so many stories that she told us, they really kept us in fits of laughter all evening and she was always one of the last to leave the frivolities.
She had various adventures between leaving the awning and arriving at her caravan, which was rarely more than 50 yards away. We can't give too much away, but some journeys home were more interesting and eventful than others!
Linda led a full life and thought the world of her family and she was the life and soul of the family 'dos.'
It was only a few weeks ago that we saw her when she brought her caravan to Radwell caravan site near Baldock, where she spent the week with her friend Carol. She didn't feel too well during her stay at the caravan site, but that didn't stop her from doing what she loved doing - camping and agility.
Linda will be missed by many many people who will all remember her with the fondest memories. We will miss you, Linda.
Her funeral will be on Tuesday, 12th November at 4.15 pm at Northampton Counties Crematorium, Milton Malsor, Towcester Road, Northampton NN4 9RN. No flowers. Donations to her charity(s). And please no black clothes as this is a celebration of her life.
It is with great sadness that we have to tell all of Alan Lewell's friends that he died on 22nd September. He was very sick at the end and it is good to know that he is no longer suffering.
Alan loved his dogs so very much and he adored Dog Agility both as a competitor and much loved Kennel Club judge. After he had his stroke, it was a great sadness to him to have to let his dogs go!
So thank you all for your love and support over the last few years.
For anyone wishing to say good bye, the funeral will be at 2 pm on Thursday 14th November at Randall's Park Crematorium, Randells Road, Leatherhead, Surrey KT22 0AG ( KT22 Zero AG.) And afterwards Tyrrells Wood Golf Club, The Drive, Leatherhead, Surrey KT22 8QP. In keeping with Alan's love of colour, please wear something bright 🌈 🙂
If it's possible for someone to give me a rough idea of numbers, I would be grateful!
To all dog agilitors - old current and new - we are saddened to announce the passing of Joyce Widlake who set up the Epping Green Agility Club in 1985 and ran it successfully for over 30 years. The club will continue to run on in her memory.
We pass our condolences to her family and friends at this time.
The funeral will be on Wednesday, 3rd July. The family is asking for donations to the Alzheimer charity or PDSA. If anyone wishes to attend, please let us know for numbers via the Club FB page.
On Wednesday, 5th June Lynn French lost the love of her life, her husband Andy. He courageously fought a battle with cancer for 15 months.
Thanks to all his friends who have and still are supporting Lynn with her loss. The girls (dogs) are missing daddy and looking for him, bless them....
Please message Lynn if you want to know funeral details. It is colourful dress please. Family flowers only and any donations to Cancer Research UK and Forever Agility.
Andy French was an integral part of our event team, not only at WAO but also at the Grand Finals in the UK.
We were honoured that Andy made the trip this May to be at the event one last time.
On behalf of everyone involved with WAO, we would like to pass on our deepest sympathy to Lynn and the rest of Andy's family and friends.
RIP 'Lord" French.' You'll be missed.
You have not truly passed until we have forgotten you, and that will not be for a long time.
For any of you that knew Roy Allbut, he passed away suddenly and unexpectedly. His funeral will be held at Stourbridge Crematorium at 10.20 on Monday, 3rd June. All are welcome.
Condolences to the Butler family on the loss of Penny who fought cancer hard and bravely. So sorry for your loss. She will be missed by all who knew her.
Penny had been battling cancer for a number of years. Sadly last August, she was diagnosed that it had returned. She fought as long as she could to spend time with friends and family, but sadly at 19:50pm on Tuesday, 21st May she lost her fight against this cruel disease.
The family thanks you for all your messages of support and comfort at this difficult time. They know Penny was much loved both by them as a family and by her friends far and wide.
Once funeral arrangements have been made, details will be shared.
No one could have fought longer or harder, but it was her time to go and meet Pudsey, shamee, Indi, and all the other dogs up there.
As many of you know, last week I made the tough decision to go to the WAOs on my mum's request, knowing how ill she was. She wanted me to go with all of her heart so she could watch me run out there with Sully and Eliza one last time. It was the only thing keeping her going and, as soon as the event finished, she drastically went downhill. I'm so glad she hung on long enough for me to make it home and say goodbye.
I can't explain how I'm feeling right now. My mum was literally everything - my trainer, groom, work college, mentor and the best mum anyone could ask for. I wouldn't be where i am now without her, and I don't know where I'm going to be without her.
We had gone through so much together, probably more than any mum and daughter have. She was the one that got me into the crazy world of dog training and agility. She was then the one that pushed me to do BGT and, because of that, my life changed completely. We spent basically five years travelling around the country and world together - sometimes annoying each other, but mainly laughing and having some amazing times and experiences.
I don't know what I'm going to do without you Mum, but I know I am going to try and make you proud up there.
Love you lots, Penelope.
Very sadly Terry Welton passed away on 19th May. She had been out of sorts for a while and was rushed into hospital in Cramlington. Despite an operation, she just didn't have the strength to pull through.
Terry had done agility for nearly 30 years with her beloved collies and was still competing into her 80s. She was always chatty and loved going to shows.
She will be greatly missed by her daughter Wendy, all of us at Weardale Dog Agility Club and by everyone who enjoyed her company at shows.
Her funeral will be held in Hexham Abbey, at 11am on Friday, 31st May. All friends are welcome and invited afterwards to Hexham Golf Club.
Please let me (Cathy Shaw) know if you can come to give an idea of numbers.
Sadly Agility has lost a unique lady in the passing of Penny Penfold last week.
Together with her husband David, she had been a big part of the agility scene for many years, travelling the length and breadth of the country competing. There were many great evenings with BBQ'S etc. One could always be sure of a laugh and good fun when she was there.
Her dog Glen - Pennda Freshwater Glen was not only a lovely working dog but also sired many litters, including several from their own bitch, Sealight Mist. Watching his progeny always made Penny very proud.
She also thoroughly enjoyed her judging commitments and could always be relied on to help at club shows and ring parties.
For the past few years, Penny had suffered with dementia and Parkinson. It was sad to see a person with so much character losing out to such a debilitating disease.
Condolences go to her family and especially to David, who was her devoted carer, enabling her to stay at home with her beloved dogs.
Family flowers only please. Donations if desired, to The Alzheimer's Society, through Tester and Jones Funeral Services website.
---

Ann Hennessy
Died 24th March 2019
Resilient, determined, inspirational. Just a few of many many adjectives to describe Ann Hennessy, an incredible lady who since 2017 had been battling with lung cancer which had tragically spread over the course of two years despite intense treatment to her brain and spine. Ann never, never let it get to her.
Attending weekly training classes and continuing to compete until she could no longer walk, Ann is a perfect example of facing fear head on and smashing straight through it without thinking twice. Ann was so caring and loving, so happy and so friendly to everyone and anyone who would pass by and say hello. She was that wise lady who's advice you'd always trust, always so honest.
It is a great tragedy that Ann passed away on Sunday, 24th March at Princess Alice Hospice with all her family present. Her presence at shows for so many was a welcome sight and her humour will be sorely missed, but she is leaving a legacy that will never be forgotten. Ann is the motivation behind past and present charity events and the reason a charity has been set up, and her love for the colour green will be a constant reminder to us all of how very special a lady she was.
RIP Ann Hennessy.
The funeral will be on Tuesday, April 16th at 12pm at St. Anne's Church in Banstead (4 Brighton Road, Banstead, Surrey SM7 1BS). This will be followed by a reception to celebrate her life. Instead of getting flowers. Ann for her, mum had requested that people donate money to onr of two charities - The Prinncess Alice Hospice or Forever Agility. Finally she also asked that people wear a bit of colour on the day, preferably green which was her favourite colour
Neil Ellis
---

Bobby Rowlands
27th March 1941 - 21st January 2019
This week we said good bye to Bobby Rowlands, a lover of dogs and another member of the early agility community. She was known around the agility circuit as a competitor, judge and for a number of years, she worked hard as Secretary of The Agility Club.
After Bobby's funeral, Val Philipps said, ' I had the pleasure of knowing Bobby for many years and, of course, she had three wonderful Valgrays dogs. We go back many years, training in in my field. I remember the car getting stuck in the mud with her saying, 'Val, push. It will come out.' and then mud slinging everywhere.

I will treasure my memories of the years we spent together around the shows and training... RIP my dear friend.'
---

Terry Polley
Died 28th January 2019
Terry Polley, one of the loveliest of men, lost his battle against cancer. He was Alan Gardner's step dad, Jackie Gardner's father-in-law and an agility competitor for over 30 years.
He was only taken ill just before Christmas, never really having been ill before, only to be diagnosed with cancer.
We got to spend time chatting with Terry at the weekend at the hospice.
Jackie said, 'It was rather a shock, as we'd spent the weekend at the hospice with him and he was doing so well. Chatting and eating. We took Pixie to see him. He was so happy to see her. To get the news yesterday morning that he'd died was very unexpected, although we did know he didn't have a lot of time. Cancer seems to always win in the end.
We will post details of the funeral arrangements when they are available.
Rest in peace lovely man.
Terry's funeral will be at 11.20am on Monday, 25th February at the South Chapel at the South Essex Crematorium, Ockendon Road, Upminster RM14 2UY. Afterwards at the Huntsman & Hounds. Please pass on to Terry's friends.
---

Arnold Moore
Died 1st November 2018
Arnold Moore adored his agility and his agility friends. He passed away on 1st November.
The funeral will be at Barham Crematorium at 2pm on Friday, 30th November with the wake at Deal Town FC afterwards. All are welcome to come and celebrate his life with the family.
---
2018

Sue Harvey
1969-2018
A great loss to the agility community after a sudden illness, Sue Harvey was an avid competitor and very well known handler on the Northern and Scottish agility circuits.
She was born in the Lincoln area and her love of horses and her work as a groom saw her move to the North to work at Hall Barns Farm where she met her partner Jimmy Liddle. She then became a Head Groom and moved to a Hunt yard at Chesters, near her home at Simonburn, Northumberland.
It was after a severe riding accident that Sue turned from horses to her other love - dogs - which led to her training and competing in Agility.
The huge turnout for her service almost overwhelmed her family who were so pleased to see so many people from the agility community attend to show how much Sue was loved by this second family.
A very heartfelt eulogy was read by her very good friend Kathy Harris who remembers Sue's support and kindness when she was ill herself and had to undergo chemotherapy. Sue would sit with Kathy when she was feeling at her lowest. She took Kathy's dog to agility training and ran her at competitions for her, a kindness never to be forgotten. Much ice-cream bought at shows as a small repayment.
The usual collection was taken with more than the usual coins and shrapnel collected as sometimes seen on these occasions. The collection saw the huge amount of over £900 raised which will to go the Guide Dogs for the Blind Association. More memories were to follow and Katie Arnold who ran as a member of the Great Britain Juniors Team has set up a just giving fund in the hope to raise even more money for the charity and to be donated in Sue's name.
The following words have been written by Katie Arnold...
Trusting someone else to run your dog isn't for everyone, but I was lucky enough for Sue to let me run Thames. We achieved so much together - all thanks to Sue's training and advice.
I remember phoning Sue to let her know we had made it on to the GB Team, a phone call I will never forget. We leapt into action in preparation for our trip to Slovakia; countless visits for training, walks, and just to spend some time with her and the dogs. The bond I have with Thames is beautiful, but nothing in comparison to that of his owner. Sue was dedicated to her dogs and they were to her. Standing on the podium in Slovakia is my proudest moment, seeing Sue's face beaming back at me - it was her medal just as much as mine. I am eternally grateful for the opportunities she gave to me, she opened so many doors, that I just wouldn't have managed on my own. I cannot thank her enough for everything she did.
These words can never convey how much Sue will be missed as we all continue to enjoy our agility competitions.
I know many people were unable to travel to the service and have made many posts on all the agility pages on Facebook to share their sentiments.
To everyone who wishes to remember Sue's name even further, please look out for the Just Giving page Kate's Story and take the time to make a donation.
---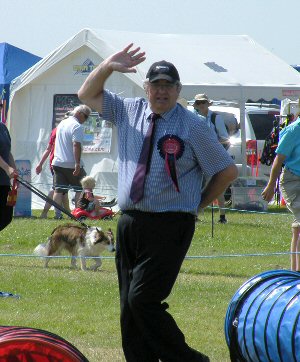 Paul Payton
This is to let you all know that Paul Payton lost his short fight with cancer on 10th August. He leaves behind Kay, their boys and wider family.
Paul was a huge part of Chippenahm Agility Club. Many of you may know him through his various judging appointments over the years, or helping out at various shows in other ways. Always on hand to support people, a true gentleman, always going the extra distance to help everyone. He will be truly missed.
Paul's funeral will be Thursday 30th August, 1:45 at Semington Crematorium, BA14 6HL. Afterwards people are invited to join the family at Trowbridge Rugby club.Paul requested NO black (wear your favourite colour).
Family flowers only, but if anyone would like to make a donation then this will go to the West Wilts Child Contact Centre which is a small local charity that Paul had supported and been involved with since it started some 20+ years ago. Donations can be cash or cheque, and these will be collected at the funeral. If you want to write a cheque, please make it payable to West Wilts Child Contact Centre.
If you are wanting to come to the funeral or the gathering after, please can you let me know (Nicky Harrall, nicky@pawprintsuk.co.uk), by Thursday 23rd please.
I'm sure you will all join with me in offering Kay and family continued support at this difficult time.
---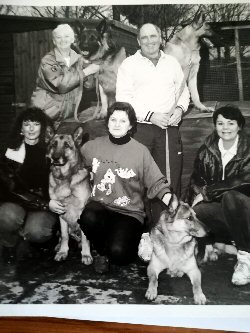 Ken Stephens
Died 19th June 2018
Ken Stephens sadly passed away on 19th June 2018, surrounded by family.
The first time Ken took his wife Ann to agility, she remembers that she was wearing a long white coat. It was a damp field and lunch was a burger from a shed. Ann knew there and then that life would never be the same.
Ken loved the camaraderie of the agility world and loved camping at shows. He had a GSD called Max at the time and paid 75p per class to compete. They were part of the German Shepherd Devon Dog Club display team. The team would meet at Marsh Mills at a set time. They would then all pile into a white transit van 'in mass' - people and up to eight dogs. If you were late, you were left behind and lost your ride.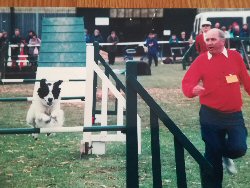 In those days, all dogs worked on the left. There was no such thing as a 'wait' - just walk away. In the beginning GSDs were taking the top places and then the Collies came along. Ken got his first Collie Gyp and was competing with a local club. He could train all breeds of dog to do the equipment, but Gyp had a will of his own. He would do half the course, then stop and have a look around. When Ken got a black Bichon Xs called Seiko and started to work with her, Ann took on Gyp with Ken teaching her agility. Little did he know at the time that his wife would start to win with Gyp. Ken took many a ribbing from his friends.
When he stopped agility and retired from Plymouth Market, he started to train dogs on a 1-2-1 basis. In addition, he was a long time member of the Association of Pet Dog Trainers and very proud of that. This worked for him and he quickly became known as the 'Dog Trainer of Wembury.' He had an uncanny feel with dogs and there are many stories of how dogs would rush over to Ken, leaving their owners trailing behind them. As Ken introduced more people to agility, he would go along to shows and meet up with folks from way back. He loved these days out and loved seeing the changes in agility.
Ken spent many a weekend judging dog shows for local charities and always loved the Scruffs event at Gables. The shows were always hard for him to judge as so many of the dogs knew him.
Ken and Ann holidayed in Goa for over 12 years where Ken soon got involved helping out with street dogs. The stories he told would break your heart. In helping the local vets, he saw some horrendous things, but he came back dirty and tired but satisfied. He organised sponsored walks on Dartmoor and raised over £10,000 for these dogs.
We have lost a person in this world who will leave a gap to both people and dogs.
Ken's funeral will take place at Efford Crematorum, Plymouth on Wednesday, 4th July at 10:45. The family requests that you wear summer colours. Family flowers only with a retiring collection or donations to Gables Cats & Dog home.
Debbie Cassidy
---
Jenny Brightling
Died 27th May 2018
Jenny Brightling sadly passed away on 27th May 2
018. She died peacefully in St. Michael's Hospice. She was such a lov
ely person and has been taken far too soon
She started Agility ten years ago with her little dog Ollie, the Jack Russell who took her up through the grades. Then came along Hattie, a Collie x Kelpie who was also a very successful Agility dog and more recently Fig, another little rescue dog who has just started her Agility career,
Jenny will be greatly missed by all her friends and family. Our thoughts are with David and the family at this very sad time.
Rest in peace, Jenny.
Sue Culmer
From Alex Blackmore

Jenny and I trained together at Leah's and I always thought that she was a Beginner, not that she also had a Grade 6 woof. I always took the mike out of Jenny as she didn't care if her caravan was straight in the pitch when camping.
She was a down to earth and nice person. It's a shame that cancer always seems to take the nice people.
I hope that she's chilling and relaxing now. Miss you 'Secret Grade 6 Handler.'
---

Steve Garstang
Died 22 May 2018
Steve Garstang was tragically killed in an RTA on 22nd May. He leaves behind his wife Lynnette and an eight year old son Lewis.
He was one of our own.
He was a big part of Agility.
He helped at numerous shows, ring managed and helped with setting up, too.
According to Jacqui Wood 'This guy would do anything for anybody.'
His club Ace Agility has set up a
page to assist Lynnette and Lewis at this awful time.
They have lost a dad, husband and soulmate and, at Ace Agility, they have lost a true friend.
From Rosemary and Ian Stowers...

Ian and I were saddened and shocked to hear the sad news that Steve Garstang has been killed in a road traffic accident two days ago.
Together with Lynette and Lewis, he was always there at our Summer Open Agility show and he ran the Finals ring for the past few years and did an absolutely amazing job.
Steve always had a smile on his face and his sense of humour was unique. Nothing was too much trouble in making sure that the ring was managed efficiently and he put our Finalists at ease when queueing to ring.
Steve will be hugely missed not only in the Agility world, but by all his family and friends.
This news is so hard to accept and our sympathy and condolences are sent to Lynette, Lewis and their family."
---

Pam Ellwood
I can't quite believe I'm writing this but as some of you know, my Mum, Pam Ellwood, was diagnosed with advanced bowel cancer back in January. Today, she lost her battle. The only saving grace we really have is that throughout it all, she wasn't ever in too much pain.
Anyone who has ever met my Mum or been to Lune Valley show will know how very determined she was. Her determination was always driven by the strongest desire to make sure that people were happy and had a good time, whether that be for the time she spent as the secretary at my sisters' high school, as Club and Show Secretary at Lune Valley or just being a great Mum. The amount of effort she put into the things she did, particularly the Lune Valley shows, cannot be underestimated. I saw it first hand year in, year out and I know so many of you appreciated her and the work she did for the benefit of the agility community. She didn't even run a dog these last few years, partly because I kept stealing them, but she wanted to stay a part of the community.
I feel like this post isn't really doing her justice to those that don't know her but to those that do, you will have your own thoughts about her and I'm sorry to be sharing such dreadful news. I know she's shared many an opinion on topics on Agilitynet - and the Agility forum before that - which may well have irked some of you. But this most likely irked people that didn't really know her. Above everything, she believed in fairness and whenever she felt fairness was at risk, she would say so. Whether you agreed or disagreed with her, no one can question her motives, as they were always in the interest of fairness and equality. She was the epitome of selflessness and we could all learn to be a bit more like her in that respect.
Agility can be such a great community and has been for the 20ish years my Mum and I have been involved. So thank you to all who have been a part of that for her (and me, but this is more about her) and really given her so many good years and friends along the way. Be kind to each other everyone and remember that we are not here for very long. Make the most of the life we have and try to be as fair and selfless as you can. I know I will.
P.S. I will be sure to share details of the funeral when arrangements have been made for anyone who would like to attend.
P.P.S. Because so many of you are such wonderful people, I'm sure many of you want to send messages of condolences. Of course that will be fine but I'm sorry if I don't reply to you all. It won't be anything personal, just a little hard to take at the moment.
Carrie Ellwood
Thank you to everyone who has taken the time to 'react' or comment on my post from last night. I've read every single comment and message and passed on many of these to our family. It's been both overwhelming and comforting to see how many people were positively affected by Mum's life.
As promised, here are some details for the funeral. If you think you will be able to make, please could you 'like/react to/comment on' the post to let us know. It'll just help us with the amount of food to order. So, details are as follows:-
The funeral will take place at 14:00 on Friday 20 April at Beetham Hall Crematorium, Beetham Hall, Beetham, Milnthorpe, Cumbria, LA7 7BQ. It is between the villages of Beetham and Hale just off the A6 (Turn at Beetham Hall signs on the A6 and then follow signs for crematorium).
There will be a wake afterwards at Burton Memorial Hall, Main Street, Burton, Cumbria LA6 1NA with some food, tea/coffee and possibly a quiz!
We are not expecting anyone to offer anything but we know many want to. Rather than flowers we would appreciate a donation to St. John's Hospice North Lancashire and South Lakes who looked after Mum so well in her final hours. There will be a donation box at the Crematorium but again, no pressure.
Please share this post or the details as much as you like. It would be great to see as many of you there as are able but we understand it won't be possible for all.
Like I say, just let us know of you can.
---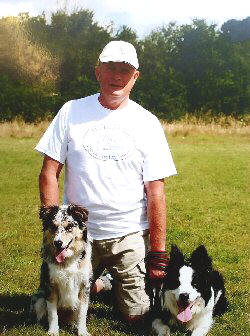 Andy Longley
Andy Longley passed away on Saturday night. He always put a lot back into agility with ring managing, general ring party and judging. He also competed for many many years.
His funeral will be Friday, 11th May at 12.15pm at the Margate Crematorium. The family has requested no flowers - only donations to The Dogs Trust, Please do not to wear black. Afterwards, there will be a wake at the Crown Eythorne (CT15 4BG)
From Karl Pitwon...
Can I just say how saddened I was to receive the news of the passing of Andy early yesterday morning.
I first met Andy way back in '93 when I started Agility with Swalecliffe. Andy was one of the trainers there along with Bob Humfreys. Since then the three of us remained good friends.
You could not wish for a better guy to belong to an agility club. Andy was always there to help everyone, could be relied on to make important decisions when needed, was always polite, could be serious and also liked a joke.
He took his enthusiasm to the agility shows. If he was not a ring manager, he was always to be seen about helping in the rings.
I think he was like me a bit regarding running a dog. It did not really matter as long as you could have a laugh at yourself and not take it all too seriously.
When I packed up agility and moved to France, I would come over and attend certain shows just to pick up dog portraits. Andy and Bob were always the first guys I would look out for to have a chat with and catch up on things. Andy helped me out several times by delivering some of my dog portraits as he attended a lot of the shows and everyone knew him.
I lived near him back in England and, if I drove past his house, I would always have a look in to see if he was in. I will find it every difficult to drive past his house now when I go back. It would not be the same. I know I am not the only one. He will be sadly missed.
RIP Andy
---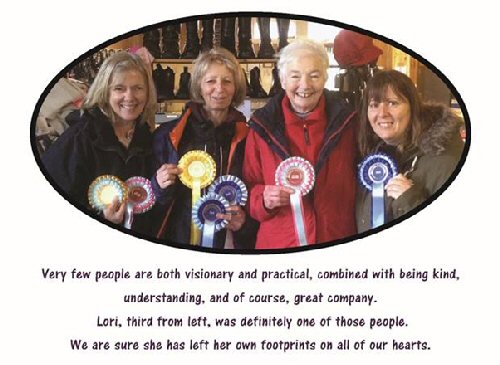 Lori Clifford
1936-2017
Loretta (Lori) Clifford died on Friday, 1st December from pancreatic cancer, aged 81. She passed away peacefully following a final week of rapid declined. Before this, however, she had continued to engage with life fully, and she had enjoyed a spring and summer of agility with her St. Poodle Sadie.
Lori's first dog was, in fact, a Miniature Poodle called Suki who joined her when she was a young lady. She held a deep love for the breed. Once her children had flown the nest, Lori quickly took the opportunity to replace them with St. Poodles and generally had to or three at anyone time.
She joined Sherborne Vale DTC with her first brown St. Poodle, Sophie. She began with Obedience but quickly fell under the spell of Agility.
Over a period of 30 years, she became an integral part of the club, eventually becoming Club Secretary. She took classes herself, enjoying teaching the foundation agility classes and encouraging new members to give it a go.
Alongside fellow members, she helped the Club to grow and develop it's own agility show, starting at the beautiful but somewhat challenging setting of Aldon - with it's notorious cowpats - and then moving to the flatter and easier venue at Ilchester where the club will hold its annual show again this year.
Lori enjoyed competition, perhaps gaining most success with her Poodle Ruth, a loveable rogue. She collected many rosettes and plastered them across a number notice boards at her home.
Lori told one of her children that it was Agility and the Club that kept her going during the difficult days of diagnosis, surgery, chemotherapy and the effects of the illness. She told him that when she was going Agility that she forgot all of this, focusing only on the dogs and people. It was a welcome respite and lots of fun.
She kept going right up tot he end, training Sadie who is emerging as possibly her best agility dog yet. When it became difficult for her to leave the house, she had her husband set up the jumps in the garden and pottered around them.
We the Club and Lori's family would like to thank all those in the Agility and Obedience world who knew Lori, worked and played with her, shared and admired rosettes and walked courses together.
Lori remains in our heats and minds, and we know her inspiration lives on in those who have known here.
It is with great sadness that I inform you that after a long and bravely fought battle with cancer our dear long serving Club and Show Secretary Lori Clifford has passed away.
Daughter Viv
---

Paul Bingham
Paul Bingham was diagnosed with melanoma in February 2017. We always seemed to be two steps behind this terrible disease. We knew there was no cure but we tried to stay positive.
Paul had a groin dissection and radiotherapy but the melanoma spread which meant he was in and out of hospital throughout 2017. In December he was told it had spread to his spine. He fought it but it was not to be, and Paul passed away on 22.1.2018.
He was one of the gents of our sport. we said goodbye to another gentleman of Agility in Paul Bingham. He always had a good word for everyone whether competing or judgeing. I really nice guy who I will always remember as a good friend.
We want something positive to come from our loss, and want to support Clatterbridge Cancer Centre in the work and care they provide. We are grateful to all staff who are dedicated and very caring to all.
We have set up a Just giving page in his memory.
Paul's funeral took place on the 14th February and was attended by close family, agility friends and work colleagues who all loved and respected him greatly.
With grateful thanks
Joanne & Siobhan Bingham
---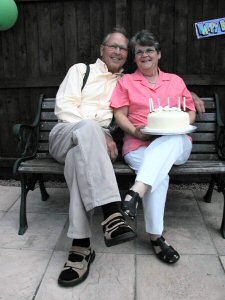 Neville Watson
Age 78
It is with the heaviest of hearts that we have to inform you that Neville Watson passed away peacefully in his sleep Monday, 15th January.
Nev competed many years ago, but he was well known in the agility community. He used to say that all you need to run a dog is two commands 1) Come here and 2) Go there.
He was a lovely guy - a true gent.
His funeral service will be held at The Parish Church of All Saints, 1921 Main Rd, Elm, Wisbech PE14 0AF on Friday, 2nd February at 11am
---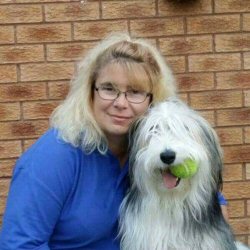 Elaine Towell
1962-2018
Elaine Towell
became very poorly two weeks ago and has been fighting for her life since then. She was on life support, but sadly passed away at 1:15am from heart failure.
She was a kind and funny woman who even when in hospital had not lost her sense of humour.
---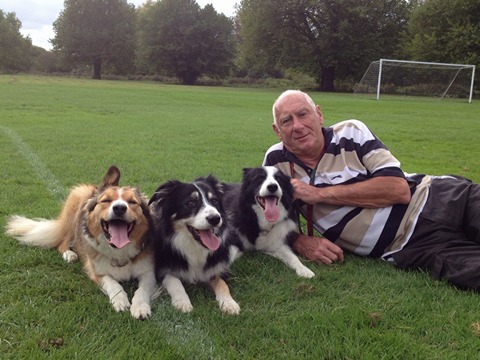 Dave Andreassen
The agility world has lost yet another legend.
It is very sad news that Dave Andreassen has died.
Our love goes out to all who knew him.
The funeral will be held at St Helens crematorium, Rainford Road. St. Helens which is just off the A580 (East Lancashire Road) WA10 6DF on Tuesday, the 19th December at 11.30am. Please no flowers. If anyone would like to make a donation In Dave's memory, the please contribute to a dog charity of your choice.
Afterwards, all wishing to join us to remember Dave will be very welcome at Eccleston Park Golf Club, Rainhill Road, Rainhill, St. Helens, L35 4PG.
---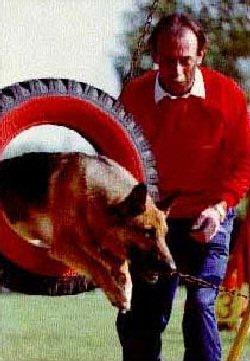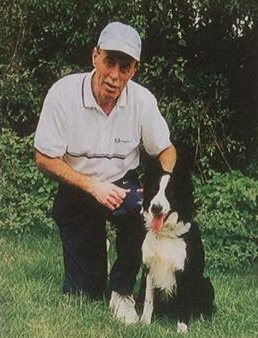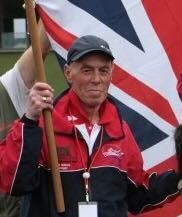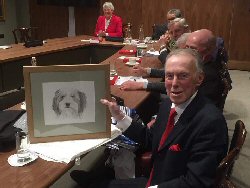 John Gilbert
Died 13 November 2017
To say this difficult to write is an understatement. Sadly my sole mate for over 30 years lost his fight to live earlier this evening. No longer does he have to suffer the pain he was enduring the last few days. RIP Mr John Gilbert. With endless love from your family two and four legged.
John's funeral will be on Monday, 4th December at The Vale Crematorium, Luton, Beds. LU2 8DD at 3pm. Flowers from family only. If you wish to make a donation in remembrance of John, there will be collection after the Service for Aspire (Supporting People with Spinal Injuries) or follow the Just Giving link.
Following the Service you are invited for refreshments at Putteridge Bury, LU2 8LE. If you are thinking of coming please pm me so we have an idea for catering.
Jackie Brett
---
From Dave Ray...

The contribution John made to agility is immeasurable, right from the start of agility when there were no official rules and a group of us formed The Agility Club with the 'pound in a bucket.' John was first in the queue when it came to writing the voluntary rules that would be in use for the first few years until the Kennel Club recognised agility officially.
John excelled in wording rules, proof reading them and being able to see through rules and pick up where they could be misinterpreted by accident or intention. In my time as Chairman of the Agility Council, John's contribution was outstanding
both in the meetings and to me personally. This continued when he joined the Activities Sub-Committee which was the next level up. His contribution to the sport whilst active in The Kennel Club was first class. For John, membership of Committee was not about self-promotion. It was about improvement of Agility. In fact, that was Johns outlook in all his voluntary work in Agility.
When I took over as Manager of the Olympia Agility Stakes finals in 1990, I knew who I wanted as my right hand man - it was John. I certainly could not have made the necessary, radical changes at Olympia over the following years without him. The added bonus was that Jackie came along him. Her input and diplomacy was very welcome> She was also a key member of the team. It was sad day for me when John decided he would retire from Olympia.
When agility took off at Crufts, they obviously needed an expert. John was there again, officially as the Ring Party Manager, but unofficially also taking charge of the presentations, organising the collecting ring and overseeing the scoreboard etc.
Crufts can be a stressful event for competitors but John was always there to put competitors at ease. He made my role as a commentator so much easier as I knew John would ensure that everything would run like clockwork. He organised me as well. It was not unusual for John to whisper in my ear whilst I was commentating with one of his two pet instructions 'Get a move on - we are running late' or 'slow down - we are running early.' However slick we think the management of the Agility events in the main ring at Crufts is now its only because John put all the groundwork in over the years.
In 1996 the Kennel Club decided that they needed to have a flagship event in London due to Crufts being relocated to the NEC, The new event would called Discover Dogs and it's home would be Earls Court Exhibition Centre.
I was appointed commentator and, of course, the Kennel Club knew that they needed the best people in the Main Arena to ensure its success John and Jackie were asked if they would take on the ring management. 21 years later I can look back and see how it grew in the number of agility events and how successful it has been and the outstanding contribution that John made to that success.
John, of course, was also in demand as a judge and had an excellent reputation for both his courses and judging skills. He also 'had a thing' about judges being dressed properly and he led by example, always in a suit and with a hat on if outside. This
was not only for judging whenever John had an official position at an event, he always looked like he was attending a business meeting.
From the very beginning, he took the view that if you want people to take agility seriously it starts with the officials dressing in a manner that sends the message to the audience that it is a professional sport. When I worked with him, I certainly I had to ensure I was well turned out as well!
Although John had always been very generous with his appreciation of other competitors' achievements, we must not forget an important fact and that is that John is the longest competing agility competitor in the UK and probably the world, he qualified for the Olympia finals in 1979 with his lovely GSD Becky and has still been competing in 2017 with his lovely Beardie Buffy who without this terrible tragedy after his operation without doubt would still been competing in the 2020s!
John, it is so sad you have left us so early. I can look back over the last 38 years at the outstanding contribution you made to the success of agility as a worldwide sport, and it has been entirely selfless. You have done so much because you just loved agility. Agility is a poorer place without you.
From Jill Spurr..
Agility lost another legend yesterday when John Gilbert passed away, having fought ill health for a long time.
Quite simply, agility wouldn't be what it is today without him.
He started competing in 1978, and only ill health stopped him. He has had significant involvement in developing agility in the UK and abroad, He trained people for many years and ran his own club with his wife Jackie. He judged to ticket level here and around the world. He was involved in the ALC and the Agility Club, and was editor of The Agility Voice for many years. Team GB, Heelwork to Music . His contribution to our hobby is huge.
Our thoughts go to his Jackie and his family, who are understandably devastated. Rainbow Bridge Agility Club just gained a legend.
---
From Lesley Olden...
John - Always cheerful Always smiling Always the same.
I've known John since the early 80 s when I was a new kid on the block and he was an Agility God- yet he always had time for everyone. I was in awe of him.
So many memories:-
The smart chap judging with the smart suit. For years I thought he worked for a gentleman's outfitters! Then his white hat and pale trousers. I thought he was a cricket umpire!


One of the first BAGSD Hemel Hempstead shows when he and Peter Lewis decided to start an Agility magazine aka The Agility Voice and all those in favour put £1 in a bucket later to be The Agility Club


One of the main instigators in taking agility across the water, teaching agility and the first judges seminars


Hosting audiences with Mary Ray and the start of HTM .


Sitting on Neville Watson s knee pretending to be a ventriloquist dummy at The Rugby Agility Show entertainment was.


Escorting competitors into the ring at Olympia and Crufts with a little 'good luck tap' on the arm.


But most of all, sitting alongside John at many KC Council meetings when on occasions we were told off for 'talking in class' by The Chairman (whoops). His wit was second to none and his uptake on rule interpretation was spot on.
When a tribute page was posted on Facebook last year following John's retirement. I feared the worst - as many did) -I bet that made him chuckle but so glad he was able to read them all.
Now it's for real. Yes, I m sad but feel so privileged to have shared so many memories with him. Thank you.
---
From Rosie Ison...
RIP dear John Gilbert. He will be very sadly missed. When I started agility 25 years ago with my Standard Poodles John was a regular trainer on the Poodle training days. Always complimentary and encouraging, and always smiling.
When I got my Disney he told me how much he liked him and said that he'd go far - and most certainly he did.
John always had time to stop and chat at shows and ask how things were going with both Disney and my future dogs , and I shall miss that.
As a judge he was always impeccably dressed no matter what the occasion. He was one of a kind a true gent. My condolences to Jackie and all his family.
---
From Alison Milner...

Today I found out that my agility trainer passed away. What is so special is this man was there at the inception of agility at Crufts 1978.
I haven't been doing agility as long as others, only starting in my late 30s. I wasn't lucky enough to experience the good old days, or to have competed at prestigious events in the agility calendar. But directly and indirectly, this man has influenced my agility career.
When I hardly knew John Gilbert and asked for his help with my large Springer Spaniel Jerry who had suddenly lost confidence and took every jump on a course out. When people said I was mean and cruel, or suggested I retired him at the age of four. John said, 'No problem. I can help.' He gave me and my trainer valuable advice and helped to get my boy back to running full height Large, loving the sport again with enthusiasm and passion. Who acknowledged that Jerry wasn't bad for a Springer Spaniel and was there when Jerry won jumping in CG4-5 - amazing especially against all those collies. Who helped me with my crazy collie Neo, my naughty Pip and saw her go from Grade 4 to 6. And my little Chilli dog who attended Obedience and his first proper classes at John's.
The banter, mickey taking during class, never mean always just for a laugh! The surprise on his face when I rushed up to him at Keston show in 2016 and gave him a big hug for helping my crazy collie win Jumping a few days before! I have only been judging a few years, but it was such an honour to be asked to judge at our club show and for John to compliment me on my courses.
It's bitter sweet thatin 2018 Jerry will semi-retire knowing we have had a fabulous time and got to Grade 5 with top five placings under our belt and that wouldn't of happened without John's guidance and help. I would of so loved for John to have seen Chilli win this year (He came close). So thank you John Gilbert and rest in peace and to you Jackie Brett and your family, I know you have some tough days, weeks and months ahead but you can see from the out pouring on social media that John was truly loved and respected. I hope that will be some comfort over the next few months. Be kind to yourself and remember the good times.
---
From Amanda Pigg...
So sad to wake up this morning and read the news of John Gilbert's passing. If ever there was a man that shaped our hobby and gave us the fun we have today, then it was John.
I remember disliking his courses when he judged. Why? Because he challenged you so much. But the sense of victory when you nailed one, huge. It was something we laughed about in my early agility days.
John never walked passed you at show. He always had a smile, often a hug, for you.
A great comforting and encouraging face to see at the start of any Olympia or Crufts.
Thank you for the legacy you have left behind.
---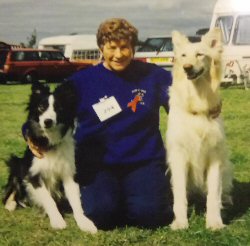 Joan Gardiner
Died 8 November 2017
It is with great sadness that I would like
to inform friends that Joan Gardiner passed away Wednesday, 8th November 2017.
Joan competed in agility for many years, starting with her GSD Blue along with her late husband Keith and his Collie X Freddie. They both helped with running The Summer Show for many years.
The funeral will be on Thursday, 7th December at 2.15pm at Ipswich Cemetery.
Sue Hollobone
---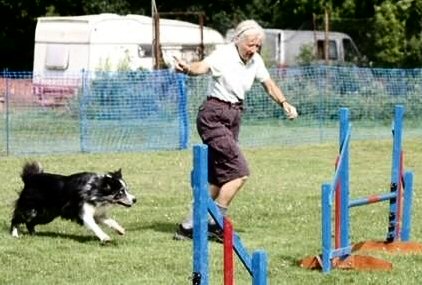 Jacqui Tucker
Died 6 October 2017
It is with broken heart that I need to tell friends of Jacqui Tucker that she passed away on Friday, 6th October, 2017 after a short but devastating illness.
Jacqui was the most amazing, creative, friendly, happy and lovely person you could wish to meet. She could brighten up anyone's day and it was my pleasure to have known her.
Jacqui had several dogs over the years competing in obedience, agility, working trials all with great success.
My thoughts and sincere sympathies are with her daughter Emma and all those who knew her.
Jacqui was one of a kind and I will never have the luck to meet such a person like her again in my lifetime.
Goodnight Jacqui. I hope you know how many people loved you.
P.S. I will post funeral details when I know them. Her dogs have already been safely rehomed.
Shirley Budgen
---

Liz Spreadbury
23 November 1940 - 6 September 2017
Lis Spreadbury died at 1.30 on the morning of 6th September, having put up a really good fight to beat that dreadful cancer invading her body. The treatment was too hard on her body and gradually it shut all her vital organs down over the last few days. Her husband Ian, niece Tabbi and second youngest sister Wendy were there to the end.
His sister-in-law said that Ian is, of course, devastated and will need the support of the agility community now.
The one thing that comes across from comments on Facebook is how everyone remembers Liz's smile. This is what will remember too as she smiled through her days in hospital and the nursing home. The nursing staff all commented on that smile and she was still smiling on her last day!
No funeral arrangements yet but Ian is thinking the service will be at Easthampstead Crematorium but nothing has yet been discussed with any official. Watch this space for details.
Ian Spreadbury's address is c/o Perry Bridge Farm, Wokingham Rd. Sandhurst, GU47 8JB
RIP Liz xxx
Wendy (second youngest sister)
From Lynn Frances Cook...
Liz's funeral will be on 16th October at the East Hampstead Park Crematorium (REG40 3DW) at 2,15. No flowers but donations to PAT dogs (as Ollie is good at that) or Agility Against Cancer please.
Afterwards at Sean Deveraux Park Bistro (19 GU46 7SZ.)
Ian does not want people in black. Bright colours please to celebrate her life and energy. If you are thinking of going, could you please let Ian know so he has a rough idea for catering.
---

Sarah Vallom
It is with incredible sadness that I have to tell you that our amazing Sarah passed away on the afternoon of 4th September.
Many of you will be aware that she has been battling cancer since earlier this year but, despite her immense courage and bravery, our beautiful Sister has been taken from us.
With the amazing help of so many friends, family and carers we were able to keep her wish that she could stay at home, surrounded by her beloved Stig, Lilli & Kiss and her sisters Liz and Kate. Now free from pain, she has taken her last journey to find the love of her life, the Big Man Leigh and that is some comfort.
Sarah was such a beautiful person, both inside and out, so we know that a huge number of family, friends and Agility family will miss her as much as we will.
We will let you know funeral arrangements as soon as we can, but it would be a great comfort to the family if you could take the time to post your favourite photo of you and Sarah so we can remember what she meant to all of us.
RIP sis-in-law... until we meet again.
Sarah's funeral will be held on Friday, 22 September at St Richard's Chapel, Sussex & Surrey Crematorium, Balcombe Road, Crawley RH10 3NQ. Start time is 2.15 pm.
Sarah added such colour to life and was a great competitor with horses and& dogs so the family invite you to wear a rosette in her honour to the celebration of her life. Don't worry if you can't as you will all still be welcome.
Family flowers only please but donations to St. Catherine's Hospice, Crawley would be most welcome. Funded by donations it provided welcome help to Sarah recently and she was a great supporter of it after they gave Leigh dignity in his final days, too
---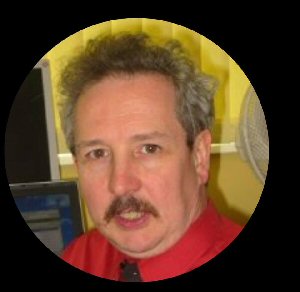 Gary Bye
It is great sadness and shock that we announce that Gary Bye passed away on Sunday 3 September 2017.
Gary has been at the heart of our show office for the last seven years and helped us with so many different things during that time.
Our thoughts go to his wife Lyn, step son Ryan and all Gary's family.
He will be missed hugely by all in the CSA team.
Luke & Graham Taylor
---

Catherine Emery
On behalf of Craig Emery - and with his permission - it is with deep sadness that I have to tell you that Catherine Emery passed away last night at 10.25pm with her husband and her family beside her. She was the most amazing, strongest, bravest person and she fought to the very end.
I would ask that you give Craig and her family time to grieve for their loss. An announcement will be made re funeral etc. when known.
The agility world will be a sadder place without her. Goodnight, my bestie.
Anna Allan
---

Tony Edwards
It is with great sadness that we announce that Tony Edwards passed away peacefully on Thursday 6th April.
He will be greatly missed by the agility fraternity.
The funeral is to be held at Guildford Crematorium on Wednesday, 19th April at 11.15 am. Followed by a garden celebration of Tony's life at Stonehousewood (RH5 5PL) Family flowers only all donations to St. Catherine's amazing hospice in Crawley.
---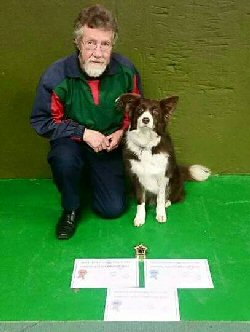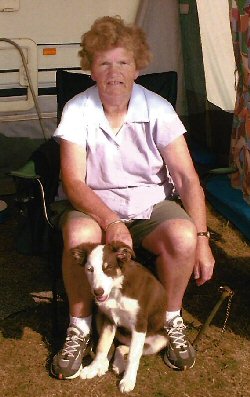 Sam McCracken
The world became a sadder place yesterday. Sam McCracken was called home.
He was Best Man at our wedding and he really was the best man. He was the best friend anyone could ask for.
Sam achieved so much in his doggy career. I first met him in 1979 when I joined Lisburn & District Dog Club and we've been friends ever since.
Sam is part of an elite group who have qualified dogs for both Champ Obedience and Champ agility. He also was part of the Northern Ireland Obedience team who won the Obedience World Cup in 2010. Sam also won Irish Dog of the year which qualified him for Olympia. Sam has also had an illustrious judging career judging at the KC Festival, too.
On a more personal note: Sam has been my right hand man for all those years and a more dependable friend you could never meet. I will miss him more than any words can express. I'm proud that I could call him a friend. Sam left the life the way he lived it - no fuss and peacefully.
Sam, you really were the BEST MAN and I miss you already.
Michael McCartney
---

Chris Barrett
Chris Ba
rrett passed away on 8th January and is now pain free. He always had a smile on his face and you always new a conversation would end in laughter. He will be missed.
For those who wish to attend his funeral, it will be held on Friday, 10th February at 12.00pm at the Medway Crematorium (Bluebell Hill), Robin Hood Lane, Chatham, ME5 9QU. The wake will then be held at The Gamecock Pub, London Road, West Kingsdown, Kent TN15 6EL.
Christine and Lynn want to celebrate his life and would love to see people wearing bright colours on the day. Black is not necessary. Also, flowers will be from family only. There will, however, there will be an opportunity for donate to the Ellenor Hospice. If you wish to attend, please could you let them know just so they can work out catering.
---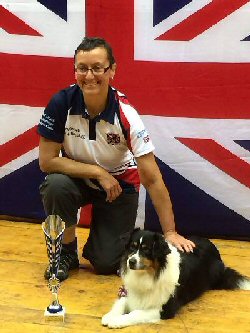 Yvonne Goode
Yvonne Goode lost her battle with cancer, and passed away peacefully in her sleep at 1.35am on 17th December. It's a very sad day for our agility family.
The agility community has lost a brave and inspirational lady.
---
Audrey Rogers

We have known Audrey and her husband Reg Rogers for over 30 years from when we went to one our first Agility shows - the Rugby show at Olney Prison in 1986. We borrowed a tent so that we could compete over the weekend, but it rained constantly from the time we arrived on the Friday throughout the weekend. We got chatting to Audrey and Reg and they could clearly see that our first camping experience was dreadful so they invited us into their cosy warm caravan for a cup of tea and a warm up. From then on we became firm friends.
They ran agility shows under the name of Watford Agility Club and we would help them out in any way we could and vice versa. Reg would judge for us and Audrey would come along and scribe at the show or do any other job that was required, always with a happy smile on her face.
We also met up with them each year when we went to Jersey where there was one venue - a farmer's field - where we would have to clear the cow pats so that we could compete in the ring. Audrey had her run and the next thing we saw was that she had stepped into a cow pat, but Audrey being Audrey, just laughed it off.
Audrey was always very happy and helpful and she will be so sadly missed in the Agility world and by her family and extensive friends that both she and Reg made over the years.
The funeral will be held on Friday, 9th December at 3 pm at West Herts Crematorium, Garston. Audrey wanted casual clothing and no black clothes and no flowers. Post funeral get together will be at Bushey Cricket Club, Eastbury Road, Watford WD19 4NR.
Rosemary & Ian Stowers
---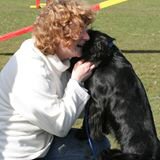 Ruth Mackintosh
We have just heard of the very sad passing of Ruth Mackintosh, a wonderful lady who will be sadly missed by all the agility community.
I had the chance to chat with Ruth via Messenger awhile back and - as you do - I said to her if there was anything I could do to let me know. The one thing she specifically said was that she knew she was not well enough to travel to Gleniffer, SKC and Prestwick Agility shows and she said she had hoped to come along to see her many friends and say goodbye as she knew how ill she was. So. I am passing this message from Ruth. Goodbye to her many friend that she has met through her and Kevin's love of the dogs. She is sorry she never got to say it in person
For those that would like to attend Ruth Mackintosh's funeral, it will be on Tuesday 8th November at 1pm in Inverurie. Please respect family's wishes of family flowers only.
Dawn GIlmour
---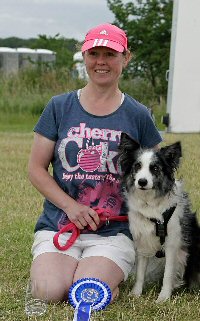 Photo: Linda Gore
Tracy Flower
Tracy Flower fought hard her battle against stomach cancer but sadly passed away on Monday morning, 18th July. Pink Flower Sunday on Sunday, 24th will be occurring around the shows and afar to remember the beautiful Tracy that we loved as our friend.
Please let's show our love by wearing something ink and standing together to applaud Tracy's wonderful life and the strength she showed in battling this cruel disease.
Tracy is a champion of so many people's hearts.
On behalf of all the agility community, we would like to thank Nick Cirket for taking this opportunity to raise money to help Macmillan Cancer Support - via a Just Giving page - as per Tracy's wish. The agility press look forward to attending the handover of the cheque of the final funds raised to Macmillan Cancer. In loving memory for our dear friend Miss Tracy Flower.
Ruth Abrahams
From Helen Murphy on behalf of Nick Cirket
Tracy Flower's funeral will be on 3rd August at 2pm at St. Albans Woodland Burial Trust, Church Road, Keysoe, Bedford MK44 2JP. Family flowers only. Donations to the Just Giving site please. Attire is bright colours especially PINK. The site is set in 60 acres of woodland and the ceremony will be held outside. Dogs are welcome but please, please respect the area.
The funeral will be followed by a reception in the equestrian centre which situated at the entrance to the Woodland Site. All are very welcome.
---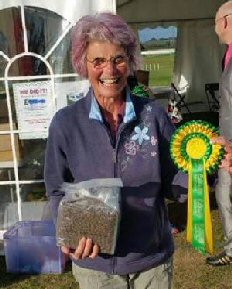 Hazel Williams
Died 5 June 2016
For those people that don't know, last Sunday a very special lady passed away. Hazel Williams was one of the most happy, laid back ladies I've ever had the pleasure of meeting and training with. She was devoted not only her family but also her dogs.
We will be raising a glass at Oswestry/High Lane agility show also friends far as are friends - far and wide - who cannot be here are doing the same and on Sunday we will be holding a minutes silence in her honour.
For those who didn't know Hazel, she was often referred to her as the 'lady with the purple hair.' So drink in hand, purple hair clipped in, we raise to you Hazel. We miss you.
Lisa Jones on FB
---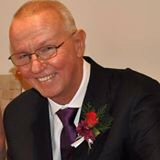 Terry Felstead
Died 27 May 2016
I am very sad to say that Terry passed away peacefully last night. He had suffered for so many months fighting this cancer, and we were both optimistic that trying immunotherapy would help to give him some quality time, but it was not to be. He died fighting the disease with all that he had, which is what he wanted to do right from the start, but eventually the disease had taken too much of a hold. It was very quick and peaceful in the end though which is all any of us can wish for.
Terry's funeral will be held on Tuesday 7th June at 4pm at Parndon Wood Crematorium, Harlow, CM19 4SF with light refreshments afterwards atThat Amazing Place, Hubbards Hall Drive, off Churchgate Street, Old Harlow
Essex CM17 0NH which is a B&B where Terry and I stayed at last summer.
Family flowers only please with donations in Terry's memory to The Margaret Kerr Unit which is the hospice that helped Terry so much in recent months, and where he was made so comfortable. There will be a collection box at the funeral for either cheques (made payable to The Margaret Kerr Unit) or cash, or if you would prefer please donate directly to the hospice via this JustGiving and specify that the donation is to go to The Margaret Kerr Unit in memory of Terry.
All are welcome but please let either Terry's sister Jean or myself know if you will be attending so that we can ascertain catering numbers.
Karen Felstead
---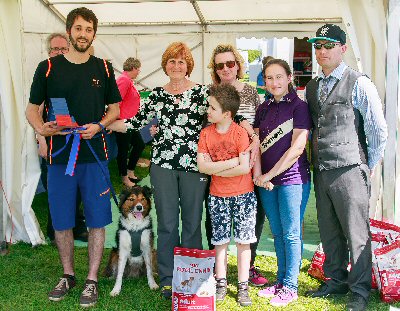 Tom Greening Memorial Trophy
Last year at Hatton Festival 2015, Tom Greening was one of the judges and the previous year he had been one of the Ring Managers. He was well known around the Midlands and judged at many shows - a true gentleman who always had a smile on his face.
Unfortunately last year a lot of Tom's friends were unable to attend his funeral as they were down at the Pembrokeshire by The Pond show at the time. The Red Jackets who run that show thought it was fitting to have a minute's applause for Tom at the mid-day prize giving - once again a touching moment in this closely knit Agility community.
The Red Jackets, who make charitable donations from revenue received, also decided to remember him by having a Tom Greening Memorial Award The 'Well Done' trophy commissioned Tom always enjoyed his judging appointments so we put the idea to Maddie Tom's wife and as most of the team that make Hatton work are also Red Jacket's we thought this show would be perfect so with her blessing here we came together to celebrate Tom's life with Dave Perry making a bespoke trophy.
Winners of the 2016 Tom Greening Class were: -
Robin Gretenkort with Cories Black Toast - 32.281 (C)

Ben Elseworthy with Tri Lola - 35 275 (C)

Ruth Parker with Gwynion Aki - 35.574 (C)
Steve Tubb said, 'The Agility Community is one big family and many of us come together at weekends to enjoy this sport. Just like the Gary Woodham Memorial class which is presented at the Pembroke show each year, we hope that the Tom Greening Memorial 'Well Done' trophy will be presented at the Hatton Festival in years to come. '
Steve Tubb
---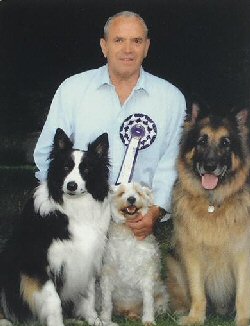 Reg Rogers
11 November 1935 - 28 April 2016
We have heard the sad news that Reg Rogers has passed away this morning. He was in so much pain that it was a welcome release. His cheeky personality and the many tireless hours he spent judging at shows will be missed.
---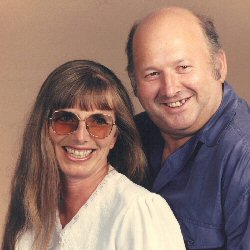 Antony Saggers
It is with deep sorrow that we announce the death of Elizabeth Sagger's husband Antony on 23 March 2016. He was such a helpful man - always doing ring party when there were plenty of others who could have.
---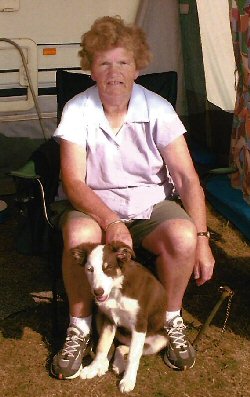 Rita Alderson
23rd September 1933 - 5th March 2016.
It's with great sadness that I am letting the Agility Community know that very sadly Rita Alderson passed away on March 5th. She will be greatly missed by all her Agility friends and even more so by her daughters Claire and Hazel. A truly inspiring lady who was well known at the shows for her amazing distance handling. Rita was still working her collie Millie well into her 80s.
They take a piece of your heart, as you likewise keep a piece of theirs. Never ever to be forgotten and with us forever. Our very dear friend Rita, we will treasure the swop. Thanks for being our friend.
She once told Nicolina Mansfield that she had seen One Man and His Dog and thought 'if he can do it so can I.'
In celebration of Rita's life, there will be a service on Wednesday, 23rd March at 10am at Peasmarsh Church, Peasmarsh, Rye, East Sussex TN31 6XS and afterwards at The Cock Inn, Peasmarsh. Perigoes are the funeral directors and any flowers need to be at their Northiam branch by 4pm the day before.
If donations preferred then either Parkinson's Disease or St. Michaels Hospice. Please send c/o J. Perigoe & Son, Dixter Road, Northiam, East Sussex TN31 6LB.
Sue Culmer
---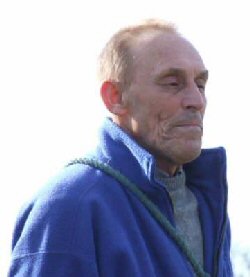 Peter Webster
Died 10 March 2016
Peter Webster sadly passed away in L&D Hospital Thursday morning, 10th March after a short illness.
He was involved with the startup of BATS Club which was one of the first ever UK Agility Clubs. Although he didn't compete very often, his main passion being Obedience, he enjoyed training his dogs and was a BATS trainer for many years.
For those wishing to attend Peter's funeral service, the details are as follows: 3.15pm Tuesday, 5 April at The Vale, Butterfield Green Road, Stopsley, Luton LU2 8DD. No flowers. Then back to Pete's afterwards, if you wish.
Liz Stedman
---

Jan Guyan
Died 27 February 2016
Some sad news from North of the Border. Jan Guyan sadly passed away peacefully in her sleep on Sagturday, 27th February. She fought to the very end - a truly brave lady.
Graham and I were by her side. The care she received from the staff at Roxbrough House in Aberdeen was outstanding. We can not thank them enough for what they did for Mum in her last few days.
RIP Jan. Scottish Agility will miss you.
I'm sure you all would like to pass on your thoughts to Graham personally. However, he has asked me to say, please could you all respect his privacy at this time.
Funeral arrangements
It's been a tough couple of days but I can now confirm Mum's funeral arrangements below. Mum has planned the whole of her funeral, so, as I'm sure you all can imagine it's going to be anything but normal!
The funeral will be on Wednesday,9 March at Kaimhill Funeral Home, Kaimhill Road, Aberdeen AB10 7JL
I have included the Funeral Directors website below should you wish to contact them direct for further information.
www.wmgilchristfuneraldirectors.co.uk
Rob Farry on FaceBook
---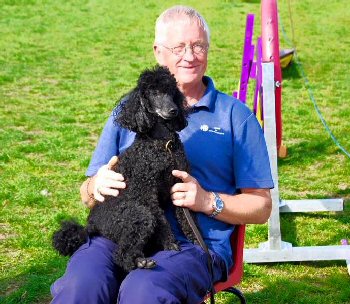 Dick Farrar
Very very sad and have shed a few tears tonight after hearing that the agility community has lost a true gent today - such a loving, caring, and supportive man who will be dearly missed by many.
Thank you Dick Farrar for all you have done for this wonderful sport and the many happy memories we have shared. We will miss you.
Thoughts go out to Rita and family at this difficult time - love and hugs.
RIP Dick - a bright star shining over us tonight.
Natasha Wise
---

Millie Paterson
20 March 1930 - 7 January 2016
Truly the most amazing loving Mother and Grandmother sadly passed away Thursday, 7th January 2016. Millie Paterson first started agility 20 plus years ago with her lovely wee sheltie Jess. She was a member of Chippenham Agility Club for many years where she met some wonderful friends.
Millie's love for agility was still present right up to the end. Whilst running a full course became increasingly difficult for her, she continued to train Lizzie weekly and enjoyed watching friend's run her dogs, too.
Grandma will be sorely missed by many.
For anyone that would like to attend the funeral, it will be held at Semington Crematorium, Semington, Trowbridge, Wiltshire BA14 6HL on Thursday 21st January at 11.30am. The family kindly ask if you can all wear something cheerful to reflect the lady she was.
Amy Lawson