Remembering friends who have passed away...
2023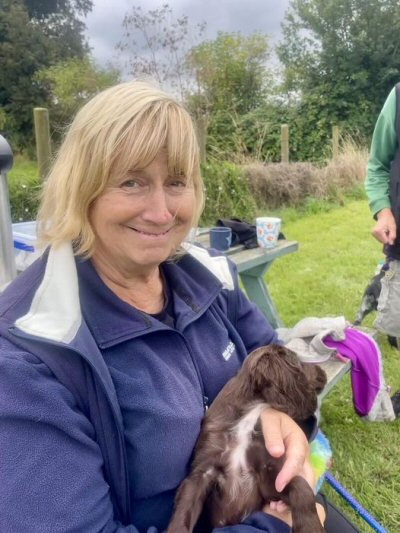 Rose Emberton
1961-2023
Sad and in disbelief to hear that Rose has been cruelly taken far too soon. I am lucky to have met such a lovely, friendly, happy person with such a positive attitude.
She was one of dog agility's great distance handlers who was always thriving to bring out the best in Rags and not let her bad ankle prevent her from competing. She didn't even realise how good she had become.Her friends are sponsoring a steeplechase class at JDA in her memory as it was Rag's favourite class.
Will really miss her at my monthly training groups at Sharnbrook.
My thoughts are with her family, closest friends and pets.
Sam Lane
---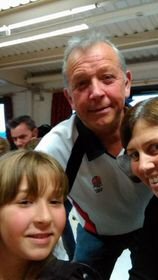 Bill Chuter
It is with a heavy heart that we report the very sad news that our dear friend Bill Chuter has passed away.
Bill was one of the first every people to compete in the 'new' sport' of agility with his stunning GSD Nesta (Odeon Nesta Square.)
A lifelong Burridge DTC member and one of the founder members of The Agility Club, Bill was the ring manager at the infamous and much loved Southsea Show. He was also the person who introduced agility in The Netherlands in the 80s.
Our thoughts at this difficult time are with his wife Fiona and daughter Rebecca.
The funeral; will take place on Tuesday, 21st November at 11.30 at the Aldershot Crematorium (GU12 4BP) All welcome to attend but could you please send a message so that Fiona has an idea of numbers.
Ann and Gwyn Roberts
---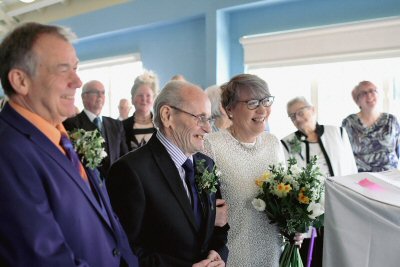 Derek Dragonetti
1939-2023
It is with sad heart that I write this for those who can remember a little Scottish guy by the name of Derek Dragonetti who passed away yesterday after a battle with cancer. I am sure he will be remembered for his somewhat wicked sense of humour but maybe more for his stubbornness. He was a small guy with a big heart.
He was a large part of agility many years ago and enjoyed his visits to the Lune show each year. When my world fell apart, both he and Rena were there for me and I have been there for him.
Having lost his first wife Rena, Derek married Pauline and moved to the Burneside in the Lake District and where they has lived for the past 11 years.
On a personal note, he was a great support to me and my daughter. I had the privilege of him giving me away at my wedding last year.
The funeral will take place on 19th October at 11am at Beethams Crematrium (LA7 7BQ. After the service, there will be a wake at Crooklands Hotel (LA7 7NW).
If you are looking to attend, please contact Deborah Kenny so she can pass the numbers on to Pauline.
Deborah Kenny
---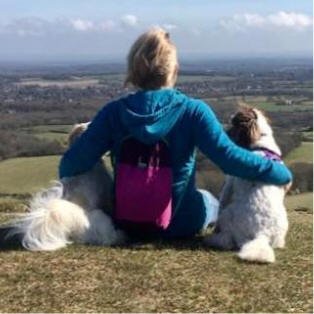 Jane Furlong
Died 20th September 2023
This is a p post I always hoped I would never have to write. Our lovely brave, amazing Jane lost her fight yesterday. I really don't know what to say and really don't want to believe it. Always hoping that she would be back with Bertie to carry on her training. I was just keeping him ticking over until that day came.
Rest easy, Jane. We love you.
The funeral of Jane Furlong will be held on Friday, 27th October at 2pm at Worthing Crematorium, followed after at The Black Horse Inn Findon for a celebration of life.
May we kindly ask that flowers are from family only. Donations in memory of Jane may be made to St. Peter & St. James Hospice, Burgess Hill. No dress code requests but a touch of colour would be nice
Ashley Carter
---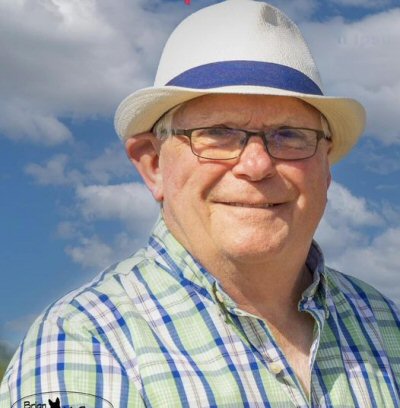 Dave Ray
Died 2nd September 2023
Having spent the last week in Rugby hospital by Daveís side, Iím very sad to say he passed away peacefully this afternoon.
Thank you to my friends for all their support at this heartbreaking time. I couldnít have coped without you .
Together for 49 years, married for 45. Sleep well my soul mate.
Mary Ray
Funeral arrangements
Dave Ray's funeral will be Thursday, 28th September at 12 noon at the Rainsbrook Crematorum, Ashlawn Road, Rugby CV22 5QQ. To gain an idea of numbers and make arrangements for the wake, please contact Bev Hotson, Mary Ray or Skate Smith-Moore via FB.
Steve Croxford
I have just heard the sad news that Dave Ray has passed away. My condolences to Mary Ray and the family. Dave was an inspiration to me and his contribution to the sport of Agility was immense both here and in other countries. Itís hard to believe another of our Agility pioneers has gone.

Pauline Barr
There's one more bright star in the sky tonight, so sad that Dave Ray passed away peacefully this afternoon with his beloved wife Mary beside him. I had the privilege of working for him, I only went to help him out for a couple of weeks in the run up to Olympia and ended up staying for a few years! As I worked from Dave's home office it meant that we had to get on or it wouldn't have worked and we did get on really well and used to have quite a few laughs. He used to make me nice cups of coffee and I used to take round the occasional lemon drizzle cake which he loved. He worked so hard and did so much for the different KC dog disciplines - obedience, agility and heelwork to music. He was such a good organiser, just brilliant at running events and his barbecues and roast dinners for the helpers were legendary. He loved the dogs and was very proud and supportive of Mary's many achievements, they were a great team together. Sleep well boss.

Lesley Olden
Such sad news.. Iím in tears. Iíve just heard that Dave Ray has passed away. Dave was instrumental in making agility what it is today, and we all have so much to thank him for. He was Mr Pedigree Chum ĎOlympiaí and Crufts, sat on many KC committees for so many disciplines and always up for fun and a joke.

Amanda Luttman
When you step on the line tomorrow to run your dog, remember Dave Ray. Some may not know him or have even ever heard of him if youíre new to agility. But for so many years Dave was a pioneer of our sport along with others. He is most definitely Mr Olympia. So many great memories of being at events like Olympia, Crufts and Discover dogs with Dave. Both as a competitor and working with him. He was a fantastic guy. A legend of agility. He is another of those where we can safely say agility would not be what it is today without him.

Jacky Carter
Very, very sad to hear the dog world has lost Dave Ray. Iíve many happy memories chatting at shows. Dave was just the nicest person, and did a massive amount to make agility what itís become today. He was heavily involved with obedience, agility, HTM, Olympia, Crufts, Discover Dogs, national finals, club events, the list goes on and on. He even hosted his own dog/game show. Although it is a while since I competed, I feel lucky to have known him as a friend. The dog competition world is a better place because of Dave. Thereíll be a lot of collies, plus a few lurcher/whippets, waiting for him at the bridge.

Elaine Auty
I find myself reflecting on what agility was way back when! The very sad passing of Dave Ray has me feeling very thankful that Brian and I got to experience the amazing buzz qualifying for Olympia and Crufts was under the helm of Dave. Getting that phone call saying we were off to Stoneligh was so ver special and the times we spent there over the years was simply amazing.

Greg Derrett
A sad day for Agility with the passing of Dave Ray. I feel lucky to have grown up and spent my top competitive years in a sport that Dave ran in the UK. Most of my most memorable moments in agility, Dave was the man behind the event and he made them truly special. Whatever todays handlers say, British agility when Dave was at the helm was at its best. He set the standard on how agility events should be run and was by far the most influential person to me and the inspiration for how I try to run events today.
---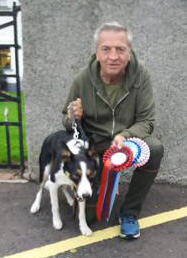 Keran Breslin
Died 17th August 2023
So sorry to learn this morning of the untimely death of Kieran Breslin, the 'Man from Donegal.'.
I knew him as a sensitive and generous man, a true gentleman. I loved watching him in recent years as he developed his skills in dog agility. He got so much enjoyment out of it.
He will be missed by many of us and particularly by his training friends in Donegal.
RIP.
Ronnie McAleese
---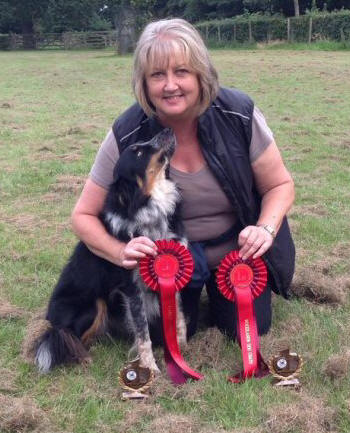 Teresa Jones
Died 6th July 2023
For those who know Teresa Jones, I'm sad to let you know that she passed away on 6th July. She fought so hard for such a long time.
She started out in agility over 20 years ago. She loved agility and trained at Ewell and Scrambles with her dogs - Ellie and Lexie - competed in many shows in the South East of England until ill health meant she was no longer able to.
Teresa was a lovely person - good humoured and positive - and will be much missed by those who knew her.
Hazel Fletcher
---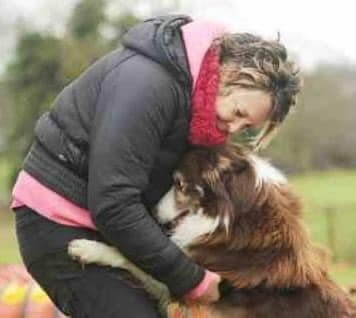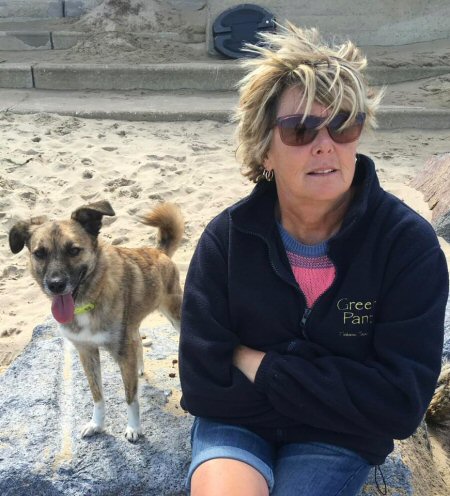 Jayne Fuller
Died 3rd June 2023
As some of you may know, our darling Jane lost her battle with cancer on 3rd June 2023.#
Those of you wishing to celebrate her life are invited to Breckland Crematorium, Norwich Road, Norwich NR9 4NR. The ceremony will be 22nd June, starting at 2 o'clock. After, everyone is invited to raise a glass, share memories and stories at the Railway Tavern, 21 Yaxham Road, Dereham, NR19 1HB. which was one of Jayne's favourite places for a gin or two.
As a family, we request no flowers, but anyone wishing to make a contribution can donate to Priscilla Bacon Lodge where Jayney spent her last week with fantastic care. Cheques should be made out to Priscilla Bacon Norfolk Hospice Care Ltd. Please write Jayne Fuller on the reverse of the cheque. Donations can be made online, too.
As a family, we have appreciated all your kind words and tributes.
Sophie Marie Fuller
---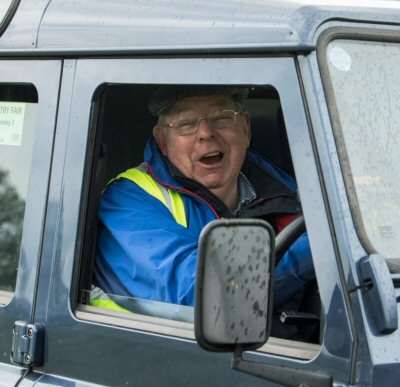 Graham Taylor
Graham Taylor passed away peacefully in his sleep on Sunday, 21st May after weekend of his beloved agility - probably the way he would have wanted to go.
He had so much enthusiasm for the agility game. Way back in the 80s he organised great fun competitions such as Barbour Pairs, Clockwatcher and Jump and Drive with finals at the Royal Show.
My dad's funeral will take place at 1pm at Oakleigh Wood Crematorium, CV33 9QP on Thursday, 22nd June. The wake venue is yet to be decided but if you wish to attend we would be grateful if you could follow the link https://forms.gle/rnvMnttnYoqvoS9p9 .
Dad was always putting on a great spread, and we wish to ensure this is the same at his celebration. Please no black and charity to be announced. Thank you to everyone for cards, texts and phone calls.
Luke Taylor
---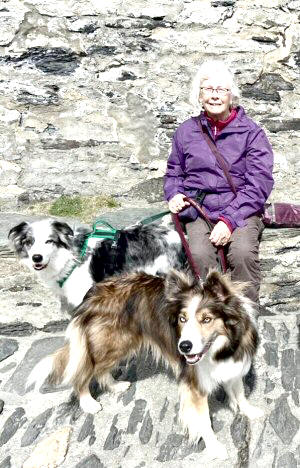 Gail Beasley
1947 - 2023
Gail Beasley passed away on 14th March 2023 after a short illness, aged 75. Lots of people will remember her from Bitz 'n' Bobz, Pawsome and Agility Vision shows.
She was a wonderful woman who will be missed.
The funeral service will take place at Countesthorpe Crematorium on Tuesday, 11th April. Family flower only. Donations may be made in memory of Gail to Cancer Research UK and Border Collie Trust.
Eileen Wischnia on FB
---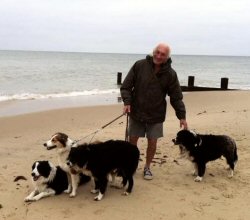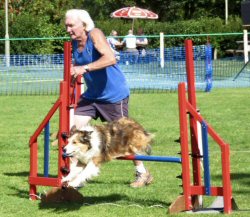 Remembering Ron Oliver
Died March 2023
When he he did his National Service, Ron was a boxer but in civilian life, he was a builder, a very good one. Once he discovered agility he certainly loved it and his dogs.
On my first visit to his house, I couldn't believe what I saw. It was plastered in rosettes and trophies from his many years competing.
Ron spent every available weekend at a show somewhere in the country. One of his favourite shows was Beachside in Norfolk and, of course, Redhill where he would get spoilt and looked after by Lisa in the Club.
He was rarely seen without a pint of Guinness in hand, and many an evening we would watch him stagger back to his caravan.
We were very happy to throw Ron an 80th birthday party at Redhill. Lisa got him a cake in the shape of a pint, and he partied the night away only to get up early and do several laps of the venue to keep himself fit.
As Ron and the dogs got older, the big shows and fancy new entry methods got too much for him. Jumping Jacks was his final show before he was forced to retire with arthritic knees.
I hope you took your blue vest with you.
Rest in peace, Ron.
Kate Theobald
---
| | | | |
| --- | --- | --- | --- |
| | | | |
| | | | |
| | | | |
Tribute to DDD Dave Roberts
1951- 2023
The agility community will never be the same without Dave. It is truly the end of an era.
We met Dave around 1999 when Lucy took our BC Jess for training at our local club. Dave was also starting agility with his staffie Sophie. He soon became part of our family and a good friend.
It was Dave who encouraged us to join him in running an agility show in 2007 to celebrate 30 years of agility. It was our first show and it was a huge success with the surviving founders attending and a great sponsorship from the American Kennel Club (AKC.) It was even more special as agility was founded in Lincoln. Following the success of our first show together, Lincoln Agility Enthusiasts (LAE) was born. Dave has been a big part of it from the beginning even though organisation was never his forte.
He was well known on the circuit for his quizzes and always helping on the rings and maintaining an orderly queue. When he wasn't helping, he was filming his staffies running and whizzing around on his scooter.
Dave's first job was as a Red Coat at Butlin's, and he had plenty of tales to tell, many less than PC. After leaving Butlin's, he found his passion for music and became a DJ. He played a large part of putting Lincoln on the club scene. As you can imagine, this stories got even less PC.
He loved BMXX riding, and still holds the world record for Bull RIding as seen in Roy Castle's Record Breakers. The passion for riding was strong Dave's family as his sons went on to be avid horse riders. Paul led a hunt, and James became a Master of Parelis, something Dave was always very proud of.
Dave was a true entertainer. He knew lots of the rich and famous and made many life-long friends along the way. One of his favourites was The Detroit Emeralds with whom he toured when they visited the UK.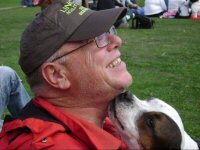 Dave was one of a kind. He had time for everyone especially if you liked staffies, music or football. He loved people and had a heart of gold. He was a true legend.
His dogs have found the perfect homes as would have been his wish. Bernie has a wonderful forever family, and Kelly is staying with Dave's sister where she can retire happily.
Here is the link for Dave's funeral with all the information. Everyone is welcome to the wake to celebrate hisd life and share a story or two. The collection had to involve staffies and Dave always thought highly of the Air Ambulance, so those are the charities in we will be donating towards.#
Always in our thoughts, Dave.
Cindy Osborne
---
2022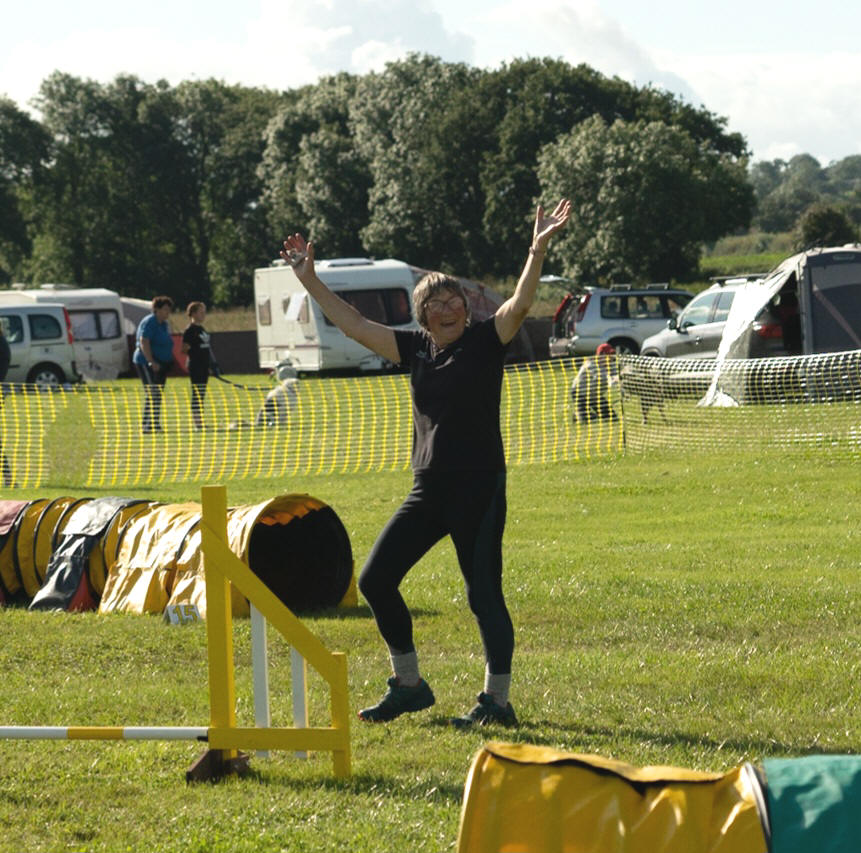 Mary Creedy
Died December 2022
In December 2022, Somerset West Agility Training (SWAT) were devastated by the loss of their member Mary Creedy after a short illness.
Mary had been with SWAT since the early days of the club, always giving generously of her time and energy to enhance the club spirit, raise money for charity and encourage members new and old.
Mary helped at every SWAT show and helped to keep everyone going with her amazing cakes and quick wit. It will take two people to do the work she did!
Mary will be missed throughout the South West as she was a huge character with an even bigger heart.
Toni
---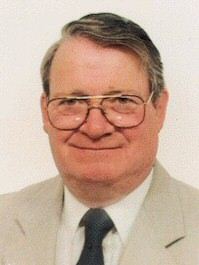 Peter Lewis
31st March 1935 - 7th December 2022
It is with great sadness that we have to tell you of the passing of Peter Lewis who was one of agility's founding father and President of The Agility Club.
He was instrumental in realising the potential in dog agility and and was involved with writing the first set of rules for the Kennel Club which formed the basis of how agility is run today. He spent much time promoting dog agility around the world, pioneering the development of the sport in many countries.
Peter was a lovely gentleman and will be sorely missed.
Our condolences go to his wife Carol and his family at this sad time.
Peterís funeral will take place at 12 noon on Tuesday, 10th January at St. Margaret and Mary, Catholic Church, Middle Road, Park Gate, Southampton SO31 7GH. The venue for the funeral reception has yet to be confirmed. If you are planning to come to the funeral could you message Steve Croxford so that Carol has some idea of numbers.
Steve Croxford
To learn more, read Lindy Margach's interview with him about how agility started.
---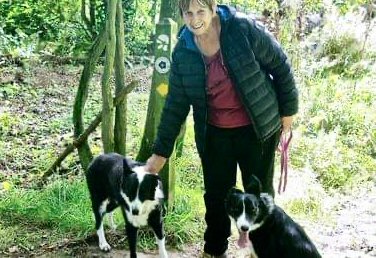 Lis Smith
Died 30th November 2022
The agility community has lost a good friend with the death of Lis Smith following a nine month battle with cancer.
Lis was already an 'older handler' when she first joined Kingdom of Fife Agility Club with her rescue dogs Fly and Freya back in the early 2000s.
Frey earned lots of points for Lis on the Agilitynet Senior Agility League. Next came Keira, another rescue, who had reached G5 when Lis had become ill. Keira has now gone to live with her dog walker.
Lis also trained with Stirling Agility.
Many Scottish and North of England agility people will remember her as Morag Kelly's hat-knitting partner. Between them, they raised £2400 for Pre-loved Border Collies and Search & Rescue Dogs Scotland.
Lis will be fondly remembered as a quiet, unassuming and friendly lady.
Ellenelle
---
Caroline Joyce
Died October 2022
Caroline Joyce has very suddenly - and unexpectedly - passed away. You may remember her with her spaniels Rory and Rocky. Her love for her dogs was immense and her enthusiasm joyful.
I will let you know if any funeral arrangements when I have them.
Thinking of her family at this very sad time.
Caroline will be received into St. Robert's Church (Peat Road) on Friday, 28th October at 6pm, with Requiem Mass on Saturday at 10am and burial at St. Convals Cemetery after for the committal service, with wake after at the function suite at the old Jeanie Gebbies, just at the cemetery. (Called Scotch and Ribaye)
Dawn Gilmour
---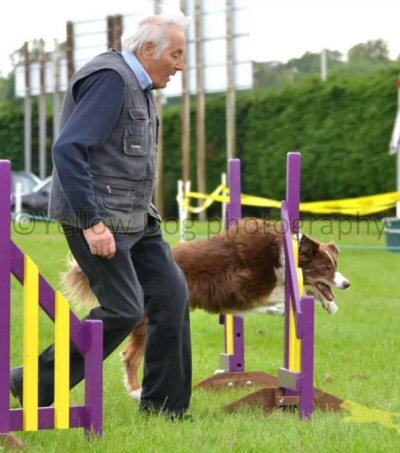 Frank Wild
1932 - 2022
Sad new for people who remember Frank Wild. He passed away on 14th September 2022, just a few weeks after his 90th birthday.
Frank was a long standing member of Broxbourn DTC, and I know made many agility friends throughout his last 20 years or so.
He was a good friend and a true gentleman, and he will be missed very much.
Elaine Mitchell
---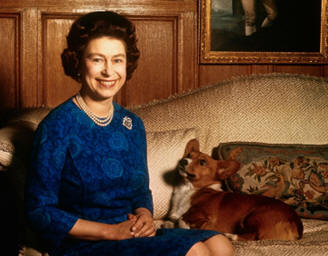 Queen Elizabeth II
1926-2022
The Kennel Club joins the millions of mourners from around the world in the passing of Her Majesty Queen Elizabeth II. As one of the most dog loving monarchs in history her patronage of The Kennel Club will be greatly missed.
The Queen was a world famous dog lover, especially known for her Welsh Pembroke Corgis after being gifted her first Corgi, Susan by her father, King George IV when she was 18. This was to be the start of nearly 80 years of Corgis in the royal household that would accompany her on many trips and be by her side through her long reigning monarchy. The Queen stopped breeding in 2015 and got her last two puppies in 2021.
The Queen was claimed to have an interest in Crufts and visited the show in 1969 where she was shown around the show and met an English Springer Spaniel.
Tony Allcock OBE, Chairman of The Kennel Club, said: 'We pass on our thoughts and condolences to The King and the Royal family at this time and join the world in sorrow at her passing. The Queen was an avid dog lover. She was very interested in the health of Corgis and took the breeding of her dogs very seriously, always ensuring that she met with the dogs involved.

The Queen also owned Spaniels and was familiar to members and staff at The Kennel Club for her involvement in Field Trials, often attending events when taking place on her estate in Sandringham, where she was always extremely friendly to the dogs and competitors alike. We are very grateful for The Queenís patronage over the years and the commitment she always showed to the dogs that she loved so dearly. The Queen epitomised the love and affection that our nation holds for dogs.'
---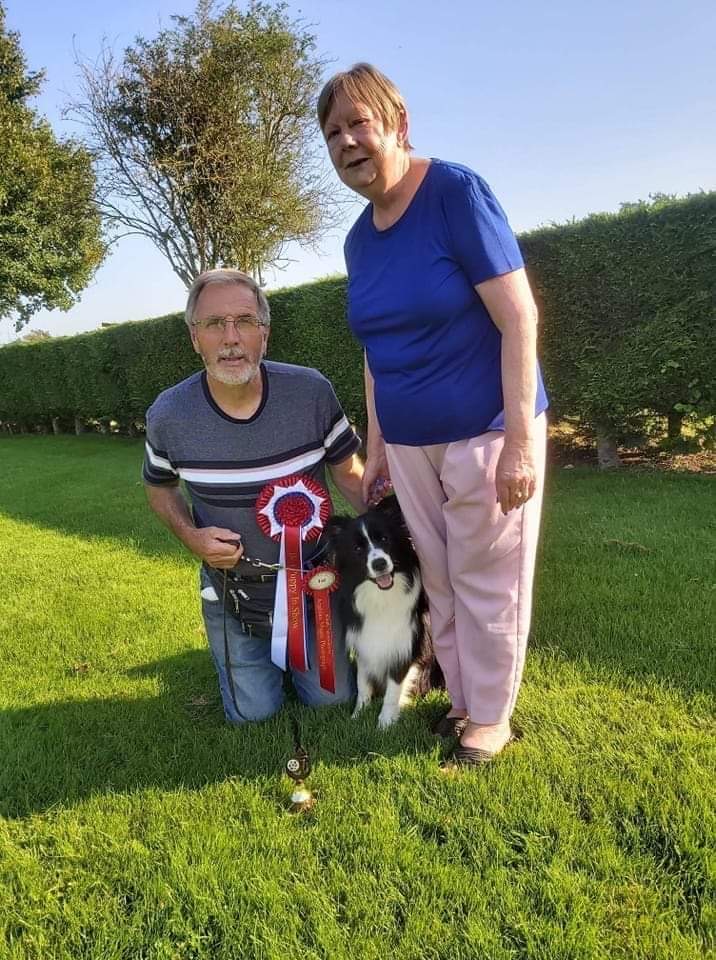 Kathie Kinton
Died 7 September 2022
With great sadness, I share the news that Kathie Kinton has passed away this morning, peacefully after a long illness.
You may not know her personally, although you may have heard of Kinaway Border Collies, but you will know her work. Kathie has been the driving force behind the Pastoral Breeds Health Foundation for many years, as well as Breed Health Coordinator for BCs. She has been instrumental in fundraising for and supporting the development of various DNA tests as well as the research to date into epilepsy. She has facilitated hundreds and hundreds of health tests, putting herself out to go to owners to make it easier for people to access testing, and securing discounts and supplements to make it affordable. No single person has done more for Border Collie health, and that is not something I say lightly.
She bred dogs that competed in agility, obedience and in particular HTM. Some of her dogs were on the HTM Team GB.
To me, she was a friend, a mentor and a lover of red and whites. I will miss her dry sense of humour, her knowledge and her passion.
Jill Spurr
---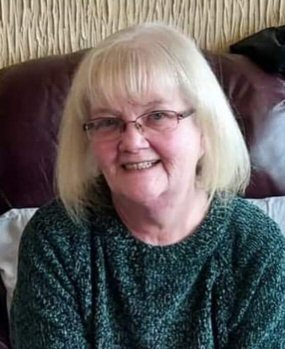 H.J. Innes
Died 31st May 2022
Heartbroken to let you all know that, after a short period in Monklands Hospital, Helen Jane (H.J.) Innes passed away on 31st May 2022.
She was always there to help whether it be scoring or scriming or anything that needed doing and was well known for organising her team of 'marquee' ladies.
The funeral will take place at 13.45 on Tuesday, 14th June at Daldowie Crematorium (G71 7RU.) It would be great if you could let me know if you intend to come so we can plan catering.
Lynn Lawrie
---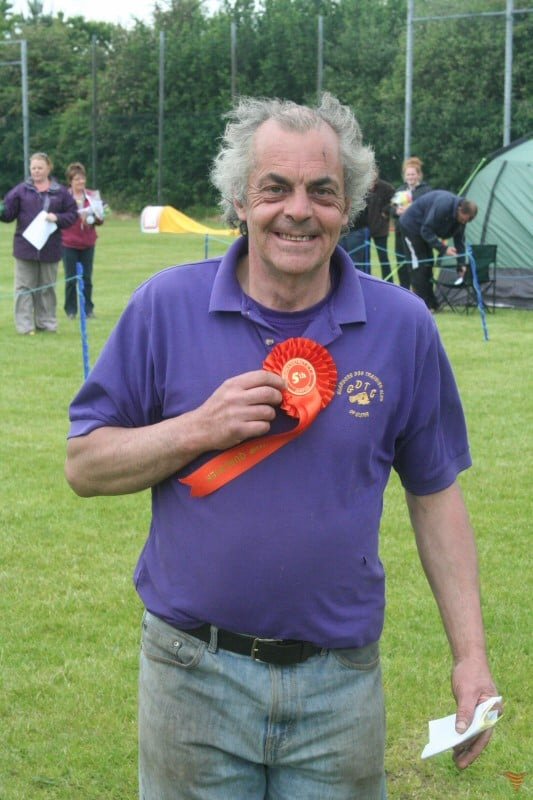 David Marshall
Died April 2022
It is with a heavy heart that I reflect on the tragic death of David Marshall, one of the longest serving members of Glandore Dog Training Club of Ulster, first joining in the the 1970s. David and his dogs were known to everyone in the NI canine world during the many years he was involved in dog training.
His first dogs were German Shepherds that he worked in Obedience, but his main love - and the dogs he will be remembered most for - were black poodles. They had to be black that was the only colour for a poodle, to quote David.
He had a unique relationship with his dogs, and 'love' is definitely not too strong a word for the way he felt about them. They were his constant companions and went everywhere with him. He competed at C level Obedience, high grade agility, he trained in flyball and even had a few forays into the world of Rally. He was a senior trainer at Glandore for many years, training KC Good Citizens, competition obedience and agility. It is difficult to say which he most enjoyed as any time he was able to spend times concentrating on his beloved poodles his joy was obvious.
He was Chair of Glandore for years and, for a long time, could be found instructing or in a Glandore class two and often three times a week.
His character and attitude to his own and other people's dogs affected everyone who met him. If any human gets over the Rainbow Bridge, David will be there.
Adrian Dornford-Smith
---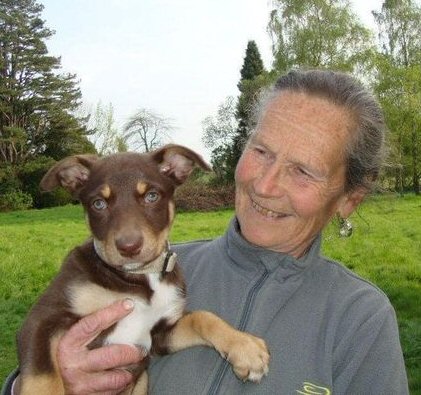 Marie-Louise Jones
28th December 1942 - 6th April 2022
It is with great sadness that I have to report that after a long battle with a very nasty infection Marie-Louise Parker left us early this morning surrounded by the love of her Spanish friends.
She will be remembered by many very fondly for her lovely judging and courses, her zest for life, her crazy number of dogs
She lived the last couple of years in Spain where she had always wanted to live with her dogs and just wanted to be in her lovely home with her animals
She will be remembered at Golden Valley show this summer where she was a big part of the club for so many years.
RIP Marie-Lou.
Judith Trickett
Other comments
Kim Hunt
I remember her lovely smile and always ready to chat. Her dancing at Dog in Need and her run in an agility competition topless one year! One of lifeís true characters.
Jackie McDevitt
I well remember the fun at the agility breaks in Scotland and getting Marie-Louise into the greyhound racing stadium under piles of blankets along with a few humans - one of whom may have been Angela Lucas - in my old car because she could not afford the entrance fee. Fun days!
---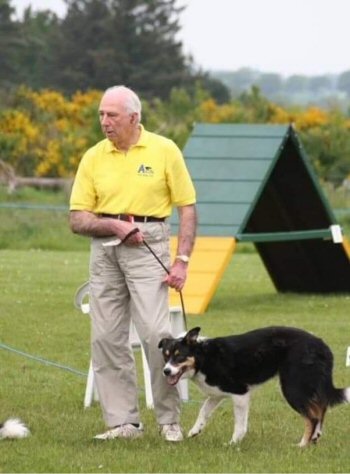 Allan Kenneth
1931-2022
Sad news of the loss of a long standing member of the agility fraternity. Allan Kenneth died at the start of the week 91 years of age. I know a lot of people on here knew him. Anyone who knew him would have described him as a real gentleman. He was always willing to have a chat with anyone standing around the rings, as I am sure many did.
A member of Avon Lanarkshire Agility Club, if you attended any of the shows at Lanark Racecourse, it his highly likely that he gave you your running order or handed your lead over to him.
If you ever needed proof that age is just a number, then you didnít need to look any further than Alan. He started out in agility in his sixties, and was competing well into his eighties. In fact, it came as no surprise when Alan got his last dog Tam at the tender age of 78, which also goes to prove that having dogs keeps you both active and young at heart.
Allanís first dog was Jade, a Labrador. What can we say about Jade. Allan got a phone call from the vet asking if he had lost her. No I donít think so says Allan, only to find that Jade, having received treats at the vets the last, took herself along to ask for more.
Another time, Avon DAC was doing a big display in Charlotte's Square, Edinburgh. It came to Allan and Jadeís turn and she jumped the jumps, the rope and took off to the burger van where she presented herself to people serving. We had a commentator and the place was crowded, Allan just laughed. Jade also excelled at taking an ice cream cone out of the hand of a child on her way past and hardly missed a beat as she continued around the agility course. Allan took this all in his stride and would laugh it off - no embarrassment - just the love for his dog.
Allan rescued Chad (picture), a dog that everyone thought was a lost cause. He had been kept in a barn for two years as the owner had taken ill and had no time for him. Allan worked hard, turning him around to be a confident and gentle dog and allowing him to successfully compete with him.
Allan had an interesting life competing in different sports, canoeing being one of them. If you took the time to sit with him he would tell you interesting stories.
Allanís dedication to his dogs and to agility, his gentle nature and his ability to put people at ease will be forever remembered. Hereís to Allan may you be reunited and play agility forever.
John Campbell
---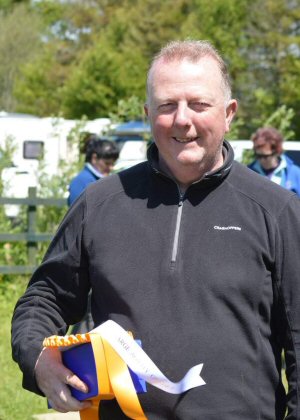 Alex Smith
Died 2nd March 2022
It's with great sadness that I write about the sad passing of Alex Cook who died in his sleep on Wednesday, 2nd March.
Alex was well known on the agility circuit. Taken far too soon, my thoughts are with Irene and the family. He was such a nice guy and will be sadly missed by everyone who knew him.
Morag Mcpherson
---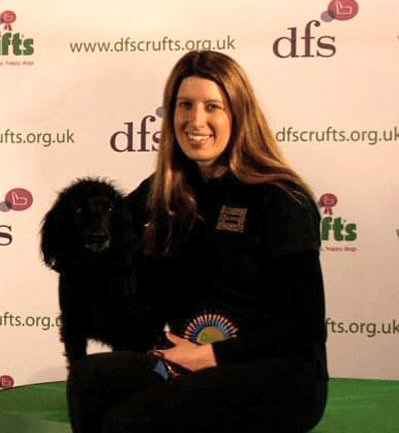 Sarah Evans-Parker
Died 8th February 2022
This is incredibly hard to write but saddened to announce that Sarah Evans-Parker died peacefully on the 8th February, surrounded by her family.
The last few years have been incredibly hard for Sarah when she discovered her Cancer had returned. Despite the devastating prognosis she attacked it with everything she could, maintaining positivity and refusing to accept fate, smiling throughout. She gave everything towards recovery and making the most of every moment to enjoy her time with her young children, family and friends.
Sarah never did anything half hearted. She loved agility and competed at Crufts, Olympia and represented Great Britain and Wales at the EOs and WAOs.
Sarah was a fantastic trainer and all her dogs and cats appeared in TV shows, films and adverts. We all remember the O2 'Be More Dog' adverts and I was lucky enough to meet the famous Jonesy.
Sarah's funeral will be held on Friday, 25th February at 10:45 in the Oak Chapel at Crownhill Crematorium in Milton Keynes, followed by a wake at The Old Swan in Astwood. Please let me know so Jamie is aware of the numbers.
There'll be a web stream link for anyone that can't make it in person.
Sarah really made every minute count whilst she was with us, and I hope we all follow her example. I cannot believe someone who wanted to live and give so much in life has been taken so young. She was 41 years old and I miss her so.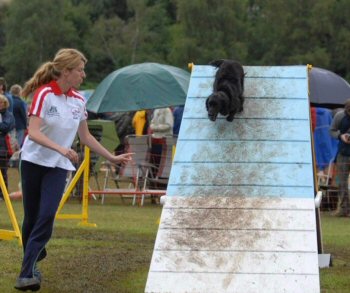 Sam Lane
Remembering Sarah Evans-Parker
A minutes applause was held today at the Agility Team GB Pre-Selection Qualifier to celebrate the life of Sarah Evans-Parker, a former Agility Team GB handler.
Sarah was part of the first team to represent Agility Team GB at the European Open Championships in 2008.
Our thoughts are with Sarah's friends and family.
RIP Sarah.
Agility Team GB -
---

Brian Southon
Died 30th January 2022
The Committee of Dogs In Need Agility Society was sorry to learn that Brian Southon passed away on January 30th 2022.
Brian was a founder member of DINAS and a committee member for 16 years, managing radios and the PA until he retired in 2008.
We extend our warmest sympathies to his wife Sylvia and family.
Funeral arrangements are:- Thursday. 24th February at 2.30pm at Wessex Dale Crematorium, Bubb Lane, West End, Southampton SO30 2HL. Donations to the Dementia Charity.
The DINAS Committee
---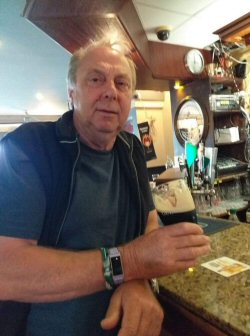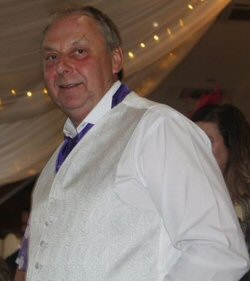 John Crocker
Died 15th January 2022
Today at his funeral, we celebrate the life of the lovely John Crocker who passed away following a battle with brain cancer - and boy did he put up a fight!
Fondly known as 'Farmer John,' he has been part of the Dartford DTC for many many years and was a highly valued and well thought of club member.
He was often seen at local shows competing with his border collies and helping on the rings.
His passion for agility started around 1996/97 when he would take his daughter Erin and their first collie Tess to shows. At this point, he taxi service but not for long because he decided to join Erin in her agility hobby. In 1998 he got his first agility dog Tory and he was well and truly hooked. Then along came Thai, Maize, Tizz and finally Troy.
John enjoyed many things in life - his farm, his dogs, walking and rambling and his love for Ireland. Most of all, he loved his family and was a really family man.
Feeling robbed that his illness and Covid did not allow him to return to agility.
On a personal note, John was a family friend and we will miss him.
RIP Farmer John.
Louise Bray
---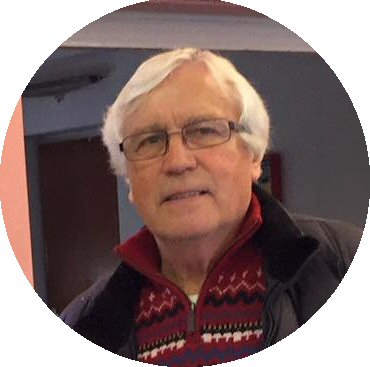 Neville Uden
Died January 2022
My heart breaks today hearing the news that Neville Uden has died.
Nev was a pure gentleman and lovely man. He judged many competitions and supported the KC good citizens. Many of the older school of agility will remember him in agility calling Nutmeg... nut meg...
My sincere condolences to family and friends and Janet Collins.
The funeral will take place at Stafford Crematorium, Tixall Road, Stafford ST18 0XZ at 3pm on 17th February 2022, followed by refreshments at Weston Hall, 1810 Weston Bank, Stafford ST18 0HS. Could all ladies please wear a brightly coloured and gents a brightly coloured tie. If you are intending to attend, could you please PM me so that I can help Janet in terms of the catering
Donations to Motor Neurone Disease and Katherine House Hospice in memory of Neville Uden. All enquires to Stone Funeral Care, 33 High Street, Stone ST15 8AJ
Val Philips
---
Dave Robinson
Died January 2022
So very sad to have to post this but today I received the news that Dave Robinson has passed away.
Dave had been in Agility for as long as any one can remember. He lived for his dogs and absolutely loves spending time with the agility family. Many of you will of known him both helping on the rings and running his dogs or spinning a tale at the bar in the marquee on an evening.
He will be very much missed.
I hope he's got a pint in his hand with his dogs at his feet in a marquee somewhere.
Heather Bell
---
2021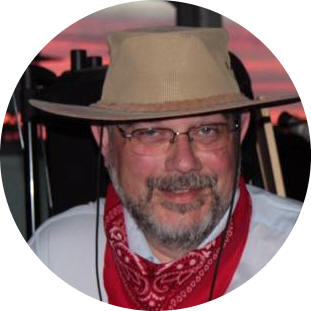 Mike Hollingsworth
25th August 1959 - 7th December 2021
The Scottish Agility community was saddened to learn of the sudden passing of Mike Hollingsworth. Cheerful and smiling, he loved a chat - whether it was about Harry Potter films, curries, or 70s rock bands. Mike and his wife Margot have Shelties, Pomeranians and more recently a Terrier, and they enjoyed travelling to their favourite agility venues in their van.
Mike enjoyed judging, scribing and lending a hand where he was able.
His other hobbies included van restoration, photography and music - especially the Corrs.
He will be sadly missed by all who knew him.
We send heartfelt condolences to his wife of 39 years - Margot, his three sons Stuart, Davey, Gary and grandchildren Oliver and Kaja.
Sara Hawkswell
---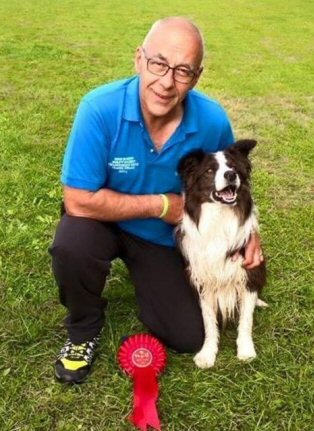 Stuart Wilcox
Died 3rd October 2021
Stuart Wilcox passed away suddenly and unexpectedly on Sunday, 3rd October 2021, leaving his family and six Cocker Spaniels behind. He was a true gentleman with a wicked sense of humour who will be missed. RIP.
Most of you will expect to see Stuart with spaniels, his hound of choice, but this weekend in the picture he ran my old boy in the old gits classes and won them both.
Sending Annette and her family our thoughts and sympathy from their Agility family. The agility club up there is getting too big.
Lisa Smith
Details of the funeral are as follows:
Date: Wednesday, 3rd November at 2.45pm
Venue: Milton Keynes Crematorium, Crownhill, Milton Keynes MK8 0AH
Please message Annette to let her know if you will be attending. There will be a gathering afterwards at a venue nearby.
Dress code: Given Stuart's suggestion that Annette just bury him in the back garden, itís safe to say he would have hated everyone wearing black and looking sombre for him. Please wear some colour, in honour of his love of photographing sunsets and sunrises.
Flowers: Again, Stuart never saw the point of flowers at funerals so the family have opted for no flowers please. Instead, they will be setting up a just giving page for Spaniel Aid UK and The British Heart Foundation - both charities that Stuart supported.
Alex Wilcox has set up two JustGiving pages to raise money for causes very close to Stuart's heart - Spaniel Aid UK and The British Heart Foundation Please donate what you can.
Carla Whyte
---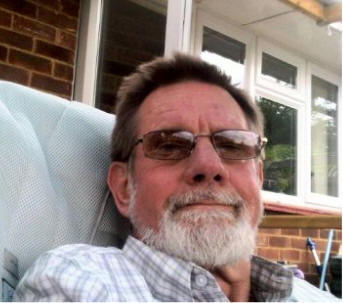 Ray Tant
Died 1st November 2021
It is with great sadness we regrt to inform people that agility lost a great man this morning. Ray Tant passed away peacefully in his sleep this morning. He will be very greatly missed by people and dogs.
He was one of a kind never to be seen again - a real gentleman and such a talented chiropractor.
Rest in peace, Ray.
Ian Stowers
---
Aileen Darcy
Died 6th October 2021
Scottish Agility was saddened to hear of the passing of Aileen Darcy. She passed away peacefully on Wednesday, 6th October.
Aileen never let her cancer stop her living life to the fullest. It was a long journey, those five years of chemo and trial drugs were tough but, in between, life was for living. To everyone who has helped Aileen through this journey - thank you all.
We are all thinking of Jim at this sad time.
The funeral has been arranged at Paisley Woodside Crematorium at 11.30 on Saturday, 30th October.
If you wish to view the funeral by webcast, you can use this following link. Click view webcast and enter Order ID: 111379 password: jqnqrctx and then click log in. Once logged in the stream will begin automatically when the service starts.
You are then invited to The Glynhill Hotel, Renfrew.
One of Aileenís wishes was that colours other than black be worn, Any donations that you may wish to give should be made to Cancer Research, The Guide Dogs, SSPCA or Labrador Rescue Scotland.
Dog Agility Scotland
---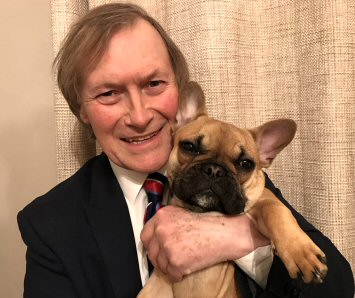 Sir David Amess
Died 15th October
From The Kennel Club...
We are devastated to hear of the death of Sir David Amess.
Sir David was a true animal welfare champion in parliament for over 30 years. He gave his support to crucial dog welfare issues, which included banning electric shock collars and reforming laws around pet theft and puppy importation. We had the pleasure of welcoming him to Westminster Dog of the Year on many occasions.
Our thoughts are with his friends and family.
---
---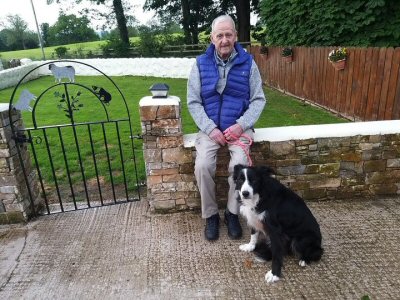 Pat Farson
At a time when we in the Agility community in Northern Ireland is beginning to come together with the news of Down District, Lisburn and Castlereagh shows to look forward to. Unfortunately one of our own - loved by all - has suddenly passed away after a bit of a setback whilst in The Ulster Hospital.
RIP The Irish Agility Legend Pat Farson.
Our thoughts and prayers to Pat's daughters and family circle.
Funeral arrangements to follow.
Michael McCarthy
---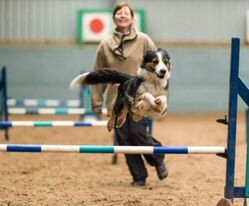 Helen Verrecchia
26th July 1965 - 20th July 2021
The briefness of this post reflects Helen's famous disregard for social media and certainly not her impact on the dog world!
Helen passed away after a very private and hard fought battle against cancer. She will be remembered as an agility competitor, judge and highly respected trainer. As a trainer she was noted for her patience, kindness and humour. Training with Helen bought its rewards in the ring but was always full of humour.
Helen leaves a lasting legacy in her beloved Incanto puppies.
Her funeral will take place on Friday, 30th July 2.45pm at The Immaculate Conception Catholic Church, Maryhill Road, Glasgow G20 0AA and, thereafter, at Lambhill Crematorium at 3.45pm. Her friends are welcomed to attend to pay their respects.
Our sympathy goes out to her family.
Rest in peace, Helen. We will miss you terribly.
Fiona Inglis
---
| | |
| --- | --- |
| Trevor Jones | The Yorkshire Team |
Trevor Jones
Died 23 June 2021
Trevor Jones, another of one of Agility's founding fathers, sadly passed away on 23rd June. Two weeks before, he had been rushed into hospital with a blood clot on the brain and then transferred to the Stroke Unit for end of care life.
Trevor had many a lovely stories to tell about the early days of Agility and the first Agility demonstration which he helped organise. He was in the midst of looking up all his old notes from the founders days before he died.
He told Agilitynet that his first memory of agility was on a rainy day on a Lincolnshire farm where he was taking part in a ASPADs tracking competition with Peter Meanwell. They were walking across a wet grass field - towards the pub which was the base for the competition - when Peter pulled a grubby piece of paper out of his pocket and asking him to look at it. He asked if Trevor could get some dogs from Yorkshire Working Trials to go round when was the first idea for an agility course.
Trevor admitted that, at the time, he was not too enthusiastic, possibly because of the mucky weather and wanting to get back to the pub to get warm and dry. However, by the time they reached the pub, Trevor had agreed to put a team of Working Trials handlers together.
If anyone remembers Trevor and would like to make a donation to the Borders General Hospital (BGH) Stroke Unit, they can go direct through the hospital direct Contact Us (scot.nhs.uk) .
Gill Jones
---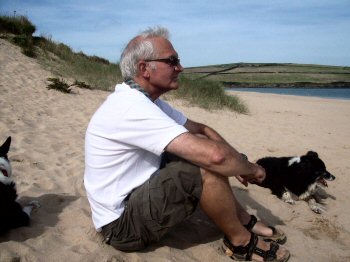 Roger Worner
1952-2021
Our dear friend Roger Worner passed away suddenly on Wednesday, 30th June. He took the dogs out for the last walk of the day and didn't come home. He had suffered a heart attack and, despite immediate CPR he couldn't be saved. He was 69.
We first got to know Roger when he joined Clifton Agility Club more years ago than I care to remember He was a good bloke who loved his dogs - and his trains, but that's another story. He could always be relied upon and would do anything for anybody. We have holidayed together for years Ė first as part of the Clifton group, and then just us with Roger and Ros. If you needed a hand with the awning or some other help, Roger would be there.
Who could forget the time we stayed at Wadebridge for one of the agility shows when the weather was less than ideal, and Roger was camped in the muddy patch? Roger being Roger, we were roped in to move the caravan complete with awning. With the awning still attached to the van - poles and all, of course - and with a willing and hysterical bunch of helpers, he drove the caravan to a new pitch.
Roger left us so quickly with no chance to say goodbye. We will miss you so much and our Cornish holidays will never be the same again. God bless you.
To Ros and his daughters Amanda and Gemma and all the family our heartfelt sympathy.
Jean & Dave Sweeney
---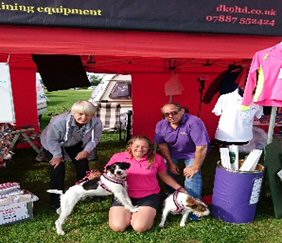 Nigel Foreman
Died 10th March 2021
It is with great sadness DK9, maker of agility garden equipment, has closed its doors for business due to the sad loss of Nigel Foreman who passed away at home on 10th March after a short illness.
Nigel and Sarah have been at many shows with their trade stand over the past 20 years and thank the Agility world for its support and the customers' banter. Nigel was always at his happiest at our trade stands teasing customers, drinking his cup of tea and enjoying Smithy's food. We would also like to thank all show organisers for allowing us to trade at their shows.
Nigel will be sadly missed.
Sarah Foreman
---
Trevor Greenlade
Died 25th March 2021
Agility has lost another great person in Trevor Greenslade who has sadly passed away. He battled with Parkinson's disease for 20 years and very sadly passed away on Friday, 25th March..
Many of you will remember him taking photos at the shows and whizzing around in various buggies that he had cleverly adapted.
Trevor was such a kind, generous man, who'd always go out of his way to help others. He was always there to help you if you had a problem and was a genius at inventing new things or adapting something to use in emergencies.
We're trying to raise some money to go towards his funeral and some legal fees, so if anyone would like to donate just go to Trevor Greenslade's Funeral Fund (paypal.com Any money raised will contribute towards Trevor's funeral, and legal costs, too.
Rest in peace Trevor. You will be missed by all that knew you.
Thoughts are with Sue Montgomerie and the family at this very unhappy time.
Sue Culmer
---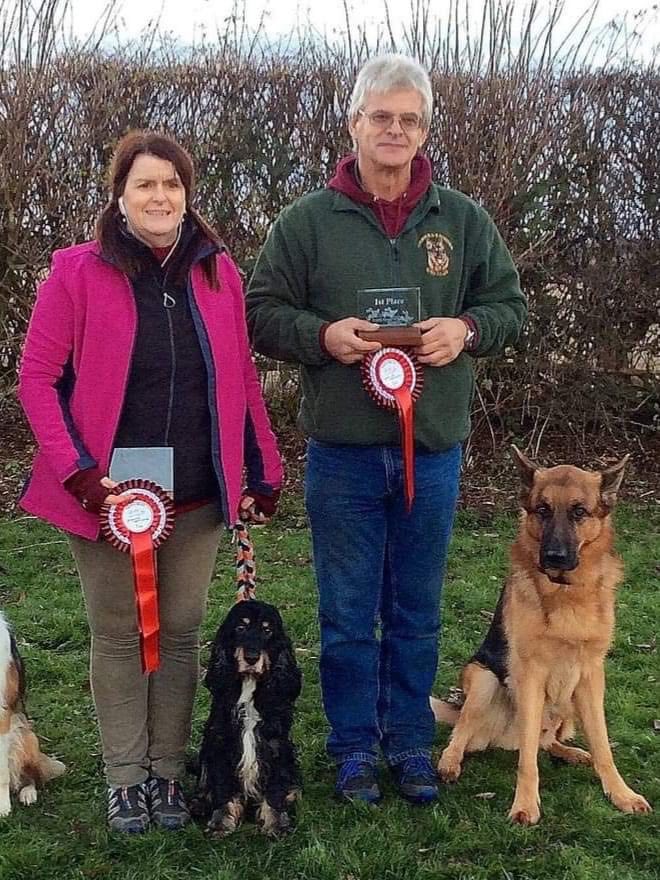 Carol Daniell
Died 13th March 2021
Stephen Daniell has asked me to pass the very very sad news to friends and to the wider agility community that Carol has passed away today.
It has been a long, wearying illness for them both, and I'm sure everyone will want to pause and give a thought to Stephen at this awful time.
Carol was loved by all in the Agility community and far beyond. She did so much with her dogs before joining the Agility world. But it is in agility where we shared most of our enjoyable times. We startied as total beginners and went on to compete, supporting each other all through the grades and running in Champ classes.
So many posts already expressing how fondly everyone remembers Carol ,
To remember our good friend, please consider making a donation in her name, no matter how small, to the Newcastle Hospitals Charity, via Justgiving, i
Let it be a great tribute in Carol's name, always remembered
Carol Daniell, always smiling and encouraging others, RIP
Dave Liddle
---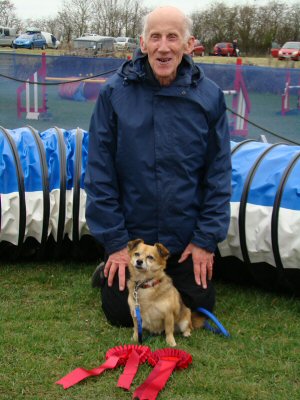 Martin Pollard
Died 19th January 2021
For those of you who remember Martin Pollard, we received the very sad news from the hospital that Martin had passed away on Tuesday, 19th January 2021. He had been admitted to hospital shortly after testing positive for Covid 19.
Martin was very well known for his massive contribution to Agility and Flyball in the early years when they first began, developing the first timing system which will be a constant reminder for me when a show is held.
I'm grateful for all the memories he has left us behind. He will be missed deeply as he touched our hearts more than he actually realised. He had become more than a friend, and, in our eyes, he was part of our family.
Mandysu Sarti
---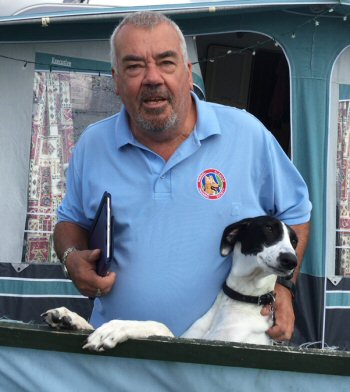 Ian Nicholls
Died 11th January2021
It's seems unbelievable that I'm writing this. Ian (aka Scon'ed)] has died, just 17 days after his wife Marg. They met in 1965 when Marg was 15 and he was 16. That's 56 years they have been together. We all said that Ian would not be able to live without Marg.
Last Tuesday he rang me to say he wasn't feeling well. We took him to the doctors on Thursday, and they wanted to admit him. Ian was having none of it. On Friday, he was admitted with Covid-19 and pneumonia. On Monday, he died peacefully with his nephew holding his hand.
Ian was not as confident as you would think but, with me at his side, we were able to put on entertainment at numerous Wirral shows as well as other shows, too. Ian was one of the funniest people I've ever met with a proper scouse humour. We would 'rehearse' in our caravan beforehand and then, when we went on, it would be completely different, but even funnier.
Whether they put Covid or pneumonia on his death certificate, we all know that Ian died from a broken heart. Family was so important to Marg and Ian. Sadly they didn't have children, but their nieces and nephews were adored by them and they adored Marg and Ian.
In true Ian fashion, the last gift he gave to us was that we now have to self-isolate for ten days. Cheers, Ian!
Crikey, we are all going to miss him tremendously.
Angela Morgan & Wirral Club
---
2020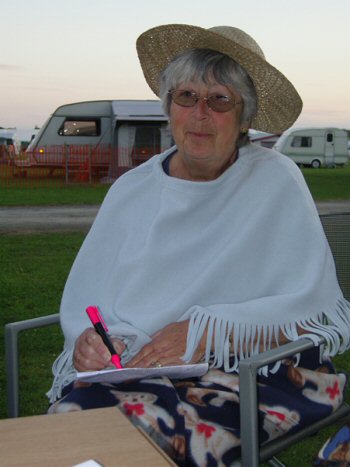 Marg Nicholls
Died 25 December 2020
It is with great sadness that we have to say that Marg lost her long battle with lung disease on Christmas Day.
She was well known all over the North West even though she didn't run a dog but was seen scriming at every show.
Marg ran Wirral show with military precision and was absolutely delighted when we won Best Agility Show at the Kennel Club's 25th celebration. Marg had her beloved club running through like a stick of rock. As long as everyone had fun, Marg was happy.
She will be sorely missed especially by her husband Ian.
Angela Morgan & Wirral Club
---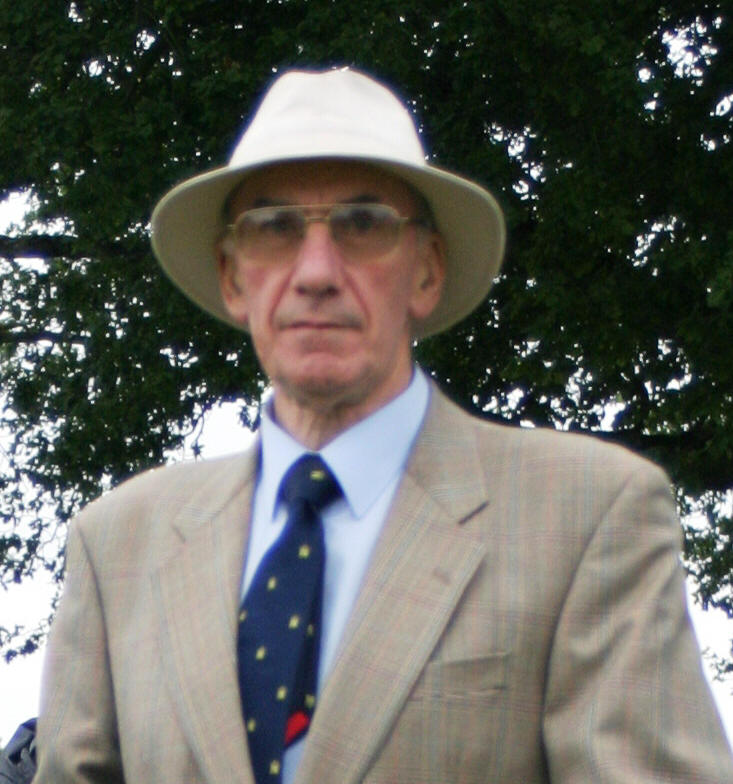 Dave Perry
Died 16th December 2020
For those of you who remember Dave Perry, he died on 16th December 2020. He did agility for some 40 years and was a popular judge. He was the first Championship judge at Crufts, and it is alleged that he had judged every major final in Agility at least once, save The Highland Final.
Many people still have his superbly crafted miniature model agility sets. He is also remember for making agility equipment as well as a tall 'umpire's' chair for his wife to sit on while scribing at one of the Olympia qualifiers.
He was a kind and honourable gentleman. RIP.
Rita Schofield and others on Agilitynet FB
---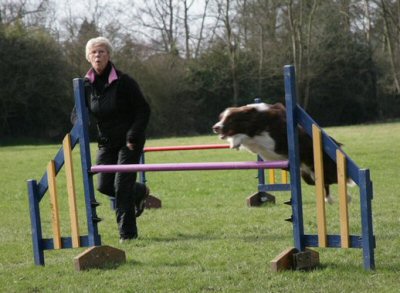 Jackey Slater
Died 30th December 2020
In the early hours of the morning, I received very sad news that Jackey Slater, a close friend of mine, had passed away from Covid.
Many of you would of known her for her big personality and for how supportive she was. She loved her dogs and agility.
I had the privilege to be Jackey's junior handler for seven years, working with Ace, Roo, Lucy and Fox. A lot of people called me Mini Jackey.
Before I met her, I was very quiet. She took a lot of time out to support me with Agility and also with my life outside Agility. She said that she would help me find my voice - and she did.
I have so many wonderful memories of this lady from agility training/shows to days out. Even when I got too old for Juniors, Jackey continued to support me along my agility journey. She was always there when I needed advice on anything. She was one of my agility idols growing up. I am so grateful for all the amazing experiences I got to have all thanks to Jackey.
Sleep tight Jackey. You will be truly missed by so many people whom you have helped over the years. I, for one, will miss you deeply as you was more than a good friend. In my eyes, you were my family.
Deeanne Nash
---

Tim Stevens
Sharing the sad news that Trent Park Dog Agility Club member Tim Stevens has passed away.
Tim was one of the founding members of Trent Park and he built more than a full set of amazing wooden jumps that served the club so well for so long! He competed and did well with his beloved curly coat retrievers, notably Kenny and Ralph who are now also all at peace.
Tim was the treasured quiet voice of reason at many a committee meeting, instructed many classes and helped many owners into their agility adventure and was always so diligent about caring for the equipment whenever anything needed repair. He will be greatly missed.
---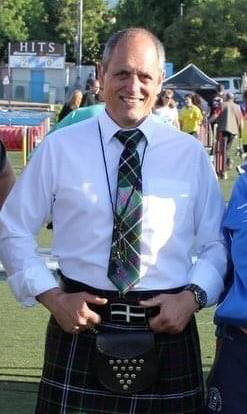 Clive Hildersley
Died 18th October 2020
It is with great sadness and difficulty that I have to announce that Clive Hildersley passed away at his home on Sunday, 18th October. Although Clive had been ill for a few years, his death at this time was totally unexpected. His family and friends had thought and hoped he would be with us for a while longer.
The agility bug started for Clive over 30 years ago. He joined the SWEB Agility Club with his little crossbreed dog Sammy. It was through agility that he met Fran and they made a great team.
Clive was a member of several local clubs, Chairman of Roseland Dog Club for a number of years and latterly a member of Mid Cornwall Dog Training Club. Clive was one of the first to start show processing for local clubs. As entries started to move online, he and Fran started South West Agility Processing (SWAP) with Graham and Pat Partridge. Then with the advent of e-agility, he became involved in Agility Plaza.
Clive loved agility. He was totally involved in many ways from competing, training and judging to show processing. You may remember Clive judging, wearing his Cornish kilt. Although he was not born in Cornwall, it was definitely where his heart was and he was proud of the county in which he lived. Many people believed him to be Cornish.
Clive was great fun to be around, loved the social side of the shows and made many friends. He usually had a smile on his face and was genuinely one of the nicest people you could wish to meet, always willing to help anyone. He had time for everyone and was also willing to put in that extra effort to make sure things ran smoothly, from helping to run his local shows to helping at larger shows. He was very much involved with the Kennel Club International Agility Festival, being part of the KC working party. He and Fran were also founders of the popular Kernow K9 show, held in Cornwall each Easter.
I remember at local shows, he would always shout Oggy, Oggy, Oggy, if a club member won and everyone would respond with Oy, Oy, Oy. Quite a tradition!
Clive also loved his rugby and played for a number of local teams and was also an RFU referee. He enjoyed attending local and international matches or watching rugby on TV. He was also a Scout leader for a number of years.
The agility world has lost a true gentleman and is very much the poorer for his passing. I know he will be missed by so many people. Shows will not be the same without Clive around.
Our love and thoughts go to Fran and his children George and Morgan.
Sally Archenhold
From Fran Hildersley...
Here is the link for Clive's funeral service on Monday, 9th November. It will go live at 12.25 with the service starting at 12.30. This will be available for 28 days if you can't watch live.
Username: Fome4151

Password: 047244
Hopefully a lot of you will be able taking a walk or exercise along the route.
---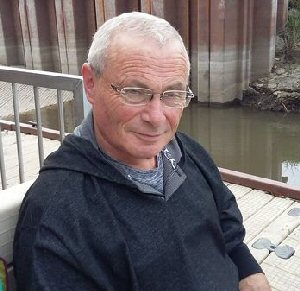 Mike Afia
Died 25th September2020
It's with a heavy heart that I post this. My lovely friend Mike Afia passed away on 25th September. When Mike was first diagnosed, his prognosis was not good but thanks to surgery, chemo and radiotherapy, he had a year with his beloved dogs that we didn't think he would have.
Mike was all about the dogs. They were his life, and when he became to poorly to keep them on, it was so important for him to know he was going to leave this earth, knowing his precious dogs were safe.
I've known Mike for as long as I've been competing at agility which is about 26 years. We enjoyed many a dog walk, agility shows and general dog natter. He was a great help with some of my fosters as well, and he loved his dogs, taking in many a broken rescue and working his magic with them and often bringing some of them onto the agility circuit.
I think Mike will bypass human heaven and go straight to Doggy Heaven where he will find all the dogs that have been left alone with no-one to care for with them.
God speed, Mike. It's been an honour my friend.
Mel Duncan
From Joyce Turner...
Sad news about Mike.
I remember him when I started up the Midi Galloway competition. I was looking for a sponsor, and Ellen Tenten suggested I should contact Mike as she thought he might be interested. Bless him, he took it up with a vengeance.
We named the competition after his company, and he really threw himself into it. He provided energy and publicity, as well as the money for rosettes and trophies. He was so involved that it became 'his' competition in most people's eyes.
When Medium started, Dave Ray invited the Galloway finalists to Olympia for the first ever Medium class there. Mike also sponsored that class at a time when a lot of influential people had the idea that the Midis were too low quality to have any kind of national competition or final. We showed 'em!
---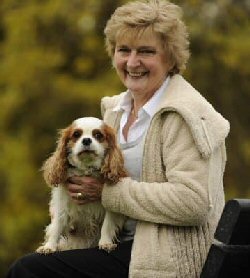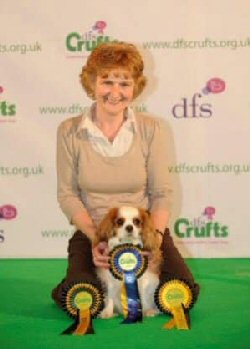 Jean Shaw
Died 28th June 2020
It is with great sadness that we have to share the terrible news that Jean Shaw sadly passed away on Sunday afternoon. She had been bravely battling against illness over the last couple of years.
Jean joined Derbyshire Dog Agility Club many years ago with her CKCS Emma. She made great progress with Emma, and I think it's fair to say her greatest success with this delightful little dog was being crowned runner up in the Kennel Club's Novice Cup at Crufts in 2010.
Emma was joined by Theo, and I can still hear Jean's favourite phrase of 'Little Breeches' when she referred to this spirited young man! He charged through to G7 by the time he was just two years old, followed by being granted his Agility Warrant Gold.
Just before losing Emma, Jean brought home little Oscar. She was delighted that her beloved Emma could Ďteach Oscar a thing or two!'
Not long after that, Jean's health battles started but her love and devotion to her two Cavvie boys kept her going and, after a long while, she was able to get back to training at the club. Oscar is a cracking little dog and I'm sure that, if they'd had time, she would have achieved as much with him as she had with Theo and Emma.
As a club, we will be making a donation to one of Jean's preferred charities and we will be establishing an award for the highest placed CKCS at our summer show, in memory of a most lovely and brave lady.
Nic Jones / Derbyshire DAC
---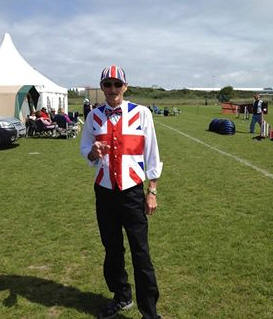 Ray Amps
Died 26th June 2020
Ray Amps sadly passed away at home after losing the battle against cancer. He was a huge character who had been in agility for many years.
It all started when his wife Val took on a rescue Border Collie. Having had horses for a number of years, she wanted to do something with the rescue dog. Ray was introduced into the agility world in 1987 and he started competing in 1989 with a dog called Corrie that was rescued from Woodgreen Animal Rescue Centre.
Ray started making equipment in late 90s when Val wanted her own equipment. Ray being Ray said he did not want to pay those prices, so he set out to make them. He made many so sets that he started hiring them out to many shows. You always knew if you hired RVA equipment you got Ray's knowledge and help from before the show to packing it away. Along with the hire, he did sales and help develop equipment designs.
Ray organised the world record agility event at Brentwood in 2003.
Ray was for many years part of the Dogs in Need set up team. And always loved this part.
His biggest agility boast was being part of the Small winning team at Crufts in 2012.
He was a founder member of the RVA club which started in the 90s. He worked hard to build the RVA shows up to the Championships status it has today. He did this by having a motto of 'There is no right or wrong way but there certainly is 'Ray way.' He not only helped at shows but also judged at many and started judging in 2004.
Ray had a heart of gold and a very caring nature. One thing that comes to mind is he would insist of us all meeting up and then giving us walkie talkies so he could check all was okay on the journey.
The agility world has lost a true legend.
Jeanette Tandy
From Val, Tina and Claire...
Ray was Ray - please or offend he would have his say! I often admonished him for opening his mouth before engaging his brain but you knew exactly where you stood with him. He would be your devoted friend and ally when you needed him - you only had to ask.
His funeral has been arranged for Wednesday, 22nd July at 2.30pm at the Peterborough Crematorium. He will be wearing his judging outfit including his Union Jack waistcoat. Unfortunately we are only allowed 20 people in the crematorium and no wake, but I hope many of you will be sparing a moment or two that day to remember him.
I am requesting donations to the small local charity which supplied him with the morphine syringe driver that relieved his pain and kept him so much more comfortable in the last four weeks of his life. They are No Gain No Pain UK (NGNPUK) and donations can be made through their Facebook page by clicking on the donate button or by sending them directly to me.
Many thanks for thinking of us at this sad time
---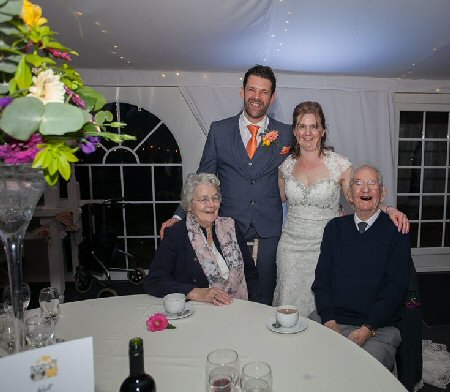 Ron Miller
Died June 2020
Sadly Ron Miller has passed away peacefully at home. He was 88. He was one of the key members of Tunbridge Wells since year dot and an important helper at a lot of other agility shows, setting up and breaking down. Going back to when we had manual timing, you could find him with a stop watch in his hand. He really loved the sport and gave so much to it.
Ron was a true gentleman though he was also known for enjoying a good food fight at a couple of the TWDCS Christmas dinners.
He meant so much to me and my family and supported us through so much that he became my adopted 'Grandad.'
There are so many memories, but one thing I especially treasure is a picture, taken at Longleat, where Ron is riding on my bike with me peddling. I must only have been about 10 years old, but it was one of the photos on show in his living room.
On another trip to Longleat, Ron fell in love with a life-size gorilla teddy. I secretly got him a small one - couldn't afford the huge one - and it has sat on show in his house ever since. He often told the story of how it always made him smile. I have bought a toy gorilla to go with him in his coffin. Silly I know, but he was super special to me and I feel he needs a gorilla with him.
I bought a toy gorilla to go coffin, similar to the one I gave him one from Longleat many many years ago which sat in his house. He always mentioned it so I got him one to take with him. Silly I know, but he was super special to me.
Many will remember Ron from running Shelley (Foxtwist Stonewall Shelley). Even if they were heading towards the wrong jump, he would just say 'No' and she would stop mid-jump. What an amazing partnership those two had. I was also given the honour of working Shelley at shows which I think gave me my love for agility.
Shelley was as special to me as Ron was. I will never forget the day we made Ron cry over a result in agility. I cannot even remember what it was, but I remember seeing this man cry because he was proud.
Ron and Evelyn became such a big part of our family that they became part of our family Christmas, joining us for the day. I got married in 2018 and I was delighted that Ron was able to make it and be part of our special day as he had been so unwell. He seemed to love the day as you can see from the picture of him with Evelyn, Chris and myself.
Ron will be missed by so many people in and out of Agility and I am sure lots of us have wonderful memories of him.
Emily Brown (Barnes)
---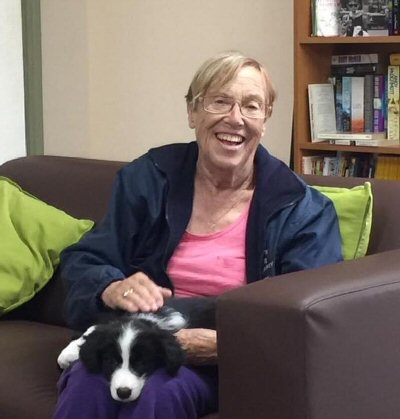 Maureen White
Died 13th April 2020
Many of you may have seen on Facebook that Maureen White sadly passed away on Easter Monday. Her funeral will be Tuesday, 28th April.
In recent months, she suffered from vascular dementia, cruelly unable to speak or swallow properly. She will be remembered as a 'one of a kind' character, especially on the dog agility scene. She and her husband Jimmy travelled to shows all over the south of England with the same 'doggie crew' who became an extended family - something which they loved participating in.
If we were in normal times, many people would have wanted to have said their goodbyes in person but, due to the current situation with Coronavirus, the numbers attending the funeral are limited to immediate family only. A web link will be available for people unable to attend who wish to view the service.
This is the information you will need to follow the service via webcast.
Name: Maureen White
Location: South Essex Crematorium, Upminster - South Chapel
Date & Time: Tuesday, 28/04/2020 11:20
Event Number: 743602 - please quote this on all correspondence and when calling
Email: Downloadable Link - Recipient: cemeteries@havering.gov.uk
https://www.wesleymedia.co.uk/webcast-view
Login / Order ID: 26087
Password: tmvjymjs
Additionally the family are asking for donations to Dementia UK vi a JustGiving page instead of flowers.
---