Hula was a loving pet with a huge personality that will be missed.
She's now at peace and I'm sure sharing many funny stories with my other amazing GWPs.
Rest in peace Huhu. You'll be missed by all, especially Josh.
Always thinking of you.
Chris Allen
---

Bryning Vanquish
'Tico'

9th November 2009 - 8th July 2019
Five months ago, Tico's physiotherapist noticed his lymph nodes were enlarged. Tests confirmed Lymphoma. It's not something you can cure - only treat and Lymphoma is terminal.
Saying goodbye is never easy. In my life, I've had many dogs and I've always wanted them to live forever.
I was going to be living with a time bomb. Would it be weeks, months or perhaps a year? How much time would I have to prepare for the inevitable?
As far as Tico was concerned, there was nothing amiss. When I looked at him, I saw a dog that was immensely powerful and approached life at 100 miles an hour... a canine rocket. Combining this with his single-mindedness and collie craziness and you had one hell of an amazing dog. He looked fit and healthy. The diagnosis was so unfair.
So I chose to make Tico's remaining time on Earth as much fun as possible. Every day would count. I would make sure he had no regrets, that we shared as much as we possibly could and that we said to each other everything we wanted to say.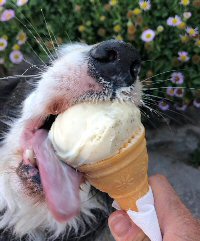 The bucket list was born
He has had an ice cream cone. He has had his portrait taken and he has swum in the sea. He has revisited his favourite walks. He has competed in an Agility class and he has qualified for the Freestyle Crufts Semi-Finals 2020. He has caught, killed and eaten a rat, a black bird, a pigeon and a squirrel. He has had a go at rally training, tried his luck at some obedience exercises and learned a few new freestyle moves. He has stayed in his favourite hotel, made himself at home in a sea side holiday cottage and had a caravan escape to Cornwall. We have had fun!
During our time together, Tico and I have done many things that I never thought possible, but we hadn't done it all. I have learned that no matter how much time you have to prepare to loose your pet, it is never enough. Your heart shatters and the pain is simply unbearable. Your inside is knotted and the tears just keep rolling down your cheeks. My blue boy with the big ears and huge tongue put up a brave fight but he was never going to win.
Tico, I will never stop loving you.
Mary Ann Nester
---

Atompol Griff Sevi

19th July 2012 – 16th June 2019
My life and my home are so quiet without you in it.
You were one in a million.
My Little Sevi Sausagemeat, with a big heart and a big personality to go with it.
Run free little man with Jaeger and Ski.