If you would like your friends to know about your loss your beloved friend and agility dog - whether it be a Crufts winner or family pet - send your tribute along with a picture of your friend to Agilitynet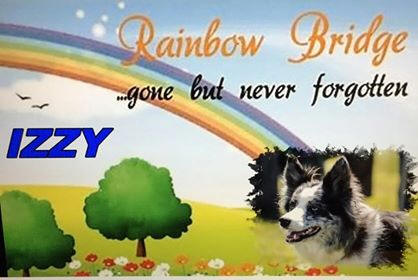 Izzy Gone But Not Forgotten
Whizzy Izzy at Willowmoon AW/G
12/7/07 Ė 22/5/18
It still feels like yesterday, the pain hasnít gone away.
I still miss you like crazy, I wanted you to stay.
The hurt is still there. It just wonít go away,
I think about you constantly, every single day.
It was always you and Daisy, no matter where I went,
You were always there, right by my side, at agility events
It's been a year already, I havenít counted days.
You left us so suddenly that sunny day in May.
Our walks are now so different without you taking charge,
But the memory of life with you will be forever in my heart.
Shirley Elkins
---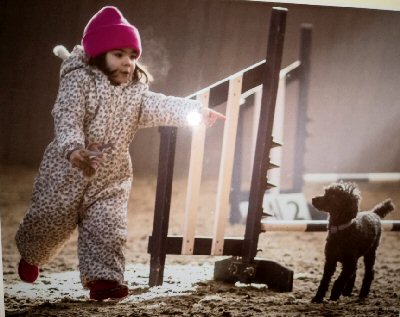 Today we said goodbye to Didi, one of our beloved poodle family.
Run free Didibop x
Ru, Nikki and Megan Baker
---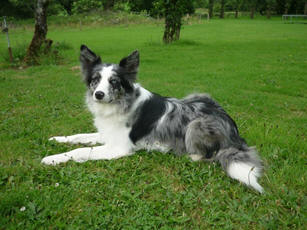 Whizzy Izzy at Willowmoon AW/G
'Izzy'
12/7/07 Ė 22/5/18

Taken suddenly and very unexpectedly while playing in the garden on 22nd May 2018.

My love for blue merle collies began when I purchased Izzy from a farmer for £80.

The only blue merle in the litter, fluffy with semi blue eyes - just wanting to be taken home.
She was a little darling from day one and was definitely a mummyís girl. She came everywhere with me.

As an agility dog she was quite consistent and won up to Grade 5.
She qualified for Crufts YKC with my daughter Naomi, and they did really well on the day coming 5th.

She had an obsession with watching flies, even when there werenít any. She knew it. I knew it. Itís called OCD.

Rest in peace Izzy. watch and chase them flies all day long.

Forever in my heart.

Shirley Elkins
---

Learn To Fly
'Bella'
1/5/2004 - 29/7/2018