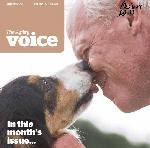 The Committee would like to confirm the appointment of Jill Spurr as the Editor of Voice. She brings a wealth of experience of agility and wider interests with dogs, as well as print and publishing.
Following successful development of the Voice during her interim role, we are delighted she has accepted the permanent position and we look forward to working with her. (12th January 2019)
Editor of The Agility Voice
As you will have seen, the Agility Club committee has been working hard, alongside our Interim Editor, to respond to members' feedback, and reposition the Agility Voice to better reflect your interests.
However, we promised at our AGM to advertise for and appoint a permanent editor who can continue to take Voice from strength to strength.
We are looking for someone who can recognise a story and manage it through to publication; who can produce a magazine that is interesting, engaging and looks great; that delivers a professional product that contributes positively to the reputation of the Voice and the Agility Club, two of the oldest brands in agility.
If you have the following:-
A degree in journalism or communications, professional qualification, or extensive experience in communications, publishing or journalism;

A strong portfolio of work that shows us what you are capable of, including an understanding and experience of producing print publications;


Strong digital skills that will ensure the Voice is integrated into the Club's digital channels, including social media.


Excellent understanding of agility and the wider dog world, and the issues that matter to our members, like health, training, behaviour, and the ability to translate that understanding into compelling copy;


First class management skills, able to work with the committee, our designer and printers, to oversee the publication process.


Membership of an appropriate professional body, eg CIM, CIPR, PRCA, NUJ, and a demonstrable commitment to continuous professional improvement an advantage.

You should also be competent and confident to advise the committee on any laws and regulations relating to the Voice, including and not limited to: GDPR, copyright and advertising law.
The role of editor is on a freelance, contracted basis.
Closing date for applications: 1 December 2018.
If you are interested in this role, and feel you have the experience, energy and imagination to give our members their Voice, please send your CV and a statement detailing how you meet the requirements of the role to: Jan Smith, Hon Secretary, Agility Club.

Editorial Internship at Dog Magazine
A very rare opportunity! We want a bright editorial intern to work in the office in Chobham, Surrey on Dogs Today and Dogs Monthly.
This is a six month opportunity with a possibility of permanent work at the end if you become indispensable. This is not just about writing, there's some admin and working in a friendly office with a dedicated team and enthusiastic remote workers. I have been editor for 28 years and I have to say there has never been a more exciting time to join the company. Being social media active will be a huge help. We're about to be involved in a prime time TV show, too.
Get applying, just one chair to fill in the office, and these openings are as rare as hen's teeth. So if you are passionate about dogs, keen on writing and local, please email your CV and reason why this job has your name on it to: Beverley@petsubjects.co.uk and put EDITORIAL INTERN in the subject line. (23 may 2018)