Developed to help maintain healthy and flexible joints...

Description iMove is a joint supplement designed to provide the body with key ingredients noted for their ability to aid the joints in maintaining movement and suppleness.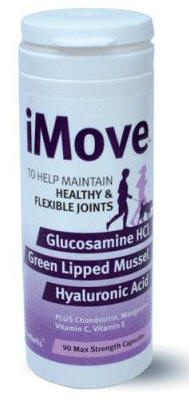 Ingredients:-
Glucosamine
Green Lipped Mussel
Hyaluronic Acid
Manganese
Vitamins C & E
Why did you want to review this product?
As someone who leads a very active life, I am always looking for products to help keep me moving and feel that I am giving my body all the key nutrients in order to maintain activity levels.
What did you like about this product?
With iMove I felt that the stiffness I can suffer with in my back, as well as in my knees, which would often feel burning upon reaching the top of a big flight of stairs at one work venue, and I have felt both of these subside greatly since taking this product. The fact that the ingredients have been carefully researched in order to be of the highest quality and dosage, I really felt that it was a complete supplement.
What could be improved?
After reading further into this product and the ingredients, I really don't feel that it could be improved.
What did you think of the design and packaging of the product?
The packaging is great - slimline and light so you don't feel there is a waste of plastic. The tablets are of a small enough size, not horse size like so many others. And there is no after-taste such as you might expect from something with so much Green Lipped Muscle in it!
Price: £14.99 – £20, depending upon source. You can order online or pick up from a supplier.
Value for Money: Yes – one pot has a supply of at least 45 days, depending on if you take two or three tablets a day.
Overall rating: 10/10 – Considering the number tablets you get in a tub, the price and all the ingredients in the product, this is much better value than anything else you will find in high street health stores.
---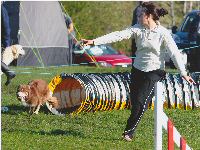 About the Reviewer...
Tamzin Grimes has been competing in agility from the age of six! Whilst not having a dog of her own to handle at present, she has been running dogs for other people, in order to keep her hand in the sport.
Away from agility, Tamzin works as a Sports Massage Therapist and Personal Trainer in Dorset. This year she has been bringing her skills to the agility circuit offering Sports Massage Treatments to competitors at shows
For more information ring Tamzin on m. 07729 222622 or email: tamzin@tamzingrimes.co.uk.
---

If you would like to comment on this product or add your name to the Agilitynet list of reviewers,
email your name and details to Ellen Rocco at Agilitynet today.
First publisher 08 October 2009